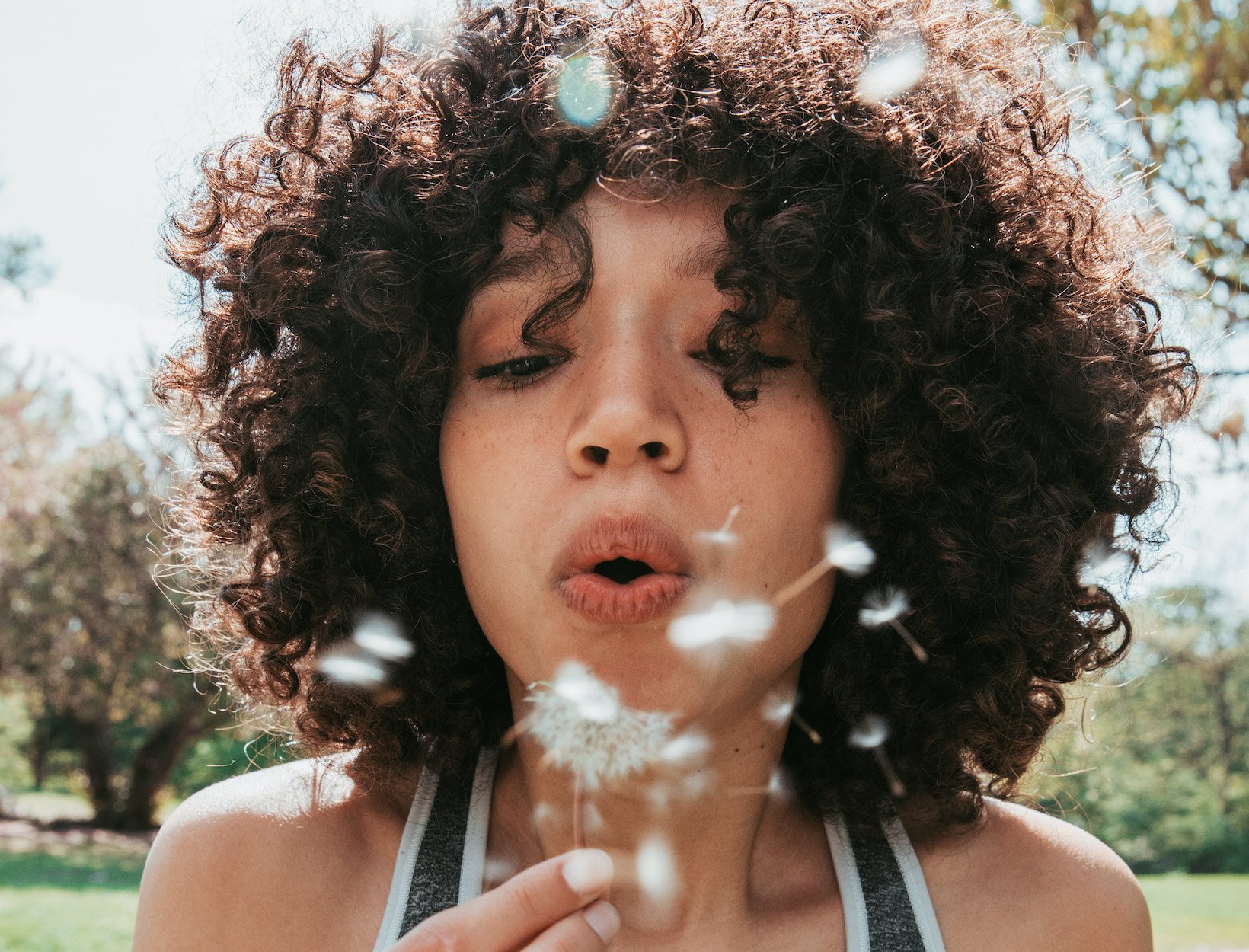 The Best Digital Programs for Mental Well-Being
Therapy is a deeply individual experience, and there's no one-size-fits-all approach to finding a therapist. While the internet is useful for seeking skilled professionals, it's also made it easier to access mental health resources whenever, wherever, and however you may need to. So much of how we treat our mental and emotional health is framed around a reactive approach, but there are a growing number of online platforms rethinking the traditional experience, which often has barriers such as time and cost.
These are the virtual spaces aimed at destigmatizing the need for professional help, normalizing the process, and making these resources more accessible for everyone—whether it's teaching simple breathing techniques to clear emotional clutter, setting you up with a licensed counselor you can text with one-on-one, or connecting you to like-minded people simply to remind you that you're not alone.
(For more mental health support and advocacy, the National Alliance on Mental Illness provides educational programs, resources, and real-time help during a crisis. It's a good place to start for information on mental illness.)
GENERAL MENTAL HEALTH

From $28 a month

Think of Real as on-demand therapy. To get started, members choose a therapist-led pathway focused on a specific mental health goal, like dealing with anxiety, undoing learned behaviors, or owning your single life. Each pathway is twelve sessions, and your therapist releases a new session each week that builds on the last one. There are journal prompts after each session, and members are encouraged to write questions to their therapist, which they read at the start of each session. It's sort of like group therapy, although you never meet anyone else in your pathway and you choose how anonymous you want to be (and if you don't want your questions or journal entries read, you can say so, too). Real also offers live member events with experts where you can connect with others during roundtables and Q&A's.

From $25 a class

Cofounded by a clinical psychologist, Coa was created to break down the entry barrier for therapy, to make it easier to get emotional support, and to get people to approach mental health the way they approach fitness—as preventive rather than a fix when something's wrong. Coa offers one-on-one therapist matchmaking (only in California for now), live workshops and Q&A's with therapists and thought leaders, and eight-week courses on topics like managing mental health in leadership roles, working through imposter syndrome, and building better friendships. The live classes are group-therapy-style, with a psychologist leading the course through emotional-strength-building exercises while helping students learn tools for mental well-being. You'll also get to know others in your course in private breakout rooms—where everything's confidential—and during group discussions.

From $53 a week

If you're looking for a more traditional one-on-one counseling experience, Calmerry is an e-therapy platform that sets you up with a fully licensed therapist. You do a short online evaluation, as you would if you were meeting physically, and once you get a match, your therapist will send you a message on a dashboard. You can text your therapist anytime you feel like it, and they'll usually respond within a day. There's also the option to do live video sessions, and if you need to switch therapists, Calmerry will do it for free. After you get going, your therapist will set up a personal treatment plan—with long- and short-term goals based on your needs—that you can easily track in your dashboard.

HOME AND PARENTING

Free

"You are not a failure because you can't keep up with laundry," writes KC Davis, the founder of Struggle Care and the TikTok account Domestic Blisters. Davis is a licensed professional counselor. She started a TikTok account to share resources and tips for people who struggle to do household chores—things like laundry, dishes, cooking, cleaning—and to stop the shame around what it means to be a good parent, spouse, and person. Her videos normalize the many barriers people live with (including chronic health conditions, mental and emotional issues, and life changes such as having a baby or losing a job) that can make it hard to function at home, and she compassionately reminds us that our worth is not defined by whether we're good at doing chores.

From $25 a class

Founder Catherine Birndorf, MD, sees new motherhood as an often-overlooked developmental stage in a woman's life. It's in this period when many women find themselves lacking support and are overwhelmed by expectations. The Motherhood Center of New York provides services for pregnant and postpartum women and partners who are looking for classes, support groups, individual therapy, and one-on-one counseling (all of which are available online). The center's virtual day program is a daylong treatment program focused on mothers who are suffering from moderate to severe postpartum depression resulting in mood and anxiety issues, trouble bonding with baby, or excessive worrying and difficulty completing daily activities.

MINDFULNESS

Headspace

From $69.99 a year or $12.99 a month

It can be overwhelming to know how to start a mindfulness practice. Headspace, which is cofounded by a former Buddhist monk, makes it easy to get the benefits of meditation even if you have only three minutes a day to devote to it. "It's a short break that has a long-lasting impact," says GP, who uses breathing apps like Headspace during the workday. We like Headspace for its variety. There are hundreds of meditations for any mood as well as ones to help manage everyday anxiety and stress, to help you stay focused, and to help you sleep better, plus guided walks and stress-releasing fitness routines.

From $25 a session or free

Jasmine Marie is an Atlanta-based breathwork practitioner and the founder of Black Girls Breathing, a community and wellness space that gives Black women access to virtual breathwork sessions. In her twice-monthly virtual breathwork circles, Marie holds space for talking about racial trauma. She addresses the chronic stress that Black women disproportionately experience and how racism directly impacts mental health, and she teaches breathwork as a tool for managing stress and anxiety. She offers a sliding scale for payment, and if you would like to support her mission to provide free breathwork to Black women, you can donate to the crowdfunding campaign here.

$40 a month

Chorus is a digital meditation and breathwork program that's set to uplifting pop music. You can choose live or on-demand sessions in which Chorus instructors guide you through the Chorus method, a rhythmic three-part belly, chest, release breathwork technique. If you're a beginner, Chorus recommends that people start with a live session to get a feel for it before going solo. The sessions are all an hour long, which seems lengthy but goes by quickly. Once you hit the calm state, the last portion of class focuses on traditional meditation, then instructors close out by reflecting and sharing their thoughts.

$20 a month

Open's core methodology is a multidisciplinary blend of music, guided meditation, and light breathwork. Classes are taught by heavy hitters in yoga, breathwork, and meditation, including cofounder Manoj Dias, Ally Maz, Erin Gilmore, and Mel Mah, who mix modernity into ancient wisdom and traditions. It's also a live broadcast, which makes it feel like a typical studio with classes running throughout the day, and the monthly subscription gets you unlimited access to sessions that range from ten minutes to an hour long. (An app is in the works.)

SOCIAL

$17 a month

Ethel's Club, a private social and wellness club for people of color, opened its Brooklyn clubhouse in 2019 but had to close when the pandemic began. In March, the club pivoted to a virtual model that now has more than 1,000 active community members from around the world. Members can chat directly with one another about mental health, career, music, and TV, and they can also connect through live classes, workshops, and wellness sessions. There are book clubs, writing clubs, and podcasting workshops. Events include Kundalini circles, sound meditations, and conversations about creativity and healing, and members get access to experts, therapists, and practitioners of color. The Ethel's Club shop also supports artisans of color with a curation of home, beauty, and other goods from around the world.

Free

Like a walkie-talkie, Marco Polo is a free messaging app that allows you to connect instantly with friends and family through video chats. The way that it works: You take turns leaving video notes for one another whenever you're free. If you're both online, you can talk live, but if you can't get on a video call together—say you're in different time zones, for example—Marco Polo saves the video messages so you can watch and respond later. It removes the pressure of having to respond in real time, and Marco Polo can be a relief if you have video conferencing burnout but still want an easy way to stay connected with others. The app also allows users to create groups where people can join channels via private links, and these communities include support groups as well as life and business coaching networks, all aimed at helping people feel less alone.

SPIRITUAL

From $399 a year or $37 a month

Nina Endrst's first career was in fashion, before she felt the pull to deepen her practice in Reiki, yoga, and meditation. And while Endrst is highly intuitive (she's led retreats globally and does one-on-one readings), she's also a skilled teacher who believes in empowering others to tap into their own unique gifts. Endrst launched her online membership-based community as an approachable way for people to access movement practices, tarot and astrology readings, guided meditations, and energy-balancing sessions at their own pace. Membership includes weekly programming from a diverse roster of healers. But you won't find an endless library of videos and content. Endrst is mindful about cultivating an intentional community that is empowering, not overwhelming, and virtual events are intimate so that everyone feels supported and safe.
This article is for informational purposes only. It is not, nor is it intended to be, a substitute for professional medical advice, diagnosis, or treatment and should never be relied upon for specific medical advice. To the extent that this article features the advice of physicians or medical practitioners, the views expressed are the views of the cited expert and do not necessarily represent the views of goop.