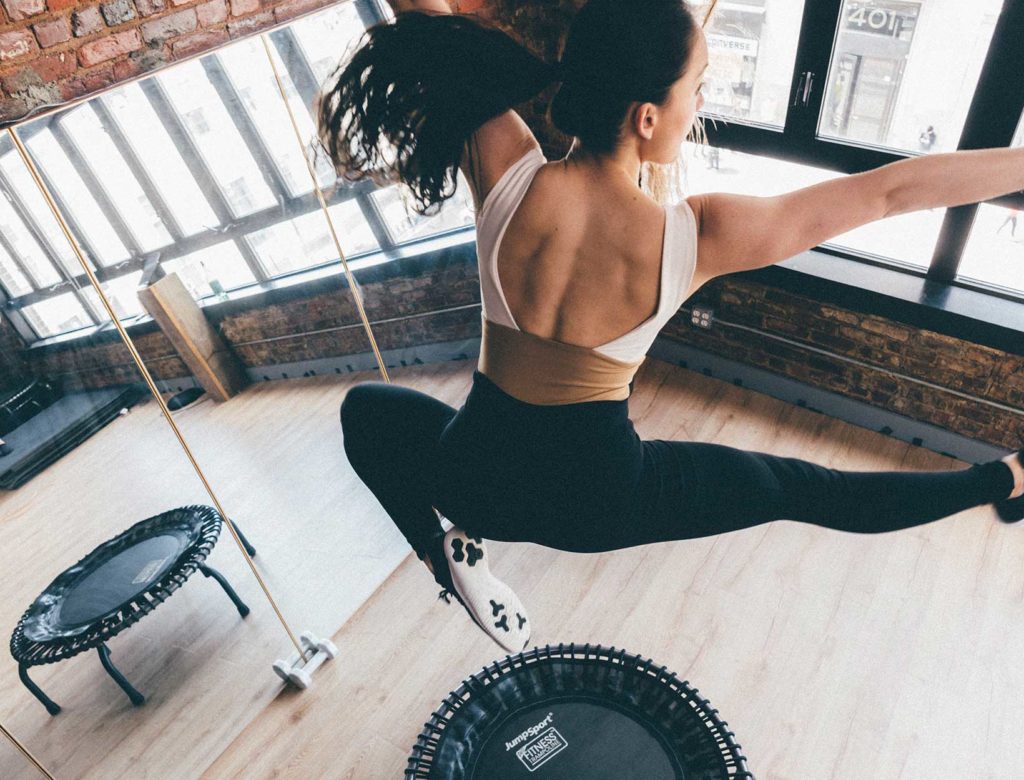 A Trampoline Cardio Workout You Can Do in Your Living Room
A Trampoline Cardio Workout You Can Do in Your Living Room
We're the first to admit: At goop, we take our workouts pretty seriously. But the best workouts, we've found, are the ones that are genuinely joyful. They're sessions where you sweat and push yourself and just maybe leave grinning from ear to ear.
The first time we worked out with trainers from the ness, a new studio in New York City, that's exactly how we felt: like joyful, happy kids. As the ness cofounder and instructor Colette Dong explains, no one can take themselves too seriously when they're bouncing on a mini trampoline. (And of course: It's great cardio.) More on that—plus tips for trying it at home—below.
A Q&A with Colette Dong
Q
Why did you decide to open a studio focused on bounce cardio?
A
I'm a dancer. I trained in dance my whole life and studied dance and exercise science at Elon University. When I moved to the city, fitness was the perfect industry to blend my expertise. It then snowballed into this greater thing: I got the same adrenaline rush from planning and teaching a class that I did from performing—it is, in a sense, a mini performance. I found trampoline cardio in 2016 and fell in love with it. I've been bouncing for almost five years—I met my business partners Aly Giampolo and Dria Murphy on the trampoline.
This year, my partner, Aly Giampolo, and I decided to open a home base for the clients we've been training for the past five years. At the ness, we have trampoline cardio, which we call Bounce, and then low-impact muscle sculpting, which is called Sculpt. Both work on engaging the mind by building combinations throughout class. We keep the group size really intimate.
---
Q
What happens in a typical bounce cardio class at the ness?
A
We use interval training to maximize your fifty-minute session, which means spiking your heart rate and then bringing it down with short breaks.
Class starts with a warm-up. From there, you're not on the trampoline the entire time, but when you are, you're building a combination of different moves. Typically, we'll have about four bounce songs; a toning break to work arms, legs, or abs; two more bounce songs; then another toning break before hopping back up on the trampoline to sprint to the finish. Combos vary in complexity based on the experience level of the group.
---
Q
How can you create your own bounce cardio session at home?
A
If you're just getting into it, the best thing you can do is get on the trampoline for twenty to thirty minutes and high-bounce. High-bouncing is just jumping up and down, but when you do that, your heart rate immediately rises and you'll reap all the benefits of rebounding.
From there you can keep it simple and work in two moves: first, bouncing down, where you press your heels down into the trampoline while maintaining a squat position. The second starter move is running in place, where you lift your knees up one at a time. Move between them, bouncing down for your favorite song and running for the next song. You can continue to alternate that way.
Once you feel more comfortable on the trampoline, start to build combos with more-advanced moves, like jumping jacks or scissors (switching the feet from front to back in parallel). Play with the counts of each: You can do four counts of the scissors, eight counts of a bounce down, keeping it basic. That's all you need to do, and it'll keep you totally engaged. You don't need a super complex combo to challenge the mind.
You can use the trampoline to tone, as well. Work on your balance by hovering one leg off the side of the trampoline and doing single-leg lifts. The trampoline provides instability, which automatically engages your core.
---
Q
Why is the trampoline an appealing tool for cardio?
A
It's low impact. Every time you come down, the trampoline mat absorbs all of the shock to your system. It's easier on the joints than, say, running. But you still have to work to pull yourself up out of the trampoline, which is what helps raise your heart rate.
The way we do it at the studio is we build this combination that really forces you to think about what's happening. The minute your mind starts to wander, you're going to mess up. It becomes very evident to you that you're not present. The combinations become more of a meditation. And we move to the beat of the music, so that's always fun and helps keep us engaged.
---
Q
What's it like at the ness for first-timers?
A
Newcomers often come in and they're like, "I had no idea what was happening, I did not get the combo, but I had so much fun." Even if you just bounce up and down, you're doing it—and that's perfect. Sometimes when you leave a new fitness studio, you can feel discouraged. I do. I think, Oh, I didn't do that eighth burpee that I was supposed to do; I didn't finish that sprint. Trampoline is more of a lighthearted situation to begin with—you can't take yourself so seriously. Think about it: We're all in a room intently jumping on trampolines to the beat of music. When you can remove yourself and just examine that image for a second, it's hysterical.
---
Colette Dong is a New York City native with a BFA in dance performance and choreography and a BS in dance science from Elon University. She founded the ness alongside Aly Giampolo and Dria Murphy.