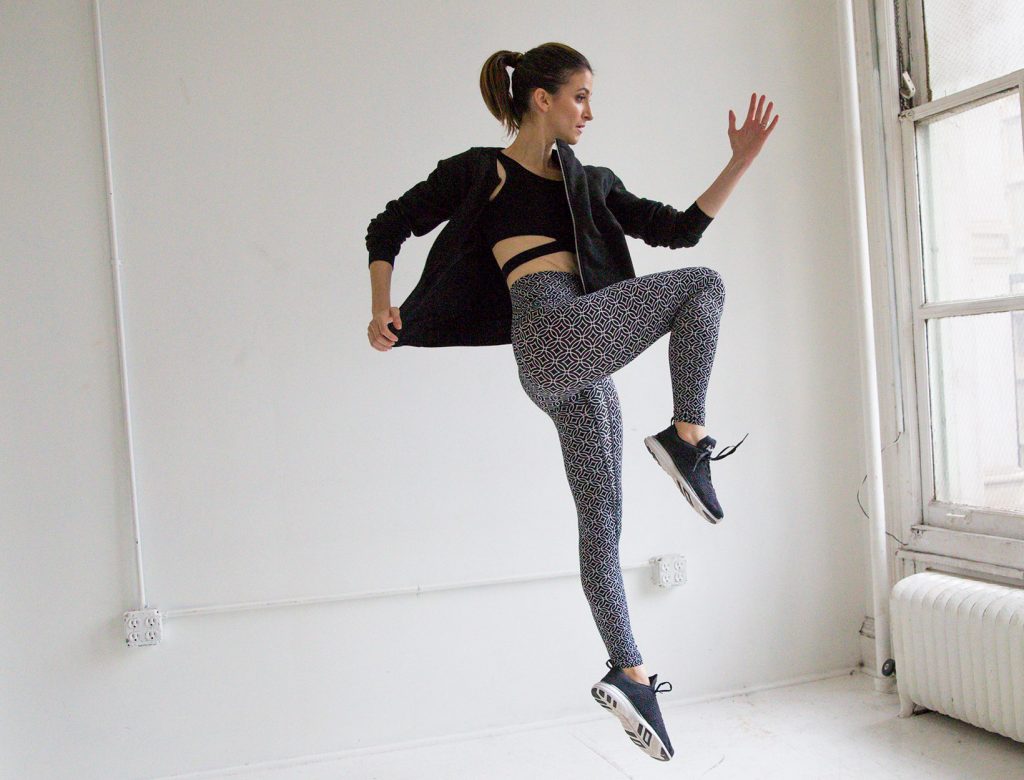 The Easiest, Most Ingenious Workout Ever
female founders
The Easiest, Most Ingenious Workout Ever
In partnership with our friends at


Perhaps the only upside to workplace inequality is it has driven a lot of amazing women out of corporate America—and straight to the helm of their own companies. We decided we didn't want to just cheer them on anymore. We wanted to meet them and interview them and write about them. With that, we give you: Female Founders, a column featuring women who create, design, and inspire.
Half the battle of working out is the getting-to-the-gym part. Brynn Putnam knows this, because she owned a gym and still couldn't fit working out into her schedule as a mother, a business owner, and an entrepreneur. So she designed Mirror, an interactive home gym, for people in the same position. Here's how it works: A full-length mirror hanging on your wall transforms into a personal trainer or can stream fitness classes on-demand, whether it's Pilates or a strengthening session. The reflective surface is interactive (the trainer can actually see you), but part of the genius is not just how futuristic it is—it's also how it's just a mirror. Being able to see yourself, says Putnam, who's a former ballet dancer, gives you instant feedback on how to improve your form. All in the comfort of your own, judgment-free home.
Q&A with Mirror Workout Founder Brynn Putnam
Q
How did you get the idea for Mirror?
A
I have spent my entire professional life in the health and wellness space, first as a professional dancer at the NYC Ballet and most recently, as the founder and CEO of Refine Method, a chain of boutique fitness studios in NYC. After more than a decade in the fitness industry, I was the owner of a gym, yet I found myself struggling to work out. As a busy entrepreneur and new mom, I was increasingly unable to fit in a workout. Working out in my home, to me, meant sacrificing quality for convenience. I set out to figure out how to bring the essentials of a good studio workout—variety, personalization, and community—to the most convenient place: your home.
---
Q
What was the process of developing the program like?
A
I built the first Mirror prototype in my kitchen in the spring of 2016. It was a crude setup—a Raspberry Pi, a tablet, and a piece of one-way glass—but I knew that we had something. From there, I built a slightly more polished prototype, raised a seed round, and then hired my first full-time engineer in early 2017. We then went through many rounds of development and testing before we launched in September 2018.
Many start-ups take a "ship fast and iterate" approach, but with Mirror, you are inviting us into your home, which is a responsibility we take very seriously. We knew that at launch we needed to have a polished product and brand, so we spent almost a year in beta with units in people's homes so we could refine the experience.
---
Q
How do living and working in New York City—where so many people have small spaces—inspire your product design?
A
New York City is a city of small spaces, so space limitations have been a catalyst for invention throughout my career. When I opened the first Refine studio, the only space I could afford was a 500-square-foot room in a church. The catch: Every Saturday, we had to give the space back to the church for Sunday services, and every Sunday, we had to rebuild the room back into a fitness studio. As a result, we designed and developed a proprietary wall-mounted cable tower, which allowed us to deliver a full-body workout with a small footprint and became the centerpiece of the Refine experience.
As a working parent, fitness quickly became something I had to start doing—at least, in part—at home. But I didn't have the space to put a bike or a treadmill in my NYC apartment, and I didn't want to give up my living room to a big piece of fitness equipment. At the same time, we installed full-length "dumb" mirrors at Refine, and people loved them. They said that the feedback they were getting by seeing themselves work out was improving their form and motivating them to work harder. That's when I realized that a mirror is the perfect way to deliver home workouts that are convenient, personalized, and varied, even when space is at a premium.
---
Q
What surprised you about starting Mirror?
A
I thought building a tech business would be very different than building a brick-and-mortar business, like Refine Method. In many ways it is different: I learned how to fund-raise, manage a fast-growing team, and develop custom technology. But I've found that at its core, Mirror is very much the same as my fitness studio—an obsessively customer-centric business. Every customer email goes to my inbox, and we are constantly focused on small, often impractical, ways to go above and beyond for our members. We are a content platform supported by cutting-edge technology, but fundamentally, we are a customer service organization.
---
Q
Was there a tipping point when you felt like Mirror was really taking off?
A
During our beta period, one of my most loyal Refine members, who was a beta tester, wrote me a one-line email that said: "I hereby cancel my Refine membership." I knew we were onto something if the Mirror could exceed the expectations of an avid boutique-studio-goer. I didn't set out to get people to cancel their gym memberships, but I will be excited if someday I can put myself out of business.
---
Q
What have been the biggest challenges?
A
Mirror is a unique fitness technology because we possess a fully integrated end-to-end experience. We create custom hardware, proprietary software, and original content, so every element of the experience is deeply aligned with our clients' needs and we can quickly respond as those needs evolve to improve the experience. Mirror is all about immersing yourself in an experience, so we thought that we needed to own as much of the experience as possible. That being said, managing a complex platform is a constant juggling act.
---
Q
Did you feel differently approaching the fitness industry as a female owner?
A
To me, fitness is a deeply feminist issue. Working out can build confidence; when you run a marathon or lift a heavy set of weights, you've accomplished something. This confidence carries over into your workplace and all aspects of your life. Exercise is not just self-care; it is a vital form of self-respect. You have to set aside the time to prioritize yourself. As a female entrepreneur in an industry largely led by men, I am excited to change the dialogue around women's bodies. Fitness is about building confidence from a place of self-love, not self-doubt.
---
Q
How much does customer feedback affect what you do?
A
Everything we build is in direct response to our customers' needs. Sometimes our customers know what they want but not how to articulate it. We do not look to our customers to design our solutions; we look to them to define the problems that are important to them. Our customers did not want a mirror that streamed workouts; they wanted to work out at home without compromise. We listened.
---
Q
What's the best piece of career advice you ever received?
A
A quote from Jack Dorsey has always stuck with me: "You don't have to start from scratch to do something interesting." We have taken an ordinary mirror and built something extraordinary. Focus on a problem you are uniquely equipped to solve and build a solution just over the edge of current consumer behavior.
---
Q
What do you envision for the future of your company?
A
Mirror is the third screen in the home. You have your phone, your TV, and now your Mirror. Small and informational content belongs on the phone, entertainment belongs on a TV, and experiences belong on the Mirror. Without getting ahead of ourselves, we're excited about what this could mean for a wide range of content. We hope that in the mid-term, people will use Mirror for wellness content, like meditation and physical therapy, and in the long-term, people will use Mirror to learn about fashion and beauty, organize photos and calendars, and chat with loved ones.
---
Q
Why do you think at-home streaming fitness programs have become popular?
A
The fitness industry is a $25 billion market. Fifty-five million Americans belong to a gym, but more than two thirds of the people who exercise do some form of it in-home. The fastest-growing segment of the market is boutique fitness studios, where clients are paying a premium for higher-quality classes.
This means people today are hungry for great content, instruction, and experience, but convenience is critical. The in-home workout space is only going to get bigger. Millennials, having grown up going to boutique studio classes, are going to start families, move to the suburbs, and desire in-home options that rival the studio experience. Aging baby boomers will start to look for in-home rehab options, and personal training is going to be an increasing part of their lives.
---
Q
What differentiates Mirror from other streaming programs?
A
The Mirror's slim footprint and interactive display provide a uniquely immersive and personalized workout experience. It's the sweat of a treadmill without giving up a whole room in your house, the personalization of a personal trainer without the steep cost, and the variety of a full workout-DVD collection, except this one gets new, live workouts added seven or more times a day.
Mirror is for busy people who prioritize their health. For the monthly cost of a single boutique workout, people have access to unlimited live and on-demand classes from the privacy of their home. No parking lots, no waitlists, no equipment.