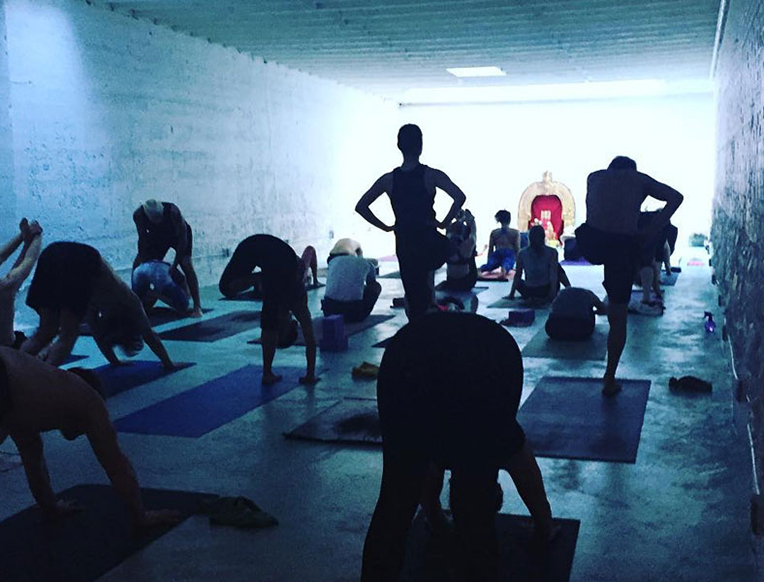 Our Favorite Yoga Teacher in Brooklyn
This week, beloved yoga teacher Eddie Stern officially opened his new studio space, Brooklyn Yoga Club, in a cozy Clinton Hill townhouse on Vanderbilt Avenue. Not only does the new location offer significantly more space than the Soho studio his practice (Ashtanga Yoga New York) occupied for more than 10 years, but there are also tons of other reasons to check it out.
A studio and meditation space occupies the ground floor of the townhouse, where Stern will lead a practice that long-time students know well. Based on the teachings of Ashtanga master Sri K. Pattabhi Jois, the primarily self-paced classes encourage independence and self-reliance; students work through each series at their own speed, closely observed by Stern. There's also a heavy emphasis on meditation, breath, and detoxification. After class, students can hang out in the first-floor library, café, and the wide outdoor deck, where the studio builds community: the café serves coffee, tea, juice, and vegetarian food, the deck is home to a compost and garden, and the library shelves are stocked with books about yoga and self-discovery.
The second floor of the townhouse is home to a co-working space with a few designated desks and a community table. That floor also has a kitchen, for vegetarian and ayurvedic cooking classes and one-off workshops, like "How to Make Your Own Apple Cider Vinegar," or "How To Make Your Own Kimchi." Out-of-town visitors can stay on this level in a cozy bed and breakfast-style room—room rates for the B&B and rental rates for desk space both include yoga.
Since Eddie and his wife Jocelyn (a seriously accomplished yogi in her own right, she co-runs the studio) live on the top level, the whole operation has a decidedly authentic, closed loop feel.