For Tight, Achy Muscles, Theraguns Are Better than Ever
Written by: Kelly Martin
|
Published on: August 17, 2021
|
Updated on: October 12, 2023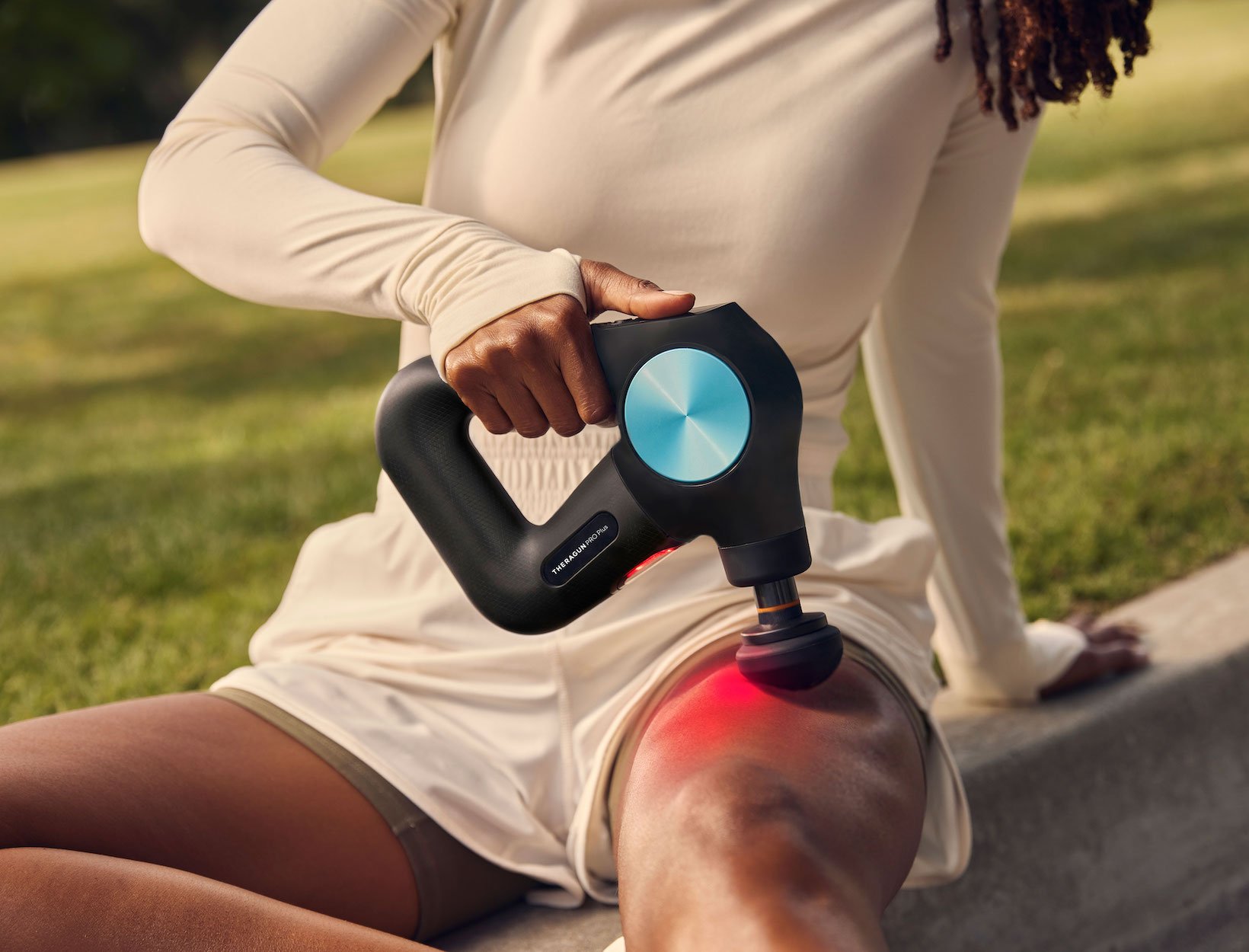 When we first launched the original Theragun on goop, the device needed some explaining: Chiropractor Jason Wersland invented his percussive massage device as a mechanical assist for muscle tightness, athletic recovery, and everyday aches. The devices were so easy to use—no special knowledge or experience required—and they could melt away soreness and tightness in minutes.
These days, we bet you know all that already. We spot Therabody devices all over the place—locker rooms, yoga studios, ski lodges, and at the brand's Reset by Therabody studios popping up nationwide.
And now Therabody makes a whole line of massage devices, from the tricked-out Theragun PRO Plus to the take-anywhere Mini, to fit a range of needs and budgets. (Not to mention two devices for your face: SmartGoggles for gentle eye massage, and TheraFace for skin care.)
Compared to other massage devices, Theraguns are the clear winner. They're thoughtfully, ergonomically designed; their weight balances well in your hand. Most of them have an OLED screen that shows exactly how much force and speed they're using and allows you to tap into built-in presets. (You can also program your own through the Therabody app, which syncs up with the device through Bluetooth). And they're built to last: Their industrial-grade motors pulse up to 2,400 times a minute without stalling or skipping.
Which Theragun Is Right for You?
1
Best for Advanced Features: Theragun Pro Plus
goop, $599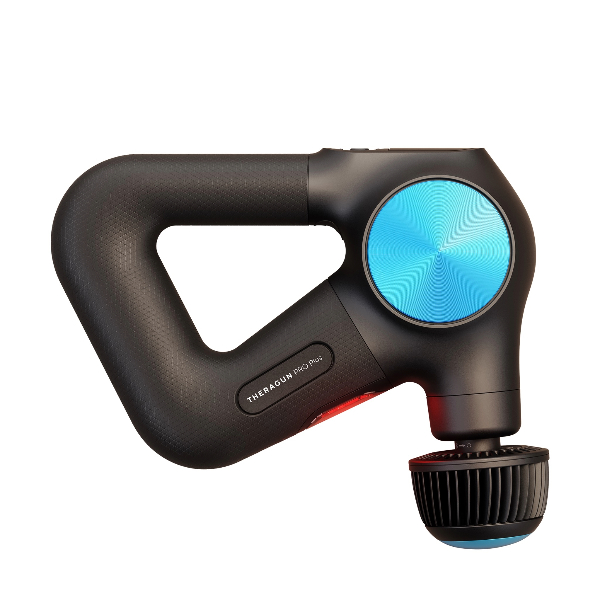 The Pro Plus is designed for serious athletes—and anyone who nerds out on wellness tech. It has some very cool features: deep percussive force, near-infrared light, heat, and vibration. You can use it however feels good, but the device comes with preloaded programs for common routines, like presleep, back aches, and leg warm-ups and cooldowns.
This model comes with seven attachments, including a super soft ball for bony areas and joints, one that vibrates, and another that's pleasantly self-heating. For postworkout cooldowns—or anytime you could use a moment of calm—a breathwork setting guides you through a simple deep-breathing exercise.
The Pro Plus gets up to 150 minutes of battery life on a charge. And while it isn't quite as quiet as the other Theraguns here, it's still impressively hushed for something so powerful.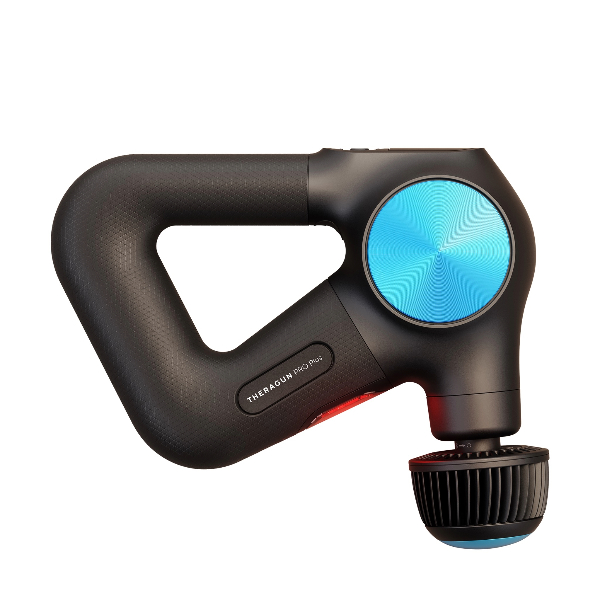 2
Best to Soothe Stress: Theragun Sense
goop, $299
The Theragun Sense is made with wind-down routines in mind. It's just the right size to keep by your desk or in your nightstand, first of all. And on its menu screen, you'll find a handful of preloaded programs for alleviating the kind of tightness you might feel after a day at the computer or chasing kids around. It delivers 30 pounds of force—stronger than the Mini but not as powerful as the Pro Plus. The device comes with four different attachments optimized for different parts of your body. And anytime you could use some calm, a breathwork setting guides you through a simple two-minute deep-breathing exercise.
We like how pretty it is—peep that dusty-rose color. Also worth mentioning: This model barely makes any noise.
3
Best on the Go: Theragun Mini
goop, $199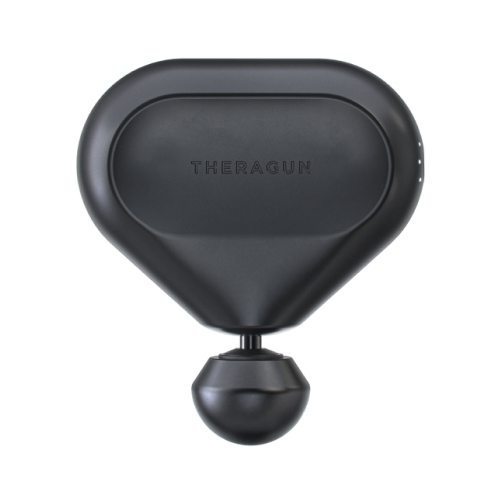 The smallest, lightest Theragun is perfect for people who mostly plan to use their Theragun on the go—or as a carry-on-compatible companion to whichever Theragun they have at home. The Mini is simplified—no display screen or preprogrammed routines here, and just three speeds to choose from. But it weighs only a pound and a half and easily tucks into a backpack, tennis bag, or large purse.
For its compact size, it's surprisingly strong: It packs 20 pounds of force. It comes with Therabody's standard ball attachment, which is designed for overall use on both large and small muscle groups. (You can get additional attachments on the Therabody site.) And you can choose between black and a pretty dusty rose.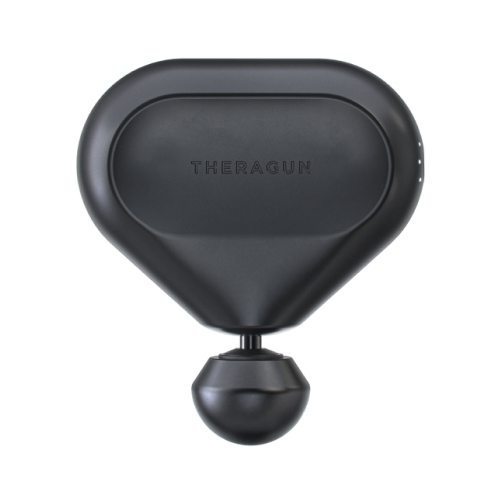 How to Use a Theragun
Whether you're after a certain spot on the body or an end-of-day release for your whole system, Wersland has just five steps for you.
Turn on the Theragun without putting it on your body. That may seem like a minor thing, but it's important for better control. And resting the Theragun on your muscle and then turning it on can be a little jarring.
Rest the Theragun on your body. Don't add any pressure. Just let it float.
Glide the Theragun along the muscle. Move slowly—about an inch a second or slower.
If you hit a knot or an area of tension, let the Theragun rest on that spot—without adding additional pressure—for a few moments before moving on.
Breathe: nice long inhales and exhales. And feel the relief.
FOR SOOTHING TECH NECK
If your phone is an established extension of your arm, if you spend your day locked into a laptop hunch, if you're reading this article, you've probably dealt with some tightness in your neck, shoulders, and upper back. The long-term fix is to take regular breaks from our devices, stretch it out, and mind our posture. And we also like this simple Theragun routine, focused on massaging the traps and lats for some more-immediate comfort.
FOR SORE LEGS AND FEET
When you've spent a whole day—or even just a few hours straight—on your feet, heaven is a place called taking your shoes off. Pointing and flexing, rolling out the ankles, giving your lower legs a little squeeze. Next-level that feeling: Taking the Theragun to the calf, shin, and arch of the foot can alleviate tightness. We like to follow this routine after a day of errands, a long run, or a flight—but really any excuse will do.
---
This article is for informational purposes only, even if and to the extent that it features the advice of physicians and medical practitioners. This article is not, nor is it intended to be, a substitute for professional medical advice, diagnosis, or treatment and should never be relied upon for specific medical advice. The views expressed in this article are the views of the expert and do not necessarily represent the views of goop.