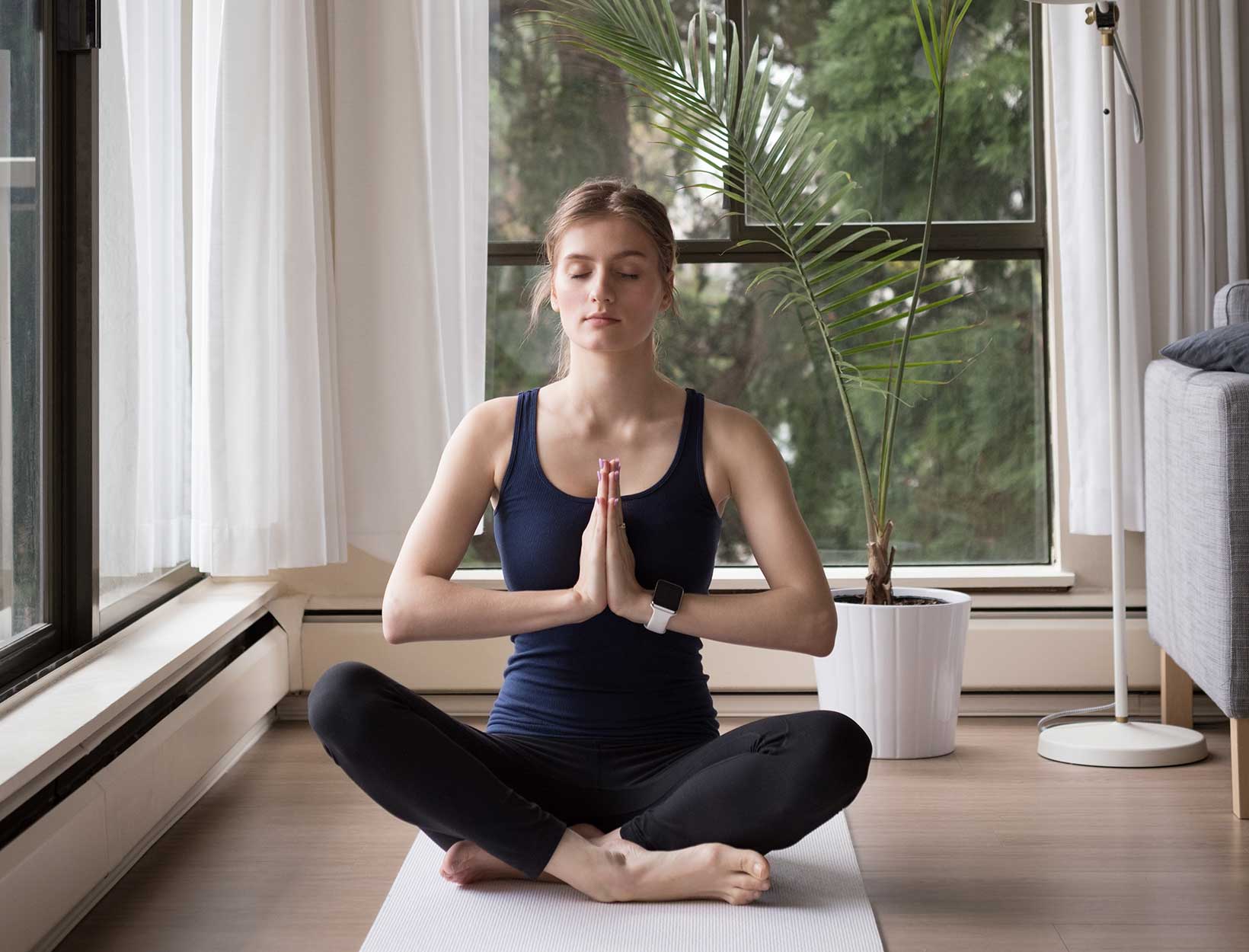 Creating a Yoga Sanctuary in Your Living Room
In partnership with our friends at Bulldog Online
You don't need much to practice yoga: Just your own body and, likely, a mat. But re-creating the ambiance of your yoga studio at home can make each session more joyful, grounding, and indulgent—and maybe even make it more likely that you'll continue to show up on the mat—especially if your living room is doubling as a home office these days.
1

Bring the studio home

For a fitness-forward yoga flow, we've been streaming Bulldog Yoga's online classes. Set up your laptop on a chair or table and choose from the diverse class offerings—whether you have ten minutes or an hour, you'll find one filled with upbeat playlists that get you moving and sweating from the start. You can filter to tailor your practice to whatever experience level you're at—there's even a meditation series for when you're simply looking to find stillness. (To try Bulldog Yoga for yourself, use promo code GOOP60 to extend your free trial from thirty days to sixty days.)

2

Start with a solid mat

The Manduka GRP mat provides six millimeters of natural rubber cushion to absorb impact and create a comfortable base for any asana (no sore knees here). And the antislip upper layer helps keep you in place, even as you start to sweat, so you can keep flowing without any unintended slipping and sliding.

3

Create an altar space

Set the mood by surrounding your mat with your favorite crystals and earthy, grounding scents, like the Church candle. It evokes the aroma of a woody fire as it burns, infusing the air with a meditative energy.

4

Find support

Blocks help bring the ground closer, making poses more accessible and allowing you the support you need to melt into your juiciest expression. These blocks are made from sustainable cork, resulting in a textured surface, a firmer feel, and a heavier weight than your typical yoga block, which means they don't move around. Use them for arm balances, underneath your palm in extended side angle, or even in place of a weight for ab exercises. They're perfect for beginners learning new postures, for restorative yoga, and for those who want an added challenge in headstand crunches.

5

Get a stretch assist

Whether you're here for a full practice or just stretching it out, the align yoga strap is a great prop for those with tight hamstrings—loop the strap around your heel if you can't grab your foot—or tight shoulders (ever heard of shoulder flossing?). The eight feet of strong cotton webbing is also helpful when working on arm binds or something more restorative where you need the slack.

6

Prepare sips of bliss

Yes, Glacce's water bottle is a little extra, and yes, if you're at home, you can fill any container with water and that'll do. But if you're into this sort of thing: The amethyst crystal serves as a stunning drishti (point of focus) for balancing postures, too.

7

Indulge the yin

Every workout needs its cooldown. In yoga, it's called yin: a slower pace of movement and postures that are held longer to work into connective tissue for flexibility. Manduka's rectangular bolster provides soft but uplifting support for restorative postures: Under your hips with legs up against the wall, beneath your spine, under your knees in savasana—there's no wrong answer.

8

RELAX

When all is said and done—you've sweat and moved and breathed—you'll find yourself in savasana for a much-deserved rest. The yogis say that only through the practice of asana (postures) and pranayama (controlled breathing), do the mind and body become ready for the seventh limb of yoga: dhyana, or meditation. Drape Manduka's thick cotton blanket over yourself for warmth or roll it up and place it under your body for added comfort. Relax and let yourself reap all benefits of your practice. Namaste.