The Mat Pilates Workout We're Streaming Now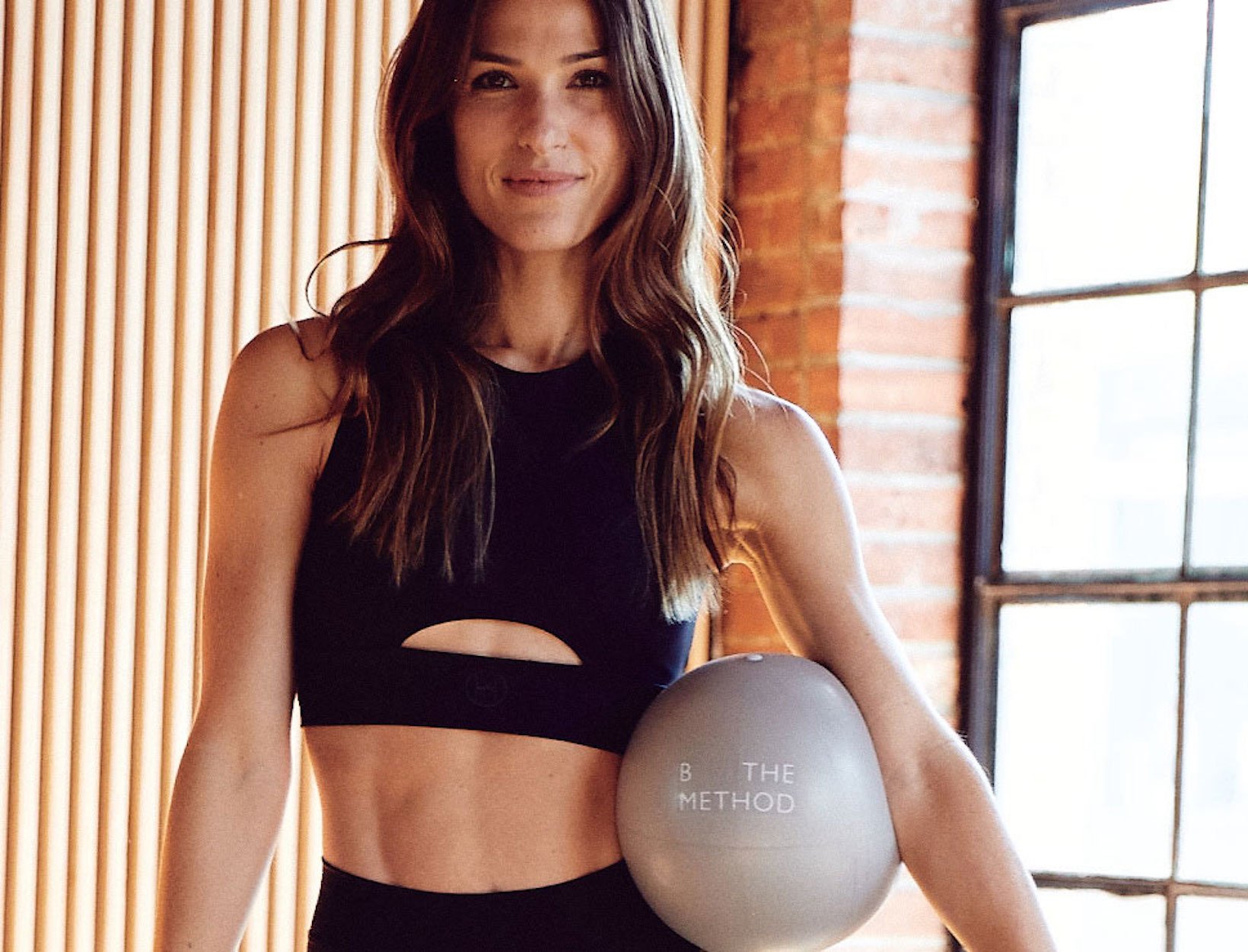 Lia Bartha's signature workout, B the Method, is based in classic mat Pilates but cuts out most of the props. All you need to get started is a ball. From there, Bartha dials in on good form and strips away distraction, including music. You have to rely on your breath, not a beat, to keep you going.
In our experience, B the Method is challenging and engaging but not prohibitively hard. (Bartha offers thoughtful modifications to make each move easier as you build a foundation of strength and stability.) We tend to walk away from it sweaty and satisfied, but not sore, and energized for whatever we're up to next.
She recorded a 15-minute workout for us here—stream it now or save it for later.
If you're itching for more: Bartha recently launched an app for at-home streaming workouts and opened B the Method's first in-person studio in Brooklyn.
A Q&A with Lia Bartha
Q: What makes B the Method such a powerful practice?
A: We're really not leading with, "How can I see results immediately?" We're focusing on healing the body.
Q: How do you help your clients keep their head in the game when a workout gets tough?
A: The way that we move really flows you through a meditative state. A lot of fitness right now is distraction-based: It's machines; it's distraction through music or whatever it may be. We strip all that away in class. What that does is it really forces everybody to be present and connect their body and their mind.
Q: During a workout, how can people figure out whether they should use modifications to make a movement easier?
A: So many people come in and they're like, "Oh, I wanna push it. I want to do all the advanced moves." But a lot of times I'll do the regular and then I'll do the modification, and with the modification I'm actually able to tap in deeper. And that feels better on my body today.
Q: How do you like to recoup after a workout?
A: I love an Epsom bath so much, and I'm a huge fan of the goop baths. The turmeric one—I love it so much. I also make sure that I'm not not moving much after class. Just move the body a little bit, let yourself decompress, and drink water. I've been doing cold showers, too. I feel like it's been wildly impactful for me.
goop Beauty

Lift + Depuff Eye Masksgoop, $125

SHOP NOW

goop Beauty

Microderm Instant Glow Body Polishgoop, $48

SHOP NOW

goop Beauty

Phys. Ed. Recovery Bath Soakgoop, $40

SHOP NOW
Q: Do your kids ever join in?
A: They love it. My younger daughter especially. A lot of times they'll go on the floor and be like, "What about this move?" And it's like this wild move with their legs wrapped up and all that. I'm like, "I will definitely take inspiration."
Q: What are you excited about in the wellness world right now?
A: Being with people, talking with people, connecting with people, sharing my passions, hearing about other people's passions.
Q: Do you cross-train?
A: I'm a New Yorker. I love to walk.
EDITORS' PICKS: THE BEST WORKOUT GEAR