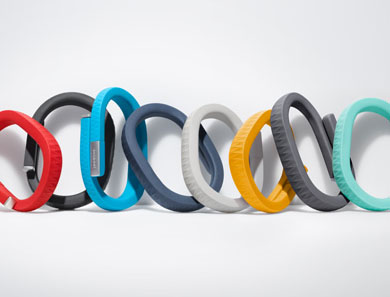 Get Moving: Jawbone
UP is a wristband that you wear 24/7 that tracks your movement and sleep and helps you keep a record of what you eat and how you're feeling on a daily basis. You can see your results by plugging the UP band into an iPhone/Android app that keeps all the tracking information on it. We've started using the band as a way of becoming more aware of our daily habits in order to make changes to our everyday behavior. We talked to the folks at Jawbone to get the facts on how UP works.
---
Q
Why is awareness of your current habits so essential to changing them?
A
Having an accurate picture of yourself and your baseline allows you to make informed decisions about your everyday life. We all want to have healthier lifestyles, but there's a gap between what we know we should do and what we actually do. Many people don't have an accurate picture of themselves, so they don't know where to begin.
---
Q
What research did you rely on to come to this conclusion?
A
We spoke with a lot of people about their personal experiences and what motivates them, we extensively researched behavior change theory, and we also looked at self-improvement programs that have existed for a long time, like gym memberships and diets. 84% of the people we spoke with said they want to improve overall health and wellbeing but 72% reported having trouble consistently maintaining healthy habits. We know that the simple act of tracking can instigate behavior change – studies show that tracking activity can increase activity 26%.
---
Q
Are there results you can share with our readers on how having an UP band has helped people make permanent changes?
A
We've seen a lot of people make changes like figuring out who should be on "baby duty" by analyzing both partner's sleep cycles; people who walk during meetings and on conference calls and realize they get more steps than they would from a workout; people who've changed the types of foods they eat before bedtime to get more deep sleep. And we've seen that team building can be a key motivator – UP users with one or more teammates work out 20% more and walk 10 miles more per month than UP users without teammates.