How to Tone, Sculpt, and Resolve Diastasis Recti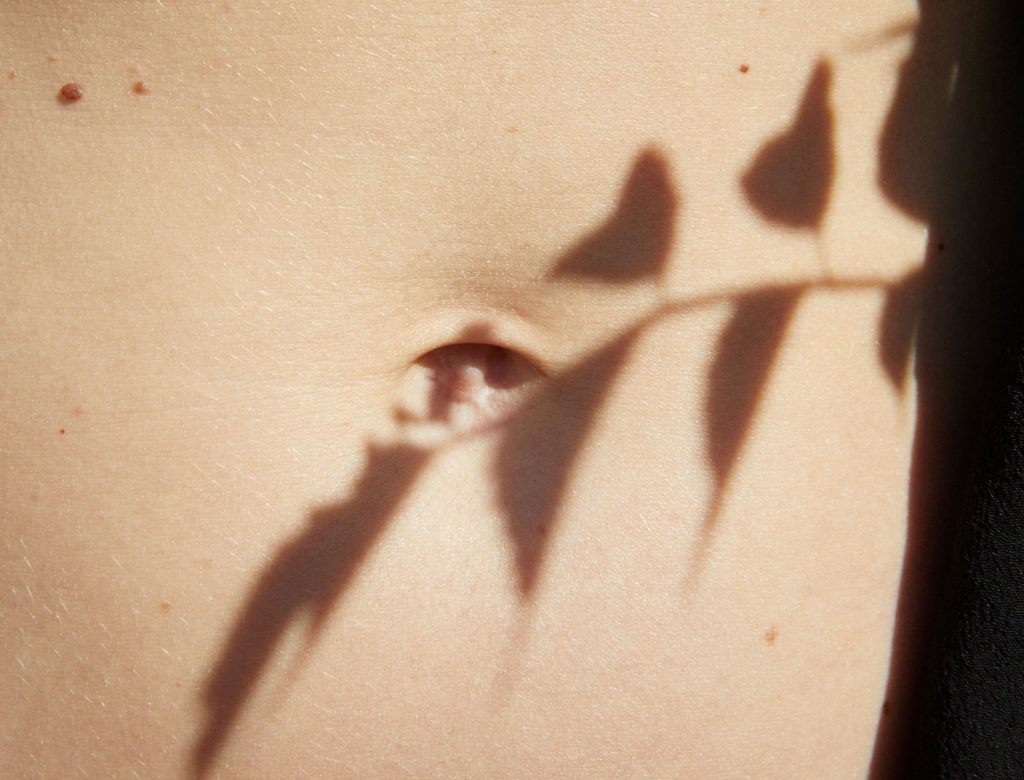 Photo courtesy of Lotte van Raalte
Some call it a pooch. Some call it a mommy tummy. Technically it's called diastasis recti. It's a stubborn bulge in the middle of the abdomen that is either a badge of motherhood or the tricky thing about wearing a bikini, depending on your personal feelings about it.
Diastasis recti happens when the left and right abdominal muscles weaken and stretch to the side, as in pregnancy. The condition is incredibly common (60 to 70 percent of women who've been pregnant experience some degree of diastasis recti), but even so, most women don't know how to get rid of it, says Leah Keller, a personal trainer in San Francisco. Typically, solutions involve surgery or intense workouts, but those aren't necessarily the best options for everyone. In fact, they can sometimes lead to the condition returning—or worsening.
Keller has a different approach: a series of compression exercises that activate the core and strengthen the pelvic floor, abdominal wall, diaphragm, and other muscles. The exercises are part of her method, Every Mother, which she's been honing for pre- and postnatal women for the last decade. The method takes ten minutes a day. And the results are motivating: Weill Cornell Medicine conducted a study with sixty-three women who followed Keller's program. All of them had fully fixed their diastasis recti in twelve weeks. But perhaps most interestingly, Keller's method is opening our eyes to the idea that a stubborn bulge may not be as stubborn as we once thought.
A Q&A with Leah Keller
Q
What is diastasis recti?
A
Diastasis recti is a separation of the abdominal muscles that runs vertically along the midline of the body. It's not a tear; it's a sideways stretch that weakens and thins the connective tissue between the two halves of the rectus abdominis (what we typically think of as the six-pack muscles).
---
Q
What are the symptoms?
A
Back pain, core weakness, pelvic floor dysfunction, and a stubborn "pooch" or widened waistline that fails to respond to nutritional or exercise interventions. It's a cosmetic nuisance, but the health implications are also very real. A diastasis recti diagnosis correlates with a higher rate of low back pain, urinary stress incontinence (leaking when you sneeze or cough or run), pelvic prolapse, and increased risk of hernia (ventral and umbilical). It also correlates to injury due to core weakness, compromised posture, and instability.
---
Q
Who is at risk of getting it?
A
Diastasis recti affects a vast majority of women who are or have been pregnant. The most conservative statistics indicate 60 to 70 percent of women who have been pregnant experience some degree of abdominal separation, and some studies suggest the rate could be as high as 90 percent.
But it can also affect women who have never been pregnant and men. Even babies are sometimes born with diastasis recti. This occurs when the abdominal muscles are not fully fused together prior to delivery. Diastasis recti in infants often resolves on its own as babies grow. In the small percentage of more severe cases, a hernia may accompany the diastasis recti and surgery could be indicated.
---
Q
What causes it?
A
Pregnancy is one cause—but not the only one. Any chronic or repetitive forward pressure on the abdominal wall can induce diastasis recti. I have worked with many athletes—including women who have never been pregnant and men—who have separated their rectus abdominis by performing common abdominal exercises that bulged their abs forward forcefully, straining the connective tissue and inducing collateral damage. In women who suffer from exercise-induced diastasis recti, the separation is typically shallow and less severe than a pregnancy-induced separation. Instead of causing an obvious pooch, exercise-induced diastasis recti presents as a widened waistline and what some refer to as an "athletic build," as opposed to a more hourglass shape.
Men who self-induce diastasis recti also exhibit a wider waistline, and they are at greater risk of suffering a back injury and/or hernia. The next time you pass a newsstand, notice the men's health magazine covers: Some fitness models have a sculpted six-pack with a narrow line down the center. This is healthy connective tissue and a healthy core. Others have a wide, diamond-shaped gully between their six-pack muscles, exhibiting overstretched and compromised connective tissue. These men are at a greater risk of back pain and hernia, and of developing a gut when they return to noncompetition body-fat levels.
Another cause of diastasis recti is what we commonly refer to as a beer belly. A beer belly presents as a firm, round abdomen reminiscent of a classic pregnancy bump. The reason it is firm is because the accumulation of deep, visceral fat exerts outward pressure on the wall of abdominal muscle, bulging the abs forward and separating the muscles in a manner similar to how a growing fetus places pressure on a pregnant woman's abdominal wall.
---
Q
How can you fix it?
A
The key to resolving abdominal separation and improving core health and function lies in correct training of the deepest abdominal muscle—the transverse abdominis (TVA). The TVA is your natural corset—it inserts into the spine, the hips, the ribs, and the pelvis, and it wraps around the entire torso.
---
Q
How does the Every Mother method do this?
A
Every Mother's EMbody programming coaches women through all the subtleties of how to recruit and engage the transverse abdominis while coordinating that muscle engagement with breathing and appropriate pelvic floor activation. This maximizes the therapeutic impact of our foundational exercise, core compressions. Our detailed coaching and videos walk members through the nuances of performing these exercises in a variety of body positions and sequences. Every Mother workouts incorporate that foundational core technique into every rep of every exercise. We also provide in-depth instruction on how to incorporate healthy core engagement into everything that you do, from functional daily activities, like lifting a child; to leak-free sneezing; to healthy posture, alignment, breathing, and sleeping habits.
We have honed the essentials into a program that streams online (with a downloadable mobile app) to make it accessible and convenient. The daily prescription to prevent or resolve diastasis recti is only ten minutes of our core compressions. Our full-body workouts, which we incorporate into the routine two to four times per week, range from ten to twenty-six minutes. The goal is to have every mother scale the program according to her life.
---
Q
And muscle engagement is only part of the routine?
A
Yes. We also coach women on when and how to safely release and relax the muscles to achieve balance and strength, because chronically tight muscles can be as problematic as weak, flaccid muscles. So through our workouts, we help women find, achieve, and maintain healthy muscle balance to support form and function.
---
Q
Can you do it in tandem with other exercise?
A
I find that devoting full focus and concentration to the quality of activation when performing these deeply therapeutic exercises produces faster results. It is amazing how dramatic the change can be when you devote your full attention for just ten minutes a day to our core compressions.
With that said, there are definitely added benefits to incorporating Every Mother's full-body workouts—particularly our innovative core-intensive workouts—when your goal is to flatten a protruding belly. We advise women to proceed with caution when considering outside exercise methods. Many exercises that women have embraced to improve core strength can potentially wreak havoc on the connective tissue in the abdomen. I generally encourage participants to devote themselves fully to Every Mother's comprehensive Reclaim program (including our core compressions and full workouts) for six to twelve weeks before incorporating outside workouts. This results in more body awareness and confidence to modify those outside exercises as necessary, which can help avoid hindering their recovery or reinjuring the tissue. (We also have a video for members that goes into greater detail.)
---
Q
When do you start to see results?
A
Improvements in back pain are often reported within three to four days of performing our core compressions. When consistently following our program, women often see a visible, measurable change in their abdomen in ten days. In a study Weill Cornell conducted of sixty-three women who followed Every Mother's Reclaim program, 100 percent achieved full resolution of diastasis recti in less than twelve weeks. At the conclusion of the intervention, subjects also reported a significantly lower incidence of back pain and urinary stress incontinence compared to similar populations, indicating a positive functional impact.
We're now launching a randomized, controlled trial headed up by the Hospital for Special Surgery in NYC that will further explore the benefits of our Reclaim program (including relief from back pain, improvements in urinary continence and pelvic function, closure of diastasis recti, and improvements in core strength). We're grateful for this interest among research doctors to explore noninvasive solutions that dramatically increase women's health and quality of life.
---
Q
What are some of the misconceptions about core abdominal exercise that you've come across?
A
A handful of the most common misperceptions I encounter include:
Myth: I need to do crunches if I want a strong core.
Truth: Crunches, a forward flexion motion, can strengthen the top and bottom of the rectus abdominis, but they can also bulge the center of the abdomen forward, which results in an overlengthening of the rectus abdominis at the center and a separation of the muscles. This inhibits proper engagement of the deep core and inflicts collateral damage on the linea alba, the connective tissue that runs up and down along the center of abdomen, and can worsen a pooch or even potentially cause diastasis recti.
Myth: The best way to train the obliques is with crossover crunches or bicycles.
Truth: There are many better, safer ways to train the obliques, including twists combined with drawing in transverse abdominis activation and variations on side planks. Whenever you combine forward flexion (crunches, sit-ups, boat pose, hundreds) with a twist, you can exert a diagonal sideways strain on the connective tissue that surrounds the belly button, potentially causing a diamond-shaped separation of the rectus abdominis in the center of your abdomen.
Myth: Planks are always safe.
Truth: Planks can be safe and beneficial when performed with proper form and breathing, but they can be profoundly injurious if the abs are flexing forward, which can increase intra-abdominal pressure. We incorporate our core compressions and healthy breathing into every plank to help you maximize the benefits of planks while avoiding injury.
Myth: I have to feel the burn to know I'm strengthening my abs.
Truth: It is not always necessary to feel delayed-onset muscle soreness to know you are strengthening a muscle, particularly the deep core muscles that are integral in stability and function. First of all, soreness varies among individuals. Some people feel more muscle soreness in response to any given resistance workout than others with a similar level of conditioning. Second, the burn one feels during or after performing core exercises is not always a healthy, muscle-fatigue burn. Sometimes that sensation actually stems from damage you're inflicting on the connective tissue in your abdomen. This can come from doing core exercises that are inherently injurious or exercises that you do not have the strength or muscle control to perform correctly. Do not rely on muscle soreness as an indicator that an exercise is effective or helping you achieve your goals.
---
Q
What are the misconceptions about diastasis recti?
A
There have been many comments about the post-baby pooch in the media. One celebrity stated how she accepted the pooch after giving birth and embraces what it represents, which we applaud. However, she then referred to hitting the gym hard when she was ready to get rid of it. This echoes a common misperception that women can eliminate that pooch and restore core strength by throwing themselves into intense, conventional workouts without awareness of how the core needs to be rehabilitated from the inside out. That assumption has caused great frustration for many, many women as they embrace traditional approaches to fitness that not only fail to eliminate the pooch but actually worsen many chronic postpartum symptoms, including back pain, pelvic floor dysfunction, and urinary stress incontinence.
The fact that many people identify the same issues post-birth and are unaware of what resolves them is a resounding wake-up call that we need to build greater awareness of diastasis recti. We need to spread awareness of the fact that diastasis recti can be prevented and resolved for a majority of women without surgery or hours at the gym (for which many women do not have the time or money). We still have a long way to go to achieve our mission of helping mothers everywhere harness their body's power through motherhood and feel comfortable in it again or, in many cases, for the first time.
---
Q
How did you come up with your method?
A
I had a crystallizing realization in the moments following the birth of my first child. At that point in my life, I had already spent years training women specifically for birth and for postnatal recovery. I entered labor with every advantage, and I was in peak physical shape to deliver with strength. And even with all that preparation, it was so, so hard. As I held my baby girl for the first time, tears of joy streaming down my cheeks, it occurred to me that this precious baby girl would probably birth her own child someday. I was overcome with a deep sense of purpose to ensure that she and every baby girl would have the opportunity to enter childbirth with the same degree of training, knowledge, and empowerment that helped me have such a positive birth experience. Anything less felt unacceptable.
That memory has inspired me over the years to find a way to inform and empower every woman to take charge of her own health, to protect and strengthen her body, and to guard her well-being and sense of body integrity as she navigates pregnancy, birth, and postpartum recovery—whether that recovery is happening weeks after delivery or decades later.
---
Leah Keller is a certified personal trainer and the founder of Every Mother (formerly the Dia Method), a prenatal and postnatal fitness system endorsed by medical and birth professionals worldwide. Keller has more than two decades of fitness experience. She coaches women of all ages through evidence-based exercises to improve core strength, function, and total body fitness. Her method, Every Mother, is featured in the forthcoming book The New Rules of Pregnancy. Keller currently lives in San Francisco with her husband, daughter, and baby boy.
---
This article is for informational purposes only, even if and to the extent that it features the advice of physicians and medical practitioners. This article is not, nor is it intended to be, a substitute for professional medical advice, diagnosis, or treatment and should never be relied upon for specific medical advice. The views expressed in this article are the views of the expert and do not necessarily represent the views of goop.