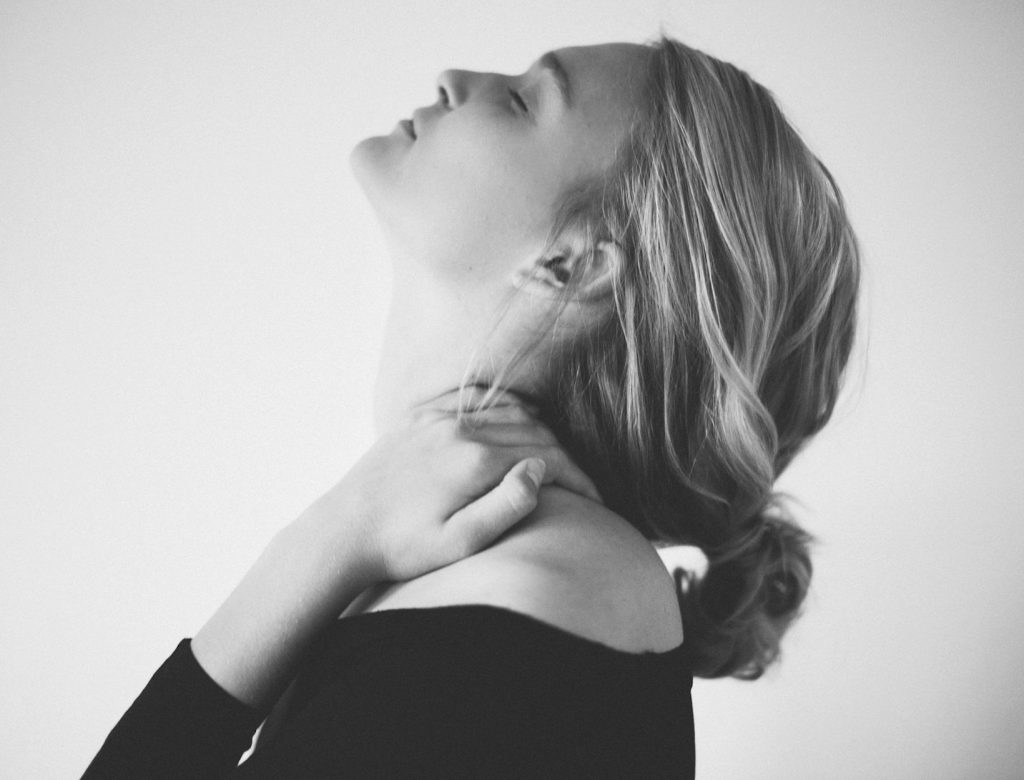 Ending Tech Neck
Ending Tech Neck
Body-alignment specialist Lauren Roxburgh helps clients work through a number of physical complaints in her private practice. And lately, she's seeing a rise in the number of clients who are having issues related to "tech neck"—that discomfort we feel after being hunched over, glued to our screen for hours on end.
For some relief, Roxburgh showed us an easy foam rolling exercise that targets the neck. "Placement on the roller is extremely important," she says. "Be sure to have the base of your skull right at the edge of the roller.
It has the perfect slanted edge to cradle your head." Roxburgh also said that you want to avoid using a hard-density roller for this specific move. We use her Aligned Roller for everything, but it feels especially good on the neck.
A Q&A with Lauren Roxburgh
Q
How does tech neck manifest in your clients?
A
We're all addicted to our screens—some reports estimate that the average American spends more than ten hours a day looking at some form of screen, whether it's our phones, tablets, computers, or TVs. All that time spent sitting hunched over our screens may result in a host of physical problems; perhaps the most common of these—and certainly the one I see more and more—is what we're now calling tech neck or text neck. It's basically what happens as a result of the downward tilt in our neck that we often take on when looking at our phones, TVs, and computers. A simple fifteen-degree downward tilt of the head is enough to put twenty to thirty pounds of extra pressure on the neck and spine.
With clients, I've noticed that spending too long stuck in one position can cause their fascia, or connective tissue, to get "glued" into that position. I think that getting stuck in this poor hunched or slumped position can also cause stress to get stuck in the neck, which may contribute to more discomfort.
---
Q
What else exacerbates tech neck? And is it easy to correct?
A
It's simply being on our screens for too long at any one time. And the solution is simple: It all starts with being mindful and aware of your posture so that you realize when you're falling into this habit. Whenever you feel yourself getting stuck in the hunch, it's time to take a break from whatever you're doing, breathe, go on a short walk, and stretch out. Even better, keep a foam roller at your office and jump on it for a few minutes to roll out, realign your posture, and undo the day.
Other things that might exacerbate tech neck include sleeping on the wrong bed or pillow (too hard, too soft), cradling your phone between your ear and your shoulder, and walking around in a clenched, stressed fight-or-flight state.
Again, it comes down to mindfulness and awareness. As soon as you feel yourself slipping into any one of those habits, break the cycle and fix your posture. Consider getting a different bed or pillow. Wear a headset and stop cradling your phone between your shoulder and ear. Use the roller, stretch, meditate, and remember to breathe. Take a hot bath at the end of the day and try massage or acupuncture to help get rid of any residual stress. But my personal favorite is to adopt the old saying "Keep your chin up" as a mantra—not just for tough times but to remind you not to hunch forward and put pressure on your neck.
---
Q
What else do you recommend to your clients with neck issues?
A
The answer is to increase mobility and strength in your neck. Increasing strength is going to help the muscles carry the head when you do get into that dreaded hunch, which can reduce the impacts of tech neck. But increasing mobility is going to help you relieve and reduce stress that you are holding in your neck. My online program, Taller Slimmer Younger Transformation, helps build healthy tone in the entire body; part of this is increasing neck mobility and strength, while improving posture.
If you want one quick move, try the simple exercise in the tech neck foam rolling video. It will help you boost mobility and build graceful strength in just a few minutes a day.
The good news is that it really is possible to encourage your neck to get back to the elegant, graceful, upright, and beautiful state it was in before you spent your life glued to your screens. Bringing your head, neck, and shoulders back into alignment with this move will help your body feel lighter and less tense. This move will set you up for an all-around better day, a more efficient workout, or a deeper sleep depending on what you're off to next.
---
---
The views expressed in this article intend to highlight alternative studies. They are the views of the expert and do not necessarily represent the views of goop. This article is for informational purposes only, even if and to the extent that it features the advice of physicians and medical practitioners. This article is not, nor is it intended to be, a substitute for professional medical advice, diagnosis, or treatment and should never be relied upon for specific medical advice.