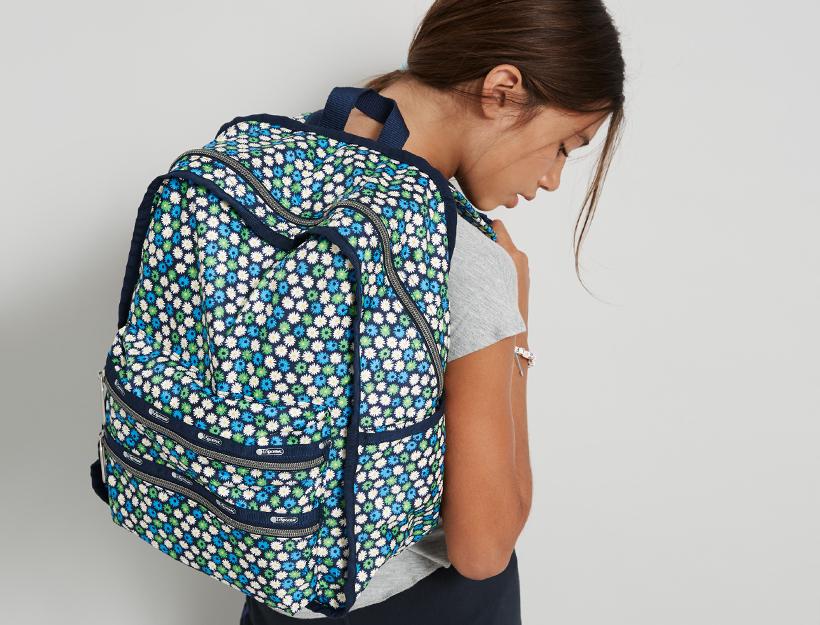 Do Backpacks Create Lifelong Structural Issues?
No piece of clothing or glittery pencil is as essential to the transition from summer pool sessions to fall class-time as the backpack. And the argument for updating your kids' backpacks goes way beyond the desire to have the latest, coolest variety.
Karen Jacobs is a clinical professor at Boston University's Department of Occupational Therapy, a certified professional ergonomist, and former president and vice president of the American Occupational Therapy Association (AOTA), who, not incidentally, also happens to be an expert on backpacks (she's a spokesperson for AOTA's National School Backpack Awareness Day). Below, she answers all our questions on backpacks—how we do protect our kids from back pain?—and sums up everything else you need to know about backpack selection, fit, weight, and wear. PS: While you're in prep mode, check out our new, curated back-to-school shop.
A Q&A with Karen Jacobs, Ed.D.
Q
What's the major concern with backpacks—that they are too heavy for kids, that they are wearing them for too long, or that they aren't being worn properly?
A
It's a little bit of everything—the issue with backpacks is really multifactorial: Children are wearing backpacks that don't fit correctly, so they may have backpacks that are too big, particularly when they're younger. And children are also wearing backpacks that don't have all the right aspects to their design. [More on those right aspects below.] They might also be carrying backpacks that are heavier than necessary, and for longer than necessary.
Q
Is the back pain that is associated with backpacks temporary or long-term? Are there other potential injuries?
A
The main problem that we're seeing is that kids are complaining of discomfort—their shoulders are hurting, their backs are hurting, they are getting headaches. Often, when they adjust their backpacks or wear them properly, that discomfort (or for example, redness on the shoulder) goes away. This isn't necessarily long-term pain; it's more transitory—discomfort is different from chronic pain.
There hasn't been a longitudinal study that has looked at kids wearing backpacks. (This is an area where there should be more research—I'd love to do a study following children from preschool through college.) So we can't say that backpack use is the cause alone of any long-term pain or injury. (Use of technology and sedentary lifestyles likely also play a role.) But there are studies that show that if you have a back issue when you're young, you're more prone to have back issues as an adult. So it is really important to help kids avoid back issues—backpacks can be one piece of this, along with supporting a healthy, active lifestyle. [More on this coming.]
Q
What do you look for in a backpack?
A
There are three big points: selecting, packing, and wearing. When it comes to backpack selection, it's important, especially with younger kids, that parents/guardians/family members are a part of it. The best backpack isn't necessarily the one with your child's favorite superhero on it (although it could be); it's the one that fits right.
While fit is most important, here are the other qualities I like: A backpack with two padded shoulder straps and padding on the back of the backpack. I like light, breathable material; reflector panels for visibility if kids are walking when it's dark out (may apply with Daylight Saving Time); and mesh side pockets. You don't want to have too many compartments because we find that kids tend to fill up compartments with items they don't need, making their backpacks heavier than they need to be. I recommend backpacks with hip straps or chest straps, with the hip straps doing more than the latter. (I can't get a lot of kids to wear the straps, though, and don't consider either the hip or chest strap to be deal breakers.)
Q
How do we adjust backpacks to fit properly? How can we tell if a backpack actually fits right?
A
The back of the backpack should fit like a rectangle on your child's back. The top of the backpack shouldn't be higher than the shoulder blades; you don't want the backpack leaning on the neck. (This is crucial with very young children—the backpack needs to be small enough that it fits their backs.) Adjust the straps so the backpack fits comfortably. If your kid likes a hip strap, it should be hooked around their hips (this transfers weight from the shoulders to the hips), and not around the waist (this doesn't do anything).
Keep in mind: Children are incredibly reliable sources when it comes to matters of comfort and discomfort. So, also simply ask your kids: "Are you comfortable?"
Q
What's the right way to wear a backpack?
A
Both straps always. The one-shoulder look may seem cool, but it's definitely not.
I also recommend that kids take their backpacks off when they don't need to be carrying them—for instance, while waiting at the bus stop.
Q
Is there a common rule of thumb regarding how heavy is too heavy?
A
There has been some research in the past that has suggested that a backpack should not be more than ten to fifteen percent of a child's weight. But a recent study that came out of Ireland did not find a correlation between a backpack's weight (as a percentage of a child's body weight) and discomfort. So this rule of thumb might not be as accurate as once believed. (Also, the rule doesn't necessarily calculate the appropriate backpack weight for children of all sizes and weight, particularly those who are overweight or obese.)
Colleagues in Ireland have created a new guideline (which will be published in the journal WORK: A Journal of Prevention, Assessment & Rehabilitation), for parents to reference, but the most realistic (and common sense) guideline to follow is that backpacks should be as light as possible.
In recent years, some schools have begun providing tablets and electronic textbooks for students, which can help to make backpacks lighter. But you want to be sure that whatever your kids are bringing back and forth with them are items that they actually need and use at school. Just as you might talk with your child at night about what he/she is going to wear the next day, you can talk about what's in his/her backpack for school the next morning. Do you need that extra rubber glue, another box of pencils? I also see a lot of kids carrying full water bottles—instead, they should bring empty bottles that can be filled up at school. You want to keep the load as light as possible.
Q
Does the way you pack a backpack actually matter?
A
Yes: You want to distribute items and weight relatively equally, putting the heaviest items (for example, Trapper Keeper, science book, notebook computer) in the middle, closest to the body.
Q
Would our kids be better off using roller backpacks (or some other alternative)? Or are backpacks done right safe, and/or even have some benefits?
A
There's been a lot of back and forth on roller backpacks. I never recommend wearing roller backpacks on your back—this is generally uncomfortable because of the design and wheels, and usually does not make for a good fit. (Also, I personally don't like the dirt from the wheels on my back. I wear a backpack every day, twenty minutes each way, and if I have too much to carry one day, I'll use my rolling backpack. But I wouldn't put it on my back.)
Some schools don't allow roller backpacks because kids can hurt themselves when playing around with them (for instance, on the stairs). But if a roller backpack is an option you're considering for your child, I think the choice largely depends on if your child is going to be solely pulling the backpack or if they are going to have to carry it a lot. Do they have to lift the backpack often to get around school? Do they take the stairs? If your child needs to wear the backpack on their back, it's not the best choice.
But if your child can roll the backpack instead of wearing it, then it could make sense. In that case, you want to be sure that the surface they are rolling the backpack on doesn't add extra stress as they are pulling, and that the handle is adjustable to the child's height.
What's interesting, though, is that wearing a backpack that fits correctly can be good exercise for a child. This isn't dissimilar to how we think of carrying a backpack and going on a hike as good exercise for us. And of course, a backpack is an incredibly useful tool—students have a lot of things they have to transport. I'm a very big fan of backpacks—all my children used them, my grandchildren do, I do, and I encourage others to use them all the time.
Q
For kids who already have back pain, can the damage be undone?
A
If your child is experiencing back pain, make an appointment with your pediatrician. You should also turn to your school's occupational therapy practitioners—they are mandated to be in all schools in the U.S. and are knowledgeable about backpack safety.
Exercise is really helpful—make an exercise plan with your physician. Have your kid take a break every thirty minutes and get up and stretch—this is important when children are spending long periods of time sitting down. A free app that I helped develop, called Stretch Break for Kids, helps to remind kids to take breaks while on the computer and guides them through a series of stretches.
Q
What else—like sitting on a computer for too long—should be on parents' radar? Is there a bigger culprit when it comes to structural damage?
A
The overarching concern is a sedentary lifestyle. Many schools no longer have full gym classes as they did in the past. Many kids are spending a lot of time sitting in front of the TV, playing video games, on the computer. Kids (and adults) are using tablets in a forward flex position that is terrible for the neck, or on smartphones in awkward positions. Just consider the awkward postures of your child as he/she plays Pokemon Go! All of these things (along with improper backpack wear) can contribute to discomfort, and potentially bigger, more permanent pain issues and injuries if they aren't addressed over time.
For more information on backpack safety, check out the American Occupational Therapy Association and their National School Backpack Awareness Day (September, 21, 2016).
The views expressed in this article intend to highlight alternative studies and induce conversation. They are the views of the author and do not necessarily represent the views of goop, and are for informational purposes only, even if and to the extent that this article features the advice of physicians and medical practitioners. This article is not, nor is it intended to be, a substitute for professional medical advice, diagnosis, or treatment, and should never be relied upon for specific medical advice.
goop Picks
Below, a few backpacks from our back-to-school shop that we like for kids toting textbooks come fall, plus a couple of lunchboxes to pair them with.