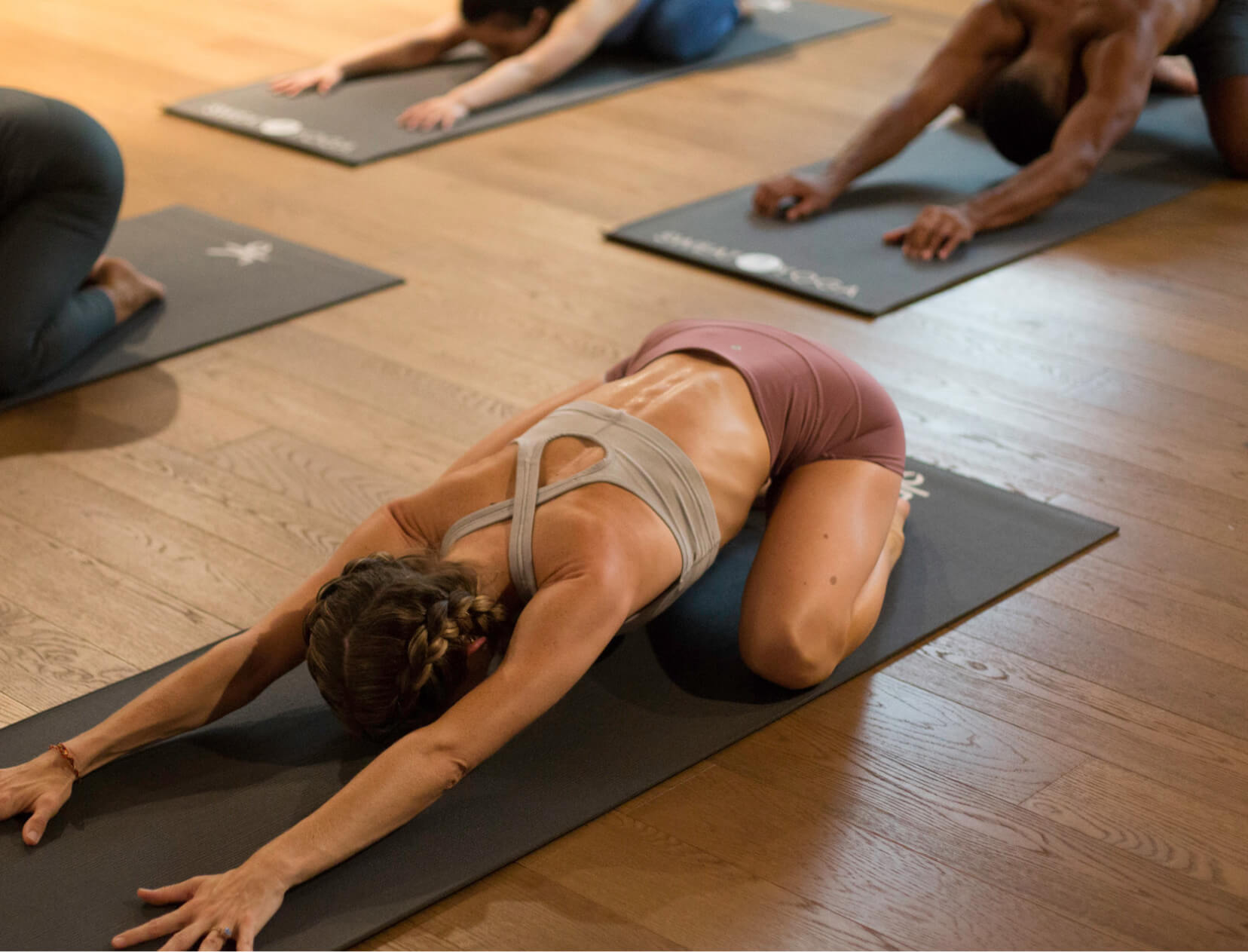 Photo courtesy of Sweat Yoga, Little Tokyo
We Love These Workouts
(and Think You Will, Too)
In partnership with our friends at Dudley Stephens
The secret—and it's quite intuitive, really—to actually enjoying your workout is finding the right method for you. And that process can be…well, a process, until you find something that sticks. To kick-start your research, we asked around for the best, most invigorating, feel-good classes out there—both IRL and online. As always, our editors came through.
TA LIVE

Photo courtesy of Tracy Anderson Studio
The Vibe: The Tracy Anderson Method is a goop-favorite program designed to tone and strengthen your muscles continuously. The ever-evolving classes are challenging (expect to sweat—a lot) yet easy to follow, with three levels to graduate through as you master the choreography. Pro tip: Subscribe to TA Live for access to 180 virtual classes with senior trainers, plus invitations to surprise live classes with Tracy herself.
The Fit and Props: Movement-optimized sneakers, weighted bangles to boost intensity, and a foam roller to soothe any tightness.
The Locations: LA, New York, the Hamptons, and Madrid. And Londoners: You can book a private training session at the gym of your choosing.
OPEN

The Vibe: Open takes a holistic approach to training, combining mindfulness tools (breathwork and meditation) with movement (choose from yoga, Pilates, stretching, or HIIT). We're big fans of the grounding rooftop sessions, which are a great way to get outside if you're stuck in a studio rut.
The Fit and Props: A knit set, a fleecy neon pullover, and fuzzy Birkenstocks to kick off before hitting the mat. For extra credit, add an EEG headband and start learning from the feedback.
The Locations: Venice and Topanga.
SWEAT YOGA

The Vibe: The infrared hybrid heater that Sweat uses is set to one hundred degrees Fahrenheit, so your muscles loosen up in a fraction of the time it would normally take. And while you're getting to that sauna-level schvitz, the vinyasa flow class works your core, flexibility, and all-around mobility.
The Fit and Props: You'll need a mat, obviously, and keeping a block and strap handy is always a good idea—but a moisture-wicking set is your best friend here.
The Locations: Sweat has studios all over LA, but if you're based elsewhere (or just like getting your flow on from home), it also has a lengthy catalog of subscription-based on-demand classes.
FORWARD__SPACE

Photo courtesy of FORWARD__Space
The Vibe: The dance-cardio classes at FORWARD__Space get you moving (duh), sweating (big-time), and feeling really effing good. They're what you'd get if you combined studio training and clubbing—a fifty-fifty split between athletic conditioning and bomb choreography, set to a really great playlist.
The Fit and Props: Hand weights and resistance bands (for during) and a muscle-soothing massager (for after).
The Locations: Attend in-person classes in New York City or start a subscription to stream any class you want.
---
We hope you enjoy the products recommended here. Our goal is to suggest only things we love and think you might, as well. We also like transparency, so, full disclosure: We may collect a share of sales or other compensation if you purchase through the external links on this page.