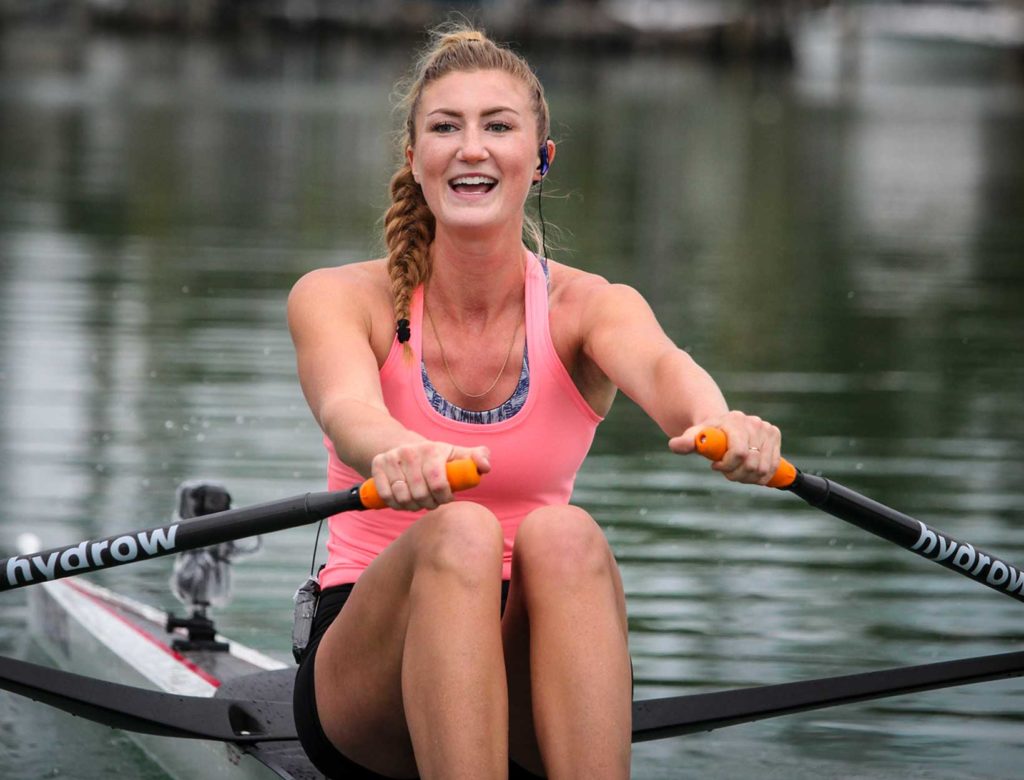 The Full-Body, At-Home Rowing Workout
The Full-Body, At-Home Rowing Workout
In partnership with our friends at Hydrow
Take a look at someone who rows and their strength does the talking: Rowing is a great workout. But save those who were on a school team, most of us don't actually know how to use a rowing machine. The good news, according to Dani Hansen, a Paralympic silver medalist and world champion, is that the learning curve isn't steep. And once you know what you're doing, you're good to go.
What makes the experience simpler, more engaging, and definitely sleeker is a rowing machine called Hydrow, which brings professional rowers into the room to guide your workout through recorded coaching sessions. You can catch Hansen—on a boat with oars in her hands—teaching classes multiple times a day via livestream. She gave us the lowdown on at-home rowing basics—and the not-so-basic experience you can expect from streaming a Hydrow class on your machine at home.
A Q&A with Dani Hansen
Q
What makes rowing such a good workout?
A
In a rowing workout, it's never just a leg day, and it's never just an arm day, and it's never just core. You're doing everything all at once, so it's very efficient. Instead of working 44 percent of your muscle mass, as you would in a running or biking workout, rowing potentially works 86 percent of your muscles.
Rowing is both a very low-impact workout and a bone-density-building workout. When you're rowing, you're moving horizontally, and your feet aren't stomping on anything hard as they might on a run or in a boot camp workout, so there's less danger of overstressing your joints. Because rowing uses an on-off motion—one moment you're actively pushing away from the starting position, the next you're relaxing to return to it—it has that weight-bearing quality that's good for bones.
---
Q
What do you need to know the first time you hop on a rowing machine?
A
To start, get yourself in the seat and strap in your feet. Your foot stretchers are the only adjustment you need to make. You want the strap positioned just over the ball of your foot and your feet in a position where you'll be comfortable throughout your stroke. Then you take the handle in your hands and you're ready to move.
It can be difficult to deal with phones and cords when you're using a rowing machine, so if you have wireless headphones, those work best.
---
Q
What makes a perfect stroke?
A
There are three movements you need to know to make a rowing stroke. Once you get this right, you'll have a single fluid motion:
Push with your legs.

Swing your core back.

Pull your arms in toward your chest.
Next, you reverse it: You let your arms out, swing your core back over, and bring your knees in toward your body. Then you start the motion all over again.
---
Q
How do you put together a good workout on a rowing machine?
A
I start by picking my objective and then structuring the workout around that: Am I going to focus on strength? On cardio? On technique? Do I want to feel nice and loose after this workout? If I want to focus on power, then I can work in longer intervals of lower-rhythm strokes and really push with my legs. If I want a fifteen-minute high-intensity workout that focuses more on cardio and speed, I can go for high-rhythm strokes in shorter bursts with less active rest in between.
A lot of the time, we work in multiple objectives. Today, we did a ten-minute drive, moving through strength and cardio together. And it's easy to modify. I don't think I've ever done the same structure twice, and I've recorded somewhere around 800 workouts with Hydrow. The best thing about rowing is that no matter how you design your workout—for strength, for cardio—you're always getting both. There's no way to get that wrong.
---
Q
What makes Hydrow different from other rowing machines?
A
As a competitive rower, I find Hydrow to be the closest land experience to being on the water. It's extremely quiet. Rowing as a sport on the water is very meditative, and Hydrow mimics that. It's also very smooth. While most rowing machines have a chain connecting the handle to the body of the machine, we have a strap. It makes the stroke feel really smooth, which is how it feels to have your blades—the ends of your oars—moving through the water.
Hydrow has a huge screen to display the visuals of all the different waterways that we lead workouts on. We actually livestream workouts five times a day from the water—they're a single cut, with one to four rowers in the boat at a time acting as the instructor for a workout. This is where it gets really fun: We're given a workout for the day, but if we get out there and there's a huge windstorm, we have to change course a bit, and the workout changes with us. For those following along on Hydrow, it's the closest you can get to being in the boat.
You can get your workout on demand with previously recorded live rows, or you can choose to row unguided. In those sessions, instead of seeing a boat and your instructor, you'll get gorgeous rivers and waterways. It's a nice feature for when you want to go at your own pace.
---
Q
What kinds of workouts are good complements for rowing?
A
Typically, people use rowing as their cross-training. It's a full-body workout, which is uncommon, and all you need to know is how to do one stroke. If you can do one stroke correctly, then you can do a hundred. So for people with another athletic focus, it's a teeny learning curve with a lot of payoff.
If you're looking to improve as a rower, I always recommend core work. Core is great to add into your training schedule simply because it benefits your life in so many ways, and it's especially good for a rower because it makes your stroke more effective. A Hydrow subscription includes yoga, Pilates, and functional movement classes (streamed through Hydrow's screen, which pivots for classes off the machine)—those can help strengthen the core outside of rowing.
---
Dani Hansen is a Paralympic silver medalist and World Rowing Championships gold and silver medalist. Hansen is the lead athlete at Hydrow, where she designs and teaches livestreamed rowing workouts.