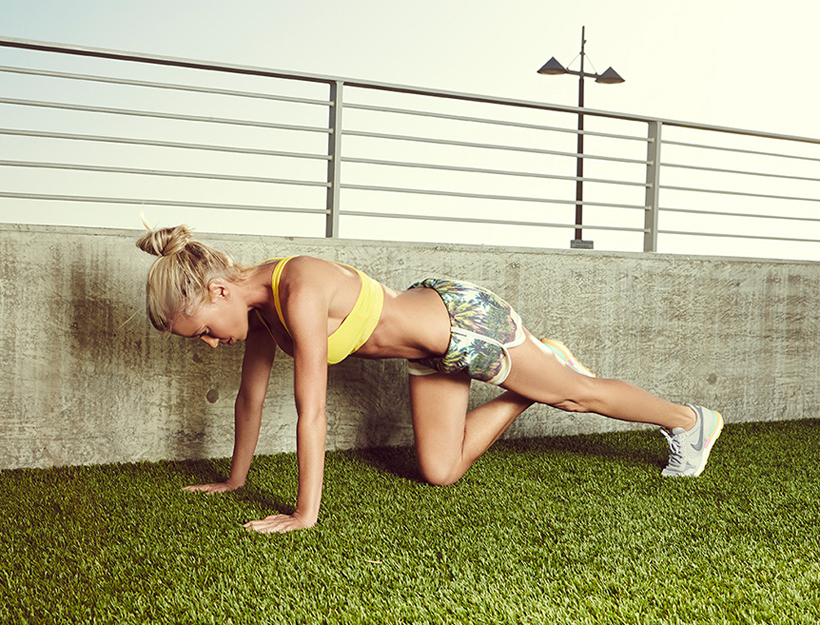 A Kick-Start from Tracy Anderson
The number of goop bodies regularly under the influence of Tracy Anderson's transformational classes and videos grows practically weekly; her approach to fitness has seriously improved our lives and our health (GP included). We're all excited about the new leg-intensive workout video she made for us below (her existing ab and arm workouts are fantastic), not to mention her new dance-cardio routine called TAva. And we were thrilled at the chance to sit down with her—truly, when do you catch Tracy Anderson sitting down?—and ask her all our current fitness questions.
A Q&A with Tracy Anderson
Q
How do you recommend that women who are incredibly out of shape get started—what's the best approach?
A
First of all, understand that this is not a race! When you know it is time to get started, don't get panicked and desperate. Take a deep breath and find a focal point. If you feel that you deserve to get healthy for yourself, you are starting from a great place. But if you don't quite feel that you can hold yourself accountable to getting into shape on your own yet, then maybe you will for your children or a loved one. Tap into something that will help you stick to the process because your emotional self will fight hard against working out, so as to stay as comfortable as it can. You have to be prepared to have short-term stress before you reach the moment that you can say, "Hey, I actually like working out."
Just getting moving physically is good, but take advantage of the opportunity to optimize your workout to achieve the body and lifestyle that feel most balanced to you. Remember that just because someone pushing fitness tools may look good, it doesn't mean he or she knows how to make you look proportioned.
I learned through all of my years of conducting study groups that everyone's body and system is unique. I love my Metamorphosis program because I am able to take you on a journey of movements that ultimately unveil a perfect you in your most balanced form. And with the streaming program, if you are unsure of your body type, you can just pick your intensity level and workout live with me each week in real time. I love the energy of feeling like I really have you right there with me even if you're across the country!
You have to jump in and not look back. This is also where community is magic. The #tamily is a non-judgmental, smart, supportive sisterhood that is in this together, and that can provide you with real-life tips that will be invaluable to your own stick-to-itiveness—because we all know you really can do this!
Q
When and how do you recommend that we push through pain?
A
Ah, I love this question. I have actually witnessed people go to the extent of saying they had a heart attack and can't show up for their workouts when in reality they just felt their heart working, but tried to convince themselves otherwise to get out of working out. There is a difference between your body working and your body breaking, and between emotional pain and physical pain. Our endurances tend to be low and tolerances even lower because of the overly comfortable lives we all lead that make it extremely difficult for our emotional self to endure the pain required to get stronger. But I promise you that pushing through that pain, and getting the right exercise for your overall health and well-being will ensure that you are your most youthful, beautiful self.
Q
We're not all built like supermodels, but how far can you take the average woman in terms of rebuilding her body? What's realistic? What's healthy?
A
We aren't all built like supermodels and that is BEAUTIFUL. We are all unique and there is nothing more beautiful than being balanced and living your truth. I created an inventory of fitness content for the sole purpose of being able to help any woman become her most proportionately balanced self. You can "confuse" your muscles with no strategy. Or you can confuse and change your muscles with total strategy (my preference), but to do this you need to show up, do, learn, stay focused, and stick with the conversation you are having with your body. This will make your body smarter and your muscles stronger. But remember that there is a learning curve period. Start with just showing up, and work your way up to focusing on how to execute each move better, and stay focused even through the noise.
What is realistic is for everyone to be in proportion and without unhealthy weight. What is healthy is for people to take control of their bodies. It is vital that your body is strong and connected enough to go the distance.
Q
How important is it to set realistic expectations at the onset?
A
I think that the challenge lies more in you having a realistic conversation with yourself at the onset. People have so many roadblocks that come up so fast about why and how they can't do their workouts instead of making it the most important part of their daily equation. They spend more energy getting out of their workouts than just doing them! Real, focused exercise should be part of your healthy living essentials, just like brushing your teeth. Care for yourself to avoid dangers to your mental and physical health (not to mention your quality of life).
Q
There's been this incredible community that has developed through streaming, where all these women are totally transforming themselves (and documenting it all on social). Why do you think that's been so successful?
A
Strong communities, I believe, are built by accountability, loyalty, and camaraderie. I have always been loyal to my students and accountable to myself for producing the highest standard of content, so my students can be their best selves. I am not barking at people to shake their booties or drop and give me fifty during class, though. The methodology behind the streaming program is community-focused, and the strategic movements in the workout build a sense of connectedness: The movements help each individual to feel connected to their bodies, to themselves. And as you start to balance yourself physically, there is a real draw and benefit to connecting with like-minded individuals.
There is strength in numbers and there is strength in consistency. Within the community that has developed through streaming, people are able to share their progress on social media in a way that is empowering to others.
I have made some of my dearest friends through the power of a hashtag: #tamily. It has created a worldwide community of people showing up to connect to their bodies, to remove physical self-judgment, and to promote having a truly balanced, strong, and healthy body.
Q
You developed a new dance cardio routine called TAva—what was the impetus? Will that be part of streaming?
A
I need (and want) to have a lot of options for people, and I develop new workouts based on where additional tools are needed for my students to continue to achieve their best results. For many years, I've been working with Jennifer Lopez (who is, by the way, proof that living your truth keeps you young and connected)—and when she decided to do a residency in Vegas, I wanted to be ready to support her. She is an incredible dancer, and inspired me to go back to my dance roots and reconnect with choreographer Tony Gonzalez (who cast me in the movie Blue Chips as a cheerleader when I was seventeen), to create TAva, a dance-based, low-impact cardio routine.
We had so much fun bringing to life this new dance option for people in our studios (TAva is available at each location now), and at home (TAva was just released as a DVD). And we're excited that it will be available on our website for digital download soon; and some of these routines will make their way to streaming as well.