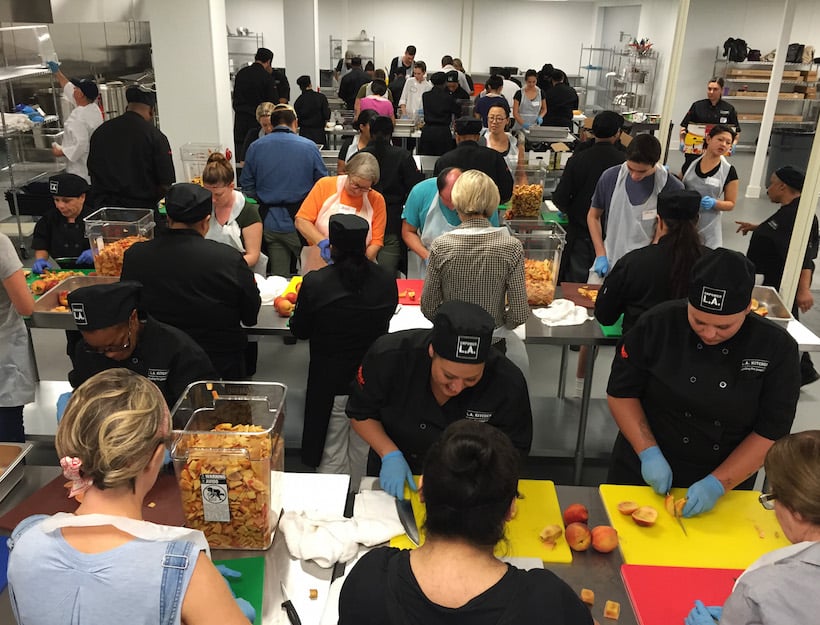 Why the World Goes Hungry (And Hopefully Won't For Long)
On a global level, 1/3 of the food produced goes to waste—a staggering statistic considering that 1 in 8 people go hungry. In fact, throughout the world, we produce enough food to feed the population of 7 billion it just doesn't get distributed well (see here for the World Health Organization's take on why). The other significant downside of all that wasted food? According to the WHO, that wasted food consumes a volume of water commensurate with the annual flow of Russia's Volga River—and emits 3.3 billion tons of greenhouse gases. (See more here on why composting is essential for this very reason.)
The good news, though, is that there are a lot of incredible organizations doing their part to tap into the supply chain to try to make the system more efficient. One amazing steward of the movement is Robert Egger, the founder of D.C. Central Kitchen who has just launched a similar concept in Los Angeles. How amazing and triple-virtuous is this? L.A. Kitchen takes food that would otherwise go to waste and prepares health-conscious meals for the under-served (the elderly, the homeless, and kids in after school programs, among others). And the people who carefully cook those from-scratch meals are kids out of the foster care system and recently emancipated ex-convicts—two groups who struggle with overwhelming unemployment rates. L.A. Kitchen trains them to be line cooks, giving them a great chance of landing good jobs in area restaurants. It's one of those organizations that gives us all faith in a better tomorrow. (Please donate! Or donate your time!) Below, we asked Robert a few questions about how it all happens—and they gave us two of recipes to share (José Andres is the board chair, and brings in lots of similarly-minded chefs like Roy Choi to inspire and train).
A Q&A with Robert Egger
Q
How did L.A. Kitchen come about? Are there predecessors for the concept?
A
I founded and led the D.C. Central Kitchen in Washington, D.C. for 25 years. It was the first "community kitchen" in the US. Since 1989, it's produced over 30 million meals from food that would have been discarded, and helped 1,700 men and women find work.
Q
What's your background?
A
I ran nightclubs, and wanted to change the world with music. After I volunteered one night, serving homeless people out in the rain, I proposed a new model…one that switched the charity model of "redemption of the giver, versus the liberation of the receiver" to one where everyone was liberated. NOBODY wanted to believe my idea would work, so I left nightclubs and opened DCCK.
Q
Food waste is a global epidemic—where are the inefficiencies in the system?
A
The U.S. food system is such a modern miracle, but it produced lots of unintended consequences. Cheap and plentiful made us too cavalier about the miracle of food, and how much we waste it…we became a "don't worry, there's more where that came from" society. Only now are we waking up to the reality that we waste almost 40% of what we grow.
Q
How do you tap into the more wasteful parts of the system? Are there similar organizations doing similar things?
A
The greatest source of waste is still the everyday American, who buys more than they can eat. But fruits and vegetables that aren't cosmetically perfect account for a full 50% of what gets wasted. ALL of my models take things our society thinks aren't pretty, or important—bruised fruit, bent veggies, felons, addicts, and older people—and we reveal their true beauty and value. In our kitchen, all food has power, and all people have potential.
I've helped over 60 cities develop similar models (Oprah played a BIG role in this, when she made me an Oprah Angel years ago), as well as 45 "Campus Kitchens" in underutilized school cafeterias. But the idea of not wasting food has grown exponentially, and now there are programs around the world combating hunger.
Q
If you could "fix" the system to eliminate food waste, what would you do?
A
I wish we taught cooking in schools, or used school kitchens as learning labs, to help a new generation learn about food, but also about nutrition, health, and science. Ultimately though, we have to realize that food policy, and electing people who view our food system differently is key. Food policy isn't being driven by science or health, but by profit…and that must change.
Q
You also take young adults out of foster care and those who have recently been released from prison and train them to be line cooks—what is the program like? How many students have you managed to place?
A
Each class is 15 weeks long, and we invite about 24 students per cycle. Students learn multiple aspects of culinary work, health, and advocacy, and they in turn, teach volunteers. It's cascading leadership.
Q
Are there organizations that you partner with to help these groups find employment, or do they find you?
A
Both…but mostly we partner with great groups who complement our empowerment/independence ethos.
Q
Does this sort of training help with recidivism?
A
The key is making people believe they have something to offer, that they have a skill, or a role to play in something bigger than themselves. I tell each class, on Day One…"This will be hard, and you'll have to really want it to succeed, but today…on your first day of class…somebody you'll never meet gets a decent meal…a meal that could save their life, or make them believe somebody out there cares." THAT'S what makes folks come back day after day.
Q
Can people in Los Angeles volunteer and/or access the training program as well? What else can be done to help?
A
YES….when we get rolling, we'll have volunteer opportunities everyday, and volunteers work side by side with students to make great meals that will uplift, strengthen, and empower.
Donations would rock (you can donate online), but it's also important to try try to support local programs that make sure food isn't wasted. It's a little all-over-the-map, but groups like Ample Harvest and Feeding America are good starts.
Q
Where do the meals go and who do they feed? How many meals per day are you able to prep out of the kitchen?
A
Our goal is to provide thousands of meals made by volunteers and students (using donated food) to fellow service agencies serving greater LA. Our for-profit company, Strong Food, will hire grads, and use food we purchase from local farmers to serve senior service programs truly healthy, scratch-cooked meals. When we get rocking in early 2016, we'll crank out over 1 million meals a year.
Q
Will you be branching out to other cities? Who is next?
A
We're open source, and share all our knowledge. We want to influence people, programs, and leaders throughout the world to consider our model, recipes, or business ideas. The need to feed our elders healthy meals, the need to fight food waste, and the evolution of nonprofit groups to create jobs is GLOBAL….which is one reason we chose LA to open this kitchen. It's the city where the future comes to happen.
THE VIRTUOUS CYCLE OF L.A. KITCHEN
L.A. Kitchen Recipes
Extremely elegant and easy to prepare, this makes a perfect main course for a dinner party. At L.A. Kitchen they serve it with simply roasted cauliflower, which makes it particularly good.

The lemon marinade gives this chicken great flavor—kids love it, too!