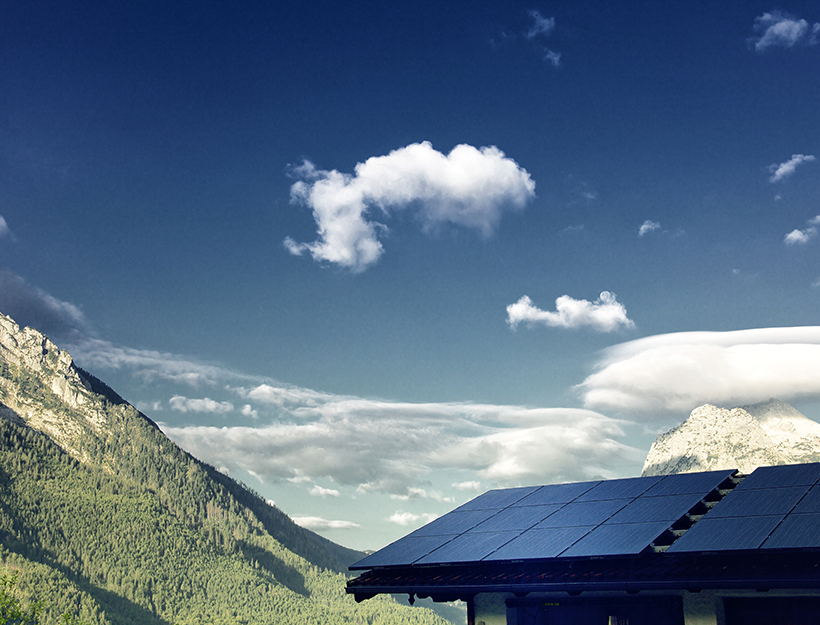 Why Rooftop Solar Is Growing So Fast (And How to Get It)
Maybe we're late to the party, but the #goophq gang has been geeking out lately over Google's Project Sunroof, a country-wide project that estimates cost savings for solar energy based on the direction and shape of a home's roof (as seen from above, of course). As companies like SolarCity have made solar power accessible to everyone via flexible financing options, rooftop solar power is no longer just a solution for tech experts or committed hippies: For many families, it's a tool for saving money. Jodie Van Horn runs the Sierra Club's Ready for 100 campaign, which works in cities across the country to expand solar power: Below, she breaks down the process of installing panels and the numbers behind switching your home to 100% renewable power.
A Q&A with Jodie Van Horn
Q
How expensive is solar, and how long can it take for it to pay for itself?
A
The first thing to know is that solar is becoming the cheapest form of energy in the world. In forty-two of the fifty largest cities in the United States, a fully financed solar PV system costs less than the energy purchased from a residential customer's local utility. There are different ways to buy solar. You can buy a solar system outright, or you can lease it from a provider like Sungevity or SolarCity. It's a bit like getting a new car: Buying outright costs less than leasing over the long-term, but leasing saves you a big initial outlay of cash. You need to get a personalized estimate from a solar provider to understand the savings and payback period for your home, as it is dependent on many factors—how you choose to finance the system, how many panels can be installed on your roof, the current rates you pay to your utility, etc. But to get a sense for the range, studies show that on average, solar panels typically return two to four times their cost in saved electricity bills, and pay for themselves completely within seven to fifteen years. If you live in a state with good incentives, that payback period can be as short as two to four years.
Q
In the most cases, do the savings on your monthly electricity bill eventually cover the cost of installation?
A
Yes. The cost of solar has dropped eighty percent in the past five years—so in many places, it competes with conventional energy at cost. Plus, you also have this pay-off system where you cover the cost of the system itself over twenty years. Most installation companies won't provide you with a lease or a long-term contract unless they are sure that they will guarantee you savings on your monthly electricity bill.
Q
Are there government incentives that individual consumers need to be aware of, or are those mostly taken advantage of at the installer level?
A
Most solar companies handle the rebates and the incentives for you and pass the savings along to the customer. There is a thirty percent federal investment tax credit, what they call the ITC for solar energy systems, which takes place at current levels through 2019 (after which it decreases over time). Many states, counties, and municipalities offer rebates and other local incentives for solar. An installer will be able to provide the most up-to-date information on solar incentives, but for the curious, there is a database with state incentives for renewable energy that has a comprehensive list of solar incentives by state, as well as more information on solar policies across the U.S. You can actually go to a website, enter your zip code, and see what kind of rebates and incentives might be available depending on where you live.
Q
Does it make sense to get solar if you live in a rainy or cloudy climate?
A
It does, because when clouds block the sun, solar panels still produce clean electricity. Many of the biggest solar hot-spots in the world are known for cold and rainy weather. In Germany, more than fifty percent of electricity comes from solar, and not far behind it is the notoriously overcast United Kingdom, where there are great solar incentives policies—and certainly foggier weather than Los Angeles or San Diego.
Q
Do solar panels make sense for every house, or are there specific roof types or positions that are better suited for energy production?
A
About fifty-one percent of homes in America are suited for solar. Sometimes shading or an old roof that needs replacing make it harder to install solar panels. But new shared models like community solar and solar gardens are expanding access to solar energy so that anybody can benefit. Google's Project Sunroof tool enables you to assess and map the solar readiness of your rooftop.
Q
So if you have a rooftop that is not solar-ready, what are your options?
A
Often local utilities provide a clean or green alternative to the conventional energy choice, which is a great first step. But also look into options for community or shared renewables: The option to buy into a community solar system, where you own a share and get all the benefits of that share (though a solar installation isn't actually on your roof), is often available, and a great option for apartment dwellers. Solar Renter and Shared Renewables are both good resources for finding out what's available where you live.
Q
What is the installation experience like?
A
The actual installation is really fast—a couple of days. The whole process from start to finish may take a few weeks or a few months, depending on whether you need to wait for permitting approvals, or for your utility company to approve the system's connection to the main grid. But the days where you have workers up on your rooftop are usually few.
Q
What about comparing and contrasting different installers? Are there any useful tools that can help people decide who the best installer is for their situation?
A
Yes, I recommend comparison tools like EnergySage or even Project Sunroof, both of which help you assess the options, installers, budget, and location choices. For Sierra Club supporters, we have a program called the Solar Homes that we run with a solar company called Sungevity. In this program, the customer receives a $750 discount on the cost of the system when they make a $1,000 donation to the Sierra Club. So far, several thousand Sierra Club supporters and households across the country have gone solar through this program.
Q
What's the deal with batteries and storage?
A
Most systems don't automatically come with a battery; it has to be added to the package. Even without a battery, though, you now can actually send excess energy back into the grid—and in most states you will be compensated for that energy. One way to think about it is like rollover minutes on your cell phone plan: If you don't use all the energy you produce in a given month, that gets credited to your bill the next month.
Currently, most battery systems are sold separately, but solar companies are changing to include solar plus storage, or even a solar battery and an electric vehicle so that you can maximize your savings. If you have a very high energy load in your home—you're charging an electric vehicle every day, or you have a lot of appliances—it's worth thinking about a full-package solar system with a battery so when the sun isn't shining, you have that stored energy to use, and when it is, you store the energy. But again, this comes down to the specific economics of a given system and a given household. Energy storage will grow dramatically over the next few years: Elon Musk and Tesla are determined to give every household cost-effective solar plus storage, so not long in the future, I think it will be standard to buy them together. In the last two years, energy storage grew by 250 percent; it's forecasted to grow another 800 percent through 2021. That growth will bring the cost down dramatically.
Q
What's the role that rooftop solar plays in the big-picture transition to renewables?
A
We're in the midst of an unprecedented shift towards renewable energy just in the past couple of years. Renewable energy has been about sixty percent of all new power added; solar will be a huge piece of that into the future. Since President Obama took office, solar electricity has increased thirty-fold, and solar jobs are increasing twelve times faster than the rest of the economy. Solar is not just a way for us to transition away from fossil fuels, but it's a way for every family to cut energy bills, and have the tools they need to tackle local air pollution and combat climate change—and we're creating good local jobs in the process. Thanks to solar's popularity, the scale is tipping quickly from fossil fuels to 100 percent renewable energy much faster than anyone imagined.
To transition to 100 percent clean energy and avert climate disaster, we need all hands on deck, and solar energy is cheap and ready to do the job. Solar is a free and abundant source of energy that literally falls from the sky. Now nearly everyone can benefit from the solar revolution, whether at home, on the roof of your school, a place of worship, or at work. And although we need a mix of renewable resources and technologies to meet the climate challenge, solar is going to be the world's primary energy source within the next few decades, bringing power to over a billion people around the globe who are without electricity. Solar is a game-changer for the climate and for our way of life.