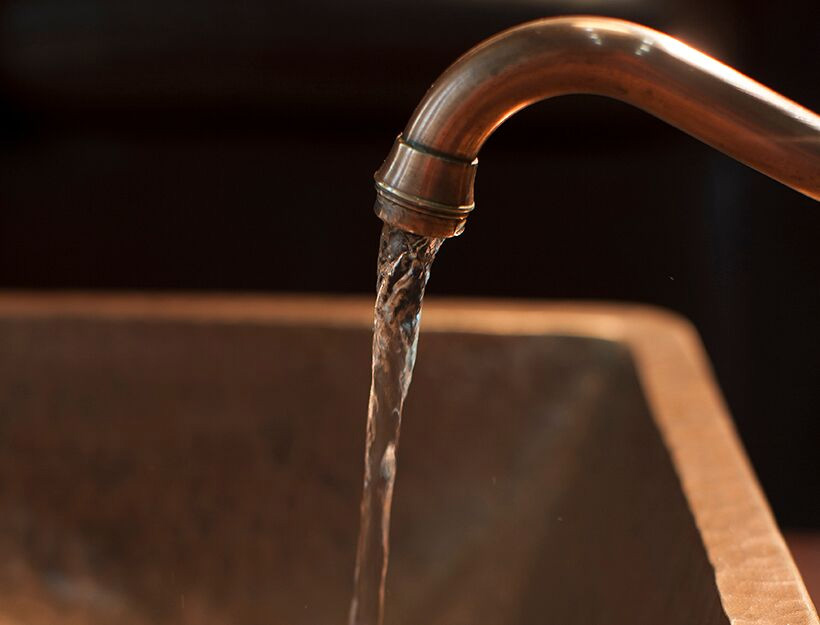 The Water Filtering Guide (And What Might Be in Your Water)
Any time you're on a detox, toxins and chemicals are carried out of your body with water. It follows that drinking clean water is a critical piece of any detox plan because the cleaner your water is, the more effectively it can remove the bad stuff and replace it with the good. While bottled water or filtered water are often a step up from what you get out of the tap, not all waters are created equal. We tapped two experts in the field to help us understand what could be in our tap water, what's really dangerous, and the best ways to keep it clean.
The EWG is a hugely reliable resource for anything related to health and toxicity, so it's no surprise that they also have a comprehensive database on clean drinking water. Research analyst Paul Pestano gave us the scoop on how to find out what's in your water and when it's time to be concerned.
A Q&A with Paul Pestano
Q
What could be in my tap water that's dangerous?
A
We have been working on tap water and water filters for over a decade now. What we found is that water utilities do the best that they can to treat the water for waterborne illnesses (e. coli, or other types of bacteria that can give you waterborne illnesses), but to do that they use potentially dangerous chemicals like chlorine and chloramine. These chemicals tend to produce other contaminants in your water called disinfection byproducts; it's an unfortunate side effect of this water treatment.
Quality varies greatly city to city, so what we usually tell people is to look at the water quality reports that your utility sends annually (utilities are also required to make them available on their websites or if you call them). Most people throw them in the trashcan without realizing that these reports have a lot of critical information. It tells you the level of contaminants in your water and whether the utility stayed within the legal limit set by the EPA.
Municipalities stay within the legal limits for the most part, but the EWG has a stance that those limits should be stricter than they are. These limits were created based on a lot of factors—primarily feasibility and health effects—so the policy is a compromise between those two priorities. From our perspective, the EPA should lean towards being more health protective—you don't want your levels to be too close to the legal limit.
Q
What should we be looking for when we do get a report?
A
You should be looking for the dangerous chemicals—the obvious one is lead, since we've all heard about the crisis in Flint, Michigan. But you should also be looking for chemicals like those disinfection byproducts—those are usually identified by the name THM (trihalomethanes).
A few other ones are chlorine, which is another thing that water utilities use to treat the water. If you live in a rural or agricultural setting, arsenic and nitrates from farm runoff could also be an issue. But it really depends on where you are. A lot of these water quality reports will give you the definition of the chemical, its legal limit, and its average value in your water, so they're a fantastic resource for educating yourself.
Q
Are you worried about trace pharmaceuticals in the water?
A
It's an emerging water contaminant, so we don't have a lot of information, but it's definitely a concern because the EPA does not currently regulate it. There are a few studies that have been done where they tested for pharmaceuticals and personal care products, and they've definitely found them in the water. Whether or not they cause health effects, though, we're still unsure. It's definitely something we're concerned about, but it's so new that we haven't been able to study it in depth yet.
Q
What are the health effects of consuming these chemicals long-term in tap water?
A
Exposure to very elevated levels of disinfection byproducts over a long period of time has been associated with bladder cancer and other organ issues. There are also a few studies that looked at exposure to high concentrations of disinfection byproducts during pregnancy, and they reported low birth weights, pre-term births, birth defects, and other problems. Chlorine at high concentrations can also cause eye and nose irritation and stomach discomfort in the short term.
Long-term effects of lead exposure include developmental issues in infants and children and kidney problems and high blood pressure in adults. Arsenic exposure over the long term causes skin damage, problems with the circulatory system, and increased risk of cancer.
Q
How should you protect yourself?
A
It's important to read your water reports to understand what you need to protect yourself from, and buy a filter accordingly. We love reverse osmosis filters (which can be installed under a sink). These filters will reduce the levels of many contaminants in the water.
A Q&A with William Wendling
William Wendling has been working on water for more than 20 years, developing an out-of-this-world filtration system that can turn even the dirtiest, hardest well water into what he describes as "some of the cleanest water known to man." He also happens to be Dr. Junger's go-to expert for creating ultra-pure water for optimum health and wellness.
Q
What are the dangerous chemicals (or otherwise) that we find in unfiltered tap water?
A
There's such a long list of things to be worried about in water. Water's friendly—it's the water of life, and it carries stuff with it. So whatever it passes through, it picks up, grabs onto, and brings into your house. The problem is we're dealing with a very toxic environment that the water passes through on its way. We're dealing with a big problem.
The stuff you can't see is really the bad stuff (the chemicals). And in my book, minerals are not good long term either.
Q
How do those chemical concentrations (or just water in general) change based on your location?
A
Tons. New York City has soft, low-TDS (TDS is total dissolved solids, which is a measurement of contaminants in parts per million) water, because they collect it in the Adirondacks. The problem is that the pipes under the city are so old that they put a tremendous amount of sediment in the water. Here in LA we have a very small amount of dirt, but we have a much higher level of hardness. The drought has made the water harder—it's raised the TDS by over one hundred in in the last several years.
Q
How did you develop your system?
A
Water was something I was already interested in, but there was one book that shifted me, called The Shocking Truth About Water, by Paul Bragg, of Bragg's Amino Acids. It talked about distillation, because that was what was available, so I got a distiller and used that for a while. These are still being used worldwide—they make very, very clean water—but you have to plug them in, and they're limited as to how much water you can make per day. Because of the electricity there are a lot of factors that aren't ideal.
After that I got a little mini Reverse Osmosis (RO) system that you can put right onto the tap. RO was developed back in the 50's: It's a thin film membrane technology, kind of like a Gore-Tex material, where the water can leak through the fabric, but you speed up the process by applying pressure. The concentrate of the dirty water goes down the drain and the good water leaks through, making 80-90% clean water. We use water pressure from the street to create the pressure on that membrane. That technology is very vast, used worldwide in all different industries, and it's been a widely accepted way of cleaning water for the home, too; it's what they use for desalination.
So while that helps considerably, do you really want to be drinking the 10-15% of what's left in the water? It's going to be cleaner than tap water, and it's going to taste a lot better, but you still don't know what's in that water because we're dealing with so many chemicals and pharmaceuticals.
Then I learned about deionization; it's a mixed-bed resin that we use that after the membrane to polish the water to a super high purity. By then, it's some of the cleanest water known to man; pharmaceutical-grade, pure water.
Finally, I go to coral, which is the coral calcium; the sand of coral. It's the best organic product that I've found for adding a very trace amount of minerals back to the water to make it alkaline. That makes it so that it's not ultra-pure, clean, hungry water (when it's ultra-pure, it can pull carbon dioxide out of the air and it can become slightly acidic).
Q
We've heard that RO wastes water—what does that mean?
A
RO uses water to make water, so someone installing an RO system in their house should expect water use to increase.
I have a thing called a permeate pump, which saves 80% of the wastewater from going down the drain (traditional RO is 5-1, but my system is 2-1). With the permeate pump we're able to get more pressure into the tank, so we're actually adding a higher volume of water to the tank. Because every pure water gallon sends a concentrated 2 waste gallons down the drain, some would say that RO's very wasteful—but the permeate solves that problem, and it's not electric so there's no energy use.
Q
How important is alkalinity?
A
I think pH in water is over-emphasized. If you're breathing and eating properly, you're raising your pH much faster than you can from drinking pH in water. Water has a very small buffering capacity. As for those alkaline water machines, they're not filtering properly. So you're drinking very dirty alkaline water. Purity is more important than anything else, but it's the hardest thing to do.
Q
How about hydrogen?
A
Hydrogen is the next big thing with water. It's already big in Asia, and it's becoming very widely known worldwide. Because Hydrogen atoms are so small, they can lend electrons as free radical scavengers and antioxidant quenchers, and they can also cross the blood-brain barrier. So there's uses of it in water—bathing, drinking, breathing it. It's going to become huge.
Q
If someone's not able to install a full household filtration system (for financial reasons, they're living in an apartment, whatever), what do you recommend?
A
There's a lot that most store-bought filters will not take out: for example, minerals and trace pharmaceuticals will go through a filter like that too easily. If you saw how much dirt is actually in one glass of water when it comes through a standard filter, you wouldn't use it; it's like an inch of dirt in one 8-ounce glass of water.
For drinking water, I can recommend a pitcher system called Zerowater. It's a combination of filtration and deionization, so it makes a zero TDS water, which is much safer for you long term. Or you could try a water distiller; you have to plug them in, but they work well.
I also recommend a countertop filter; you can hook it up using a hose off of your faucet. It's a flow-through, and you can do hot or cold water through that, and fill up a sink relatively fast. You can wash your vegetables in that, and some people even use it for brushing teeth or washing their face. But that's not really recommended for drinking water in my book, because you're not removing those inorganics or hard-to-remove chemicals. That said, it's better than drinking tap water.
For the shower, I recommend a carbon shower filter, which is very easy to put on and will create the equivalent of clean river water coming in. You take off the showerhead, you put on a filter, and you put the showerhead back on; I have a twelve-inch arm that can raise the showerhead up twelve inches, in case the showerhead is too low once you put the filter on. For that we use a simple little shower filter that's granular, or solid carbon block and it works really well. It's not clean enough for drinking, and it doesn't remove hardness or minerals, but it's much better for bathing.
Q
What if you want to remove hardness and minerals from your shower water, for softer skin and hair?
A
Unfortunately, that's not possible without a household-wide filter. You can't remove minerals without membranes, deionization, or a softener; I don't know of any way possible technology-wise to remove minerals with a flow-through filter. But getting chlorine out of the water by putting a carbon filter on the shower greatly helps the quality of your bathing, even though it doesn't remove hardness. It will remove chlorine and other VOC gases, which aren't good for children, or for adults for that matter, to bathe in.