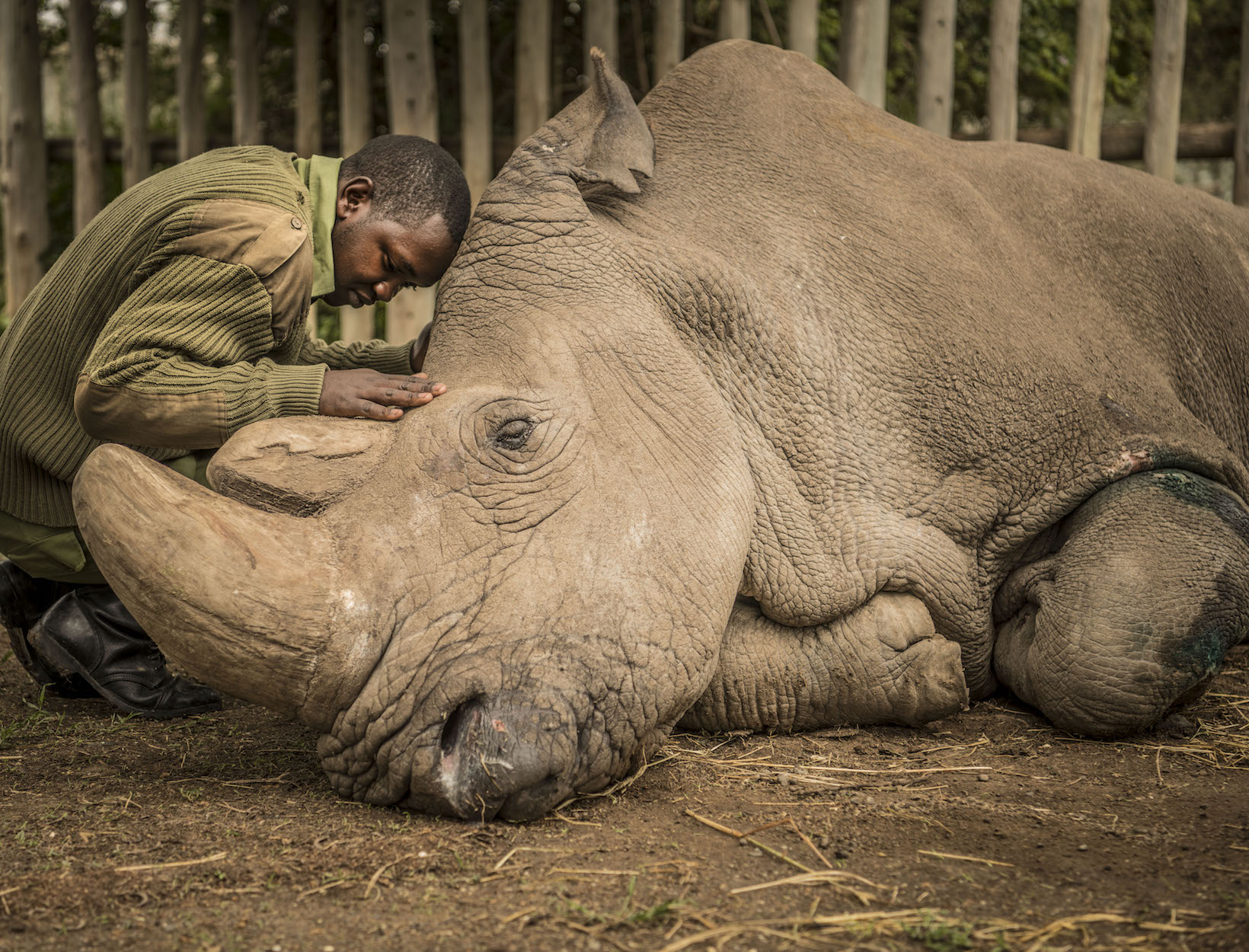 Photo courtesy of Ami Vitale. (You can buy a print here—100 percent of the profits will go to Ol Pejeta Conservancy.)
The Rhino, the Pandas, and the Woman Leading the Charge
Every so often, a single image has the power to confront us with our collective, destructive ambivalence toward conservation. These photos have two common traits: a creature at the end of its life and an incredibly skilled photographer.
In March, the last male northern white rhino, Sudan, died of natural causes in northern Kenya, where he'd spent his final years in the care of the Ol Pejeta Conservancy. National Geographic photographer Ami Vitale was the last photographer to shoot Sudan. It's a brutal reminder of how poaching has decimated rhino populations as well as a testament to the work of local communities and conservationists who fight for their protection. Sudan is survived by two females, protected by the team at the Ol Pejeta Conservancy who are working on ways to prevent his species' full extinction.
As for Vitale, you likely already follow her on Instagram. Her photos are gorgeous and arresting, the product of a career that's taken her to over ninety countries and multiple war zones and, at least once, forced her to wear a panda suit. We asked Vitale to tell us more about her galvanizing work, her journey with Sudan, sexism in her field, and the story behind these creatures.
A Q&A with Ami Vitale
Q
What does Sudan the rhino's death mean? What was he like?
A
I met Sudan nine years ago, when I heard about a plan to airlift four of the last northern white rhinos from a zoo in the Czech Republic back to Africa. When I saw this gentle, hulking creature in a snowy environment, surrounded by smokestacks and humanity, it seemed so unfair—it broke my heart. He looked ancient; his species had survived on this planet for millions of years yet could not survive us.
At the time, there were only eight of these rhinos left in existence, all in zoos. His transport sounded like a triumphant storyline for a Disney film about captive animals returning to the wild, but in reality, it was a desperate, last-ditch effort to save an entire species.
Sudan changed the trajectory of my work. Before that, I had been focusing on stories of human conflict. But after meeting creatures on the brink of extinction, I needed to broaden the scope of my work. Every single issue I covered, whether it was war or poverty or health, always ended up depending on nature for a favorable outcome. Losing one part of nature impacts all of us. As a photographer, the more I document people and their issues, I realize I'm documenting nature…and the more I document nature, I realize I'm photographing people's lives. It's one and the same. Today, I use nature as a foil to talk about our home, our future, and where we are going.
If there is meaning in Sudan's passing, it's that all hope is not lost. In a world of more than 7 billion people, we must begin to see ourselves as part of his landscape. This can be our wake-up call.
Q
You've said our fate is linked to the fate of animals. How so?
A
We are in this intricate web together. There is so much that connects us all to one another, whether we understand it or not. The loss of any species has a ripple effect on other animals, and humanity, too. Conservation International has a provocative campaign where they give nature a voice, and this voice says, "Nature doesn't need people. People need nature." The future of nature is the future of us.
Q
Tell us about the baby pandas. (Do they need our help?)
A
Oh yes! I nearly died of cuteness overload, but surprisingly, it was one of the most challenging stories I've worked on. The panda may be the most recognized and photographed animal alive on the planet. How could I possibly create something that readers hadn't seen before?
Zoos pay millions for panda "ambassadors" on loan from China, and they never fail to attract a crowd. After going to China multiple times, getting to know the people, getting to understand the pandas—and learning to think like a panda—this story blew my mind. 
Of course, the biggest challenge was getting access to one of the world's most endangered animals. Pandas are a very rare, finicky, endangered animal with teeth and claws. With only a few thousand in the world, the Chinese treat pandas as a national symbol, and each one is closely guarded and watched. They are multimillion-dollar bears that everyone treats with kid gloves, and they are highly vulnerable. Getting close without interfering with their biology and conservation, and in a way that was acceptable to its very protective minders, was challenging. It was not just about gaining local trust and access but also about working with a wild animal.
"Over thirty years, researchers from the reserve have been working on breeding and releasing pandas, augmenting existing populations, and protecting their habitat. And they're finally having success."
Right now, there are fewer than 2,000 giant pandas in the wild. Their breeding secrets have long resisted the efforts of zoos, and the mountainous bamboo forests they call home have been decimated by development and agriculture. But in a region where bad environmental news is common, the future of the giant panda might prove to be the exception. Over thirty years, researchers from the reserve have been working on breeding and releasing pandas, augmenting existing populations, and protecting their habitat. And they're finally having success. They are taking captive-born pandas and releasing them back into the wild. They are investing billions in creating more habitat and connecting corridors. This is possibly the biggest reforestation program happening on the planet right now. China is one of the few countries where forested areas are growing.
The pandas sent to the wild will have no lines of schoolchildren waiting to meet them, nor a fan page on Facebook. As these bears trundle off into the wild, they take with them hope for their entire species. The slow and steady incline in the population of giant pandas is a testament to the perseverance and efforts of Chinese scientists and conservationists. China may be on its way to successfully saving its most famous ambassador, and putting the wild back into an icon in the process.
(I dive deeply to tell the story of this mythical animal in my first book, Panda Love: The Secret Lives of Pandas, which comes out in June.)
Q
How did you get your start? And how did you find your voice as a photographer?
A
As a young woman, I was shy, gawky, and introverted. When I picked up a camera, it gave me a reason to interact with people and take the attention away from myself. It empowered me, and in the beginning, photography was a passport to experiencing new cultures. Now it's a tool for creating awareness and understanding across cultures, communities, and countries; it's a tool to make sense of our commonalities in the world we share. It can be powerful and amplify others' voices. 
Over the past eighteen years, I've worked in nearly a hundred countries, which makes it look like I am a travel photographer—but I don't view my work that way. While I do travel and witness extraordinary things, it's not simply about jetting off to exotic places: The magic really begins when I stay in one place, often for years, to get beyond the surface. I found my voice by first listening and then talking about the things that connect us all.  
Q
What advice do you have for emerging photographers?
A
The truth is, very little "clicking" happens. I travel to some astonishing places, but the secret is about going deep and revealing more than just an exotic image. Sticking with a story for years helps you understand the complexities, characters, and issues that are not immediately obvious. I'm a slow photographer. I go back and back again. Empathy and earning trust are the most important tools I can have. I've got to have people trust me enough to let me into those special moments. I spend a lot of time explaining why I'm doing this and why it's important. The trick is to get access to places that no one else can get to, and the secret to that is to know your subject better than anyone else. So my advice to those who dream about this is to find a story close to you—maybe even in your backyard—and make it yours. You don't need to travel abroad. What you do need to do, however, is tell a story better than anyone else can, using your own unique perspective. If you find your own story and show complete and utter dedication, then you will find a way to carve out a career.
Q
Why are there so few female photographers?
A
It is changing dramatically since I began, but this was not an industry that welcomed women. I remember being told that I didn't belong there; I remember getting groped, harassed, threatened. I learned quickly that I have to be thoughtful about how and where I work.
It's hard to believe, but even today, after all I've done, men still ask me, "How can you carry such a big lens?" We have a long way to go, but it's changing. I have noticed the classes I teach went from being primarily men fifteen years ago to being mainly women today. 
Q
What is one of your scariest moments as a photographer?
A
It sounds romantic to travel the world, but the reality is that you must be emotionally self-reliant. I look back on experiences I had and now wonder how I got through some of them. They were sometimes unimaginable, often lonely, and occasionally utterly terrifying. I've had malaria, but you expect to get sick—it's the psychological dangers that scare me the most.
"I remember being told that I didn't belong there; I remember getting groped, harassed, threatened. I learned quickly that I have to be thoughtful about how and where I work."
No picture is worth my safety. My worst close call was in a village in Palestine, in Gaza. It was after a funeral for a Palestinian who had been shot and killed. The sun was setting, and I was the only journalist still there. My instincts were telling me it was time to go, but I just wanted to get one or two more frames. And then this man started screaming, and within seconds, I was surrounded by a crowd of young, very angry men who wanted blood. They wanted vengeance. I had spent time earlier with the family of the Palestinian who had been killed, including several women from his family. These women, who had been standing on the periphery of the crowd, stepped forward to escort me to safety. But if they hadn't been there, if I hadn't spent the day with them, I don't know what would have happened.
Q
What's the future of female photographers?
A
There is tremendous talent coming up the ranks, and it's giving us a broader view of what the world looks like. We need to have a multitude of viewpoints and voices. A multitude of narratives prevent a singular narrative. Balance is maintained and truth is safeguarded by not being singled out.  
Q
Is there anywhere you haven't traveled, anything that you haven't photographed yet, that's at the top of your list?
A
There is so much work to do, so little time! Of course there are so many places I would love to visit—Iran and Colombia come to mind—but rather than start new stories, I'm focusing on going deep into the issues I've spent the last decade on. I have a virtual reality film premiering at Tribeca next week (My Africa) and will be back in Kenya soon, continuing to find the hopeful stories where people, often with very little, and against all odds, are changing the destiny of their landscapes. We can often forget that the best protectors of these landscapes are the local communities themselves. Their efforts to preserve community cohesion are ultimately the best immunization against forces that threaten both their wildlife and way of life. 
Nikon Ambassador and National Geographic photographer Ami Vitale has traveled to more than ninety countries, bearing witness not only to violence and conflict but also to surreal beauty and the enduring power of the human spirit. Her photographs have been commissioned by nearly every international publication and exhibited around the world in museums and galleries. Currently based in Montana, Vitale frequently gives workshops throughout the Americas, Europe, and Asia.