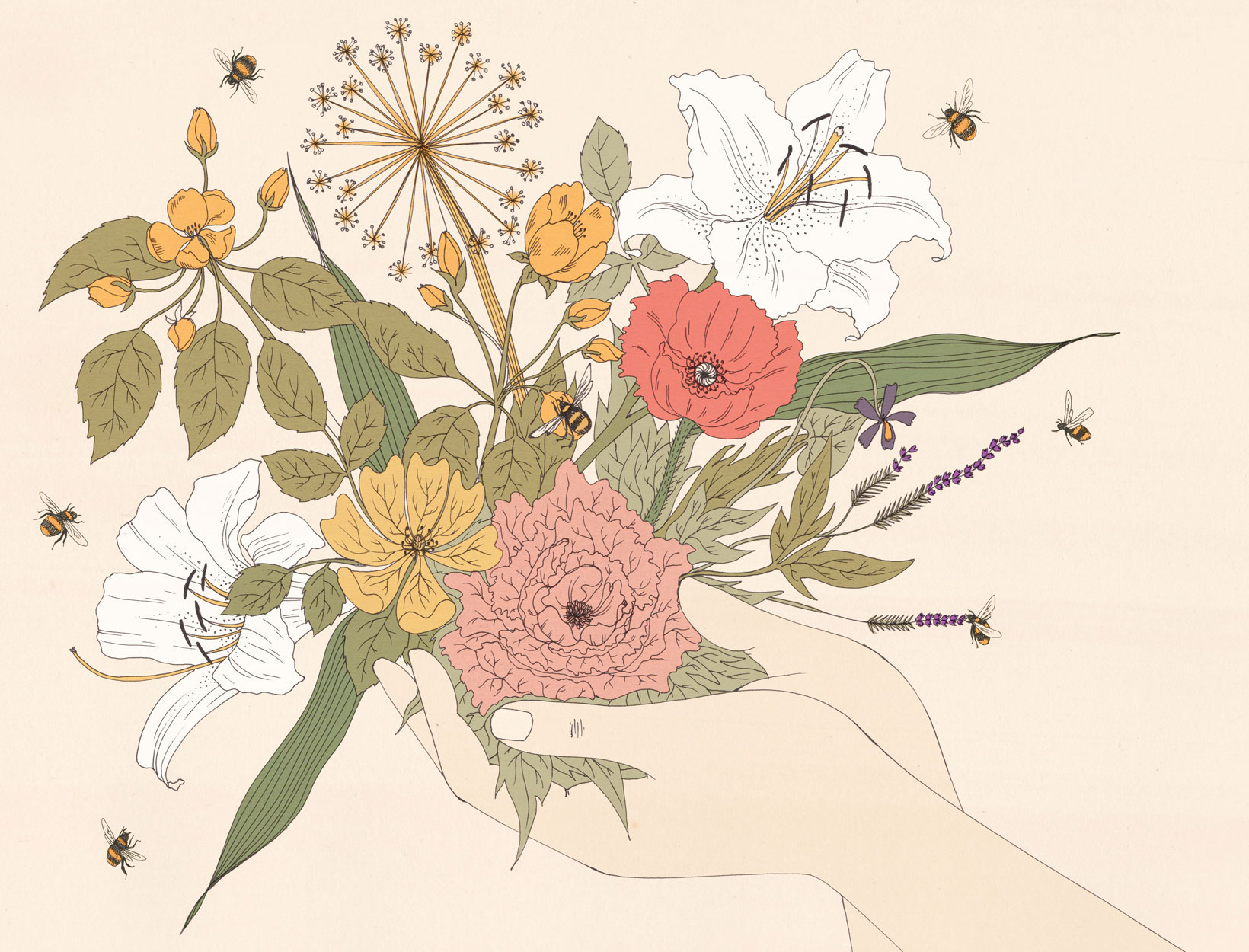 The Greater goop Awards:
The Environmentalists
If the dire effects of climate change and environmental devastation are to be reversed, it will be people like these—the designer, the scientist, the CEO—who will lead the way for the rest of us.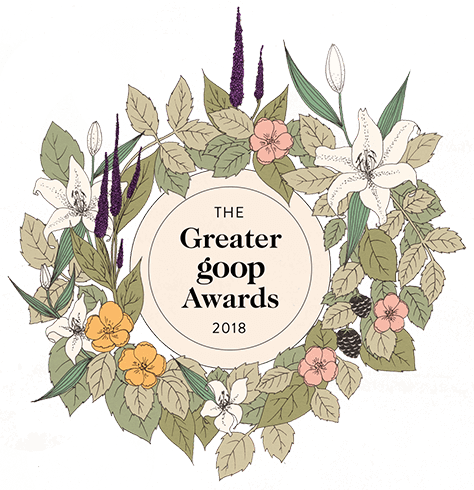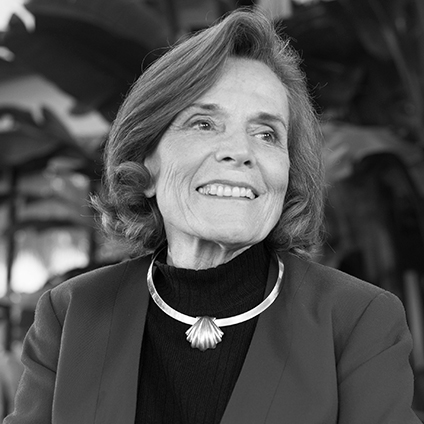 Sylvia Earle
founder, Mission Blue
"I was knocked over by a wave when I was three—that's when the ocean first got my attention," says Sylvia Earle, PhD. "But what held my attention were the big, glossy horseshoe crabs that crawl up and down the Eastern Seaboard in the spring. I found them irresistible. They opened the door to the cornucopia of life in the sea. That's where the action is on our planet: in the ocean."
Calling Sylvia Earle an oceanographer is a bit like calling the Grand Canyon a ditch. Earle has led over one hundred underwater expeditions, clocked more than 7,000 hours under water, and written almost as many books about the ocean. In 1970, she was the captain of the first all-female team to live under water; in the 1980s, she began designing exploration vehicles to further her research; and by the 1990s, Earle had become the first woman to be the head scientist at the National Oceanic and Atmospheric Administration. In addition to working on Google Earth Ocean and being one of National Geographic's explorers-in-residence, Earle is also the founder of Mission Blue, an alliance that aims to increase protection for the most vital parts of the ocean from about 6 percent (today) to 30 percent by 2030.
And she's eighty-three.
"I was living under water in the US Virgin Islands in 1970 for two weeks with my fellow aquanauts—well, people called us aquababes or aquabelles," says Earle, who doesn't seem especially troubled by the sexism, because she was working on bigger issues. "That was the first time I got to know individual fish—a great Moray eel who lived in the reef, a barracuda who always came in the evening," she says. "We recognized that no two creatures are alike, that we could see them as individuals with different personalities. That's when it really sank in."
Earle is also the first to be hopeful about the current state of our oceans. "Galileo didn't even know what earth looked like. When I was a child, no one had been to the moon; we didn't know about the microbiome, or that microbes rule the world. We now know more than we ever did—and we have 7 billion brains on the planet," she says.
"So many people think the ocean takes care of itself," she says. "We need to realize that the air we breathe is finite, that it comes from photosynthesis. We have to encourage people to eat low on the food chain, to be mindful, to give up a manicured lawn for wildflowers, to eat locally, to realize that when you eat animals, you are magnifying your impact on nature. An animal's value is greater to us alive than on our plate, and we are constantly learning new reasons a vegetable-based diet is healthier."
The great and endless diversity on our planet is "held together by a common chemistry," says Earle, remembering one of her early underwater explorations. "I don't recall being scared or lonely. I was surrounded by life.
It was rather wonderful."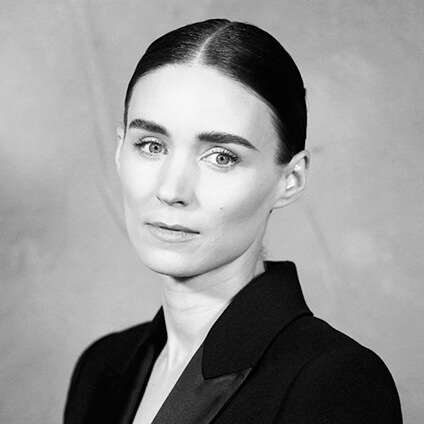 Rooney Mara
cofounder, Hiraeth
"Someone sent me an undercover video from a pig farm," says Rooney Mara. "It was devastating." Mara, a lifelong animal-obsessive, had already been a vegetarian on and off since age ten, but that video was a game changer: "I have been vegan ever
since," she says.
That was seven years ago. Since then, Mara has cofounded Hiraeth, a high-end vegan fashion line, which she launched last February with partners Sara Schloat and Chrys Wong. Hiraeth sources luxurious vegan fabrics from across the world; designs with an intense, moody, romantic Rooney Mara–esque aesthetic; and crafts its clothing, shoes, and accessories in downtown Los Angeles.
Like virtually any successful company, Hiraeth started as way solve the founder's own needs. Even after cutting animal products out of her diet, Mara realized she had a hard time veganizing her wardrobe. Transitioning out her favorite pieces, like her leather combat boots, meant finding quality vegan replacements. That proved difficult. Severely difficult.
"There was of course Stella McCartney, who I love," Mara says. "But aside from fast fashion—which is often vegan because it's cheap—there weren't many other options. And there's no guarantee those things are made ethically."
Even for those who can make the moral leap over factory-farmed livestock suffering, it can be harder to get past the heavy impact animal agriculture has on the environment. That's ultimately the point: Hiraeth aims to solve a problem that's bigger than a pig farm, even bigger than animal rights in general. The goal is global. A beautiful wool coat, a gorgeous silk slip dress, a perfect leather bag—they're all part of the factory-farming pipeline—and part of the problem.
"The animal whose skin is used for that leather jacket needs to be kept alive," says Mara. That requires food and water, and it produces gases and waste. Add to that "land and resources to grow the food to keep the animal alive," she says. "Our planet can't handle that burden."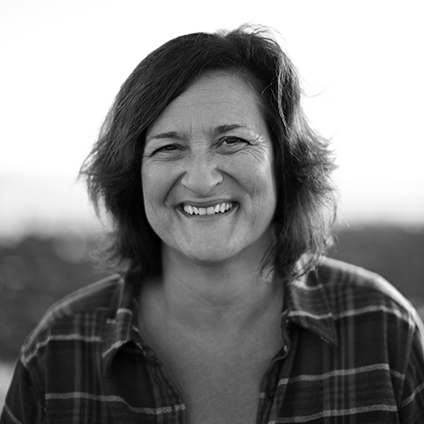 Rose Marcario
CEO, Patagonia
A few weeks ago, Patagonia announced that due to recent tax cuts, it would owe $10 million less in taxes for 2018 than it had anticipated. That wasn't the surprising part. The surprising part was what came next:
"Instead of putting the money back into our business, we're responding by putting the $10 million back into the planet. Our home planet needs it more than we do."
Even if you know how committed Patagonia is to environmental causes, even if you've been wearing Patagonia fleece pullovers since fifth grade, even if El Capitan is an afternoon activity for you and the kids, the decision was shocking.
"Our planet is in peril because of human-caused climate disruption, and it is urgent that we take action to save it," says Rose Marcario, the president and CEO of Patagonia Inc. and Patagonia Works. "Our air, water, soil, and open spaces are under attack, which is why just last month we gave $10 million of our tax refund to help fund grassroots
environmental groups."
Under Marcario, Patagonia has eliminated excess waste and packaging, launched Patagonia Action Works (a platform for customers to find environmental nonprofits based on issue and location), and sued the Trump administration for rolling back protections on 2 million acres of Utah's Bears Ears and Grand Staircase–Escalante National Monuments. Marcario was hardly subtle about that last part: "The President Stole Your Land," the company wrote on its site. To date, Patagonia has given over $100 million to environmental causes. And there's this fun fact: 100 percent of its working mothers have returned to work after giving birth.
Marcario is a driven, smart, effective woman—and her initiatives, predictably, have taken heat.
"We don't see what we are doing as getting involved in politics," says Marcario, "but rather as an extension of the decades of work we have done to protect our public lands. For the first time ever, in the 2018 elections, we endorsed two candidates running for Senate—Jon Tester and Jacky Rosen—because both of them are champions for public lands. We are thrilled that they won. We also spearheaded the Time to Vote campaign, a nonpartisan, business-led movement of more than 400 CEOs who pledged to give their employees time off to participate in America's democracy."
With Marcario at the wheel, what Patagonia is and what Patagonia will always be is a company that is as committed to the planet as it is to its customers. "Patagonia was created to explore wild places," says Marcario. "And we are still in business today because we fight hard to protect them."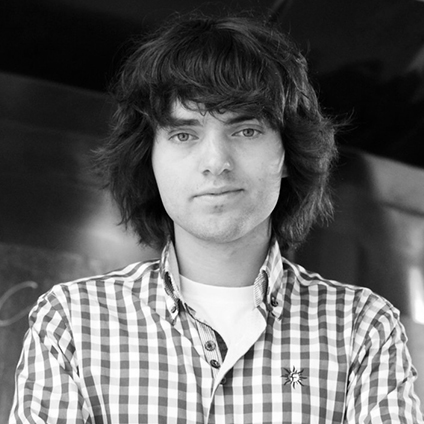 Boyan Slat
founder, The Ocean Cleanup
"I was diving in Greece when I came across more plastic bags than fish," says Boyan Slat, the founder and CEO of the Ocean Cleanup, an incredibly ambitious project to, well, clean up the ocean. "Everyone told me there's nothing you can do about plastic once it gets into the ocean, so the best thing we can do is to not make it worse."
To most of us that would have been the end of it; to Slat, that was a dare. Slat's goal is to clean up 50 percent of the Great Pacific Garbage Patch within five years of a full-scale launch. His other goal is far loftier: a plastic-free ocean by 2050.
The twenty-four-year-old (not a typo) sees human history as a list of "impossibles" that have been overcome. Lightbulbs, running water, vaccines… Why should the impossibility of cleaning up our ocean be any different? While in high school, Slat spent a semester investigating this issue, and he was on vacation in Portugal (he's from the Netherlands) when his aha moment hit him: "Why would you move through the oceans, if the oceans can move through you?" His lightbulb moment turned into a high school science project, which grew into a viral, crowdfunded campaign and is now the most ambitious technology to date to clean our ocean.
The Ocean Cleanup's first design, System 001, nicknamed Wilson, left San Francisco harbor on September 8, 2018, on its maiden voyage through the Great Pacific Garbage Patch. Here's how it works: a 600-meter-long U-shaped boom (the "floater") floats on the ocean surface and hoists along a 3-meter-deep impermeable screen (the "skirt"). The system, pushed by wind, waves, and currents, captures pieces of plastic just beneath the water's surface. Every six to eight weeks, a crew on an accompanying boat will collect these plastics for recycling. The system is autonomous and energy-neutral—because the same forces that direct ocean plastic also direct the Ocean Cleanup system, it gravitates to areas with high concentrations of garbage. (Any electrical needs are met by solar power.) And it's safe for marine life—any fish that swim into it can easily swim under it. The current system is designed to capture larger pieces of plastic, like bags and bottles, which make up the bulk of plastic mass in the ocean, before they break down into smaller, tougher-to-trap microplastics, but a microplastic filter is currently in development.
While Wilson has had problems—namely that plastics are escaping the "U"—Slat and the Ocean Cleanup engineers were prepared for surprises and are currently at work to fix it. And Slat has no lack of support: Tens of thousands of people continue to contribute their time, expertise, and funds to the Ocean Cleanup. "I was quite overwhelmed when I started receiving 1,500 emails a day from people wanting to help," Slat says. With improvements from Wilson, the Ocean Cleanup plans to launch System 002, followed by a sixty-system fleet, in 2020.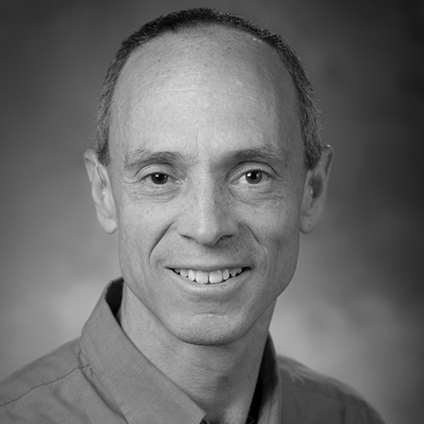 The 91 Scientists
Authors, Special Report on Global Warming of 1.5°C
In October, the United Nations released a major report on climate change, the largest of its kind, delineating the consequences another half degree of warming would have on the planet. The report assessed whether the goals of the Paris Agreement—the environmental protection, adaptation, and finance deal signed by 195 nations in 2016—are reachable. The finding: It's going to be difficult, but it's possible.
The shocking part of the report isn't the "what"—we already knew warming was a threat to Arctic ice, coral reefs, public health, life on earth—but the "when." If we don't take cooperative, international action, we will be facing a global climate crisis by 2040. The report was authored by ninety-one scientists from forty countries—and to be clear, these aren't fringe experts. These are arguably the ninety-one most erudite brains on the subject of climate science.
One of the coordinating lead authors, Dr. Drew Shindell, a professor of earth sciences from Duke University, points to coal and fossil fuels as the largest worldwide contributors to climate change: If we are going to reach our goal of containing this problem, it is going to require collaboration with industry leaders and policymakers to implement robust renewable energy infrastructure.
"There's no point, really, in continuing to do this science and saying, 'Here are all the problems, and here are potential solutions,'" says Shindell, "if nobody actually puts any of the solutions into practice."
As a scientist, Shindell is impartial: He finds the facts and presents the evidence. However, his mentor, the acclaimed climate scientist James Hansen, encouraged him to use his expertise to effect change. "His example is really inspiring," Shindell says. "That we can say more than just what physical science tells us. That in addition to being scientists, we are human beings, and we have opinions, and we can see that there's an ethical choice to be made." Since the report was made public on October 8, the federal government of the United States has not fully endorsed a policy to fight climate change. President Trump has held his position; in June, he announced that the US would withdraw from the Paris Agreement in 2020. However, 17 US governors have formed the United States Climate Alliance, committing their respective states to the objectives of the Paris Agreement. Will policymakers nationwide actually make the necessary, uncomfortable decisions that must be made to save our planet? It remains to be seen. But Shindell
is cautiously optimistic.
"Look toward a world that has solved climate change," Shindell says. "It's a much nicer, healthier world."