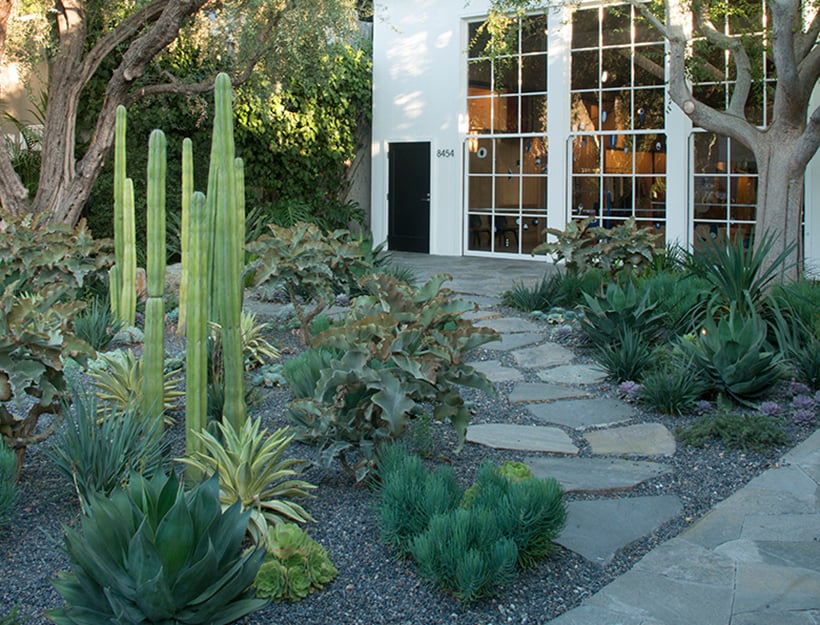 Xeriscaping Plus: Drought-Proof Gardening Resources
Anyone who lives in Southern California (or anywhere near a desert, for that matter) knows the familiar struggle of trying to keep verdant, usually expensive, landscaping alive when faced with dry heat and watering restrictions. And the guilt that comes with turning on the hose at all. We've rounded up some of the best xeriscaping resources for lawn makeovers that are easy on the planet.
Before you embark on your drought-tolerant landscaping crusade, a few tips from the pros:
Know the vocabulary. "Xeriscaping" describes landscaping that never has to be watered, which is admirable (and low-maintenance), but limiting. The similar-but-different term "drought-tolerant" means minimal watering, and typically includes plenty of native species.

Invest wisely. It's tempting to think that a lawn makeover means pulling everything out and starting from scratch, but it usually makes more sense to move slowly, keeping trees and other large, healthy plants intact while taking out bits of the lawn or planting over dirt patches.

Be patient. Small plantings take some time to grow in—it could be years before your garden reaches maturity.

Plan ahead. Even the most self-sufficient garden will wither away without proper maintenance. If you don't have the bandwidth to do it yourself, seek out a skilled gardener—if you have big trees, an arborist can be helpful too—to keep things on track.
Los Angeles
If you're the kind of person who cringes at drought tolerant gardening that seems like it's just gravel, call Matthew McKelligon. He's excellent with groundcover that grows in quickly, and he's especially talented when it comes to fill-ins around stone or walkways. Plus, his firm is known for cool touches, like plants that naturally repel mosquitoes, or yards with several tiers.

Mia Lehrer's primary business is large public buildings and contract work (she did the replanting of the sidewalks along the L.A. River). While she's most famous for gardens, parks, large office buildings, and more, that doesn't make her residence-level work any less interesting. It does, however, make her a great option if you have an especially large space; her team is well equipped for serious acreage.
Anyone who's a regular at the Melrose Place farmers market knows Elysian Landscaping for the breathtaking succulent garden they installed outside the Isabel Marant store. Incorporating every imaginable species from tiny, delicate ground cover to cactuses taller than people, the space also works well with the existing mature tree growth. Their style is everything you look for in a garden: Lush, full, textured, and unexpected. They're just the right team to transform a pool area.

Scott Shrader is probably as close as a landscape architect can get to celebrity status. His clean, elegant designs are plastered all over Pinterest and in the pages of garden and architecture magazines. His designs aren't exclusively drought-tolerant, so be sure to discuss your watering needs and wishes well in advance of planting.
CBL Landscapes is hyper-focused on sustainability, and obsessed with creating watering systems that are efficient and reliable (a life-saver a few months after install when most watering systems start to break down). That said, their range of design styles is broad, with a portfolio that includes everything from European-style topiaries to desert-inspired landscapes specifically formulated to attract local birds and insects. Also cool: They do gorgeous green roofs.

Eva Knoppel has been designing LA gardens for years, so experience is definitely on her side. In addition to fantastic xeriscaping, Eva and her team are also experienced at installing rain and gray-water collection systems, which make use of otherwise wasted water for your garden. She's at home designing everything from zen gardens to poolside flowering plants, but we're particularly partial to her designs inspired by the California desert, which include locally-blooming wildflowers for color.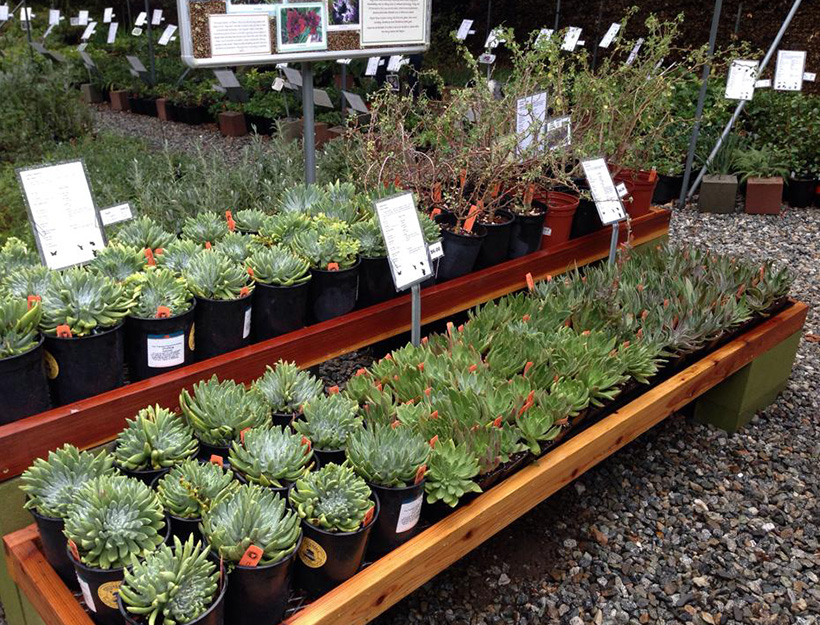 We first found out about the Theodore Payne Foundation because we love using their Wildflower hotline, where hikers and enthusiasts write in the most beautiful wildflower sightings (it's a great resource when you're looking for a weekend hike). Their comprehensive nursery is far and away the best resource for sourcing native plants and wildflowers, and their website is incredibly resourceful. Their Wildflowering LA project planted wildflower gardens in front yards in neighborhoods across the city, and the results are totally inspiring.
San Francisco
Landscape designer Kelly Kilpatrick has been creating gardens since she received her degree in landscape architecture in 2000. Before that, she was an artist, and that creativity shines through in her work. Her style is decidedly romantic, offering wildflower-inspired spaces filled with long grasses and punctuated by vibrant color. She's best known for specialty gardens, which she designs to be deer-resistant, edible, or to attract beneficial insects and birds.

Davis Dalbok's landscape design career spans more than 35 years in the bay area. His company, Living Green, has always been known for fabulous, often exotic gardens, but in recent years he's expanded to become one of the best designers in the city for potted succulents and vertical wall plantings, i.e., transforming apartment terraces and small urban spaces.
Andrea Cochran is actually best known for her work in public and commercial spaces—she's the designer behind the plantings at the Portland Art Museum, and Stanford's Windhover Contemplative Center, for which she won the Smithsonian's Cooper-Hewitt National Design Award for Landscape Architecture. Equally impressive is her residential work, where she applies her sleek, modern style and signature restraint to create stunning backyards. The monochromatic and heavenly scented lavender fields in one of her private residences would have even the blackest thumb dreaming up landscaping plans.

Instead of relying on flowers and color to make her designs interesting, landscape designer Beth Mullins layers green succulents, grasses, and tree plantings together to make textured but incredibly modern designs. She also creates gorgeous native-grass yards that offer full green coverage without the water suck or the manicured look of classic turf.
Santa Barbara
In addition to her landscaping business, Margie Grace is also the President of the Santa Barbara Green Building Alliance, meaning that her designs come with a sensibility that works with, not against, your architecture. Her gardens incorporate arbors, stairs, walkways, and other architectural features—even more significant, her team also builds everything she designs, so the results are guaranteed to be as beautiful as the initial renderings.

Arcadia actually has offices in Santa Barbara and Phoenix, so it's no surprise that lush, desert-appropriate gardens are their bread and butter. In Santa Barbara, they bring their hyper-sustainable methodology to some of the city's historic homes and properties, creating landscapes that complement the classic Spanish-style buildings.
Arizona
Based in Tuscon, Boxhill is a landscape design firm, online shop, and blog combined. Their online shop is a fabulous resource for outdoor furniture, lighting, pots, and more—which makes sense since the team always weaves elegant design elements into their landscapes. Expect designs that are equipped with beautiful lighting and furniture for outdoor entertaining and stunning, yet surprisingly low-maintenance succulents, grasses, and potted arrangements.

Arcadia's team in Phoenix (they also have an office in Santa Barbara) take on the major challenge of creating lush landscaping that requires almost no water in the country's driest landscape. The team's four experienced designers are hyper-focused on sustainability, specializing in edible gardens, greywater and rainwater capture, and lawn replacement. They also use recycled and salvaged materials for their hard structures, like awnings and benches.
Austin
Christine Ten Eyck is one of Austin's leading landscape designers in both the civic and private arenas. Because of her team's experience in large public spaces, they're particularly adept at re-vamping large swaths of land (a few Texas ranches have been lucky enough to receive her treatment). They're fantastic at creating lush groundcover using native grasses or verdant spillover plants.

Austin architects are known to seek out Mark Word for sleek, modern-feeling landscapes that use native plants and feel authentically Texan. His designs are also notably straightforward—the results are always lush and comfortable, but never overdone. That said, he doesn't shy away from a bold flower when the setting is right.