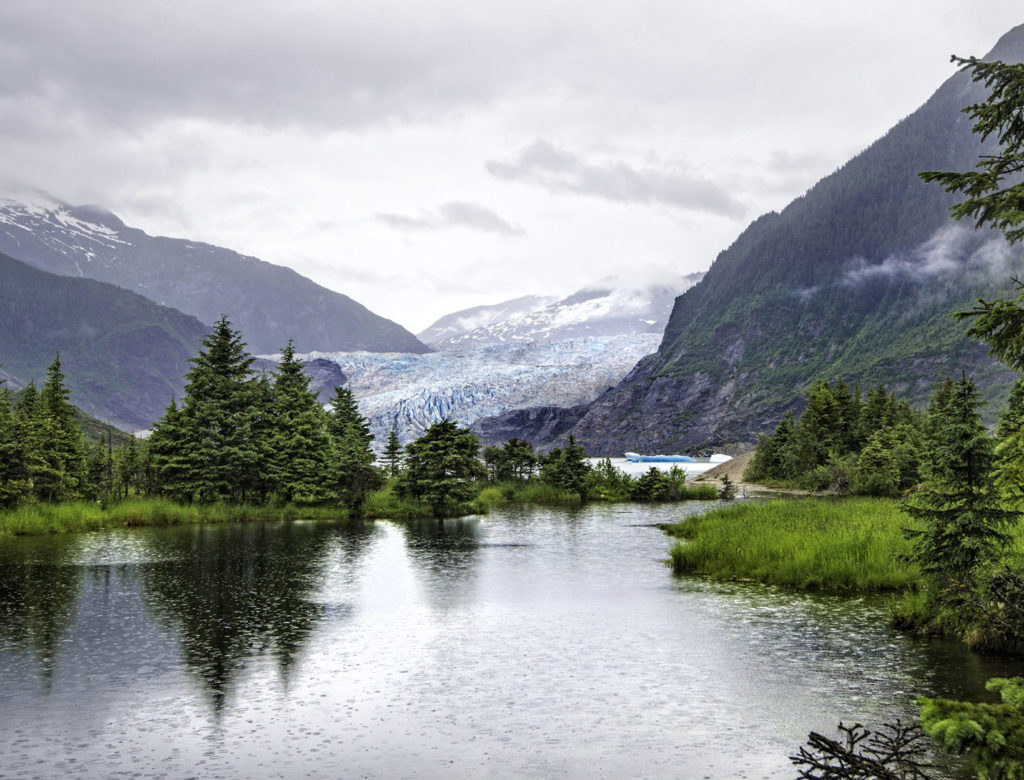 Why Protecting the Tongass Forest Is Critical to the Health of Our Planet
Ayana Young makes the Tongass National Forest sound like a painting. Majestic mountains layered with rain forest and thick moss. Swaths of icy glaciers jutting out next to rock. Sitka black-tailed deer roaming about. "It's absolutely incredible," says Young, who is the founder of the environmental nonprofit For the Wild.
But soon that could all be gone.
The current administration is attempting to change the policy that guards the Tongass, America's largest national forest, which would put the area at risk of development. Since 2001, the forest has been under the protection of the Roadless Area Conservation Rule, a federal policy that prohibits roadbuilding and logging in 58.5 million acres of national forests in thirty-nine states. Certain lawmakers are looking to make parts of Alaska exempt from the Roadless Rule. If these protections are overturned, industrial logging could potentially massacre ancient trees and the defense they provide against climate crisis, says Young.
The Tongass is spread across 17 million acres. Combined with British Columbia's Great Bear Rainforest, it is the largest intact temperate rain forest on earth. Many call it home: grizzly bears, bald eagles, Pacific salmon, moose. The Tongass produces about a quarter of the salmon catch on the West Coast. It also provides more than a quarter of the jobs in the surrounding area because of the tourism and fishing it draws.
Young is spending the next several months on the front lines in southeast Alaska. She is advocating against the imminent change, traveling around by boat to collaborate with grassroots organizers and indigenous Alaskans. We caught up with her during a rare moment of cell reception to talk about the possible shift in the protective policy, something she says would have deleterious effects on a large scale.
"Imagine a Jenga game," she says. "When you pull out some of those blocks, sometimes the tower still stands, although it becomes more fragile. But when you pull out enough blocks, the entire thing crumbles. And that's what we're seeing all around the world: the collapse of ecosystems because we are continuing to remove these key players that allow them to function."
A Q&A with Ayana Young
Q
What is the Roadless Rule?
A
The Roadless Area Conservation Rule was established in 2001 during the final days of the Clinton administration. Administered by the US Forest Service, its intent is to protect the last remaining wildlands in our national forests by instituting prohibitions on road construction, road reconstruction, and timber harvesting on 58.5 million acres of inventoried roadless areas on National Forest System lands. This places about one third of the national forests off-limits to development.
---
Q
What would the consequences of development in these areas be?
A
Roads make it easier to log, drill, and mine. They endanger wildlife and clean water sources. Undisturbed lands are vital to natural ecosystems' ability to adapt to climate change. Acres protected by the Roadless Rule offer essential sites for research into natural systems, they preserve unfractured habitats critical to species' survival, and they are bastions for pure drinking water in a resource-extractive economy that threatens fresh water sources. They also provide a refuge for plants and animals pushed out of other damaged landscapes, which we are seeing increasingly as floods, fires, and other climate crisis events are becoming the new normal.
---
Q
How does the rule affect Alaska specifically?
A
The Roadless Rule is especially critical in areas like southeast Alaska where new old-growth logging would cause irreversible harm to the Tongass. If legislation were to make Alaska exempt, industrial logging would massacre ancient trees and the protection they currently provide as a buffer against climate crisis. It would destroy landscapes that are sacred to indigenous communities, and it would harm rural Alaskans who rely upon roadless areas to preserve the habitat for salmon, which are essential to multiple communities in Alaska.
---
Q
What species and ecosystems are under threat?
A
The Tongass supports abundant wildlife, including brown (grizzly) and black bears, wolves, Sitka black-tailed deer, bald eagles, northern goshawks, and marbled murrelets. Additionally, humpback whales and orcas swim offshore of untouched islands. Sea lions congregate on rocky outcroppings, and at-risk migratory snow geese make pit stops in the Tongass en route to the Arctic.
One of the indigenous elders that I've been speaking with talks about how these forests are cathedrals for salmon. If these cathedrals are destroyed, the salmon have nowhere to come back to. Salmon are the kingpin of fish: All life builds upon them. The reason Salish Sea orcas are threatened with extinction is because they don't have enough salmon to feed on. So by further destroying these lands, we're not only destroying the cathedrals; we're destroying the entire ecosystem in the waters that rely on these forests. And when the salmon go, the orcas go, the humpbacks go, the seals go, the eagles go, the black bears go, the brown bears go. Then you put into that this idea of subsistence fishing, which allows local people and native people to catch a certain amount of fish each year to eat. When you threaten subsistence fishing for native people and local people, you threaten their way of life and you threaten their survival.
"Even if you're never going to see the Tongass, even if you'll never go to Alaska, it's important to use your voice for the Tongass because we will continue to lose our rights if we don't fight for them now."
It's so complex, the interweaving of all of these pieces. At the end of the day, we have to protect the forest, because protecting the forests helps protect the people who live here. And it helps protect cultures—so much culture is built around food and land and how the land allows people to live there.
---
Q
What would be the benefits of rescinding the Roadless Rule?
A
The logging company owners would benefit. If you're a logging company, you don't want the Roadless Rule. You want to be able to extract as many trees as you possibly can with as few restrictions as possible. And so often these companies—whether they're logging or mining—are not held accountable for all of the damage they cause with these very intense resource-extraction projects. Then the question is: Who does the cleanup? A lot of times, it never gets done, or it's put back on the government, which means it's put back on the taxpayers.
---
Q
How can we get involved?
A
Alaska is under numerous threats. The proposed state-wide exemption to the Roadless Rule is only one of them. So it is important to learn about the issues and to use every right that you have as a US citizen. Use your voice and speak out and say that we will not allow our lands to be completely stripped and raped. Even if you're never going to see the Tongass, even if you'll never go to Alaska, it's important to use your voice for the Tongass because we will continue to lose our rights if we don't fight for them now.
There are many ways to get involved. One—which is a little esoteric—is to listen to your intuition and your instinct. Find the places and the people that you're in love with and that you have passion for. That could be your local park, that could be the Tongass, that could be Grand Staircase–Escalante in Utah. Turn off your phone, get quiet, go to a tree or a rock or anywhere you have a connection with, and just sit and pay attention. Find that place that you want to devote your time to.
On a more logistical level, find people you trust and connect with—we can't do it alone. I recommend supporting and volunteering with grassroots organizations, people who are on the front line, people whose work you believe is full of integrity. We have access to so much because of the internet.
And really learn and educate yourself so that you can then educate other people. You can go to a dinner party and talk about it. You could become an educator in your community, among your friends.
For anyone who is just starting and feeling overwhelmed, I want to say to you directly: Every little thing makes a difference. Whether it's going to a rally, sitting at a booth and passing out flyers, doing dishes at the end of a community organizing event—those all make a difference.
We are definitely under threat in a major way, and we need to push through the feeling of being overwhelmed. We need to push through the voices that tell us it's too much or we don't know enough. We're very resilient, and we're intelligent. I know that we can do it.
---
Ayana Young is a podcast and radio personality specializing in intersectional environmental and social justice, deep ecology, and land-based restoration. Young's debut film, When Old Growth Ends, is an ode to the complex ecosystems of the Tongass National Forest. Young is also the founder and executive director of the female-led millennial media organization and nonprofit For the Wild. She hosts the For the Wild podcast, teaches about empowered earth stewardship, leads biodiversity enhancement workshops, and facilitates panels across North America. For the Wild will be releasing an upcoming audio series and campaign focused around key issues impacting critical landscapes in Alaska and adjacent environments in Washington and British Columbia.