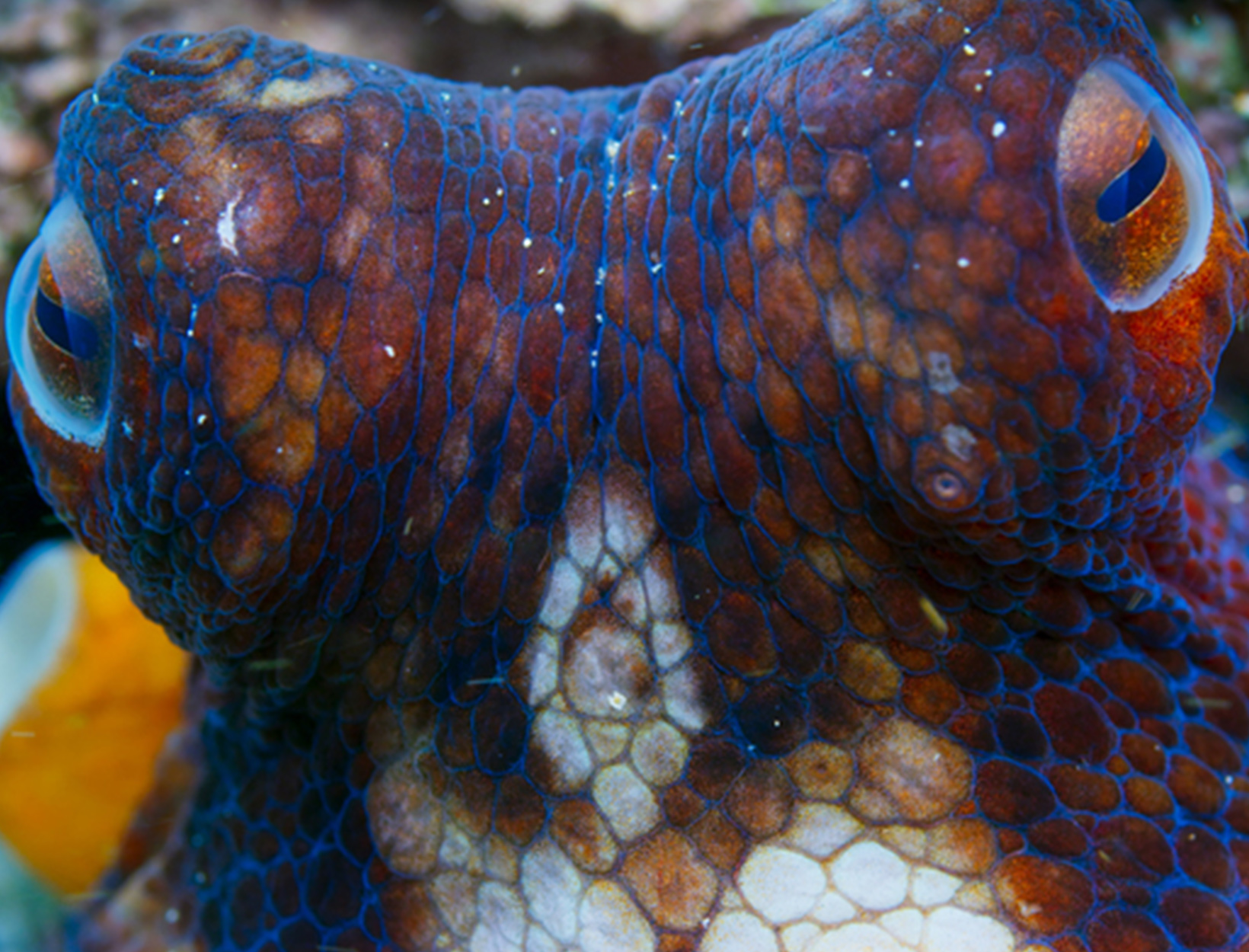 Copyright BBC 2017
Postcards from the Deep Ocean by a Veteran Filmmaker
It's a simple idea: If people don't know what the ocean holds, they can't care; but if they do know about the creatures and their ecosystems, they just might. That's what renowned oceanographer Sylvia Earle once said to producer Jennifer Hile. In other words, the more we know more about our ocean, the less likely we will be to stick a plastic straw in our iced coffee.
It was an idea that resonated. Hile's most recent mission (in her work with nonprofit media company OceanX Media) has been to document swaths of the ocean on a research vessel called the MV Alucia, a giant research ship with two submarines, an on-site science lab, a helicopter, and state-of-the-art filming equipment. The product of these unprecedented journeys, which took Hile and a team of scientists and filmmakers up to 3,000 feet into the ocean's depths—is captured in the film Oceans: Our Blue Planet, a Giant Screen companion to the BBC TV series Blue Planet II. Watch it, in awe, when it is released in select theaters around the world this spring.
Hile gave us a glimpse at the science (and yes, magic) behind the shoots, the amazing places and creatures she's met in her twenty-year career, and the path she sees forward for ocean conservation.
A Q&A with Jennifer Hile
Q
What's the craziest stuff you've ever seen?
A
About a decade ago, I was charged by sharks off of Socorro Island in Mexico. I once got engulfed by a huge swarm of jellyfish in the Red Sea. It took me a few anxiety-filled moments to figure out that they weren't the stinging kind.
There's good "crazy," too, like when we were filming Oceans: Our Blue Planet off the coast of Costa Rica; it was a quiet day—calm, glassy seas—and we were struggling to find anything to film. Then we got a call from our helicopter pilot, who was doing some aerial scouting a mile or two away, saying that he'd spotted a pod of four or five thousand dolphins.
"Sorry, can you repeat that?" I asked, thinking I had misheard him. Our ship beelined to the GPS point as everyone frantically prepped their cameras. Pods can dive and disappear at any moment. But we found them, and we filmed one of the iconic sequences of the film—a "boiling sea" where so many dolphins and tuna were feeding on a bait ball of lanternfish that the sea seemed to seethe with life. Our local dive guide later said that in twenty years, he'd seen this only once before.
After the action dissipated, there were still dolphins as far as the eye could see, so we all jumped in for a swim. The noise was incredible. They were echolocating; the sea was full of their sound: click-click-click. Were they talking about us, the gangly humans that had just crashed into their water? The dolphins let us tag along for a few minutes and then vanished into the blue.
Q
Has there ever been anything you tried to capture on camera but failed? And what was the most difficult shoot of your career?
A
Once, after months of researching the best season and location to find whale sharks, we went to the Galapagos to film them…and we didn't see a single one. When you are filming wildlife, you have to accept the risk that your lead may not show up on the set. You always have to have a plan B. And a plan C. I also like plan Ds.
As far as the most difficult shoot, I've had a few bruisers, but filming for a month in Antarctica for Blue Planet II and Oceans stands out. It took nine months of planning to get a total of forty-two people and thousands of pounds of equipment and cold weather gear to an incredibly formidable and isolated part of the world. There is no popping out for spare batteries if you forgot to bring enough. The pressure is intense.
For this shoot, we had a helicopter equipped for aerial shooting; submarines, which we sent down deeper than anyone had ever gone in Antarctica; a full scuba team for shallower work; and multiple tenders to get land-based teams to shore.
A large part of my job on this shoot was to ensure that each part of this team was working harmoniously in a dynamic, dangerous environment—even when cameras went down, weather changed, or a fast-moving iceberg meant plans needed to be changed at a moment's notice. We also made the decision to work at "night" in the 24-hour sunlight of Antarctica's summer because the midday light was really harsh. So in addition to everything else, we were working with our body clocks upside down.
By the end of the shoot, I was completely spent, as was the rest of the team, but as is so often the case in life, it was the hardest shoot that turned out to be the most rewarding.
Q
When you were twenty-five, you quit your job at National Geographic and sold everything you owned to explore the world. What does it take to pull that off—would you recommend it to a twentysomething today?
A
It doesn't take as much to pull off as people sometimes think­—curiosity, a willingness to live simply, and a willingness to pack up life as you know it for a while (as well as the luxury to be able to do so). I sold my car as seed money for travel, quit my job, and gave up my apartment. It felt scary at the time, but when I came back, I got a new job and found a new place to live and all my friends were there to welcome me home. The lesson for me was that you can step away from what you know of life and see what else is out there—the world as you know it will still be waiting for you when you get back. You'll be the only thing that is different (in a good way).
And yes, I would 100 percent recommend it to others. Travel is one of the best educations out there. The perspective you get from exposure to other cultures, religions, and social values is extraordinary. I also saw so much destruction of natural landscapes while traveling that it helped me fully embrace my passion for being a voice for wildlife and wild places whenever I could. That really focused me in terms of career and life goals, and those experiences are still a touchstone for me to this day.
Q
What's the MV Alucia, and what has she allowed you (and the researchers you work with) to accomplish?
A
The MV Alucia is a truly remarkable ship that's owned and operated by the nonprofit organization OceanX and utilized by our media company, OceanX Media. The Alucia has two submarines, an on-site science lab, scuba equipment, a helicopter, and state-of-the-art camera and filming equipment. To have access to any group of these items is rare, and to have all five on one ship even more so.
The ocean is a daunting place to work, and so much of it is undiscovered; having these resources is a game changer. For millennia, humans couldn't go deeper into the ocean than they could hold their breath. While scuba allows us to go a few hundred feet down, submarines are the only way to explore beyond that, and there are very few nonmilitary submarines in the world and even fewer that are made accessible to scientists and media. The Alucia's submarines allow us to go 3,000 feet below the surface, bringing us to places we've never been before. We can observe and film the deep sea, and the on-board science labs can be used by scientists to analyze what they are finding in real time, making all of our work more efficient in the field. The ship's helicopter also allows for aerial filming and assists in location scouting, which is critical when you think about how vast the ocean is.
During a recent trip aboard the Alucia in the Amazon, I became the first woman in a submarine to explore the Amazon basin. Each night during our two-week shoot, the team hunkered down with the Alucia's captain, sub captain, and local scientists to make a sub dive plan for the next day. The maps of the seafloor we had with us weren't all that detailed, since scuba is as deep as anyone usually goes in that region and no one had been to the bottom in most of the areas we visited. We had little to reference in terms of what wildlife or landscape we might see—it all felt very eighteenth century. In that instance, and so many times before and after, we are the first people to be in these deep stretches of the ocean. It blows my mind that there are so many firsts still out there when it comes to the ocean. A ship like the Alucia is critical to helping fill in the gaps on our maps.
Q
What kind of engineering/technology is involved in capturing the insane deep-water shots in Oceans and Blue Planet II?
A
In addition to the Alucia's submarines, which are a wonder in and of themselves, we have one-of-a-kind custom underwater camera housings, pressure-tested to operate at 3,000 feet, just like the submarines, allowing us to take cameras to areas of the deep ocean where no camera has gone before. The sophistication of the cameras themselves is also incredible—they move by leaps and bounds every few years. The cameras we used most include 6k RED cameras and the Canon ME20, which—with the help of our underwater lighting rigs—is sensitive enough to capture details in the darkness of the deep ocean. We can see every bump and ridge of the seafloor, every stripe of color on a peppermint shrimp, every mesmerizing feature of a feather star.
Q
Why did you choose this career path, considering it's much easier to just stick your head in the sand?
A
I am deeply motivated by the idea of being a voice for wild places and wild creatures. One of my icons is legendary oceanographer Sylvia Earle, and I was lucky enough to go on a shoot with her two years ago. She said something along the lines of: If people don't know, they can't care, and if they do know, they might. I want to help people know. I did a film for National Geographic on orangutans, and deforestation is a primary reason those animals are now on the endangered species list. While writing the script, I researched what the wood was used for. The US was a major market in which the wood was sold, and it was primarily used for things like pool cues and futon frames. Do we really want to trade ancient forests and creatures for pool cues and futon frames, or do we want to rethink that? My goal is to raise awareness so that we can ask these questions.
Q
Actionable advice for people who care about our oceans and the creatures that live there?
A
In some parts of the ocean, it's estimated that there are over half a million pieces of plastic for every square kilometer. Birds are dying because they eat more plastic than food. It's killing our world in more ways than one. This is something all of us can impact in a positive way. For example, keep reusable bags in your car for grocery shopping and at work in case you jump out to get lunch to go. Cutting down on plastic is a profound way to have a positive impact on the environment and specifically on the oceans.
And eat sustainable seafood! There are great apps and websites—Seafood Watch by the Monterey Bay Aquarium, the Environmental Defense Fund's Seafood Selector, and the Safina Center—which you can reference to help determine if what you are eating is sustainable.
Q
What are you hopeful about?
A
This next generation is growing up much more mindful of the environment and the damage people can do. There is a tremendous amount of hope in that. Recycling and sustainability are so commonplace now that it's easy to forget that twenty or thirty years ago they weren't part of the mainstream culture. Big businesses are realizing that they have to be sustainable in order to innovate and stay relevant and viable long-term. The current empowerment of women has a dramatic positive impact on the world—educating women the world over, giving them a voice in the size of their families, in shaping a healthy world for their children—that fills me with hope.
I also think hope is to be found in all that is left to discover. The ocean is the largest habitat on Earth, and yet the least known. NASA has more detailed maps of Mars and the moon than we do of Earth's ocean floor. There is still so much to explore and to discover. I love knowing that our world still has lots for my six-year-old to uncover one day.
An Emmy Award-nominated, twenty-year veteran of the film industry, Jennifer Hile has filmed and produced media in more than twenty-five countries on all seven continents. Jennifer is currently the executive producer and head of production at OceanX Media, which partners with world-class scientists to inspire global awareness about the beauty, complexity, and fragility of the ocean and its inhabitants, and galvanize stewardship of the sea. (Follow them on Instagram here.) Hile also worked with the National Geographic Channel on its groundbreaking film Before the Flood, and is executive producer of Our Blue Planet, a digital partnership with BBC to amplify and expand the conservation started by the Blue Planet II series, as well as the Giant Screen film Oceans: Our Blue Planet, released in March 2018.