How to Kid-Proof Your Home WiFi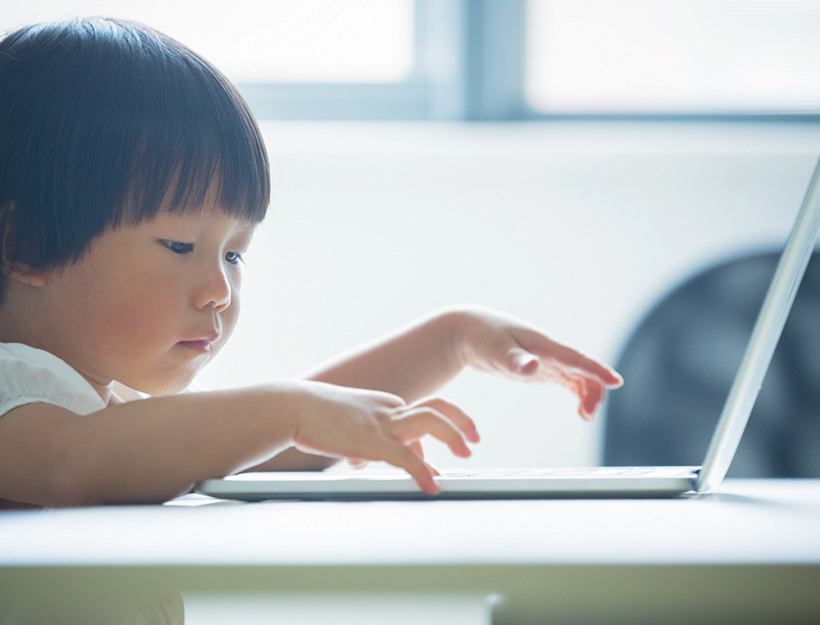 Computer guru Rand Singer runs an eponymous IT consulting business, Singer Consulting, Inc., that supports a variety of businesses as well as personal clients. (We've called on his expertise more than once at #goophq.) Rand, who himself has a sixteen-year-old daughter and a thirteen-year-old son, understands the challenges of home internet safety—and the need to balance ironclad protection with ease of use. While he points out that no technology will replace the need to parent, below, he spells out how to protect your kids at home and beyond—from the basics of blocking sites to his top-notch system for locking down your WiFi.
A Q&A with Rand Singer
Q
What's the gold standard in systems designed to protect your home and kids from internet-related threats?
A
There isn't really a single gold standard; and you can't just put in one piece of gear, consider your home and kids protected, and not give it another thought. No technology is going to replace actual parenting. That said, the right technology can go a long way, and it can definitely make your home internet safer for you and your children.
For our most security-conscious businesses and homes, we upgrade to high-level firewalls, routers, and filters. We primarily use one (or more than one) of the following systems: Cisco, Meraki (owned by Cisco), SonicWALL, FortiGate, Barracuda. Some of these systems—like Meraki, SonicWALL, and Barracuda—come with content filtering built in. For instance, in my home, I use Meraki to block things like adult content, gambling, and P2P (peer-to-peer software linked to illegal downloading) from my kids' devices. We have different filter settings for my son and daughter—my son is younger so his internet access is more restricted—and then nothing is blocked for my wife and me. (I also have a number of other systems running on top of Meraki at my house, mostly for testing purposes, so my house is an anomaly in this sense.)
The systems that we install are robust. But they are expensive and for the most part, they are not particularly home-user-friendly. You'd likely need an IT professional to do the installation, and continued IT help to manage, monitor, and update the systems. (My wife is brilliant, but she wouldn't be able to make substantial changes on our network—she just doesn't have the IT background.) So, this "gold standard" treatment doesn't make a lot of sense for the vast majority of homes. Also, most homes don't need such a high level of intrusion detection (IDS) and intrusion protection systems (IPS) as a business dealing in financial data or a high-profile household might. I wouldn't recommend that my best friend invest in a high-level firewall.
Q
Without going for the gold standard, then, what can parents do to make internet access safer?
A
For the average house, you can get a suitable firewall from your internet provider or a store like Amazon or Best Buy. There are many fine consumer brands in this space. For instance, you can get plenty of bang for your buck with an ASUS, Linksys, Belkin, or Netgear router. And then you can supplement that with a parental control system.
My current favorite is Circle with Disney. The Circle app connects to your home WiFi; it mimics the super-high-end systems that I just mentioned, but it's much more affordable ($89), very user-friendly, and simple to set up. (It might take the average person thirty minutes to install Circle.) And it gives you a way to lock down and monitor what your kids are doing on your WiFi network. There are a few default settings—pre-k, kid, teen, adult—which you can customize, depending on your family's needs and comfort levels. For instance, you can block Instagram at the push of a button, or limit your kid's time on Instagram to thirty minutes a day. You can limit overall internet usage to two hours per day, for example, and you can set an internet bedtime.
There are other companies who have similar systems, but Circle is (again) our current favorite. It does a great job of, first, preventing your kid from accidentally stumbling upon inappropriate content, which is arguably the main objective. And its parental controls are smart. Which isn't to say that Circle is perfect—in truth, no system is entirely perfect. I could get around the blocking settings on most high-end systems if I wanted to. Maybe your kids won't be able to get around your system, but say there's a particular app they want to try or a piece of content they want to see, they could (as my thirteen-year-old son pointed out) turn off the WiFi on their device, and then pull up the app or website using cell phone data. This kind of system only monitors and controls internet use when you're connected to the home WiFi.
Which is why some families opt to have a mobile device management system that extends beyond their WiFi. The Circle edition of this is called Circle Go. I haven't actually tested Circle Go yet, but the idea is that the settings you have on your home WiFi extend outside the home (e.g., when your kid is on the cellular network or another WiFi network). Circle Go comes with a subscription fee: Right now it's $9.95 a month for up to ten devices.
Q
What about the parental controls on devices and phones? What are the basics of blocking sites on the computer and/or apps on kids' phones?
A
You can take your kids' devices and put parental controls directly on the devices (or computers). For example, you can set a restriction code on iOS if your kid has an iPhone; with that, you can block adult content, or, depending on the age of the child, you might want to set up the device settings so that your child can only access seven or so particular sites. You could even block Google or Safari to restrict a five-year-old's access to just their play sites. This is all fairly easy to do, whether it's for iOS, Android, or Windows—which is evident by the number of simple online tutorials that exist for every option. What can be cumbersome, though, is the management piece. Say you limit your kid's access to seven sites; every time he or she wants (or needs for school) to access a different site, you have to update the settings on the device.
There are also some third-party parental controls that are more robust than the built-in parental control options, and that would also extend to e-mail filters and include parental notifications, among other more sophisticated components. A favorite of ours, designed specifically for Mac, is ContentBarrier by Intego. A similar option on the Windows side would be Norton Family (although I haven't personally tested this one).
Another option, which you can get for free, is OpenDNS Family Shield. Without getting too technical, DNS stands for Domain Name System, and it's how things are looked up on the internet. When you "go to" Amazon.com on the internet, your computer is actually asking the internet's equivalent of a phone book (a DNS Server) where Amazon is, and returning the IP address (a string of numbers) associated with Amazon. Well, it's the same process if someone is looking up porn. But with OpenDNS Family Shield, if a kid is searching for something inappropriate, the inappropriate IP address won't be returned; instead the kid will be redirected to a default landing page.
Q
Does it help to have more than one system and multiple layers of protection?
A
It can, but you don't need or want to layer different systems to the point that it becomes unwieldy for you to manage. Yes, you want a safe, secure system for your home internet. But if you don't have an IT team on call, you don't want to have so many different systems and parental control settings that you can't figure out how to unlock access to your kid's homework site. So pick the system that appeals most to you based on the ages of your kids and your family's needs. Beyond that, make sure their devices are as safe as possible when they are outside of the home WiFi by investing in a mobile device manager and/or using parental controls as suits your individual situation.
Q
What about the TV—is it about blocking certain channels, or are there other concerns with internet-capable TVs?
A
The internet security systems we've been talking about can filter any device that's connected to your home internet, which extends to internet-capable TVs. But in my experience, most people/kids are not surfing the internet via their TVs. I think the issue most parents are concerned about when it comes to TVs is channels that are age-inappropriate for their kids. (Most parents don't want their twelve-year-olds accidentally tuning in to Cinemax late at night.)
I'm not an AV guy, so I don't work on TVs professionally, but from what I've seen, essentially all TVs and cable boxes come with parental controls that allow you to block certain channels, often with a password. And within some channels, you can also restrict certain content. For example, Netflix has an app where you can set up a kid account with limited access.
Q
Do you have other internet-related set-up tips?
A
A small thing that has worked well for my family is having a family iTunes account. My wife and I have it set up so that my son needs our approval before he can purchase an app, whether or not he is using our home WiFi or at a friend's house or anywhere else; and he understands this. (This can also prevent surprise charges on your credit card statement, as very young kids might click to get new apps from the app store, or make in-app purchases, not having any concept that they are making purchases for which you are being billed.)
Something else to consider is where you allow and keep devices in the home. As much as possible, I suggest keeping computers out in the open as opposed to behind closed doors. So, set up your family desktop where Mom or Dad might walk by; create a laptop space in the kitchen. Of course, this gets harder as kids get older and have phones that they take with them into their bedrooms (and everywhere)—and eventually, you have to let go of this to a certain degree.
I also recommend that parents have the passwords to their kids' devices and apps. The idea being that the devices are family devices; it's your responsibility to protect your kids while they are using these devices, which means you might need access to them in order to monitor your kids' activity. There are parental controls that can stop kids from deleting their history; this is another way to monitor your kids' activity with the goal of protecting them. And talk about search history with your kids—let them know that it's not okay to delete for this safety reason.
Q
Is there an area of home internet use, or a device or an app, that commonly gets overlooked that parents should be paying more attention to?
A
First, mobile devices: As mentioned earlier, if you only have a system that monitors internet use when your kids are on the home WiFi, and you don't have some sort of mobile device manager, then your kids don't have any protection when they are outside (or turn off) your WiFi.
Second, gaming devices: Some parents don't realize that kids could be interacting with strangers (who may be using inappropriate language for starters) while playing online, interactive games.
Big picture, though, I think we need to pay more attention to the education piece and the parenting side. Everyone is excited about the promise of technology and the idea of a device that completely protects the family, but keep in mind that this is in some ways a cat-and-mouse game: Content blockers are chasing the age-inappropriate sites as they come up. And regardless of how secure your home internet is, or what kind of safety controls you have on your kids' mobile devices, despite all your best efforts, you might not, for instance, be able to prevent your child from seeing something upsetting on the internet at a friend's house. You still have to talk to kids about the internet and the potential dangers associated with it. You wouldn't just leave your kid to figure out how to drive a car by himself or herself; the same thing goes for the internet: You teach kids how to navigate it safely to prevent a crash from occurring. And if an accident does occur, you have to be there to talk about it, to help them handle it, and to make sure it doesn't happen again.
Of course, just because you're a good parent doesn't mean you shouldn't have a firewall, and you shouldn't restrict your kid's internet access in any way. It's about having the right protection, a good plan for your home internet and your kids' devices, and active parenting.
For more on internet parenting and kid safety, see this goop piece with Cheyenne Ehrlich, CEO of SaferKid, as well as this Q&A with Mary Nan Huffman of Internet Crimes Against Children.
Related: Sex Ed For Kids