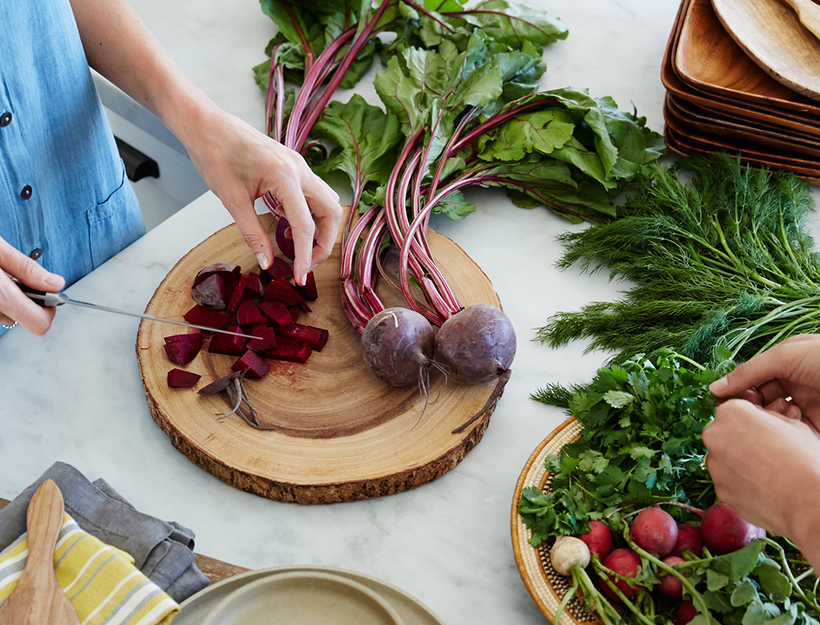 How To Fix Obesity and Hunger, At the Same Time
One in eight people still go hungry in America, many of them children; at the same time, some 70% of Americans are obese. What is strange is that many of these are the same people: obese, and hungry, because the food that's cheapest and most accessible in poor neighborhoods is mostly processed junk food, full of empty calories and devoid of nutrition. Even food pantries find it difficult to provide people with nutritious food, especially fresh fruits and vegetables.
At the forefront of the battle to change this landscape is an unlikely crusader: Sam Polk is a former Wall Street trader who quit his high-paying hedge-fund job to devote the rest of his career to serving others. (For more on that transition, read For the Love of Money, a well-written and striking l account of his journey.) His LA-based nonprofit, Groceryships, is tackling the twin-headed dragon of obesity and hunger with a new program that gives low-income households "grocery scholarships." Meanwhile, he's bringing the same business acumen that lassoed Wall Street bonuses to a new business that provides affordable, healthy, grab-and-go meals in underserved, so-called "food desert" neighborhoods. He explains both projects below:
A Q&A with Sam Polk
Q
How does Groceryships work? Can you explain the timeline of the program?
A
Groceryships helps parents living in food deserts get themselves and their families healthy. A parent (usually a mom) forms a group with 10 other parents. This group meets each week for two hours for six months. In the meetings, there is nutrition education, healthy cooking classes, and $30-40 worth of free, fresh produce provided each week. But instead of being structured as a lecture, these group meetings are structured like support groups. The parents sit in a circle and much of the time is devoted to participants sharing their challenges and victories when it comes to food and health. The reason Groceryships is structured like this is because when it comes to food, there are so many issues beyond access and affordability that often go unaddressed—things like emotional eating, trauma, stress, depression, addiction, and family issues and belief systems.
At the end of six months, there is a graduation. It's usually a deeply inspiring, tear-filled event. And then graduates of the program go on to lead new groups, and spread health throughout their networks of neighbors, friends, and family. This year, Groceryships will involve between 20-30 groups (200-300 families), and we keep growing at ever-increasing rates.
Q
Groceryships addresses food insecurity, which you describe as "the new term for hungry, which allows for the coexistence of malnutrition and obesity." How many people in the United States lack food security, and what does that look like on an individual level?
A
According to the USDA, nearly 49 million people live in food-insecure households—that's 1 in 8 people currently facing hunger. This national crisis is something that I became aware of after watching the documentary "A Place at the Table." The film focuses on hunger in America and highlights the absurdity of the fact that in the richest country in the world, millions of kids don't know where their next meal is coming from. It opened my eyes to the correlation between hunger and obesity, often due to inconsistency in diet—for example, kids won't eat anything for dinner one night and the next night, they eat McDonald's. It was this film's impact on me, along with my own experiences with food issues growing up, that inspired me to do something of value for those who have been left behind.
On an individual level, lack of food security is not only destructive to the physical body, causing food-related illnesses, but also has emotional and spiritual consequences. Those living in food deserts often experience higher rates of stress, depression, and trauma than in more well-off communities, which is why the social and emotional aspects
of our program are so critical.
But food-related illnesses like obesity and diabetes are not limited to people living in food deserts. Today, over 70% of adults are overweight, 35% are obese, and we spend 18% of GDP on healthcare. Obesity is currently a contributing factor to 7 of the top 10 causes of death in America.
That's why we are seeing such growth in Groceryships—because so many people need help getting and staying healthy. And that's also why we started Everytable—see below for more—it's a food business that we believe can truly make a dent in these statistics.
Q
Where do the families that participate in Groceryships come from? How do they find you?
A
Groceryships is located in South Los Angeles and most of our participants come to us through word of mouth. For example, a mother heard about our program from a neighbor, and wants support for her family in getting healthy.
We also have incredible partnerships with major Los Angeles nonprofits like A Place Called Home, FAME, Eisner Pediatrics, Black Women For Wellness. We often host Groceryships programs at their locations and help train their staff to run them.
Q
Where does your funding come from right now? How expensive is the program?
A
We are fortunate to receive grant funding from The Annenberg Foundation, Kaiser Permanente, The Mental Insight Foundation, Dole Foods, USC, Ralph's Grocery Stores, and Target through our partnership with Wholesome Wave. We also have an incredibly committed board of directors, as well as a network of individual donors who are incredibly supportive.
That said, the only barrier to Groceryships' growth right now is additional funding, and we welcome all who might help support our passionate, growing organization.
Q
Can you tell us a little bit about Everytable? Did this idea come out of your work at Groceryships?
A
The idea for Everytable was a natural evolution, inspired by the moms of Groceryships.
It all started when David Foster, a former private equity vice president, came to a Groceryships graduation, and was so inspired that he started volunteering, then ultimately came to work for Groceryships full-time. David has an incredible financial mind; he and I kept hearing from moms in our meetings that between taking care of their kids and working multiple jobs, they simply didn't have time to cook. Although they were grateful for the fresh produce we were providing, they often had no choice but to buy meals on-the-go, which in South LA, means unhealthy and processed fast food. So David and I set out to create a new healthy, affordable alternative for these moms.
We designed a new business model that uses a central kitchen and small grab-and-go storefronts to keep costs low, while pricing meals according to the neighborhood each store is located in. The needs of each community are different, so we thought, why not build a model where everyone can access the same meals at a price that makes sense for them? Each of our stores is designed to be profitable, but just differently profitable – operating at lower margins in lower-income neighborhoods and higher margins in more affluent communities. Our variable pricing model ensures that healthy, wholesome food is affordable for all, no matter the neighborhood. In South LA, our meals average $4 or less. In our downtown LA location opening later this year, those exact same meals will average $8, which is still extremely attractive in that market. We've seen families at our South LA location stopping in and buying multiple meals to stock up for the week, which is encouraging and really shows the need that we're meeting in the community.
Q
Is there anything specific about the community (or lack of community) in Los Angeles that makes your work easier, or harder here?
A
Yes. Los Angeles is a very unequal city, with areas of high affluence and deep poverty often within miles of each other. I grew up in Los Angeles and love this city with all my heart. And I also see the problems with it. There are too many people, and too many communities left out on the margins without access to healthy food, good schools, good healthcare, and more.
Groceryships and Everytable are both founded on the belief that every life and every community are equally important, and that healthy food is a human right. The good news is that we are not alone in this belief, while many communities and families need help, there are also many passionate people willing to give time and money to support food justice in this city.
I also think that Groceryships works so well because Los Angeles can often feel like a city with no community. It's easy to get stuck at your home, in your car, and not interact with people or groups of people in your neighborhood. That's why Groceryships has such a powerful impact on parents. They come in for the fresh produce and nutrition education, but what they find is a supportive group of 10 other parents engaged in the same journey, with the same struggles. And the bonds between them become so strong and so meaningful that they often last years and years beyond the six month program.
Q
You've been very vocal about your ambition in your previous career, and how it held you back from the life you ultimately wanted. Does your ambitious spirit manifest itself differently in your current work? Has your past experience affected the way you think about growth and expansion for your new projects?
A
That's a great question, and I've wrestled a lot with this subject. Part of the reason I left Wall Street was that I realized that all of my ambition was focused on myself. More money, more status, for me. After I left, and in starting Groceryships, it was almost as if I disowned that competitive, ambitious part of myself and focused completely on serving others. But in the last few years, I've come to embrace that part of myself as an incredibly valuable tool for bringing real change to the world. The difference now is that I'm harnessing my ambition and competitive spirit for the good of the whole, as opposed to just the good of myself. And that's what has made Everytable, specifically, such a joy to work on. I've found a job and a career and a company that allows me to bring all of myself to work, both the head and the heart, in a way that is unleashing a truly powerful energy out into the world.
Q
What advice do you have for well-meaning people who intellectually know that they'd like to contribute more to their communities, but feel too burdened by other commitments to make the time?
A
The first thing I would say is, shop at Everytable. That's the beauty of our model – you can vote with your wallet for a better, more just world. You can buy, for $8, an incredible jerk chicken with coconut beans and rice and plantains that you and your family will love, and in doing so you'll be supporting a company that is bringing healthy food just like that to communities that are often left out.
The second piece of advice is to support organizations that are working for change. Nonprofits are a hard business. Most of the money goes to entrenched organizations, and very little is left for young, disruptive nonprofit organizations. But if you want to real change, you have to support the innovators. Find a small nonprofit that can really benefit from your time, your networks, and your money. And then roll up your sleeves. That's been the best part about Groceryships – seeing some our board members who came to us early and decide to take on our cause as their own. People like Sarah Penna, Christina Ford, Kurt Halvorson, Kip Pastor, Jeff Taraday, Joe Spiccia…people who didn't necessarily have millions of dollars in the bank, but gave what they could—both their time and their money—and created an amazing organization.