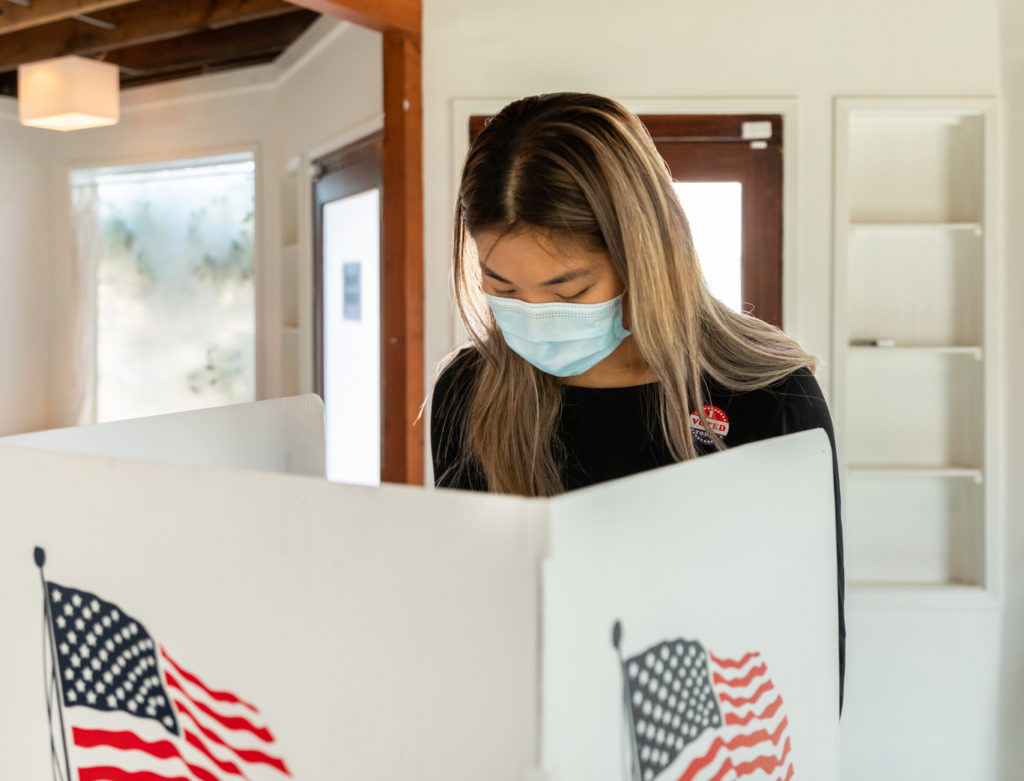 How to Fight Voter Suppression—and Prepare for November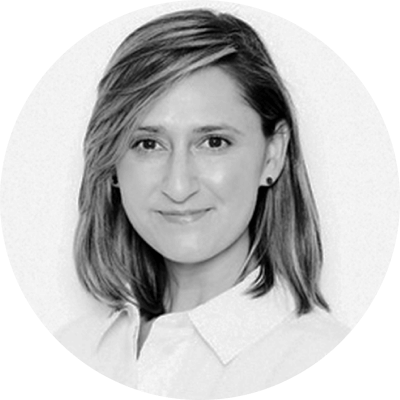 The American election system isn't perfect. Before the pandemic, news reports on Election Day often pointed to the snaking lines, long delays, and frustrated voters waiting hours to cast their ballots at poll centers across the country. Those visuals are emblematic of the larger issue of voter suppression in America, says journalist Erin Geiger Smith. In her book Thank You for Voting, Geiger Smith looks at the history of voting and examines the reasons why American voter turnout consistently trails behind that of most other developed nations. "It's one of those things we don't spend enough time rectifying," explains Geiger Smith. "It's not as if we can say on November 3, 'I want to vote' and show up and vote. You have to have a plan, and while some states do allow same-day registration, you have to know where to go."
In terms of voter suppression, Geiger Smith says it can be looked at in two ways. Suppression can come in the form of voter ID laws, voter registration restrictions, voter roll purging, and voting access issues, such as the closing of polling places. But other barriers to voting include education level, lack of resources, and racial disparities. All of these factors contribute to poor voter turnout, says Geiger Smith, and the rate gets lower with each generation. So what will happen this November, when a majority of the country is expected to vote by mail, a system that our current president has publicly criticized? Geiger Smith's advice is to vote as early as possible. And to get others to do the same, she says to help people make a voting plan. Her last piece of advice? Fighting voter suppression shouldn't just happen surrounding a current election cycle. It should be an active process of protecting our election system—one that starts with participating in it, by voting for officials who will work on the issues you care about.
A Q&A with Erin Geiger Smith
Q
What has voter suppression looked like throughout American history?
A
The best way to think about voter suppression in America is that so often, when there has been progress in expanding voting rights, immediately there have been people who try to narrow those rights or take them away. At the start of the country, it was largely White male property owners who had the right to vote. When the 15th Amendment recognized Black men's right to vote in 1870 during the Reconstruction period after the Civil War, it was sort of a golden period for participation by Black men in politics in that their voting rates went up and there were African American elected officials. But it was also during that time that Jim Crow laws—things like grandfather clauses, poll taxes, and literacy tests—began to be enacted. Many of those laws kept Black people from voting, and they lasted for nearly a hundred years.
So it is often one step forward, two steps back. But the difference between voter suppression in the past and now is that in the past, it was blatant, with things like poll taxes and literacy tests that were impossible to pass. There were bans and laws that absolutely kept people from being able to vote.
---
Q
How would you describe current voter suppression?
A
Voter suppression is something that we have to keep an eye on. When there are new voter laws, like this change with more people voting by mail in this election and the rules that involves, it's important to think: Why do we have certain rules? What are they stopping that's bad? And then the other side is: Whom do these rules keep from voting?
Voter roll purges can be confusing because all states do have a responsibility to keep clean voter rolls, which means only people who are of age and live there and are registered should be on those rolls. If someone moves or dies, they should obviously not be on the voter rolls anymore, but there are states that are more aggressive about purging their voter rolls and kicking people off. Now, following a 2018 Supreme Court decision, states can take people off the voter rolls if they haven't voted in the last two federal elections. So if you didn't vote in the 2016 presidential election and the 2018 midterms, they would send you a postcard saying, "Do you still want to be registered?" And if you didn't respond to that postcard, they could remove you from the voter rolls. The way that they cull through the rolls can kick off a lot of people who shouldn't be kicked off, and that's something that voter rights groups are trying to keep their eye on: Who was purged, and should they have been?
On a basic level, it means you always need to check your registration. Even if you think you're registered, check it early and often to make sure you are both registered and registered how you're supposed to be. Another form of voter suppression is long lines, like the ones we saw in Georgia in the recent primary election. Those lines made huge news, and they happened for a lot of reasons. Some of them logistical, like not having enough poll workers. But no matter what, people shouldn't have to wait that long to vote.
---
Q
How much voter suppression can you have while still upholding a democracy?
A
There should be no voter suppression. What should be happening is that everyone should be doing their level best to get everyone who is eligible to vote to go out and vote. It's a shame that we have to spend so much time talking about voter suppression instead of talking about how we can get our voter turnout rate up. The turnout rate is low because of voter suppression, but then also for many other reasons, like lack of education and lack of convenience. Voter suppression now is unlike it was in the past, when there were locked doors in front of you. Now, if you make a plan and make sure you're registered and follow the steps and give yourself time, you can vote. But for some people, there are many more barriers than there should be.
So it's important to think about voter suppression two ways: Number one, we have to address these issues—such as the long lines, not enough polling places, and confusing voter ID laws—that are obviously there. And number two, we can't let the fact that voter suppression exists keep us from voting. The only way to make it better is to improve the system, and often the only way to improve the system is to participate in the system. Voting rights should be something that people consider when they're deciding whom to vote for. It shouldn't be something we just think about surrounding Election Day. We need to make it a basis of how we choose candidates and look at who is taking on these issues and considering them, on all levels. Voter suppression often happens on the local level.
---
Q
How does voter suppression vary by state?
A
One way to look at voter suppression is to look at voter turnout by state. This is not only about voter suppression; it's also about the convenience of voting. Minnesota, for instance, takes voting as a point of pride, and it has high voter turnout, and it makes voting easier: It has same-day registration, for instance. Whereas in other states, like my home state of Texas, you have to register thirty days in advance. That's a convenience issue. If you decide on October 20 in Texas that you want to vote in this presidential election, too bad: You missed the window. And then lots of states—like Texas, again—have a pretty strict voter ID requirement that can also impact the number of people who vote.
What makes our voting system so confusing is how wildly different the laws are from state to state. This is another thing we're seeing with these vote-by-mail issues. California has increasingly been voting by mail, and Colorado votes almost completely by mail. So in those states, when coronavirus became a big issue, people thought, Okay, no problem; we got this. Whereas for states that didn't already allow people to vote by mail or made it difficult—as New York did or Texas still does, or in Tennessee where there's another example of litigation happening in that area—the transition to voting by mail was more difficult. All of those factors can impact what turnout rates are from state to state.
---
Q
Is there anything being done on a federal level to protect the election system and our right to vote?
A
In 2019, when the new Congress was sworn in, their first bill, H.R. 1, dealt with early voting, same-day registration, and automatic voter registration. The House of Representatives addressed reinstating the parts of the Voting Rights Act that the Supreme Court had struck down in 2013. That decision in 2013 is what a lot of people pinpoint as allowing voter suppression to rebloom in the country. States and counties that had historically discriminated against Black Americans and Hispanic Americans and other groups were able to change their voting laws without federal approval. That hadn't been true since the passage of 1965 Voting Rights Act, but the Supreme Court struck down that part of the act in 2013. Voting rights advocates have been pushing for it to be reinstated, and that's something that the House wanted to do and that the Senate wouldn't pass. So there are laws on the federal level to try to deal with some of these things. But both houses of Congress aren't on the same page about them right now, so it's been a state-by-state issue. There are so many lawsuits going on currently that are trying to nail down how exactly people will be able to vote in November, which is a bit of a precarious situation to be in.
There are attempts to deal with voter suppression on the federal level and on the state level, and local election boards are doing it, too. If you are worried about voter suppression and want to be involved, check out what your local League of Women Voters is doing (if there's a lawsuit going on over voter suppression, it's likely that they're a part of it). Or volunteer with get-out-the-vote organizations to text or call potential voters, or consider applying to be a poll worker.
---
Q
As individuals, what can we do if we want people to be able to vote in this election?
A
Make sure that you're doing everything you can to get the people in your group to vote—that's all of your friends, family, colleagues, or fellow students. Not just by saying, "Go vote," but by helping them find out where to register, where their polling place is, and if they'll need an ID. Help people make a voting plan.
Think beyond asking your best friends, especially if you have a politically active friend group. It's the eighteen- to twenty-nine-year-old group in which turnout is disproportionately low. If you're in that group or you have friends, family, colleagues, or classmates in that group, do everything you can to help them vote.
Find organizations that are dealing with voter suppression issues and consider donating your money or your time. In this current state, with many of us still being home more than not, there are ways to text people or even write letters the old-fashioned way. Michelle Obama's When We All Vote has a lot of texting opportunities. I am a voter. does a great job of helping people get registered and reminding them of deadlines.
Be as active as you can in your own group and then identify people and organizations in your community that are doing this work and see what they need and what their opportunities are. Then call your city representatives, your state representatives, and your US representatives and make sure they know that fighting voter suppression is something that you as a voter care about.
---
Q
In terms of the pandemic, what advice do you have for voters this November?
A
The word that everyone needs to remember is early. However you're going to vote, whether it's by mail or in person, do it as early as you can. If you're going to vote by mail, make sure you know the deadlines and make sure you follow the directions on the ballot. Sign everywhere you need to sign, fill it out exactly the way they tell you to fill it out, and mail it back early or, even better, drop it off wherever the option is in your area. There is always a way to drop it off rather than mail it. Then track it—make sure that it gets where it needs to go on time. Some states have sophisticated tracking systems that allow you to track your ballot like a UPS package. If not, you can call your local board of elections and check whether your ballot was received. Otherwise, if you can do so safely and don't want to put the stress on the mail-in ballot system, check what your early voting dates are and vote on one of those days. The most important thing to do now is to think about how you're going to vote, map out your plan, and put it in your calendar. Putting it in your calendar with an alert is a great idea. Then ask five of your friends to do the same.
---
Q
Do you feel hopeful about this election? How can we continue to push for voting rights and fair elections?
A
Based on all the work I saw people do that paid off turnout-wise in 2018, I am hopeful that we are going to have a historically high turnout for this election. I am a democracy true believer in that I think the more people who vote, the more truly representative our government will be. Really high turnout is what our goal should be, and we have a good chance at it. I am very excited to see what that youngest group of eighteen- to twenty-nine-year-old voters does. They made huge leaps in turnout between 2014 and 2018, from 20 percent to 36 percent.
The constant talk of voter fraud and rigged elections is a lot of unfortunate noise. We need to take it seriously to protect our election system, which is a cornerstone of democracy. As a journalist who's written a book on voting, I feel a responsibility to push back against the lies that are being told about voter fraud and about voting by mail not being safe. It's truly unfortunate that it's the president who is saying them—that puts everyone in a strange position. It's unfortunate that voters have to spend time worrying about things that historically have not been an issue when there's real stuff to worry about. The truth is that voting is safe. Our system is set up to handle it. In 2020, it's under way more pressure than it's probably ever been, and we can't minimize that, but as voters, we can do what we can to support the system. That's where our focus should be.
---
Erin Geiger Smith is the author of Thank You for Voting and the Thank You for Voting young readers' edition. She is also a journalist who has written for publications including The Wall Street Journal and The New York Times. She graduated from Columbia's Graduate School of Journalism, the University of Texas School of Law, and the University of Texas at Austin, and she worked at Business Insider and Reuters covering legal news. She lives in Manhattan with her husband and son. You can follow her on Twitter and on Instagram.
---
We hope you enjoy the books recommended here. Our goal is to suggest only things we love and think you might, as well. We also like transparency, so, full disclosure: We may collect a share of sales or other compensation if you purchase through the external links on this page.