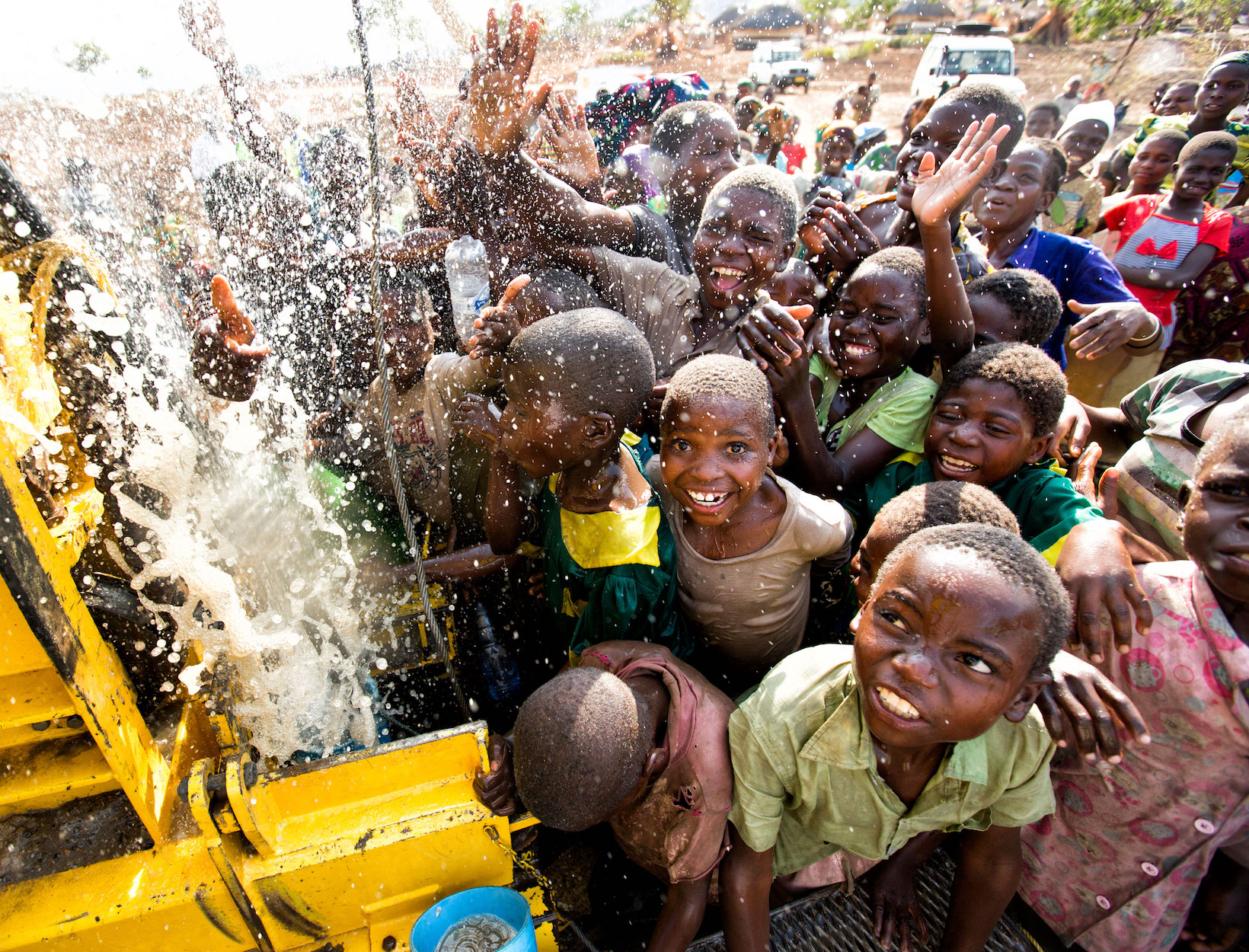 Photo courtesy of Esther Havens for charity: water
A Water-Focused Nonprofit Is
Changing Women's Lives
"If you were to come with me to a village where charity: water has drilled a well, I would take you to the swamp," says charity: water founder Scott Harrison. "You would stare at this brown, viscous pond in horror and think it's impossible that people were drinking that."
The first time Harrison saw people surviving off of filthy water was thirteen years ago. Then a club promoter turned volunteer photojournalist working with international NGO Mercy Ships, Harrison went with a well-building team to a village in Liberia's Bomi County. He saw local women dipping their yellow jerricans—the same plastic containers we fill with gasoline—into the murky, buggy pond to take water home to their families. He couldn't imagine giving this water to a dog. In front of him, a young girl drank it from a plastic cup.
Over half of the diseases in developing countries—including cholera, dysentery, hepatitis A, typhoid, polio, and flesh-eating noma—are water-borne: a direct result of bad water and lack of sanitation and hygiene. And they're all preventable. In fact, preventing these life-threatening diseases is usually as simple as collecting rainwater, using filters, or drilling a well. But Harrison learned that a lack of funding and resources, particularly in poverty-stricken areas, was an obstacle. So with little nonprofit experience, a lot of gumption, and a goal to make clean water accessible for every person in the world, Harrison founded charity: water.
That was twelve years ago. Today, charity: water is the largest water-focused nonprofit in the US. It's raised more than $320 million and has brought clean water to over 8.5 million people in twenty-six countries worldwide. And while better health from clean water is the most obvious result of charity: water's work, Harrison has seen another gigantic impact—women's empowerment.
"No matter where I go in the world, it's the job and the role of the women and the girls to get water," Harrison says. In many communities across rural Africa, women will make an eight-hour round-trip on foot, seven days a week. And taking just one day off could mean no water to drink, cook, or bathe with for the whole family. The walk comes at a great risk to their own safety: some trails are steep, slippery, or treacherous, and women often report being attacked by crocodiles or hyenas or being targeted by rapists.
"Women in Africa alone spend more than 40 billion hours every year collecting water," says Harrison. "And it's not even safe water."
There is "this unrealized economy of women who want to earn an income, want to start their own businesses, want to be at the market—and want to spend more time with their families," says Harrison. After getting clean water in their communities, many women sell corn, peanuts, or rice at the market; start businesses braiding hair; or craft fine objects like rugs, often earning their families an extra dollar or two a day to double—even triple—their incomes.
Accessible clean water also bolsters girls' education. "This is one of the main reasons why teenage girls will drop out of school around the world," says Harrison. In schools that don't have clean water or toilets, girls will stay home one week a month when they start getting their period. When they fall behind in their studies—and because they're useful getting water, getting firewood, and helping out in the home—a large number give up on school. "You have the future female leaders of these countries out walking for water instead of getting an education," says Harrison.
On the cascading impact of water issues, Harrison notes, "It's like this onion that you keep peeling back. And the burden really falls on women." With the success and growth of charity: water, that may no longer be the reality one day.
Scott Harrison's new book, Thirst: A Story of Redemption, Compassion, and a Mission to Bring Clean Water to the World, is now available. One hundred percent of the author's net proceeds will go to fund charity: water projects around the world.