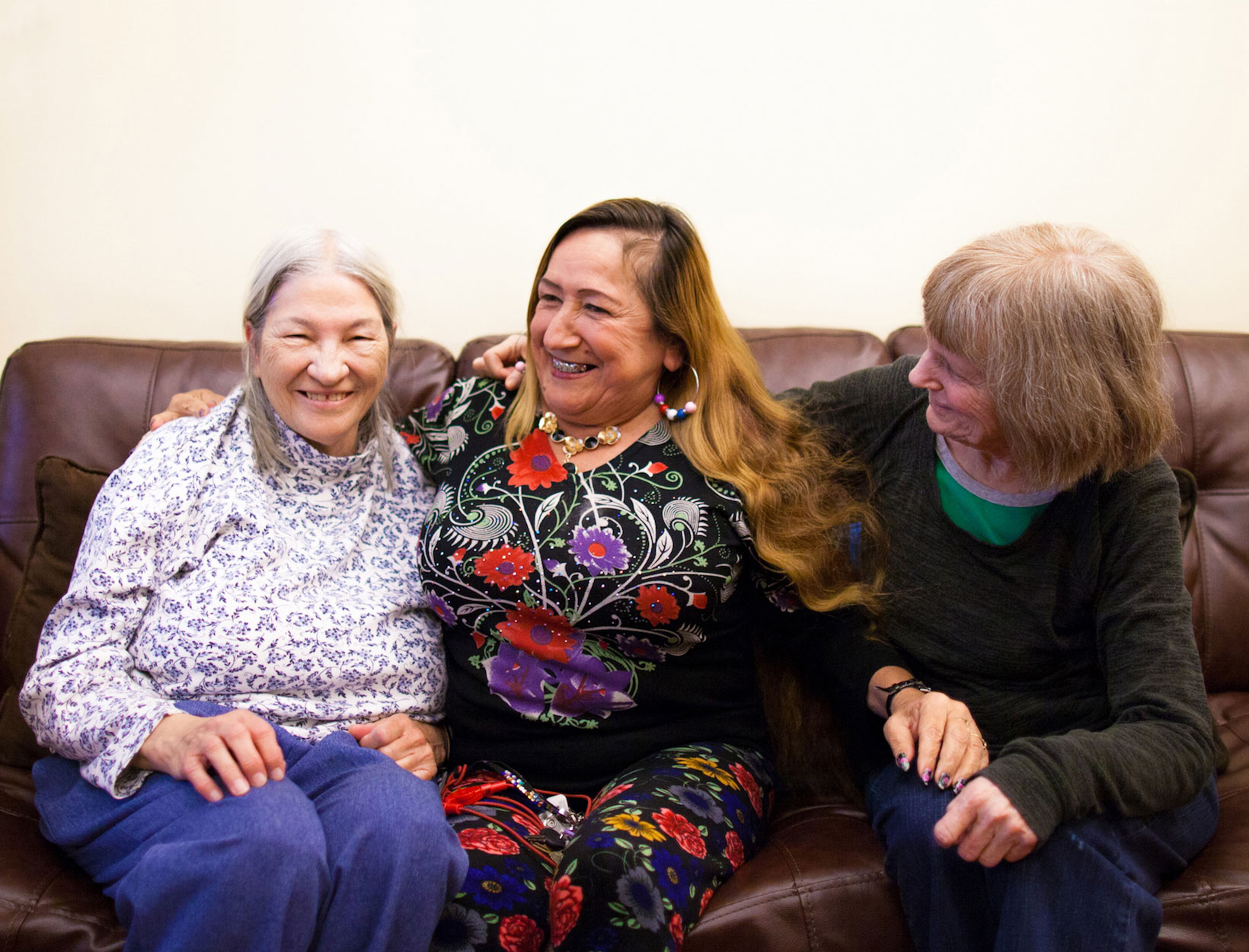 Photo courtesy of Erica Kawamoto Hsu
GOOD SAMARITAN
The Woman Giving Homeless Women Hope
in Downtown Los Angeles
Making the world a better place is no easy feat, and those who devote their time and hearts to helping others often do it with very little fanfare. That's why at goop we want to feature the remarkable people who are doing remarkable things—in their communities, in society, and for the greater good.
About twenty round tables fill the day center at the Downtown Women's Center. Women sit around eating, talking, listening. It is, in other words, a normal afternoon at this center where hundreds come and go daily, stopping in to have a hot meal, take a shower, maybe change clothes. They come here to find respite from Skid Row.
The Downtown Women's Center is a day center, a health clinic, a supportive housing facility, and an educational and training enterprise in downtown Los Angeles. Founded in 1978 by Jill Halverson, the center provides care and empowerment for female-identifying people experiencing homelessness. Halverson, an outreach worker, started the foundation after becoming friends with Rosa, a longtime resident of the streets of Los Angeles.
Women make up almost one third of Los Angeles's homeless, about 16,000 of the 53,000 homeless population according to a 2018 count conducted by the Los Angeles Homeless Services Authority. (The LAHSA conducts annual counts; the 2019 numbers are expected in June.) The overall 2018 count took a dip from the previous year—a 4 percent decrease—but there was a 35 percent increase last year in the number of women on Skid Row, says Erika Hartman, MA, LMFT, the chief program officer at the Downtown Women's Center. "And we have seen an increasing number of women accessing services at the center this year."
Hartman is incredibly kind and measured. As we walk through the center's upstairs offices with her, coworkers smile, and when she gets on the elevator, residents of the permanent supportive housing facility always greet her with an enthusiastic "Heyyyy!"
"A lot of the barriers of funding, staffing, and actually supporting individuals experiencing homelessness are misperceptions," says Hartman, who leads a team of over seventy employees and oversees the DWC's various departments, including permanent supportive housing, health and wellness, workforce development, community-based housing, and evaluation. So often people are quick to make misguided judgments about the homeless, she says. They think all people are on the streets because of drugs or mental illness when those are more often results of homelessness than the cause. Mental health issues affect between 13 to 30 percent of the homeless population. "And with women who are using substances, most reported that they started using after they became homeless, to stay awake at night to be safe, to cope with trauma," says Hartman. (Research shows that the biggest driver of homelessness is a lack of affordable housing, followed by unemployment or underemployment. And the main cause of people filing for bankruptcy and losing financial stability is medical bills.)
That sort of misjudgment has directed Hartman's career. A licensed marriage and family therapist, she started her work at a methadone clinic. She heard story after story about how people fell into homelessness and why they started using drugs. The stories were haunting, unexpected, and common. Hartman gives the example of someone who fell off their bike and didn't have insurance to pay for a visit to the doctor to get pain medication. That's how heroin came into the picture. "What chance did this person have?" she asks. That humanized the issue for her. She went to work in gang intervention, then in child welfare. She saw the systems fail so many people. There were "pretty solid pipelines to homelessness," she says. "When I would hear someone making misguided comments, I would feel myself getting defensive: You don't know that person's story. I started to see that this is my responsibility. This is everyone's responsibility."
Hartman says the onus is on all of us to see and treat homeless people for what they are: people. "It's very strange how it's somehow acceptable to not talk to people who are experiencing homelessness," Hartman says. "It's somehow acceptable to not treat them as human," and that does not motivate people looking to better their lives. It perpetuates the problem. It also strengthens disproportionalities between communities, whether it be because of race, sexual orientation, income, or something else. "You think of people who may have been treated differently at some point and how that's contributed to their homelessness," she says, explaining that their homelessness causes a continuation of their mistreatment. So how do you stop the cycle? Basic interaction helps. Having a conversation or even making eye contact can make someone feel valuable, deserving, worthy of pursuing a better life.
Volunteering also helps. The DWC's pool of 5,000 volunteers touches upon nearly aspect of the center. People come and serve meals at the day center. They translate documents and host mock interviews for the job-readiness programs. Or they host enrichment activities, work in the specialized veterans' program, or restock the libraries. The DWC has many umbrella departments to offer women support and the means to get back on their feet. Because people become homeless for so many different reasons, "you need different approaches to work with all these different populations," says Hartman.
That wide scope also means that the staff is incredibly flexible. Hartman describes employees as needing an all-hands-on-deck mentality. "The work is hard enough that the people who don't have the heart for it don't stick around," she says. "We're in the trenches together. It's a different level of commitment to come to work every day on Skid Row."
The women who come here are survivors. Their stories and experiences are often unfathomable. But they are still incredibly vibrant, says Hartman, who introduced us to Dotti. Before coming to the DWC, Dotti was homeless for five years, moving from from shelter to shelter" with her two children. She was a successful hairdresser. But a drastic change in her employment, as well as issues with her daughter's father, set her down a hard path—and that "is when the pain began," Dotti tells us. Her children went into foster care. Dotti found shelter and eventually permanent supportive housing at the DWC. She credits her case managers for helping her find hope. "I have contact with my kids now," Dotti says, getting emotional. "My daughter wants to be a nurse. And my son, he's doing so good. It gets better."
Dotti has lunch with the other women in the day center, many of whom are just beginning the cycle of homelessness. "A lot of them have had a lot of loss," she says. She wants to help them, to give them guidance and let them know that they're not alone. She wants them to know they're worthy.
Which brings us back to the dining tables. They're circular for a reason, Hartman says. This setup encourages community, a feeling that you're having a meal with your friends. It goes back to what Hartman says about destigmatizing notions about homelessness: Whether or not a woman has a home doesn't matter. Everyone is equal. What are unequal are the paths that brought them here. That is why the DWC has, for decades, helped so many women. Women "who know how to find a silver lining in anything," as Hartman says.
To learn more about the Downtown Women's Center and ways to volunteer and donate, visit downtownwomenscenter.org