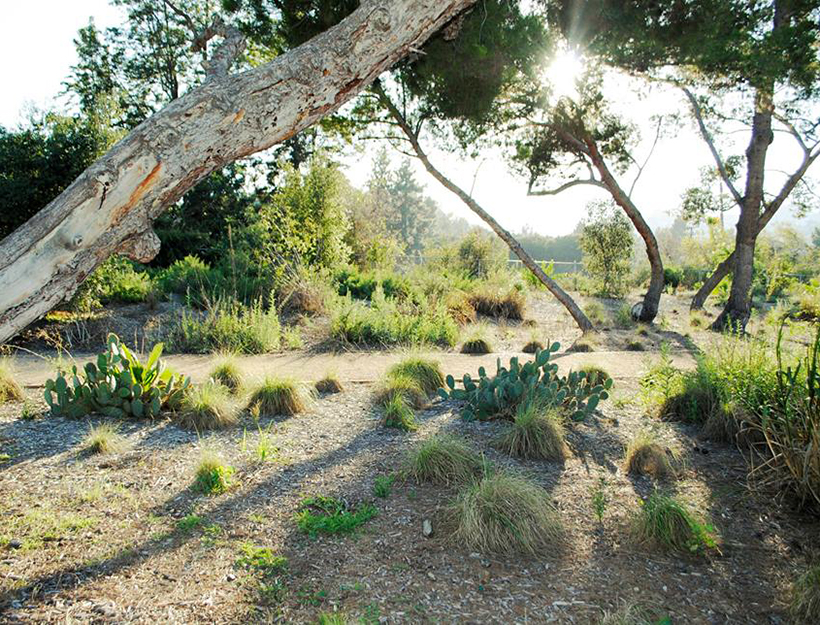 Conscious Landscaping
When we first met the team at Saturate California, they blew our minds with this statistic: Landscaping makes up 10-20 percent of the value of a home, on average—a huge number, considering how vulnerable green space is to weather, watering restrictions, and plain old bad management. Saturate's service-focused business takes all the guesswork out of landscaping, calibrates any garden to maximize longevity, water efficiency, and (importantly) beauty, and manages it on behalf of the concerned-but-too-busy-to-deal homeowner. To date, they've achieved enormous savings on clients' water bills, and at the same time helped foster a new understanding of the green space around the home—particularly its role in water retention and soil health, and as a critical piece of any local ecosystem. The company (co-founded by alums from Good Eggs, Tree People, and LA Canvas) is expanding their business from drought-prone Southern California, bringing their philosophy of conscious landscaping to the East Coast, with more locations doubtlessly on the way. Below, they explain how to maximize the economic and environmental value of your garden for yourself and for your community.
A Q&A with Saturate California
Q
Since outdoor space makes up so much of a home's value, how can you tell if a garden's value is being maximized?
A
The ideal outdoor space not only looks beautiful and healthy now, but is designed to thrive. That means that every element, from the plant positioning to watering systems, should work together to best serve the local landscape, without wasting or overusing water. To know whether a garden is set up to survive into the future, you have to know about the health of the soil, the state of watering systems, and the suitability of the plant life.
Q
Aside from real estate value, why is it important to have a healthy yard?
A
A vibrant garden contributes not only to lifestyle and real estate value but to the health of our ecosystem, by absorbing water and supporting an essential community of birds, bees, animals, and people. A healthy garden with healthy soil can retain up to 80 percent more water, relieving homeowners of the need for supplemental watering—better for your water bill and easier for you! A healthy garden captures carbon and releases fresh oxygen to purify air. The more permeable areas there are in a yard, the better for rainwater capture, which ensures water replenishes the aquifer by seeping into the ground. Last but not least, a garden is a space for reflection, relaxation, and enjoyment, so to revive your garden is a holistic investment in your lifestyle, prioritizing mindfulness and environmental stewardship.
Unfortunately, most residential properties currently have more problems than meets the eye. Even if a yard looks relatively good on the surface, it might be poorly maintained, wasting water, and ill-suited to survive into the future.
Q
How can you find the right people to take care of your lawn? How can you tell if your gardener is doing a good job?
A
Lawns are a bit of a conundrum: Our country has an obsession with turf—the vast majority of our homes are ringed with expanses of it. An entire industry is built around it, from chemical fertilizers to self-propelled lawn mowers with beverage containers. Taking care of turf is actually quite simple—irrigate, seed, fertilize, cut, and repeat—but this has negative consequences for our soil, water, and air. Fertilizers run off into our waterways, pesticides and fertilizers render our soils inert, and gas-powered mowers and hedgers pollute our air. We strongly encourage all of our clients to consider reducing the size of their turf. Do you really need it? Why not provide habitat for birds, pollinators, and other animals? Why not build beautiful soil with a lush meadow? The right people to take care of your lawn are the ones who know how to get rid of it.
The best gardeners will be honest and clearly explain concepts of plant health and maintenance regimens. The gardens they tend should look and feel healthy, fresh, and seasonal. Gardens have a seasonality no matter where you live. A great gardener works with the seasons to create the best possible outcomes throughout the year.

Q
What questions should you ask about the outdoor space when shopping for a new home?
A
Find out if there's someone maintaining the yard currently. If possible, meet them and have them give you a tour. Ask them (and/or your realtor) when the landscaping was installed, and whether the plants were chosen with climate in mind. Have there been any recent changes to the landscaping or irrigation system? (If not, you're likely dealing with very inefficient systems.) Ask what the maintenance practices have been. What chemical fertilizers have been used? Has there been an organic approach (or any approach?) to improving soil quality? Can anyone tell you about the soil's health and ability to hold moisture? What plants suffer most when there's a lack of water? All of these questions relate to one another and need to be considered. Unfortunately, most residential properties aren't managed by a trained gardener with the goal of creating a healthy long-term landscape, but simply mowed-and-blowed by cleanup crews. We like to encourage homeowners to think critically about the role of their gardener, and if they're employing a cleanup crew vs. trained gardeners. Cleanup crews have a role in groundskeeping, but with their limited expertise, many tasks go undone, leaving the garden vulnerable.
You should also ask for the water bill—it may be the quickest way to determine whether the property is using water effectively and efficiently. Remember that water costs can vary wildly depending on the time of year, leaks and breaks in the system, and the age of the landscaping, so make sure you're able to see water use over time. In California, you can expect the bills to be higher in drier months like August, and in January watering should be at a minimum because of low temperatures and higher rainfall.
In many cases, you can ask your real estate agent to request an inspection/audit with an irrigation specialist. We highly recommend doing this to get a clear, detailed understanding of the efficiency of the yard water use, and how much you'll need to invest once you've moved in.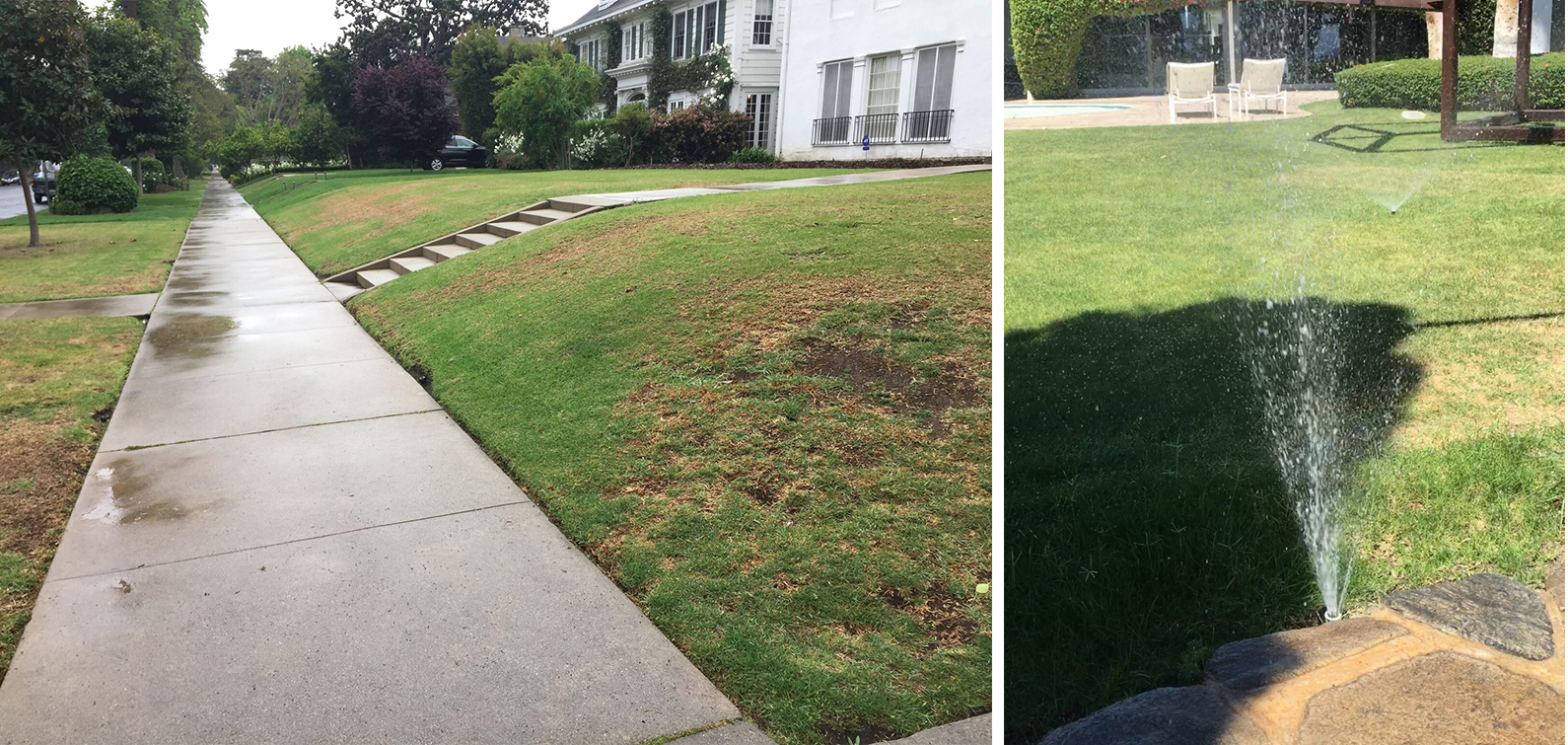 Q
How can you tell if trees and plants are healthy?
A
Plants are incredible communicators. If you look carefully, you can see all sorts of signs that indicate how a particular plant or tree is doing—though being able to hear what your plants are telling you is a skill that takes some developing. In general, you should see vibrant color in the leaves, flowers, and bark of your plants. They should look full and plump, with good patterns of growth. As for trees, one of the most obvious ways to tell if they're happy is to judge their previous pruning techniques. If you see large branches hacked off at the trunk or cut in half at sharp 90 degree angles while foliage is sparse, the tree has been "topped" and its life is cut short forever. The point of a tree is to provide shade and canopy and habitat, contributing to the overall health and value of the garden.
Tree topping is a common mistake made by untrained hands. Many homeowners leave pruning to their gardener, which in some cases can prove problematic. If you end up with topped trees as a result of an improper prune, don't panic, but do call a local certified arborist to help make the next decisions.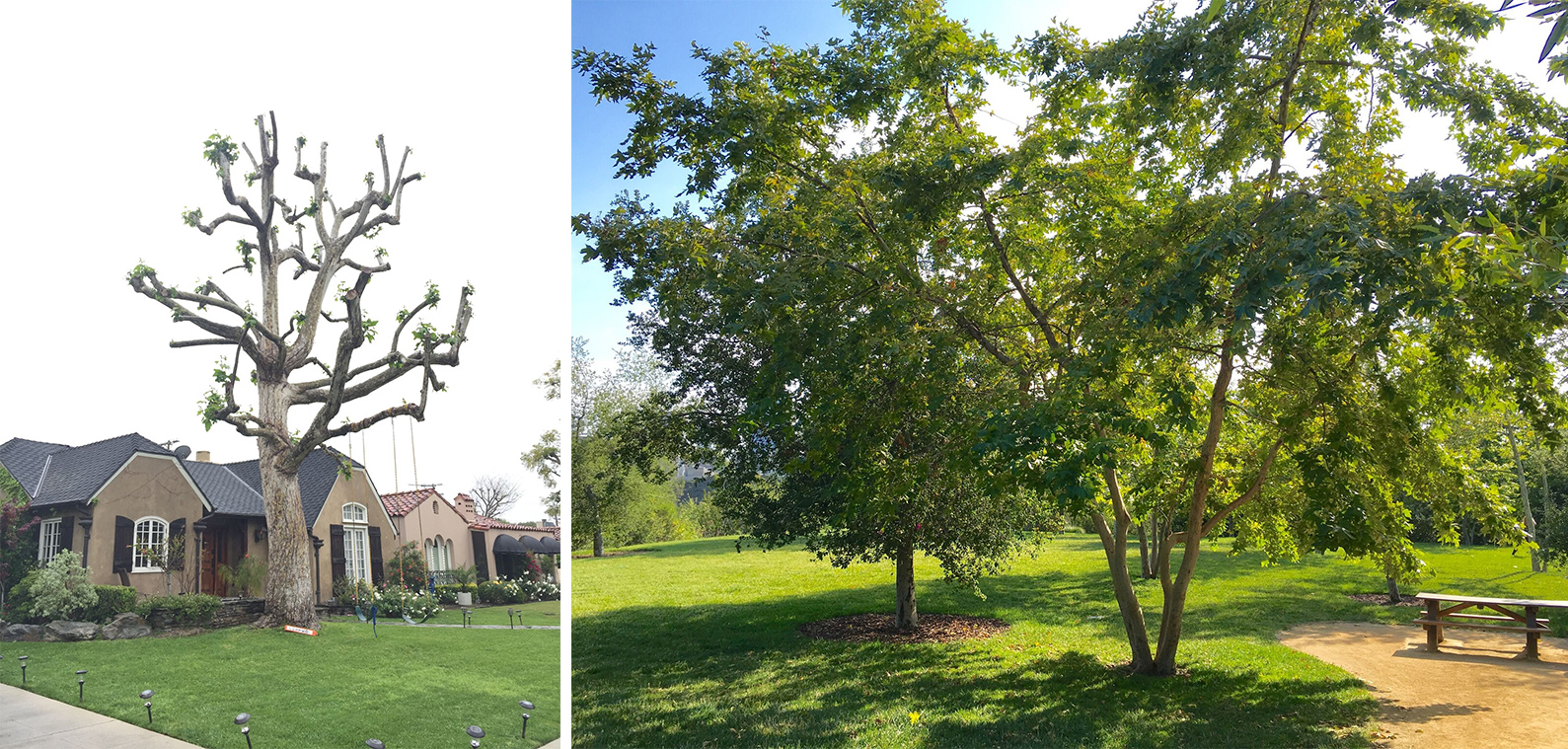 Q
When you move into a new place (or are considering a landscaping overhaul), what's the first step to take?
A
Take a deep breath and invest in an expert who will help you get to know your landscape and figure out exactly which steps will help you realize your garden's true potential. (If you're in the Los Angeles area, you can sign up for a Saturate Discovery Session, specifically designed for people who are ready to invest in creating a landscape that adds long-term value to their home, and to our ecosystem. We'll also tell you exactly where you're losing water and why your plants aren't as healthy or appropriate as they could be.)
The first step will be to determine the health, quality and potential of your land's soil. Then you need to understand the state of your watering system. If it's largely broken and leaking, it's important to get control of the system before amending anything else in the landscape. Look for a seasoned gardener with experience installing and fixing irrigation systems to help you. We like to avoid ripping out the entire system; in our experience, it's more cost effective and beneficial for the health of your yard. Once you're in control of your irrigation system, it'll be time to think which plants you want to keep and the ones you want to pull or prune back. Finally, and only when the season is right, it'll be time to plant. Deciding which plants to choose can be a lengthy process. We recommend visiting local botanical gardens with sections devoted to plants native to your region. Most regions of the US have robust networks of native-plant organizations always happy to help you with your decisions on which plants to select.
Q
Talk to us more about soil. Why is it so important?
A
Testing your soil is an invaluable thing to do. Knowing the physical qualities of your soil (mineral content, texture, chemical constituents) will give you a good sense of what sort of plants will actually work in your landscape, and what the overall health of your landscape actually is. Soil can be conditioned to hold much more moisture and provide the exact nutrients plants need to thrive and stave off pests—just like your optimum diet would do for you, protecting you from disease. The path to improved soil begins with adding organic materials, like organic mulch. Organic mulch decomposes over time and adds essential nutrients to the soil, which helps build soil structure, enabling for moisture to remain longer and reducing the need for excess watering. Healthy soil is also the best way to stave off weeds, which thrive in unhealthy soils and take over easily when there's a lack of nutrients. If you want a weedless yard, start by improving your soil quality. This is why fertilizers and pesticides are ineffective and miss the point—they're a quick fix versus a solution.
Q
What do we need to know about fertilizers and pesticides?
A
You don't need either. For many years, gardening has been managed chemically (i.e. ammonium nitrate for green lawns and RoundUp for weeds), but these chemicals pollute our waterways and destroy the health of our soil. The alternative: Nurture the naturally occurring biology of your soil. Compost, compost tea, mulch, and organic oils are extremely effective and beneficial to the long-term health of your landscape (and your family). Some recent studies are even drawing links between the health of your soil and health of your gut flora! As we begin to understand these links better, the choice not to use synthetic fertilizers and pesticides will be all the more clear.
Also, to state the obvious, putting chemical fertilizers and pesticides on the lawn or in your garden exposes all those who spend time in the yard. Think of your plants just as you would produce at the farmers market. We prioritize organic fruits and vegetables to avoid exposure to nasty chemicals—that should carry over to the way you treat your plants in the garden. Simply walking or playing in the grass can leave you and your family exposed to high levels of toxic chemicals. In addition, the pesticides and herbicides run off and contaminate local waterways and eventually end up in the ocean. The lawn is the single largest source of runoff pollution in the US, so reducing the chemicals we use in the landscape will hugely improve our water quality.
Q
Besides the obvious water-saving issue, are there any other environmental issues to consider when it comes to your lawn? Should everyone just switch over to astroturf?
A
Avoid astro-turf at all costs! In a world with rising population and diminishing natural spaces, we need living plants to provide the clean air we breath and the ability to capture the carbon we emit. Of course, natural turf takes large amounts of water and is very inappropriate in arid climates, so we should opt for alternatives that have benefits like providing habitat for butterflies and bees, capturing and filtering storm water, and freshening our air quality. Meanwhile, like gravel, pavement, or any other options that cover up the earth, artificial anything does much more harm than good. Any lawn you remove should be replaced with something living. A living landscape with pollinating plants that provide habitat for birds and bees not only benefits the native fauna, but also helps to keep a yard cool. In many cases, Astroturf can trap heat and make it feel up to 10 degrees hotter than the outside temperature on a hot day. The last thing you want for your yard is to make it hotter.
Q
What's a reasonable timeline for a yard/garden makeover?
A
When thinking about revitalizing or redesigning, the goal should be to get your garden aligned with the seasons. It's all about orienting around the local climate's bloom cycles, which determines the timeline for plantings and the stages of growth. Give yourself one ear to fully transition your garden into a healthy, revived, and seasonally appropriate landscape. For example, for Coastal California, prep soil in the late spring and summer, plant in the fall and prune in the late fall, early winter For places with a more temperate climate,a general rule of thumb is to plant bulbs and wildflower seeds in the fall and vegetable seeds in the early spring. While you can make quick aesthetic changes, even in an afternoon, patience is key, as new plants can take up to two years to establish, and the overall vibrancy of your garden may take many months to be fully realized, but the experience of watching the growth is totally worth it. We want to get people to begin thinking about their relationship to their land as something they have their entire life to explore. We hope to show people the beauty in the flux and growth of their gardens.