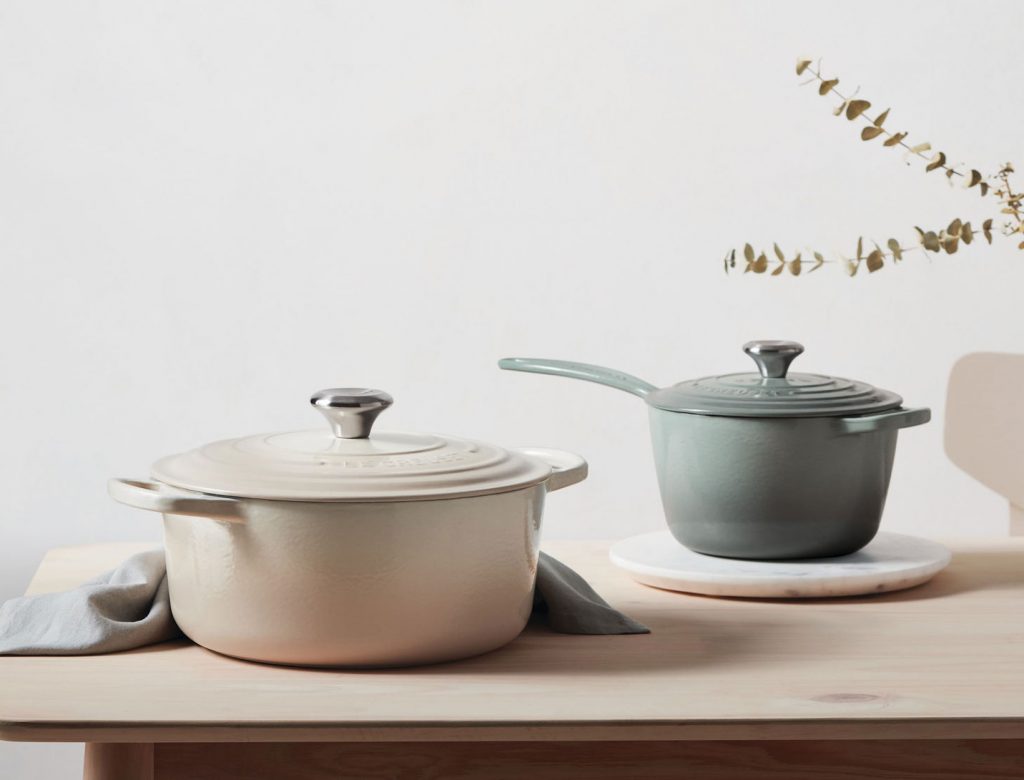 Photo courtesy of Le Creuset of America
The Consumer Advocate Helping Us Buy Fewer—and Smarter—Things
THE MINIMALIST
The Consumer Advocate Helping Us Buy Fewer—and Smarter—Things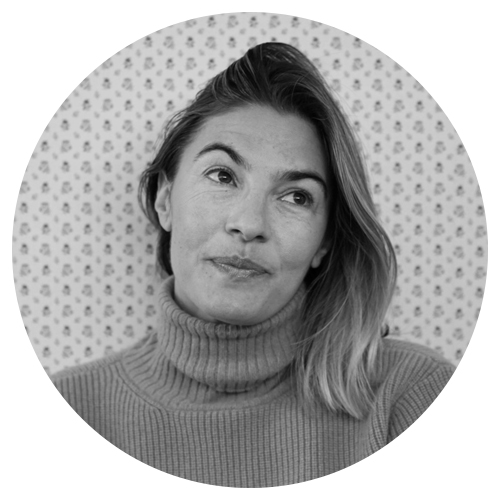 Andrea Arria-Devoe, a longtime editor at Daily Candy, is the executive producer of Straws, a documentary about how ditching plastic straws can make a massive difference to the environment. In her column for goop, Arria-Devoe shares her extensive knowledge about the best countertop composter, how to shop bulk, and other hacks to living the chicest, greenest life possible.
Think of Tara Button as the Ralph Nader of our generation. The consumer advocate and environmentalist is fighting against the production of cheaply made goods and outing companies for unfair practices, like planned obsolescence. (If you've ever been at the mercy of a mysteriously slow or unchargeable iPhone, consider her your new hero.)
Button's mission started six years ago with a baby-blue Le Creuset pot. Button (then a disgruntled advertising creative) received it as a birthday gift. "It just felt like an heirloom"—the weight, the quality, the beauty. She wondered why everything couldn't have that level of quality.
The pot inspired Button to change her life. She no longer gave in to the "constant pressure to renew and replace" things, either because they stopped working prematurely or because there was a newer, shinier version on the market. She saw how this vicious cycle of consumerism ends only in clutter, unhappiness, debt, and a littered environment. So she made it her personal mission to find the longest-lasting and most-sustainable brands on the planet.
And the change didn't end there. Button wanted to help others break free from mindless consumerism. She created a website, BuyMeOnce.com, where buyers could find the most sustainable products in one place. (Need a new backpack? Button and her team list the top twenty for ethical production, sustainability, and durability.) BuyMeOnce.com launched in 2015. The next year it went viral.
Button also wrote a book—A Life Less Throwaway—which has unequivocally changed the way we look at stuff. She writes about her new buying habits, which led to a dramatic improvement in her quality of life, and she spells out the ruthless industry tactics that keep us in a constant state of mindless consumption.
"My mission in writing the book was to empower people find their true taste and prioritize buying in a way that will bring us the most fulfillment," she says. "I'm spreading the amazing, simple truth that long-term buying helps save our money and our sanity, and it's also one of the best (and most ignored) ways to help the environment."
A Q&A with Tara Button
Q
How can we avoid advertising pitfalls?
A
Every day there is pressure to look at at shiny things that you have been told you need. Unless you know what you want your life to look like or mean, there is very little stopping you from impulsively buying these things. As with substances, people can be addicted to shopping. It is such an unconscious action to buy something on autopilot. It is important to be mindful, stay true to your values, and ask: 1) Is this something that I need? 2) Is this the right item for the long term?
It is also important to be aware of how much manipulation is going on because it is everywhere—from TV to social media. The messaging is that you're not enough unless you have this, or that what you have is not good enough. There is shaming and status manipulation. That feeling of insecurity affects us. It is a very powerful ancient psychic reaction that we can't necessarily control unless we get a handle on it and see the big picture.
Ignoring it doesn't work. You have to see it—and reject it consciously.
---
Q
How can we set ourselves up for success so that we don't have to be in a state of constant vigilance?
A
By doing the work up front. I wrote a list of things I don't need (an unwish list). That was really helpful because there is a whole range of shopping sites I don't need to go to anymore. I don't need any more cushions or appliances. There are whole areas of consumerism that I've identified that no longer serve me. I don't need anything. It makes you feel grateful for what you do have.
The average person buys sixty items of clothing a year. If you take a step back and say, "Instead of buying sixty items for X amount of dollars, I'm going to buy one or two things that I can keep for a really long time," if you make that decision in general, it means you don't have to be hypervigilant. It's about deciding what's important to you. Everyone is different. It's not about being a minimalist. You've got to know yourself. Understanding your needs and your choices and really digging into personal preferences helps with those choices.
---
Q
It must have taken a lot of courage to speak out against the industry. I love that you don't simply advocate for banning ads all altogether because you believe there's a potential to market in a positive way.
A
As an ad creative, I was criticized because I was causing difficulties and pushing back. They would say, "If you care about this, you're in the wrong industry. I'm helping the economy." That would be the justification for giving over your brainpower and creativity to companies who are not doing right by people or the planet. My argument is that not all dollars are created equal. I don't buy that just creating dollars is a good thing in and of itself, especially if it costs us in the end. Promoting childhood obesity will cost us in health care and environmental damage, for instance.
Now that I'm outside of the industry, I've found that there is a rallying point. I'm part of lots of other groups that feel the same as I do. They're looking for ways to use their creativity and amazing amounts of skill for good.
My argument to marketing people is that a cog can turn in two directions, and if marketing and advertising decide to move as one, then we don't have to forsake it altogether. What I want is positive action. I want them to go out and find the brands that deserve to be lifted up and shared with the rest of the world. It would be so exciting to be part of the process of creating the next ethical supermarket brand, for example. Getting brands to change their values for good by showing them how it creates more employee retention and customer loyalty is also important.
---
Q
Tell us about your petition to end planned obsolescence.
A
We are calling for a law to ensure that all manufacturers put a standard label stating how long they expect the product to last under normal usage on their appliances. It will be like an energy label but for longevity. We want consumers to be able to tell which product will be the best value over time. Imagine going into a shop and seeing two years, five years, or ten years printed clearly on a toaster. Or 1,000 washes, 2,000 washes, or 15,000 washes printed on a washing machine. We deserve this clarity of choice.
Currently, there is a race to the bottom pricewise, and you can't do that for long without stripping the materials, which means the products break earlier and earlier. You can't tell those things as a consumer, so we want there to be a label on the outside of the box and for brands to fix the product for free if it doesn't last as long as stated. Once this becomes standardized, no one will want to look bad on a shelf. No one wants to be the product with the six-month life span. It will bring the whole industry up. You need only a few brands to stick their necks out and then there will be increased competition trying to build in longevity and fixability. There is a value opportunity for businesses to say they have the longest-lasting product.
For people who can't afford high-end products up front, they can end up spending more because the cheaper products break faster and they have to replace them. Not to mention the enormous toll of waste this takes on the environment. We are talking to governments and corporations. It has to be a global solution to work, and we still need signatures. Our plan is to present it at the G20 Summit in Osaka in June.
---
Q
What else can we do? What other solutions are you excited about?
A
There is no law that says we need to own a washing machine. So why not rent a machine and make the manufacturer responsible for fixing it? That's a much better business model environmentally and for the company. Pay for what we use. Pay per wash. If the onus is on the manufacturer to make things last, it is going to last longer.
A clothing-rental company is a great model. People might use BuyMeOnce.com for their staples, but if they want something different and flamboyant for an occasion, then they can rent it. If a dress is taken care of properly, it can be worn up to fifty or sixty times compared to once or twice. These two shopping models combined are the most ecologically responsible.
---
Q
You dedicate a chapter in the book to keeping and caring for the things we mindfully bring into our lives. How do we do this?
A
Get to know your local fixers: your cobbler, tailor, dry cleaner, and ideally, handyperson. Simple maintenance also goes a long way.
Repair is a growing movement, and there is a frustration when you can't fix something. The Restart Project, a London-based organization that runs Restart parties where people teach one another to fix broken or slow devices, from toasters to iPads, has been growing year on year. Some governments are actively offering financial incentive to make repair more attractive. For example, the Swedish government is giving tax breaks for repairing items to counter throwaway culture and for reducing carbon emissions.
Repair cafés are gaining popularity. In 2017, a Cambridge repair café set a world record for the most products repaired in a single day. Fixers came in from all over the UK, and people were fixing bikes and electronics. It was brilliant. It was really fun and positive and community-building. If there is one thing I've learned on this journey, it's that feeling like part of a community is everything. It's what makes us feel happy.
---
Q
How else can we get involved in the #makeitlast movement?
A
If you feel a brand or industry needs to do better on their longevity, clue us in. We can put pressure on them to change or find a brand that is better. We're aiming to build the biggest database in the world on how long products last. Suggest products to BuyMeOnce.com that you think are best in show. Use your favorite social media site to do it. Vote with your wallet.
---
Tara Button is the CEO of BuyMeOnce.com, an online resource for the world's most durable products. She is the author of A Life Less Throwaway and created the #makeitlast petition to end planned obsolescence, which you can sign here.