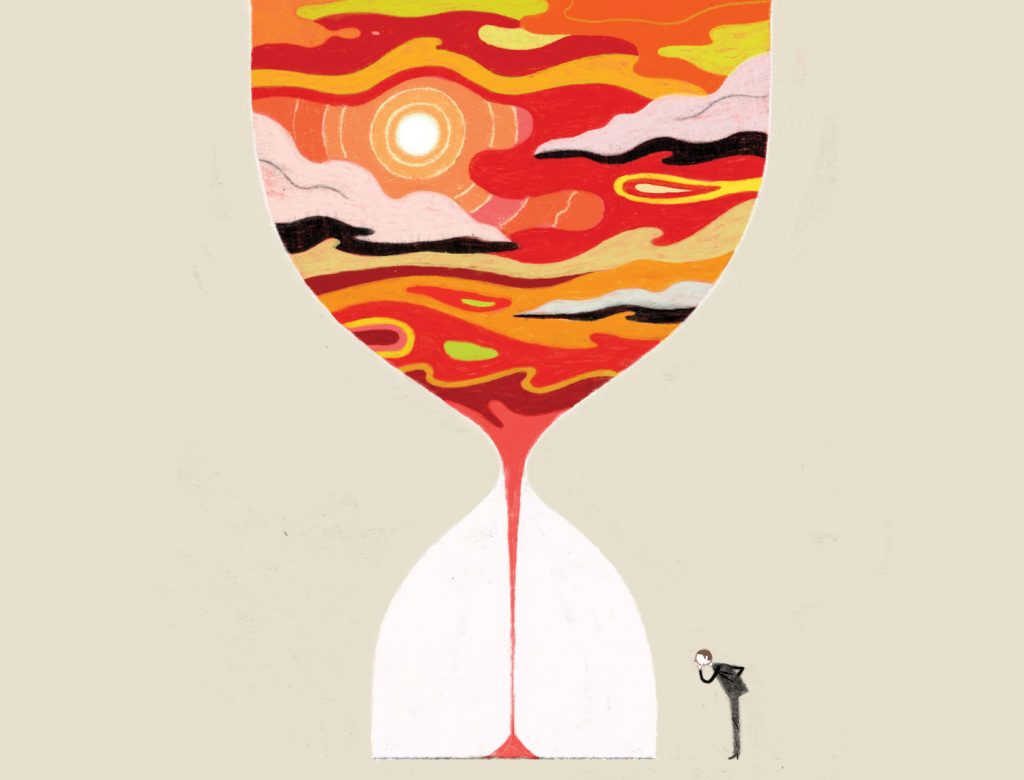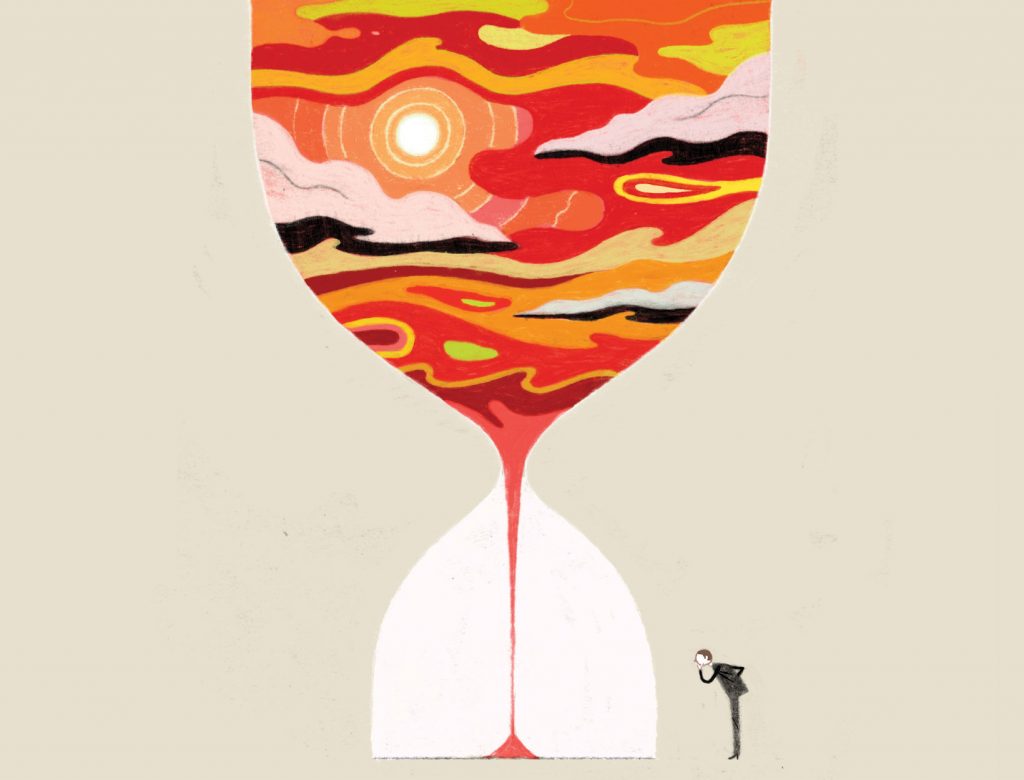 Illustration courtesy of Dadu Shin
A Climate Law Professor on What to Know—and Do—about Climate Change
A Climate Law Professor on What to
Know—and Do—about Climate Change
If you know the image, you probably haven't forgotten it: an emaciated polar bear in the Canadian Arctic. His hind legs buckle; his bones jut; his head hangs as if attached to weights; his jaw dangles. He is a sobering embodiment of climate change because a rapidly warming Arctic means it's that much harder for polar bears to find food. Of course, there is no concrete way to connect a starving polar bear to a changing climate, which makes it "hard for climate change to gain salience in the public's mind," says Katrina Fischer Kuh, the Haub Distinguished Professor of Environmental Law at Pace University in New York. In fact, "many of us are probably already suffering from climate harm—but we can't say for sure."
The symptoms of a shifting global climate—extreme weather, severe drought, rising ocean temperatures, more starving polar bears—are more apparent every day. The climate is changing—that part is undeniable. What comes next is where there is room for debate. Which is why informing ourselves—and participating in the public debate—is one of the most important things we can do.
A Q&A with Katrina Fischer Kuh
Q
Specifically, how is climate change affecting us now?
A
Let's look at some examples. Scientists think that the California wildfires were likely exacerbated by climate change. And research suggests that climate change likely exacerbated the damage from a number of destructive coastal storms, including Hurricanes Katrina and Harvey and Superstorm Sandy (even while scientists remain hesitant to attribute specific storm events to climate change). Climate change is also contributing to the spread and prevalence of vector-borne diseases in the United States, including Lyme disease and mosquito-borne illnesses like West Nile virus and dengue fever. I contracted a rare and dangerous parasite while pregnant with my daughter. (Important aside: She's fine!) At the time, I was editing a book on adaptation to climate change and was stunned to discover a reference to a study positing that the prevalence of this particular parasite was likely increasing as a result of climate change. But I will never know with certainty whether my parasitic infection was related to climate change.
Even if we can't pin specific harms definitively to climate change, the types of harms that scientists have long predicted climate change would bring are now coming rapid-fire. And psychologists recognize the psychological burden of both the actual and anticipated impacts of climate change, particularly for children. I remember lying in bed as a child during the Cold War plotting escape routes from my house in the event of a Russian invasion. I never had to use the escape routes, but for the generation of children being raised with the specter of climate change, climate change will likely go from being a bad dream to a living nightmare.
---
Q
In broad strokes, what is being put in place for climate change? Where is the law now?
A
At present, climate law is simultaneously all laws and no laws. On the one hand, climate change is broadly influencing how we implement most laws. On the other, in terms of using law to limit climate change, no international agreement or federal law requires widespread reductions in greenhouse gases.
To start with the first concept, climate change affects the implementation of a host of laws, many on seemingly unrelated topics. For example, climate-change-induced extreme weather events can disrupt corporate supply chains and damage corporate infrastructure. Thus, under the securities laws, climate change poses risks that companies are required to disclose to investors. Extreme precipitation events can overwhelm storm sewers, which has prompted local governments to require new development to incorporate green infrastructure to prevent storm water runoff. So in one sense, we are in a process of adapting law to deal with the realities of climate change—so climate change influences law broadly across many subjects.
In terms of using law to limit climate change, no international agreement compels greenhouse gas reductions (the Paris Agreement relies on voluntary national commitments) and the United States has not adopted a federal statute designed expressly to reduce greenhouse gases. In 2009, the US House of Representatives passed the American Clean Energy and Security Act (ACES, also known as the Waxman-Markey bill) by a vote of 219–212. ACES would have created a national cap-and-trade system for greenhouse gas emissions, but the legislation did not pass the Senate, so it did not become law.
---
Q
But there's been progressive action in response to this.
A
Yes. In the face of this distressing void, climate-concerned states and public interest groups are engaged in an incredible, creative push to adopt state-level climate law and to use existing laws that are not climate-specific (i.e., not developed or adopted expressly to address climate change) to limit climate change.
First on the state and local level: Many states and local governments have adopted laws designed to reduce greenhouse gases, including most notably California with its Global Warming Solutions Act. But the total volume of emissions that these state efforts can reach is limited because not all governments participate and because individual states and local governments are limited in their power.
Then the federal level: the Clean Air Act. While it was adopted before concerns about climate change crystallized, lawyers have successfully forced the use of the Clean Air Act to limit some greenhouse gas emissions. In Massachusetts v. EPA, the Supreme Court agreed that greenhouse gases can constitute a "pollutant" subject to regulation under the Act. And the Clean Air Act now limits greenhouse gas emissions from mobile sources (cars) and from some new or modified stationary sources (factories or industrial plants). However, a very large source of greenhouse gas emissions, old coal plants, have not yet been subject to meaningful greenhouse gas limits under the Clean Air Act, a matter that is presently the subject of intense legal wrangling. The Obama-era Environmental Protection Agency promulgated a rule under the Clean Air Act, the Clean Power Plan, that would have resulted in significant limits on greenhouse gas emissions from large electric-generating units, including old coal-fired energy plants. But the EPA is now considering repealing the Clean Power Plan and replacing it with the Affordable Clean Energy Rule, a weaker alternative that would not require nearly as many emission reductions.
Finally, lawsuits. Public interest lawyers are suing large corporations (like ExxonMobil), arguing that their production of fossil fuels or emission of greenhouse gases contributes to an illegal public nuisance (climate change). While courts have dismissed many of these cases, lawyers have continued to refine their legal theories and a number of actions remain pending. In another suit, Juliana v. United States, children sued the US government to compel it to respond to climate change. Although the children grounded their challenge in a number of different causes of action, the district court held that the Due Process Clause of the Constitution, which provides that "no person shall…be deprived of life, liberty, or property, without due process of law," means that we all have a fundamental right to a stable climate system capable of sustaining human life. The district court's decision not to dismiss the action is presently being appealed.
Basically, in the United States, what we have in force is a complicated patchwork of state and local greenhouse gas reduction measures and a few hard-fought, sector-specific (i.e., limited to a particular industry or emission source) federal controls.
---
Q
What can we do?
A
Become climate-literate so that you can participate meaningfully in the public debate. Climate terminology can be opaque, but the underlying concepts are pretty simple. Here are some explanations that should help you understand and advocate for good climate policy.
There are two primary goals of climate policy: mitigation and adaptation. Mitigation means actions that reduce the severity of climate change (for example, reducing greenhouse gas emissions). Adaptation refers to efforts to prepare for the impacts of climate change (for example, elevating houses in flood-vulnerable areas). Both are crucial, but only mitigation will limit climate change; adaptation will just help us survive it.
Climate policy is indexed to scientific understandings of climate change and reports issued by the Intergovernmental Panel on Climate Change (an international climate think tank that periodically assesses the state of the science on climate change) and the U.S. Global Change Research Program (as mandated by the Global Change Research Act) are excellent sources of reliable information about the causes and consequences of climate change. Both are widely recognized as providing comprehensive overviews of current climate science and carefully characterizing the level of certainty or support for the scientific conclusions that they offer. They also include executive summaries that can be readily understood by nonscientists.
---
Q
What are some current incentives and policies we should know about?
A
Many agree that an effective climate policy should put a price on carbon (i.e., make it expensive to produce greenhouse gases). The two primary strategies for pricing carbon are the adoption of a cap-and-trade system or a carbon tax. A cap-and-trade system limits emissions by putting in place a cap, or a ceiling, on emissions and then distributing allowances (the right to emit a ton of greenhouse gases) in volumes equal to or lower than the cap. Entities are required to hold allowances equal to the volume of greenhouse gases that they emit. Another approach is to impose a tax on greenhouse gas emissions or on the carbon content of fuel, thereby creating an incentive to avoid emissions and decarbonize.
Ultimately, the pricing of carbon should incentivize a shift from the use of fossil fuels to produce energy (materials like coal and oil that, when combusted to produce energy, release greenhouse gases) to renewable energy (energy that is naturally sourced, is replenished in a relatively short time frame, and—importantly—does not produce greenhouse gases; sources of this type of energy include sunlight, wind, rain, tides, waves, and geothermal heat). And there are a variety of other mitigation approaches that could be encouraged by pricing carbon. Carbon capture and storage, for example, is a process to capture greenhouse gases and store them so that they are not introduced into the atmosphere (for example, capturing the carbon dioxide emissions from a coal-fired plant and storing them underground). Carbon can also be sequestered, or captured and stored in a stable, non-atmospheric form, through natural means. For example, trees can sequester and store carbon dioxide. So, afforestation and reforestation (planting trees) can keep carbon out of the atmosphere, and avoiding deforestation (preventing the clearing of trees and the conversion of land to non-forest uses) can prevent carbon emissions.
It is crucial that all climate policies be sensitive to issues of climate justice. Vulnerable (low-income and minority) populations should not be unfairly burdened by climate change or the policies that seek to mitigate it. For example, a low-income elderly individual who cannot afford an air conditioner is more vulnerable to heat waves and is also likely to struggle to pay their electricity bill if climate change mitigation increases the cost of energy. Just policies to price carbon thus often include some type of revenue recycling to use some of the monies generated through the auctioning of allowances or a carbon tax to blunt the impact of higher energy or other costs on low-income individuals.
---
Q
What's your advice for talking productively about climate change without causing a rift?
A
Accept that different views on climate change, even with respect to underlying facts, are human and understandable. It is human nature to engage in motivated reasoning and doubt contrary facts; it is human nature to struggle to appreciate risks that seem intangible and far off; it is human nature to fear disruption of the socioeconomic status quo. And we have been subjected to a sustained disinformation campaign funded by the fossil fuel industries that misrepresents the science of climate change in order to exploit and magnify these very human reactions. (For good descriptions of the corporate climate disinformation campaign, check out the ExxonMobil Report: Smoke, Mirrors & Hot Air and Assessing ExxonMobil's Climate Change Communications [1977–2014].)
So start by not judging. We're all human. And then try to disentangle climate from ideology by focusing on local impacts and a shared interest in developing community resilience.
---
Q
You work on climate issues professionally. How has your knowledge about those issues influenced your life?
A
When my husband and I were looking to buy our first home in 2007, New York City was in the midst of a waterfront revitalization. We toured many apartments that were being built right near the water, and I could never get myself to put an offer on one, even though they were lovely. I finally realized—and admitted to my husband—that in light of climate change, I was reluctant to have our largest asset be located in an area that could flood. I think he thought I was nuts, but after Superstorm Sandy, I sent him pictures of places that we had toured—they were flooded.
We also prioritize family travel to climate-threatened ecosystems (what I think of as eco-necro-tourism). This past summer, I made a mad dash with the kids to Glacier National Park to see the glaciers. A few weeks after our trip, a significant fire burned part of the area we had hiked. Over Christmas, we visited the Everglades and got the kids out to snorkel the coral reefs in the Florida Keys. The Everglades are being threatened by storm surge and sea level rise, which are causing the salinization of groundwater and the soils. (Higher sea levels are one impact of climate change. Oceans absorb much of the increased atmospheric heat caused by climate change, and because water expands as it warms, this increases sea levels. Climate change also causes higher sea levels by increasing the melting of land-based ice, such as glaciers and ice sheets.) And some scientists fear that coral reefs may disappear in our children's lifetimes as a result of coral bleaching (when rising sea temperatures cause corals to expel the algae living in their tissues) and ocean acidification (when there is more carbon dioxide in the atmosphere, more carbon dioxide is absorbed by the ocean, which makes the ocean more acidic, and greater ocean acidity stunts the growth of coral).
We're also chipping away at our family's carbon footprint, slowly but surely. We limit meat consumption, air conditioner use, and driving. We avoid profligate air travel and try to avoid disposable cups, straws, and bags. Perhaps most importantly, I'm doing my best to raise climate-aware kids. I grinned ear to ear when I read my daughter's first-grade report card, which noted that she had "used her wealth of knowledge about climate change and environmental advocacy to make relevant connections with what was being learned in class."
---
Katrina Fischer Kuh is the Haub Distinguished Professor of Environmental Law at the Elisabeth Haub School of Law at Pace University. Kuh focuses on climate change and sustainability. She has taught environmental law, international environmental law, global climate change and US law, and administrative law and torts. She was previously on the faculty at the Maurice A. Deane School of Law at Hofstra University, where she was a professor of law and served as an associate dean of intellectual life. Prior to working in academia, Kuh worked in environmental and litigation practice groups and served as an advisor on natural resource policy in the United States Senate. She received her undergraduate and law degrees from Yale.