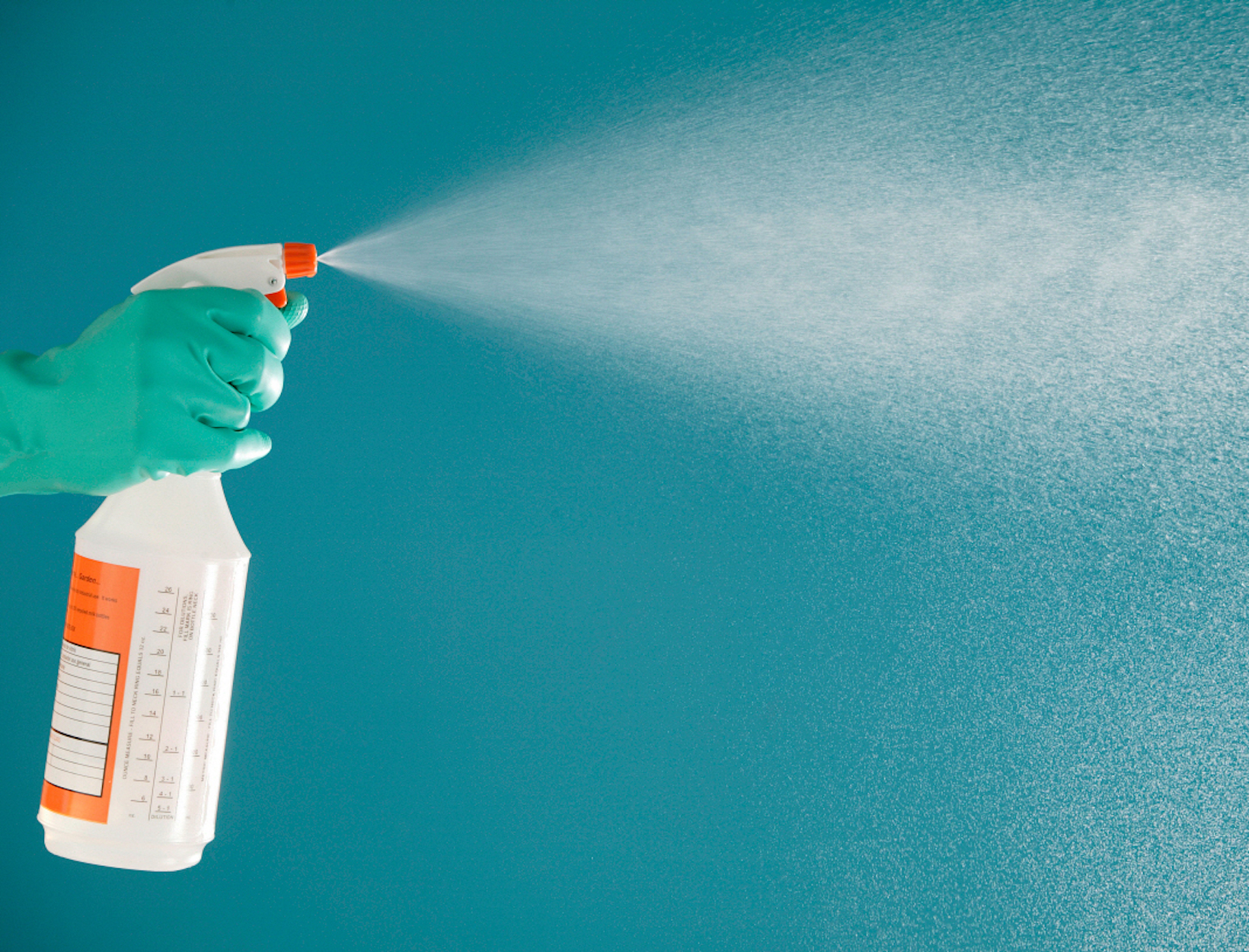 An Important Milestone: California's Cleaning Product Legislation
We've long been vocal about the need for more transparency when it comes to the labeling of personal care items and cleaning supplies. One of many concerns is the lack of disclosure about what goes into a product's "fragrance," a term under which various ingredients hide. While the current chemical safety laws offer little policing (Congress last passed federal regulations on how chemicals are used in consumer products more than 40 years ago with the Toxic Substances Control Act of 1976, which, according to EWG, ignores more than 60,000 ingredients that haven't been sufficiently evaluated for safety), there continues to be a growing resistance from responsible brands, consumers, and organizations advocating for greater labeling transparency. Case in point: California's Cleaners Right to Know Act of 2017–potentially life-saving recent legislation that requires manufacturers to disclose the ingredients in home and commercial cleaning products. Co-sponsored by the EWG, the bill attempts to bust labeling loopholes that have allowed manufacturers to hide allergic and even carcinogenic ingredients that put consumers and cleaning industry workers at risk. "It will also be a landmark victory toward safer cleaning product formulations, as many manufacturers would choose to reformulate rather than identify hazardous ingredients and contaminants," says Samara Geller, EWG database and research analyst and a lead player in getting the legislation passed. Below, Geller talks us through why the legislation is important–and what we need to look out for.
A Q&A with Samara Geller
Q
What inspired this legislation? 
A
Recent polling among Californians shows many mistakenly believed disclosure of cleaning product ingredients was already required by law. This bill would bring parity with those other consumer product categories–and go even farther by requiring disclosure of allergens and components of fragrance mixtures.
The framework of the Cleaners Right to Know Act of 2017 has been a long time in the making and different versions of this legislation have been introduced prior in California, Minnesota, and at the federal level. Congress introduced a federal cleaning products disclosure bill last year, but it never made it out of committee. In 2015, EWG cosponsored AB 708­ that also would have required manufacturers to reveal cleaning product ingredients for workers and consumers. EWG was not content to see the public's right to know about potentially harmful substances in cleaners die. This year EWG cosponsored this latest piece of state legislation–SB 258, authored by California Senator Ricardo Lara (D)-Bell Gardens–to improve transparency for household cleaning products, as well as institutional products used in workplaces, hotels, schools, and hospitals. We are encouraged to see this bill pass the assembly floor by a wide margin of support. Clearing this latest hurdle is the result of steady pressure and advocacy from a large coalition of like-minded NGOs, workers' rights and labor groups, businesses, and lawmakers committed to improving ingredient transparency.
Q
When will we begin to see changes—and only in California, or is it expected to spread wider?
A
The online disclosure requirements are applicable starting January 1, 2020. However, product manufacturers have more time to implement changes to their product labels–until January 1, 2021.
Manufacturers that have older product stock with labels that don't meet the current disclosure requirements will need to provide information to consumers that indicates the date of a particular product's manufacture. This will hopefully make it clear to anyone purchasing or using the product whether it meets the most current regulatory standards for labeling, or lags behind.
California is an enormous market, so it is incredibly plausible that manufacturers would opt to label their products at the national level. They would choose to do this so that they could avoid the hassle and financial burden of making one package for California and a separate one for the rest of the nation. Website information and pages developed or adjusted by companies to meet the California law would likely be provided at the national level. So the full effect of SB 258 could extend much further than California.
Q
What do we face in terms of hazardous ingredients in household products?
A
Cleaning products often contain ingredients that can be hazardous to human health, harm plant and animal organisms, and contaminate the environment. These chemicals can be inhaled into the respiratory tract when sprayed or applied to surfaces, and absorbed through the skin. Many can trigger asthma attacks or skin rashes–and can even cause asthma to develop in otherwise healthy individuals. Other chemicals found in cleaners are linked to reproductive harm and even cancer. Some cleaning products contain impurities, such as likely carcinogen 1,4-dioxane, that make their way in during the manufacturing process, and are not stripped out.
Looking closer, quaternary ammonium compounds, otherwise known as "quats," are found in fabric softeners and antibacterial spray cleaners that can lead to asthma–or worsen existing asthmatic conditions. The U.S. Environmental Protection Agency also classifies quats as severe skin and eye irritants. Another antibacterial chemical to avoid is sodium hypochlorite, a substance frequently used in disinfectant, liquid bleach, laundry care and automatic dishwashing formulations that is a known allergen and asthmagen and is capable of burning the skin and eyes.
Other allergens and respiratory irritants to avoid include:
Ammonia (ammonium hydroxide)

Ethanolamines (mono-, di- and triethanolamine)

Chlorine bleach (sodium hypochlorite)

2-butoxyethanol (ethylene glycol monobutyl ether)

Triclosan

Thiourea

Formaldehyde releasing preservatives (such as 2-Bromo-2-Nitropropane-1,3-Diol)
Q
Can you explain why certain fragrances in cleaning products are problematic?
A
For our Guide to Healthy Cleaning update last year, seven in ten products used the vague, catch-all terms "fragrance" or "perfume" in the ingredients lists, which represent an undisclosed mixture of scent chemicals that can cause skin irritations or allergic reactions and have been associated with hormone disruption and cancer. Some fragrance mixtures can contain phthalates ("plasticizer" chemicals) that are known endocrine disruptors. Overall, the consumer products industry uses more than 3,000 fragrance ingredients in perfumes and fragranced goods—while being cryptic in its labeling. At EWG, we recommend avoiding scented products if possible. There is a wealth of fragrance-free products on the market, many of which are found in our cleaners database.
Q
One of the key points in the legislation highlights how this will impact people in the cleaning workforce, including janitors and housekeeping staff. What are some hazards people in this profession face?
A
Workers that clean for a living or clean as part of their job duties are disproportionately exposed to hazardous chemicals because they handle these cleaning products more frequently­–often constantly throughout the day. As a result, they suffer elevated rates of debilitating injuries and illnesses. Scientific literature and clinical data shows a link between exposure to conventional cleaning products and exacerbating or causing costly health conditions requiring medical evaluation and treatment–like chronic skin rashes or asthma.
Bleach-based products used by janitors and domestic workers are especially concerning due to the high risk of accidental mixture with other acid-based cleaners and ammonia. Mixing the wrong cleaners together can result in the development of toxic chloramine or chlorine gases in a work area. SB 258 will help cleaning workers advocate for healthier alternatives in the products they use every day.
For more tips on conscious cleaning, consult EWG's Guide to Healthy Cleaning. And see goop's Room-By-Room Detox here.
Related: Common Household Toxins
Samara Geller, an EWG Database and Research Analyst, holds a B.S. in conservation and resource studies from the University of California at Berkeley. She develops EWG's online consumer guides and databases, from cleaning products to cosmetics. Her work raises consumer awareness and influences progressive, market-level change.