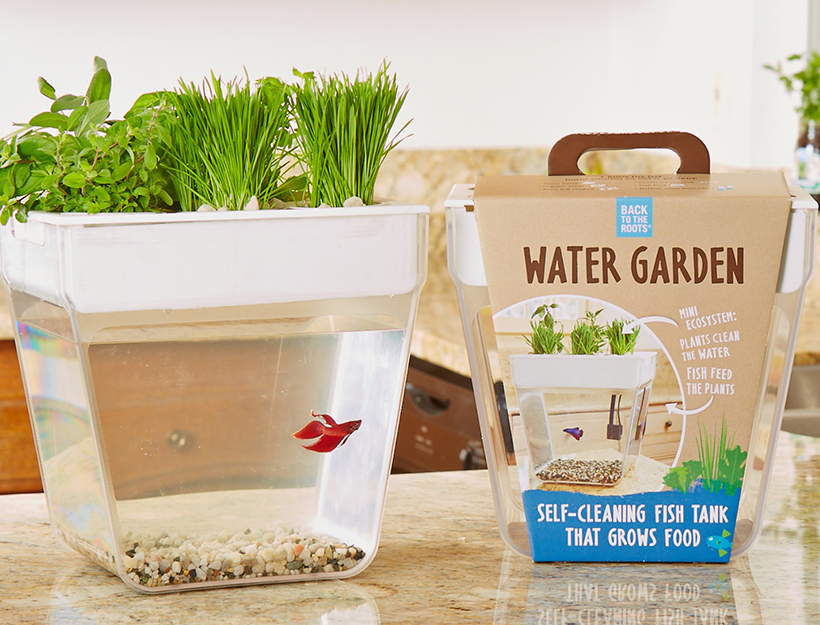 A Pet Fish That's Worth It
It might sound a little offputting and strange, but an aquaponic kitchen garden is pretty much a parenting home run—the ingenious combination between herb garden and pet fish kit is about as low-maintenance as it gets, with all kinds of learning opportunities built in. The system works because of a seemingly random symbiosis of fish farming and hydroponics. Fish waste is high in ammonia, which can be toxic for fish if it accumulates in their environment (that's why goldfish die so quickly when you don't clean their tanks). Meanwhile, beneficial bacteria in plant pots can convert ammonia to nitrogen, which is essential for growing plants without soil. The partnership results in a fish tank that never has to be cleaned and fast-growing plants that never need fertilizer—or, from your kids' perspective, a garden that doesn't need watering and a pet fish that won't be belly-up in the first week.
Back to the Roots makes an easy-to-use aquaponic herb garden that ships assembled. For more advanced users, Grove Labs created a system that's set up to grow enough greenery for salads.