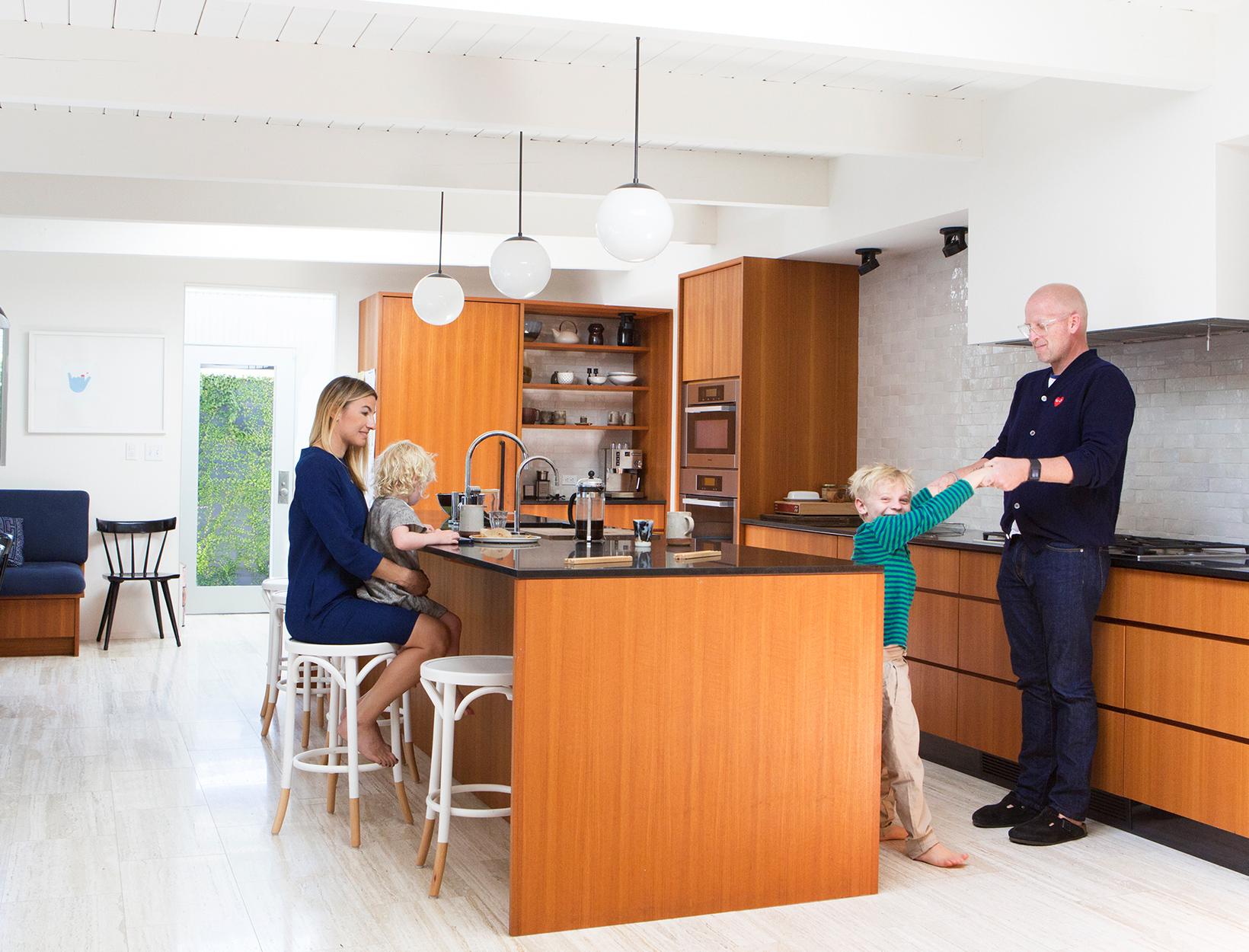 Photos by Diana Koenigsberg
10 Easy Swaps for Creating Less Daily Waste
Andrea Arria-Devoe has always been interested in the aesthetic choice: As a longtime editor for Daily Candy, she was always on the hunt for the best and for the essential, a predilection that is manifest in both her closet (A.P.C., Co, Calder Blake), and the Brentwood home that she shares with her husband Mike, a commercial director, and two kids (Henry, 9; Navy, 4). There's just not that much of it. Her closet, though lined with beautiful things, is spare—she abides by a "one in, one out" policy—and her kitchen counter tops are free of clutter despite the fact that she is an avid home cook. Her pantry? Shockingly tidy with nary a plastic bag in sight.
The lack of plastic is a conscious choice. About ten years ago, Arria-Devoe became increasingly obsessed with our collective ability to consume way too much single-use plastic. She signed on as the executive producer of Straws, a short, impactful documentary about how ditching plastic straws alone can make a massive difference, and started to dig deeper into the plastic, bio-plastic, and alt-plastic universe. Over the years, she has become a fount of information around really easy-to-implement, you'd-never-miss-it tactics for greening a home and inching it ever so more slightly toward the gold standard of zero waste. And making it really chic and desirable in the process.
"Honestly," she explains, "the 'reduce, reuse, recycle' mantra is missing a crucial 'R'—refuse. So often, plastic and other waste is just presented to us, and we take it without thinking." She now turns away anything she can, bringing her own stash bag of metal straws and on-the-go utensils with her. In an ongoing monthly column for goop, Arria-Devoe will be sharing her deep knowledge about everything from the best countertop composter to how she shops bulk. Below, she kicks it off with ten easy swaps that make minimal life impact, but significant earth impact.

From left: 1) Arria-Devoe worked with the designer Alice Park, who chose Benjamin Moore, Bainbridge Blue 749 paint for this high-tread stairwell. The built-in desk is where Arria-Devoe stores cookbooks (the drawer has a hidden charging dock to conceal cords). The lamp is by Atelier de Troupe. 2) The downstairs powder room is lined with mirrors from Lee Stanton Antiques, which were arranged with black and white art to disguise an oddly placed bathroom. 3) The built-in banquette includes hidden storage underneath where the family stashes their toys and games. 4) The piece at the end of the hallway is by Jason Glasser, who also does prints for A.P.C.
10 Easy Swaps for Creating Less Waste
1. Be a bag lady. I always keep a million canvas bags in my car and a Baggu in my purse. When I bring in my groceries, I immediately put the bags by my front door so I remember to put them back in the car. In the rare event that I forget, I will carry everything in my arms. I also use unloved dust bags from shoes and sandals for produce.
2. Bring a set of utensils and stainless steel straws with you or keep a set at your desk. Plastic cutlery is one of the worst offenders of single-use plastic. France has actually banned them. India, too.
For parties where you might have used disposables, investing in an extra set of forks, knives, spoons and all-purpose glasses is a simple way to cut down on waste. If you must go disposable, opt for paper, bamboo, or wood.
3. Fall in love with your reusable coffee mug. I'm obsessed with KeepCups. Yes, they do have a plastic lid but they are way better than tossing a non-recyclable paper cup, lid, and sleeve into the trash every time you get a latte craving. Another option is simply to take your coffee to stay. This also doubles as a mindfulness exercise because it forces you to slow down, take a few minutes, and then get on with your day.
4. Ditch the plastic wrap. There are a ton of options that are not only less toxic but way more aesthetically pleasing than covering half an onion or watermelon with a sheet of plastic. I usually just cut everything up and put it in a glass container but if you're short on space or containers you can use beeswax, which is also great for cheese. And I'm a fan of cloth covers, but a clean dishtowel also works just as well. Or, honestly, use nothing. Other than drying out a little bit, nothing is going to happen to your watermelon if you leave it for a day or two uncovered in your fridge.
5. Use reusable cloths instead of paper towels. My family gave me a lot of grief for not having paper towels at first, but we got into the habit of going without and don't miss them. I do keep a secret unbleached roll under the sink for cooking jobs like patting down raw chicken, but otherwise we use dishtowels, cloth napkins, and rags.
6. Take composting baby steps. Invest in a countertop composter to keep your fruit and veggie scraps out of landfills. (It takes twenty-five years for a head of lettuce to break down!) If your town offers curbside pickup, all you need to do is dump the scraps into your green bin once your composter is full. Check with your city. Get to know your trash haulers!
7. Bulk is beautiful. Literally. It's so much easier on the eyes to peer into a pantry filled with glass jars versus a jumble of plastic and cardboard packaging. You'll also be able to tell what you need to use up and what needs restocking. Skip the single-use plastic bags and opt for canvas bags (or shoe bags) for stocking up on nuts and flours in the bulk bin. Some stores also allow you to bring in your own jars—just be sure to have them weighed first.
8. Choose milk in a returnable glass container. I've been buying Strauss organic milk for years. There's something nostalgic about it. I also treat myself to Mylkman's almond milk delivery every other week, if I don't make my own nut milk.
9. Toothbrushes. We switched to a bamboo brush subscription that comes every three months to stop contributing to the 4.7 billion plastic toothbrushes that end up in a landfill every year.
10. Toilet Paper. Who Gives A Crap sells rolls individually wrapped in design-friendly paper, sans plastic wrap. They also donate 50 percent of their profits to building toilets in developing countries suffering from sanitation-related diseases.
SHOP THE STORY
P.S. Meet Andrea at goop Lab on January 23rd for a live Q&A about her home detox process.