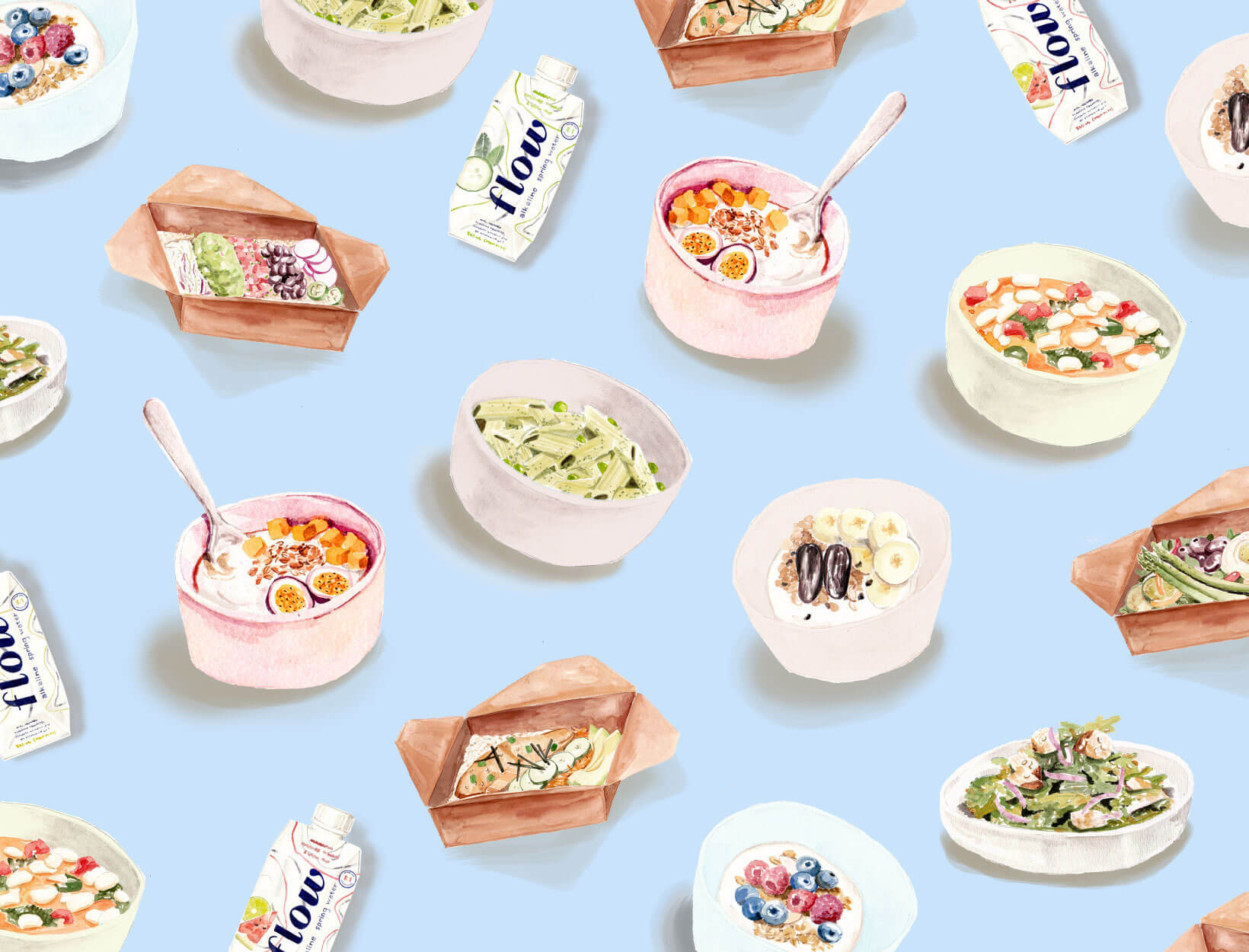 Working Girl (Summer)
Detox
In partnership with our friends at Flow Alkaline Spring Water
If ever there were a time to want to feel easy in your skin, summer is it. So here's a plan for a simple, early-season reset: three days of delicious, nutrient-dense, lightened-up menus that keep your (kitchen) workload light. No matter how busy you are, these meals and our favorite flavored waters to go with them keep nutrition and hydration high. There are easy riffs on fruit-and-yogurt bowls to get you going in the morning, followed by not-so-salad-like salad-bar bowls for lunch, and dinners centered around different ways to use leafy greens (hello, baby kale!). Every one of them is so good, you'll use the recipe again and again—well beyond these three days.
Breakfast
A yogurt bowl is easy to assemble and gives you true sustenance to start your day. Here we've swapped regular yogurt for unsweetened coconut-milk yogurt and traditional granola for a grain- and refined-sugar-free version. (If you're up for it, try making our grain-free granola, or look for grain-free granolas from Purely Elizabeth or Paleonola.) For each day, we've created a different combination of ingredients to keep it interesting.
1
Juicy Berries:
coconut yogurt + grain-free granola + raspberries + blueberries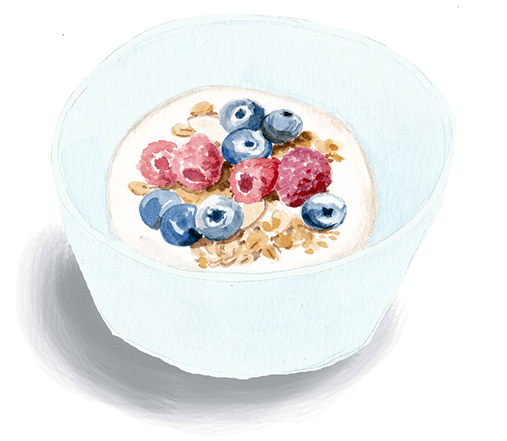 2
Tart + Tropical:
coconut yogurt +
grain-free granola +
mango + passion fruit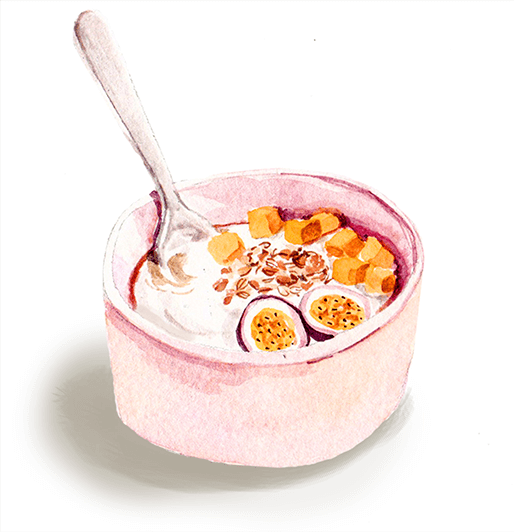 3
Choco-
Banana-Date:
coconut yogurt + grain-free granola + banana + dates + cacao nibs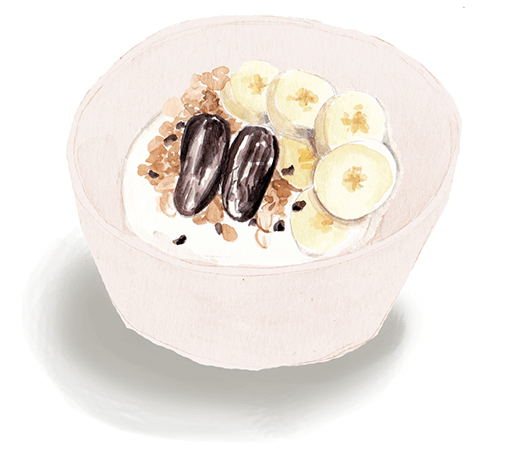 Lunch
If there's one thing we hear a lot from staffers at goop, it's that they can't eat another salad. So these salad-bar hacks are hearty and more "bowl" than "salad." Of course, every salad bar's offerings are different, so feel free to improvise based on what's available and what looks particularly delicious.
1
Sushi-Style
brown rice + cooked salmon + shredded carrot + cucumber + avocado + scallion + pickled ginger + tamari + seaweed
Pro tip:
Go to the sushi counter to grab your cooked brown rice, pickled ginger, and tamari, then grab a seaweed snack pack from the snack aisle.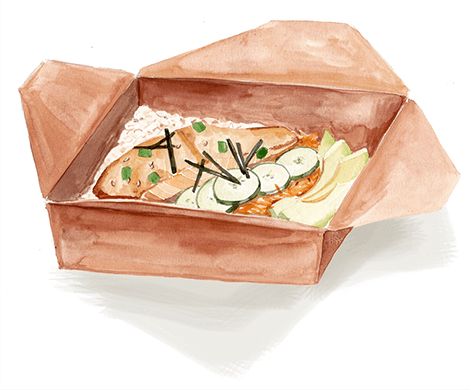 Sip on this:
A lemon-and-ginger Flow is perfect with this Japanese-inspired bowl.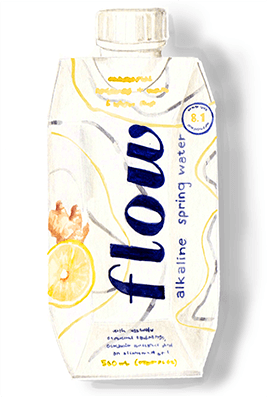 2
Taco-Style
quinoa + black beans + shredded cabbage + radish + cilantro + pico de gallo + jalapeño + guacamole
Pro tip:
This is great on its own, and it's got a nice crunch from the cabbage and radish, but you could also grab a bag of coconut-tortilla chips for more of a nacho-
style bowl.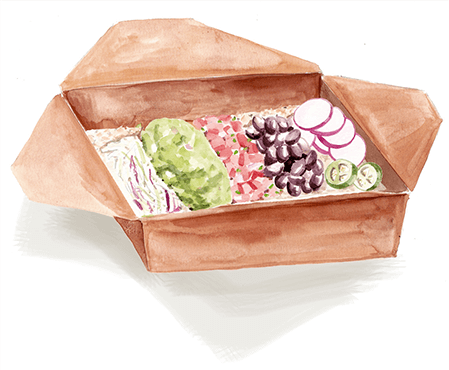 Sip on this:
A watermelon-and-lime Flow is a great refresher for this lunch, especially if you're missing your usual horchata.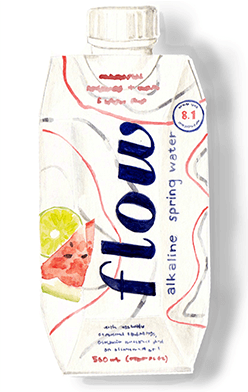 3
Mezze-Style
grilled veggies (zucchini, peppers, mushrooms, onions, asparagus—whatever looks good!) + kalamata olives + arugula + parsley + olive oil
+ lemon
Pro tip:
If grilled vegetables aren't out at the salad bar, check the prepared-foods deli counter. The olive bar is a good place to find roasted or marinated vegetables.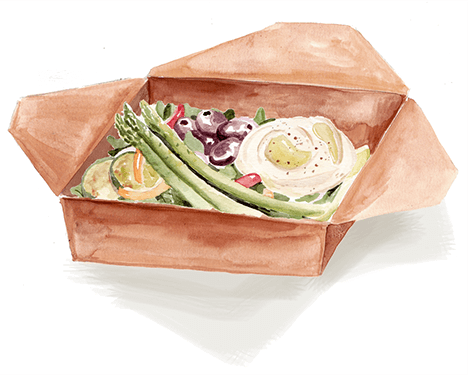 Sip on this:
A cucumber-and-mint Flow is the perfect match for this savory lunch.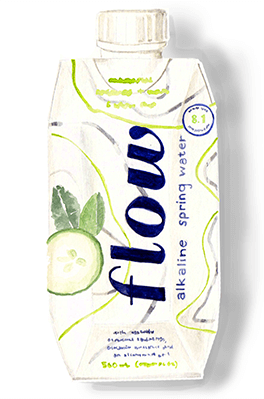 Dinner
These three incredibly easy recipes all star baby kale, as it's the perfect multipurpose green: tender enough for salad, mild enough for pesto, and even sturdy enough to add to a stew. In the spirit of efficient shopping and reducing food waste, all three recipes should use an entire large (fourteen-ounce) box or bag of baby kale. (If you have any left over, toss it into a smoothie or fried rice.) We scheduled the recipes specifically so the kale is fresh when you need it freshest (for the salad) and cooked for the final night, since cooking is perfect for less-than-peak-greens.
1
2½ cups baby kale
½ red onion, cut into rings
2 chicken breast cutlets
½ teaspoon grated ginger
juice of 1 lemon
1 teaspoon sesame oil
¼ cup olive oil
1 tablespoon toasted sesame seeds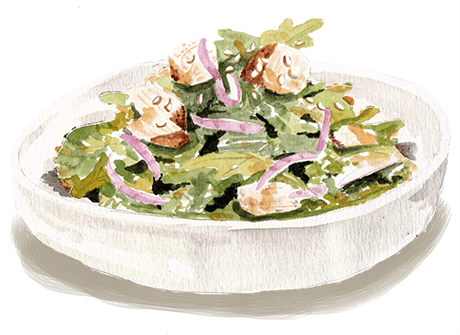 Heat a grill pan over high heat. Sprinkle a little salt and drizzle a little olive oil over the red onion rings and chicken. Grill them until the chicken is cooked. While they cook, combine the ginger, lemon juice, sesame oil, and olive oil in a large bowl. Add the baby kale to the dressing and toss. Slice the grilled chicken and onions into bite-size pieces and add to the salad. Top with toasted sesame seeds and a pinch of salt.
2
2½ cups baby kale
2 cloves garlic
⅓ cup shelled pistachios
zest of 1 lemon
½ cup olive oil
8 ounces cooked chickpea pasta
1 cup thawed frozen peas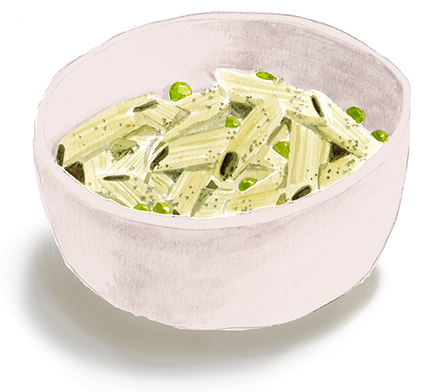 Combine the first 5 ingredients in a bowl and use an immersion blender to pulse into a pesto sauce (alternately, throw in a blender or food processer). Toss the sauce with cooked chickpea pasta (we always cook it a couple minutes less than the package suggests) and the thawed peas. Finish with a sprinkle of salt and pepper.
3
2 tablespoons olive oil
½ red onion, diced
1 clove garlic, minced
1 teaspoon ground cumin
1 teaspoon ground turmeric
1 16-ounce can white beans
1 16-ounce can cherry tomatoes
2½ cups baby kale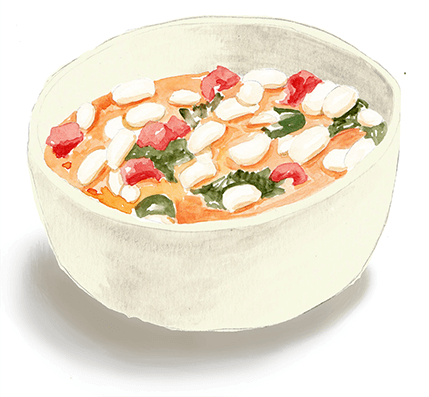 Heat olive oil in a sauté pan over medium heat. Add the onions and garlic and cook for about 2 minutes. Add the spices and cook for another 2 minutes. Add the beans and tomatoes, reduce the heat slightly, and cook for about 10 minutes. Add a generous pinch of salt and the baby kale and let simmer for a few more minutes, just until the greens wilt. Finish with more salt and pepper if desired.