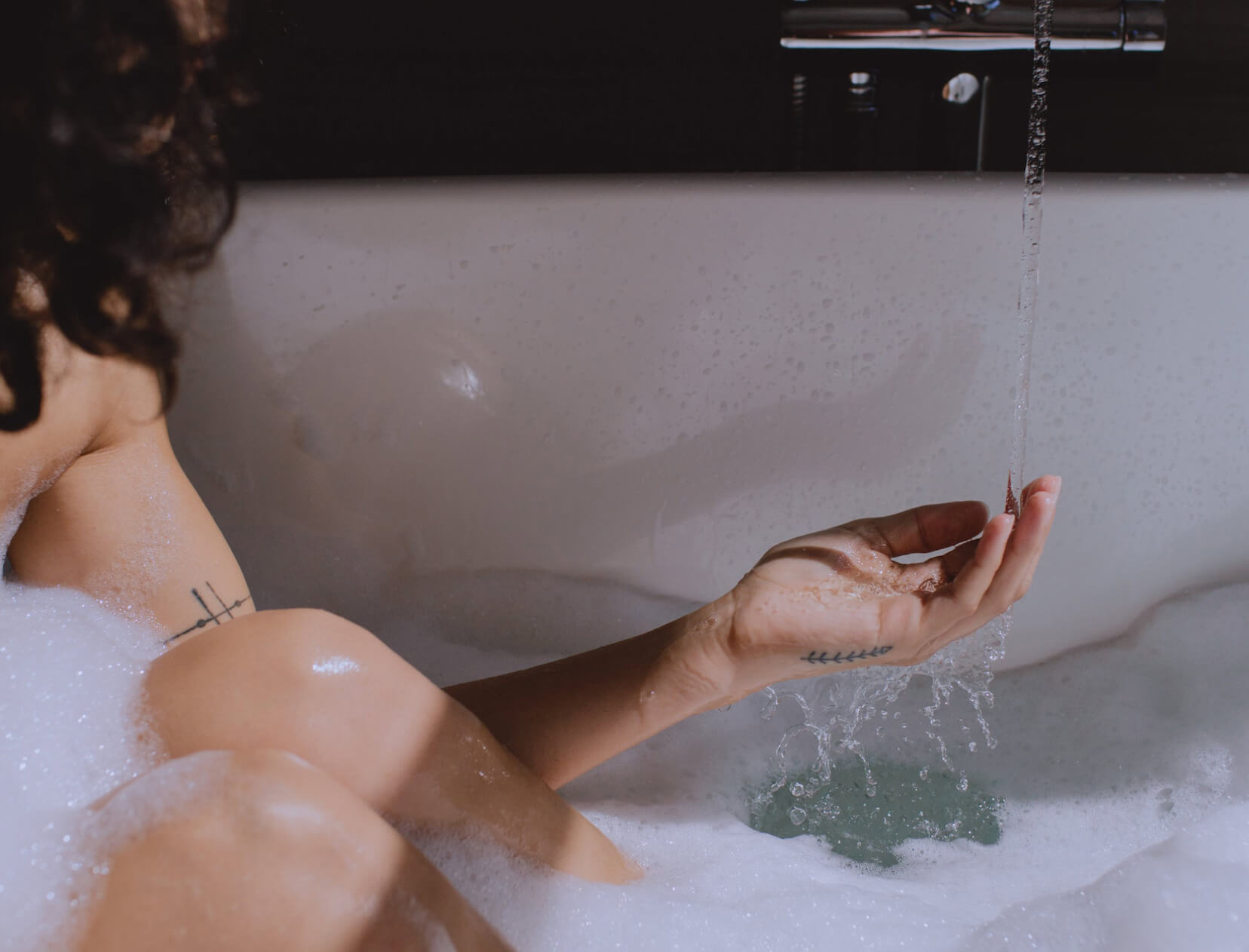 Photo courtesy of Chantal Anderson/The Licensing Project
A Gentle Winter Detox in 3 Steps
Winter can be punishing. There are the shorter days, the longer nights, and everything discouraging that comes with a more distant relationship to the sun. It feels like it takes more energy to live; if you're cold, that's a physiological reality. And then there's this winter.
January is also the time in the Gregorian calendar that we associate with transformation and fresh starts: Despite every known reality of winter, we're still usually compelled to seize the moment, form new habits, and return to the behaviors that we know help us get closest to feeling well.
So this is where we remind ourselves (and you): Detox does not have to be punishing. In fact, a winter reset can lend itself to a comforting, rewarding, and downright cozy state of mind. The key is to focus on all the good things you can add into a day instead of all the little self-imposed rules that can feel like deprivations.
Think of it as the lifestyle equivalent of this Rooibos Almond Latte: It's warm, indulgent, and good for you, with the power to brighten a dull afternoon.
1
Seek heat sources.
Yes, this directive is intuitive. But there are more-creative ways to stay warm than plugging in your faithful space heater and calling it a day—and they offer more than just a reprieve from the cold.
2
Give your body a break.
Call it rest, call it relaxation, call it hibernation-lite: Anything that gives your body a chance to recover is encouraged. Bonus points if those behaviors give your detox organs time to catch up.
THE FORGIVING PANTS

Letting go of restrictive waistbands not only feels great; it's also, we recently learned, a surprising solution to physical tech stress. Any loose pants will do. But bonus points should be awarded for wearing sweats that look like wide-leg jeans.

Nili Lotan

KIKI SWEATPANTS

goop, $245

SHOP NOW

THE SPALIKE BATH

A hot bath is deeply relaxing. And soaking in glacial marine clay and activated charcoal takes the ritual to another level. With G.Tox, you get the benefits of pharmaceutical-grade Epsom salt, plus botanicals and essential oils that combine to help cleanse and remove impurities, from modern pollution to plain old grime. It's a rejuvenating event.

goop Beauty

G.TOX DETOX 5 SALT BATH SOAK

goop, $35

SHOP NOW

THE (CLEAN) NONALCOHOLIC HOT TODDIE

One of the most straightforward ways to help your liver do its thing—detox the body—is simply to not burden it with the task of processing alcohol. We like to make this mulled drink to replace the ritual of pouring a nighttime drink. The mocktail recipe uses Dream Light, a nonalcoholic spirit from Kin Euphorics that's made with adaptogenic reishi and passion flower, plus L-theanine, L-tryptophan, and a teensy bit of melatonin to help lull you to sleep. (You can also drink Dream Light on its own or mixed with the milk of your choice. It's earthy and smoky, with oak, clove, ginger, cinnamon, and chili.)

Mull Yourself to Sleep
3
Indulge in what feels good.
Detox rules disqualify some of life's great pleasures (whiskey on the rocks, French fries, cheese). Balance it out by dialing up the joy and gratification factors wherever you can.
THE SHOWER UPGRADE

The speaker is specifically designed to maximize bathroom acoustics (singing-in-the-shower types, this one's for you), while the showerhead delivers a luxurious full-coverage spray. It's perfect for taking an otherwise routine habit and transforming it into a cathartic sing-along moment or just for winding down with some good tunes and a particularly steamy session (wink, wink).

Kohler

MOXIE® SHOWERHEAD + WIRELESS SPEAKER

goop, $200

SHOP NOW

THE FACIAL DETOX

This is perhaps the most instantly rewarding suggestion of the bunch: Made for blemish-prone skin, this exfoliating mask leaves skin soothed and smoothed. Apply a thin layer to cleansed skin, leaving it to work for ten to fifteen minutes before gently rinsing off with warm water. (You can use it as a spot treatment, too.)

Goldfaden MD

FACIAL DETOX

goop, $65

SHOP NOW

THE COMFORT FOOD RECIPE

For this year's annual detox, our food editor created only recipes that are simple, adaptable, wholesome, and delicious. Which means they work well for a five-day cleanse following a taxing year, and we're also keeping them in our back pocket for the rest of the year. Take this detox-friendly stew, for example: Even if we're following zero detox protocols, we'd cook it the same way (okay, maybe we'd add Calabrian chilies and parm).

Lentil and Chicken Sausage Stew with Kale