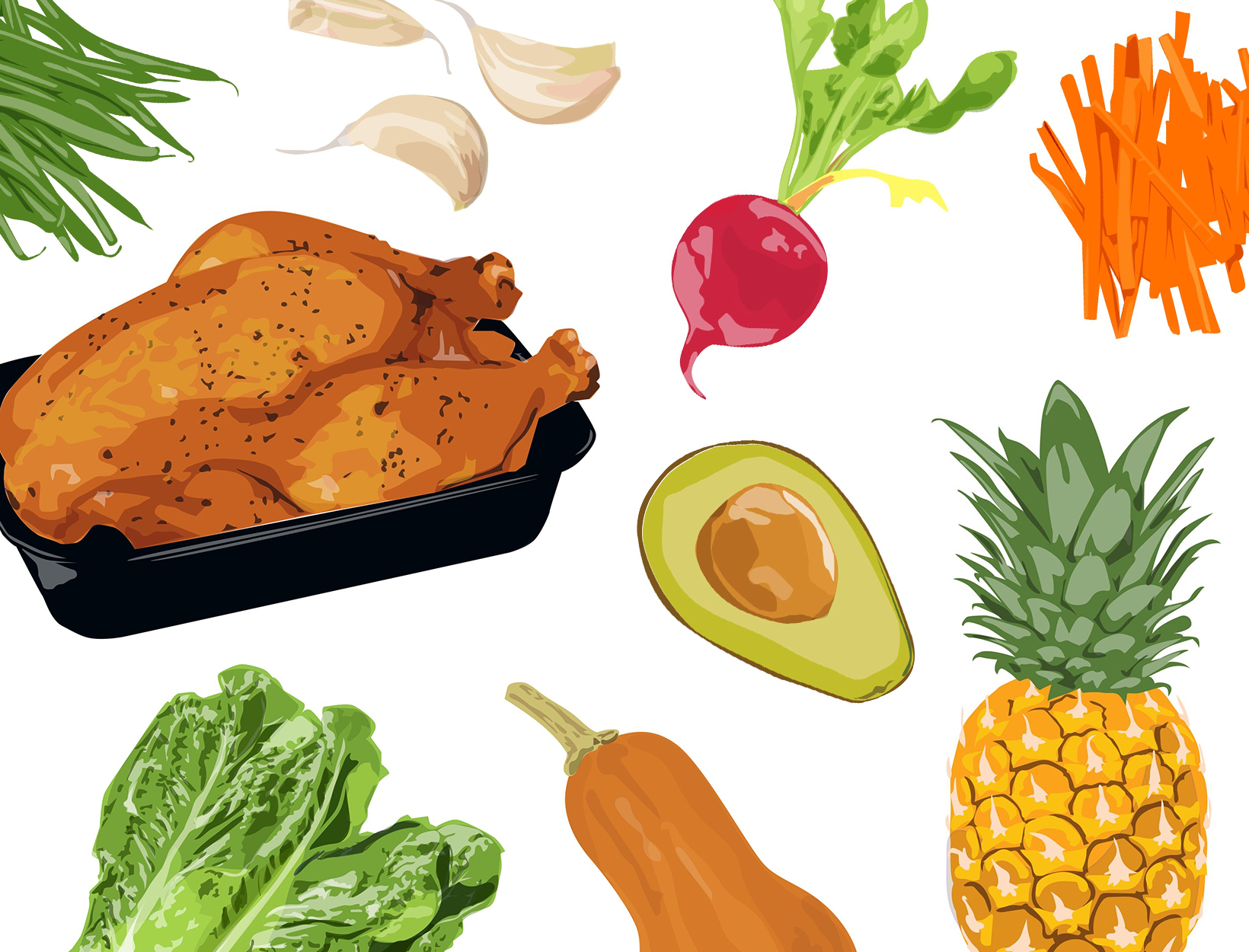 Illustrations by Louisa Cannell
The Working Girl Detox
If making breakfast, lunch, and dinner for yourself every day for a week is totally unrealistic, this three-day detox plan is perfect for you. Essentially a smoothie for breakfast, a salad-bar hack for lunch, and a quick, one-pan meal for dinner—this is the detox for busy peeps who want to reset after the holidays, but just can't spend more than 10 minutes in the kitchen. Period. For maximum benefit, keep to the usual detox rules (no caffeine, no alcohol, etc.), which are outlined in our more ambitious cleanse program.
Breakfast
Smoothies are a genius breakfast—all your nutrients in an easy-to-make, easy-to-transport package—especially while detoxing. These are three of our favorite combos, but feel free to jazz them up with extras if you're feeling inspired. The blueberry one, for example, is extra delicious with a little cacao, sea salt, and ground cardamom thrown in.
Frozen Mango
1 cup

+

Kale
1 cup

+

Raw Cashews
1/4 cup

+

Coconut Water
1 1/2 cup

+

Avocado
1/4
Frozen
Blueberries
1 cup

+

Baby Spinach
1 cup

+

Flax Seeds
2 Tbs

+

Almond Milk
1 1/4 cup

+

Avocado
1/4
Frozen
Pineapple
 1 cup

+

Baby Spinach
1 cup

+

Hemp Seeds
2 Tbs

+

Coconut Water
1 1/2 cup

+

Canned
Coconut Milk
1/4 cup

Lunch
The salad bar is a busy bee's greatest resource, but all of those options can get a little overwhelming, particularly when you're trying to keep things clean. To help, we developed a simple system: Start with a base, add 2-3 veggies and protein, and finish with a few extras to enhance the flavors you've got going on. We tend to skip the prepared dressings (usually full of hidden sugar) and opt for a drizzle of olive oil and fresh lemon juice, lime juice, or balsamic vinegar instead.
Base

Vegetable

Protein

Extras
Romaine

+

Snap Peas, Carrots
and Cucumber

+

Chicken

+

Scallions and Cilantro
Cabbage

+

Jicama, Radish
and Avocado

+

Black Beans

+

Red Onion and Cilantro
Arugula

+

Artichoke Hearts
and Green Beans

+

Tuna (Seared
or Canned)

+

Scallions
Dinner
These one-pot dinners are actually quicker (and way more delicious) than ordering takeout—promise. Buy cooked quinoa and brown rice in the salad bar and prepared food sections to save time, and make sure you're not running low on pantry staples like olive oil, sesame oil, and tamari.
Quinoa Fried "Rice"
Cooked Quinoa
1 cup

+

Frozen Peas and Carrots
1/2 cup

+

1 Egg

+

1 Sliced Scallion
Heat 1 tablespoon olive oil in a skillet over medium heat. Add quinoa and cook for 2 minutes. Add frozen peas and carrots and cook for 2 more minutes. Make a hole in the center, add 1 more tablespoon toasted sesame oil, and crack in the egg, stirring with a spatula to scramble. Add scallions, sesame oil, and tamari, mix to combine everything, and serve.
Green Chicken Curry
Coconut Milk
1 can

+

Cauliflower
1/2 cup

+

Squash
1/2 cup

+

1 Chicken
Breast
Brown Rice
1/2 cup

+

Green Curry Paste
1 tbs

+

Toasted Black
Sesame Seed
1 tbs
Heat coconut oil in a saucepan over medium heat. Add curry paste and sauté for 30 seconds. Add canned coconut milk and bring up to a simmer. Add cauliflower, squash, and thinly sliced chicken breast. Cook for 5 minutes, or until chicken and vegetables are cooked through. Season to taste with salt and serve over brown rice with black sesame seeds sprinkled on top.
Brown Rice Pasta with Turkey Sausage and Chard
1 Turkey
Sausage

+

1 Garlic Clove

+

Chard
1/2 cup

+

Cooked Brown
Rice Spaghetti
4oz
Heat 1 tablespoon olive oil in a sauté pan over medium high heat. Add crumbled turkey sausage meat and cook until nicely browned. Add sliced garlic clove and chili flakes and cook 1 more minute. Add chard and sauté 1-2 minutes, or until wilted. Add cooked brown rice spaghetti to the pan, and toss to combine all ingredients (adding a little water to deglaze the pan). Season to taste with salt and pepper and serve with a little more olive oil drizzled over the top.