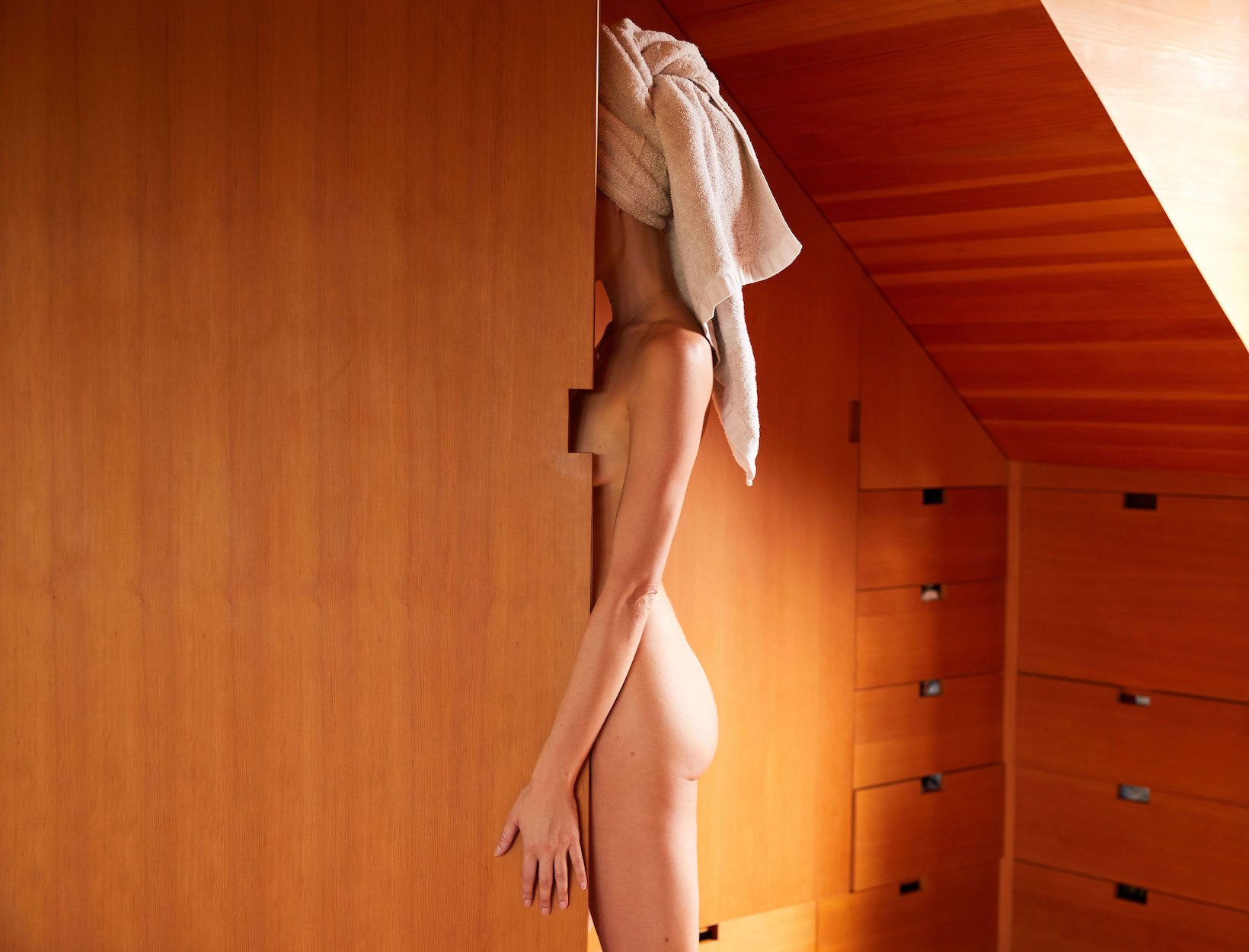 The Totally Indulgent,
Totally Eco-Friendly Way of Cleaning
In partnership with our friends at


Every morning, stylist Djuna Bel wakes up at 5:30 to the sounds of Fox, her eleven-month-old baby boy. Bel brings him into bed to nurse and snuggle with his father, her husband, artist Nikolai Haas, before the family starts their day.
"I'll usually make a tincture tea for Niki and I, a mix of black tea and a restorative herb," she says. Sometimes she'll add collagen, sometimes more herbs, whatever she feels her body needs to naturally "get her eyes open." Bel, tall with glowing skin and long, glossy blonde hair, radiates positivity and sensuality. She speaks with an infectious clarity about her morning breakfast routine—a ritual for her and her family—and the importance of weaving in moments of self-care. Those can come in simple, unexpected forms, like eating well or stepping "outside for some deep breaths," she says.
Self-care can also mean elevating everyday home chores. Bel recently fell in love with a new line of eco-friendly cleaning products that have transformed how she keeps her Los Angeles home sparkling—and safe for a curious little boy. They're made with essential oils and smell like bright, fresh citrus and the woodsy outdoors. They also make tedious chores, "like wiping down or cleaning the windows," actually feel good. Yes, really.
"I'm a super natural organic mom, especially when it comes to products that are around my child, but I feel safe spraying down the counter while Fox is on my hip," she says. "I love that these are just straight-up essential oils."
The products even make another family ritual—taking a bath in their gorgeous, outdoor marble tub—even more precious. "I can spray the tub down and know that it's clean, and I don't have to be afraid of Fox getting anything in his mouth, licking side of the bath, or doing any of the weird things that babies do," Bel says.
It's a day that ends as healthy and mindful as it began.
One of Bel's new favorite daily rituals includes wiping down her home surfaces with Supernatural, a female-founded line of eco-friendly essential-oil-based cleaning products. The starter kit includes four surface concentrates—Counters & Granite, Bath & Tile, Glass & Mirrors, Wood & Floors—and an accompanying glass spray bottle for each. "The first thing that impressed me was the packaging," says Bel. "It looks like it has a really low carbon footprint," and the reusable glass bottles "stood out."
The first few times she used the wood cleaner—a blend of basil, lavender, fir, peppermint, and palmarosa—she kept spraying the wood over and over, and "my husband, Niki, was saying, 'You got it, it's clean—you don't have to soak the wood,'" Bel says, laughing. "But I really love the smell!"
"I love that the ingredients are essential-oil-based. The scents are lovely—and the products really work. In the past, I've made my own cleaning agents, basically just vinegar and water, and they never quite did the job," Bel says.
"I've totally replaced my other cleaning agents," says Bel. "Now I wipe down the counters and my son's play area without any lingering paranoia that he'll ingest bleach or something frightening."
The bright, refreshing Bath & Tile
blend—made of lime, basil, peppermint, and eucalyptus—is so clean, you can bathe in it. "I don't have to reclean or rinse off any harsh chemical products," says Bel. "This eliminates any of that paranoia."
"We love taking bath time as a family in the outdoor bathtub. There's nothing that brings Fox more joy than water. It's his happiest, most excited time of the day."