The Mind-Body-Soul Detox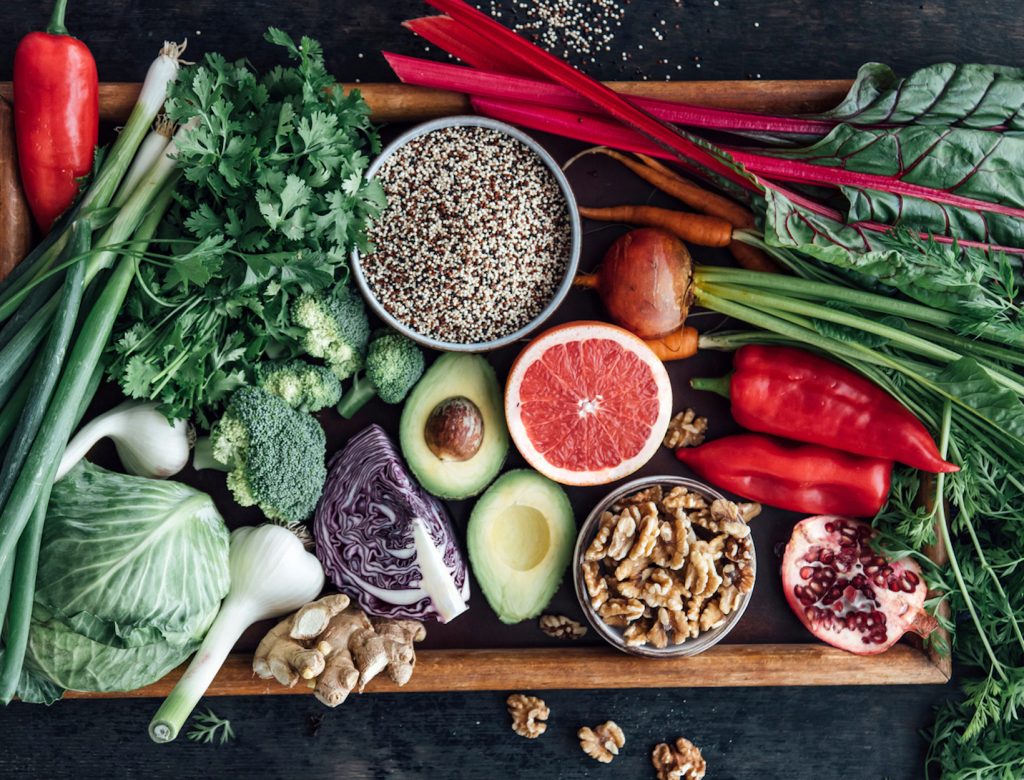 The word "detox" is typically associated with the physical body, and also with the negative—i.e. foods to cut out of your diet—but Seattle-based nutritionist and functional medicine practitioner Deanna Minich, Ph.D. makes the compelling argument for a much more holistic, additive (and, in truth, fun) route.
Minich, a fellow at the American College of Nutrition, has spent two decades as a health specialist (her career cuts across clinical practice, research, product development, and education), studying both Western and Eastern medical philosophies. She says she saw both the potential and the limitations of nutritional detox protocols with her patients: After diet detoxes, people felt a lot better, but there were still relationship woes and career stress and self-defeating habits that continued outside of the changes in the kitchen. Pointing to mounting evidence that our body and mind are inextricably connected, Minich has developed a system to address the physical and mental simultaneously and to look at a person as a whole. It's called the Whole Detox—the title and subject of her latest book, as well as a twenty-one day program designed to be a total reset.
One of the coolest things about the detox is the pre-detox self-evaluation quiz Minich designed to help people pinpoint where things might be off balance in their lives, and all the (at first) seemingly unrelated but contributing factors potentially involved—from the colors of the food on your plate, to possible vitamin deficiencies, sleep patterns, your relationship to work, spiritual practices (or lack thereof), etc. You can take the quiz in Minich's book or online, here, to see how you rank on her Seven Systems of Health, organized around the seven chakras and seven different colors. In our experience, the quiz is spot on ("That's so me!" echoed around the office the day we tried it).
Below, Minich explains Whole Detox and outlines some simple principles that you can apply (i.e. start small, put on a bright piece of clothing) any time you're looking to make a positive change.
A Q&A with Deanna Minich, Ph.D.
Q
Can you explain the concept behind Whole Detox?
A
Whole Detox draws on my years of clinical practice, research, observation, and the study of Eastern and Western medicine, healing, and nutrition: As I implemented nutritional detoxification protocols in patients, I noticed a pattern developing; people were often moved toward cathartic change in their lives after completing the detox, like wanting to quit or change jobs, or becoming aware of toxic relationships. They started to understand how their emotions governed their behavior.
"Change can come in many forms, and smaller changes are often the most powerful."
Patients' diets were inextricably tied to their lifestyles, their thoughts, and their emotions—so I realized I needed to examine patients' eating habits alongside their behavioral patterns; I needed to examine their lifestyle as a whole to help them heal. I'd been working in health and healing for twenty years, but I felt I had to foster a new healing path for others that was more expansive and integrative than the traditional approach: Whole Detox was born.
Q
How do you see physical and emotional detox interacting?
A
The body, our emotions, and thoughts are all connected. Intuitively, most of us know this. Newly emerging science on mind-body medicine supports the magnitude of the effect our emotional being can have on our physical selves, and vice versa. For example, studies have shown that eating fruits and vegetables may affect our mood, well-being, sense of curiosity, and overall happiness; similarly, feelings of pessimism have been associated with inflammation.
Systems biology (or systems medicine) tells us that our bodies are an intricate web, a fusion of the physical and the emotional. Traditional Chinese medicine and Ayurveda have long supported this view, and Western medicine is finally supporting the Eastern medical thesis that the physical and emotional aspects of a person should be treated as one. I certainly didn't invent this theory, but I have created a health program that addresses it, healing the mental and the physical simultaneously and treating the body as a whole rather than a series of fragments.
"Patients' diets were inextricably tied to their lifestyles, their thoughts, and their emotions—so I realized I needed to examine patients' eating habits alongside their behavioral patterns; I needed to examine their lifestyle as a whole to help them heal."
Q
What are the Seven Systems of Health?
A
The Seven Systems of Health are based on the seven key centers of the body, known in yogic medicine as chakras, or in Western medical terminology, more akin to psycho-neuro-endocrine glands. Each system is related to different organs, emotions, and colors—with correlates across physiology, psychology, lifestyle, and food. I've developed the Spectrum Quiz (included in the book) to help people assess whether one (or many) of their systems may be imbalanced.
Q
How does color play into our well-being, and how do you recommend people incorporate it?
A
Our perception of color is largely an experience we share. We are now learning that color has more than a general psychology attached to it. Research speaks to the healing benefits of color, from the fact that blue light can encourage a sense of calm, we'll eat less from a red-colored plate than a blue or white plate, and so on.
If you find yourself in a mid-day slump, for instance, try switching to a red light, or a room with red walls. A 2014 article published in the Conference Proceedings of the Engineering in Medicine and Biology Society found that when participants were put in a room with red light, they had higher levels of brain activity associated with "alertness, agitation, mental activity, and general activation of mind and body functions." They also were more likely to feel "vigor."
"When people incorporate colorful food into their diet, I've seen that they inevitably live a more colorful life. How we eat is how we live, how we live is how we eat."
The color blue has powerful effects on the brain and memory. A 2008 British study found that exposing workers to blue-enriched white light improved self-reported alertness, performance, and sleep quality. Similarly, an Australian experiment discovered that exposure to blue light made experimental subjects less sleepy as they tried to complete prolonged tasks during the night.
When people incorporate colorful food into their diet, I've seen that they inevitably live a more colorful life. How we eat is how we live, how we live is how we eat. I use color as an organizing principle to help people understand their bodies. This method is simple to follow and allows people to connect something artistic and beautiful to the practical functioning of their bodies. It's important to connect the right (creative) and left (logical) sides of the brain to maximize one's healing potential.
Incorporating color into our lives is so easy: Add more colorful food to your plate, wear colorful clothes, visit a colorful surrounding. Once we start to pay attention, we realize that color follows us everywhere!
Q
Can you give us an overview of the twenty-one-day Whole Detox?
A
I've found it can take about twenty-one days to change a habit. So people have a relationship with color throughout the twenty-one days of the detox and focus on the color, rather than on all "the tasks" they need to complete. The twenty-one days are divided into seven three-day segments, with each segment devoted to a color. Days 1-3 are focused on red, 4-6 on orange, 7-9 on yellow, 10-12 on green, 13-15 on aquamarine, 16-18 on indigo, and 19-21 on white. Each day has a particular theme. For example, the first day focuses on body awareness and instinct, day two on community, and day three on protein. Usually, one of the three days addresses a general life theme, and the last day focuses on a nutritional component.
Q
How do you decide which foods to add in and which to avoid?
A
In essence, the foods to add are colorful, whole, and plant-based, although I have included omnivore and vegan options. You choose what is best for you. I highlight the importance of protein and phytonutrients; getting a combination of the two throughout the day helps the body to efficiently detox, and run smoothly.
The foods to avoid are the usual suspects: gluten, dairy, sugar, alcohol, caffeine, and soy.
(In chapter ten of the book, I provide an easy chart for people to follow with specific food recommendations for the twenty-one days.)
Q
What would a given day on the detox look like?
A
Let's look at day four, which relates to the FLOW and our emotions. Below is the meal plan you follow (recipes in the book), and the different practices you'd try:
Q
Why do you think taste matters?
A
We're learning that our taste receptors extend far beyond our tongue: They can be found in our gut, reproductive tract, airway tract, brain, and more. It appears that taste serves a wider function than we realize. Various taste receptor genes have even been connected to longevity, but we have a lot more to learn about taste before we can really understand why this might be.
When someone does a food-based program like Whole Detox, their perception of taste tends to change, and the flavor of food becomes more pronounced. (Often, it takes about seven to ten days of following Whole Detox to notice your experience of taste change.) This new intensity is a good thing—the initial research being done indicates that the more heightened our experience of (bitter) taste is, the better our metabolism and digestion.
Q
When it's difficult to change yourself on the inside, you suggest starting outside—why?
A
Change can come in many forms, and smaller changes are often the most powerful. Try something simple like parking further away from the store, so you have to take a few extra steps, or minimizing some activity that drains your energy, or just wearing a bright piece of clothing.
Small changes can have a ripple effect: Making a positive lifestyle change—say, adding more colorful food to your diet—often encourages a positive eating habit, and vice versa. As people begin eating more colorfully, I've found that they start to live a more colorful life. (Just keep in mind that it doesn't work with artificially colored foods!)
Dr. Deanna Minich is a functional nutritionist, health educator, and author with two-plus decades of experience in nutrition, mind-body health, and functional medicine. Minich holds master's and doctorate degrees in nutrition, and has lectured around the world to patients and health professionals. She is a Fellow of the American College of Nutrition, and currently teaches for the Institute for Functional Medicine and the graduate program in functional medicine at the University of Western States. Her most recent book is Whole Detox: A 21-Day Personalized Program to Break Through Barriers in Every Area of Your Life.
The views expressed in this article intend to highlight alternative studies and induce conversation. They are the views of the author and do not necessarily represent the views of goop, and are for informational purposes only, even if and to the extent that this article features the advice of physicians and medical practitioners. This article is not, nor is it intended to be, a substitute for professional medical advice, diagnosis, or treatment, and should never be relied upon for specific medical advice.