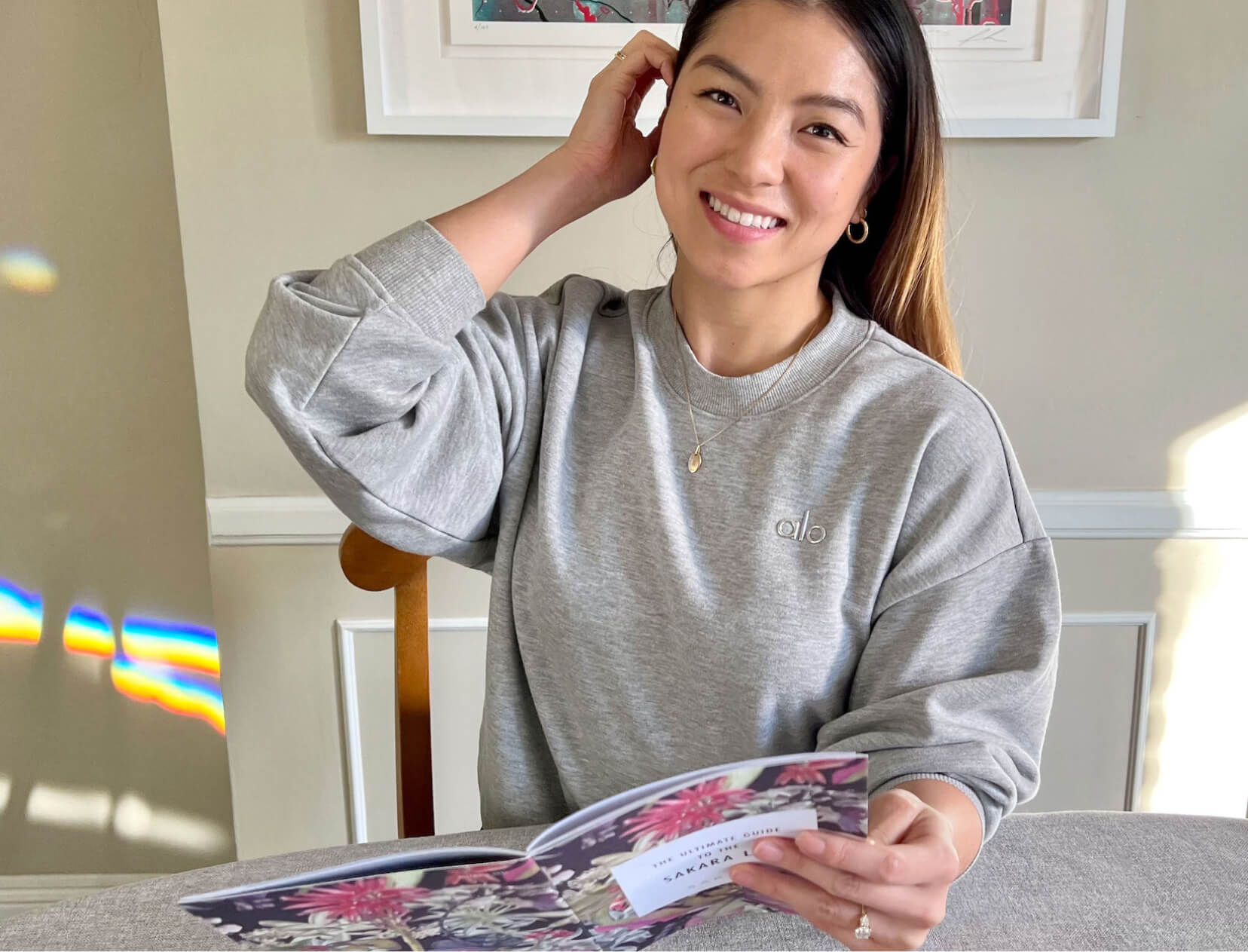 Testing a Plant-Based Meal Delivery Program
In partnership with our friends at Sakara Life
The best detox philosophy is one that centers around adding in more of the good stuff: more vegetables, more sleep, more rest, more satisfaction. That's what led goop lead web developer Barbara Ly to try a three-day program from Sakara, the lifestyle brand built around organic, plant-based whole foods.
Sakara's signature nutrition programs involve meals delivered to your door. You might be familiar with the concept. But what sets Sakara apart is its ingredients: Every meal is packed with plants, and you often run into a food you haven't encountered before (can you say "sarsaparilla"?) or one used in a joyful or unexpected way (try: lavender-laced tortillas in a broccoli pesto quesadilla).
Day 1
Kicking It Off
I typically spend some time every day in the kitchen with my fiancé, Eric, and fruits and vegetables are front and center. But coming off of the holiday season, our routine has been a bit out of whack. Which is why three days on Sakara seemed like a good idea: a gentle, low-lift way to get back into the healthy habits we've already established.
Breakfast:

Cinnamon cider donuts with lingonberry compote

The first day kicks off with donuts—cinnamon cider ones, with a tangy compote made from lingonberries. If you haven't tried a lingonberry: They're a relative of cranberries, but sweeter and not quite as puckery. They're also delicious.

Alongside the donuts, I sip my usual morning coffee—blended with coconut oil and collagen powder—before settling in at my desk. I hit the ground running. (Editor's note: The goop website doesn't build itself.)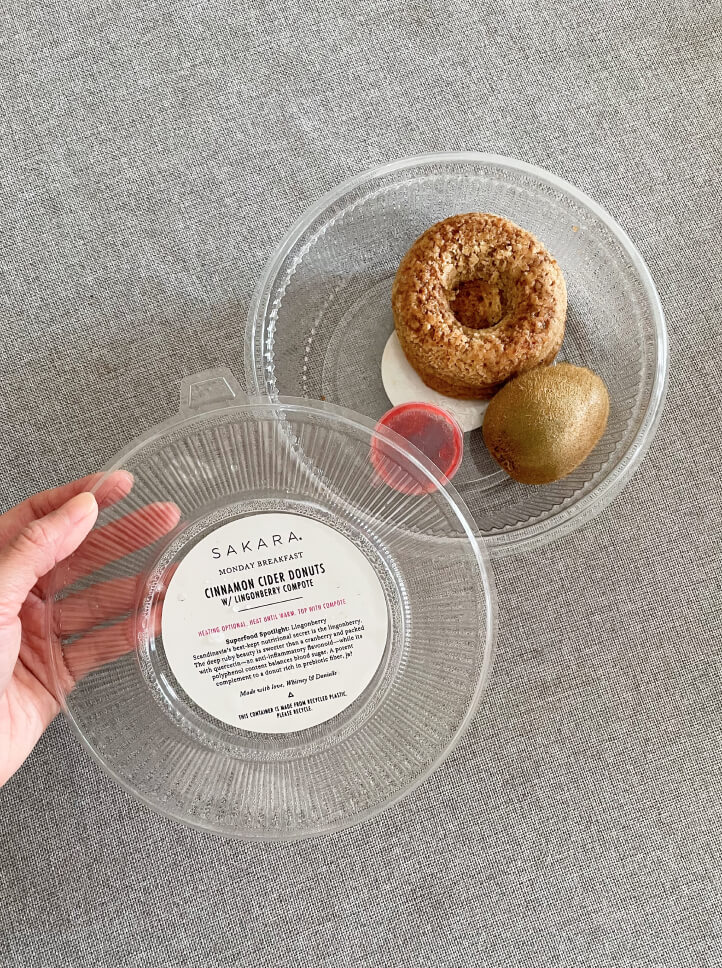 Lunch:

Earth bowl with tahini-ginger dressing

Around noontime, I crack open Sakara's take on grains and greens. It's fresh and colorful, with a tahini-ginger dressing that's creamy and just a little spicy.

Any of the salads can be turned into a stir-fry, which is a bit of flexibility I appreciate. You just preheat a pan with a bit of oil, dump the meal into it, and heat the whole thing through before adding the dressing to give it a flavorful punch. It's especially nice on especially cold days.
Dinner:

Protein power plate with golden turmeric flatbread

Day one wraps up with an Ethiopian-inspired plate of curried lentils, roasted cauliflower, and cooling coconut yogurt. Plus, slices of flatbread—made with coconut, turmeric, and sesame seeds—for scooping and dipping.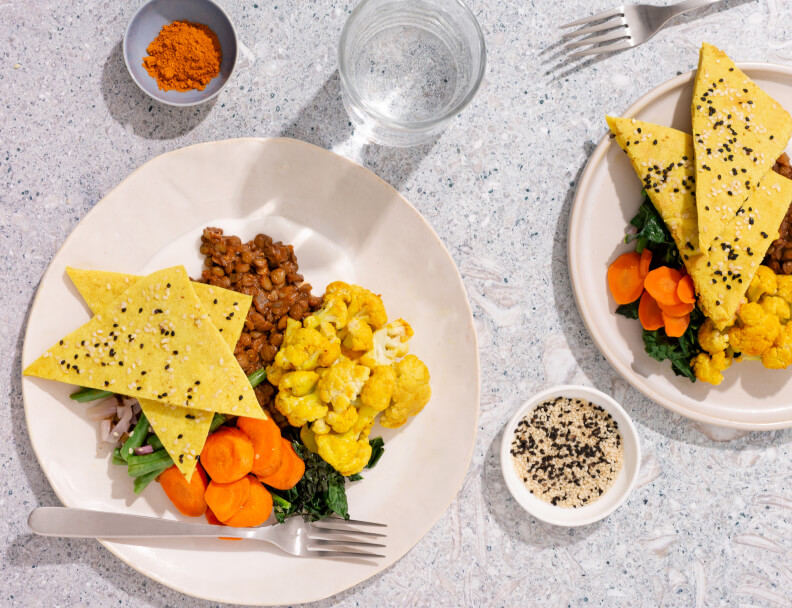 The end-of-day sauna
About once a week, I break out my sauna blanket to sweat everything out. And it's a good match for weeks like this one when well-being is front and center. Here's how it goes: I wrap myself up, folding the blanket's sides and bottom over my body like a burrito, and turn up the infrared settings until I'm blissfully warm but not uncomfortable. You go in with long sleeves and sweatpants, which buffers your body against the toasty interior of the blanket. I stick it out for forty-five minutes before emerging feeling brand-new. After that, cleanup's easy—I just chuck my clothes into the hamper and give the blanket a quick wipe-down.
Day 2:
Committing to What Feels Good
When I'm eating good food, it ties into better motivation for a more consistent workout routine. Things have gotten off to a slow start this year, so turning toward joyful movement is my focus on day two.
Breakfast:

Cherry vanilla parfait

Take coconut yogurt (gut-friendly thanks to natural probiotic cultures) and add sarsaparilla granola, pistachios, and tart cherries and you get something wholly satisfying like this morning's breakfast.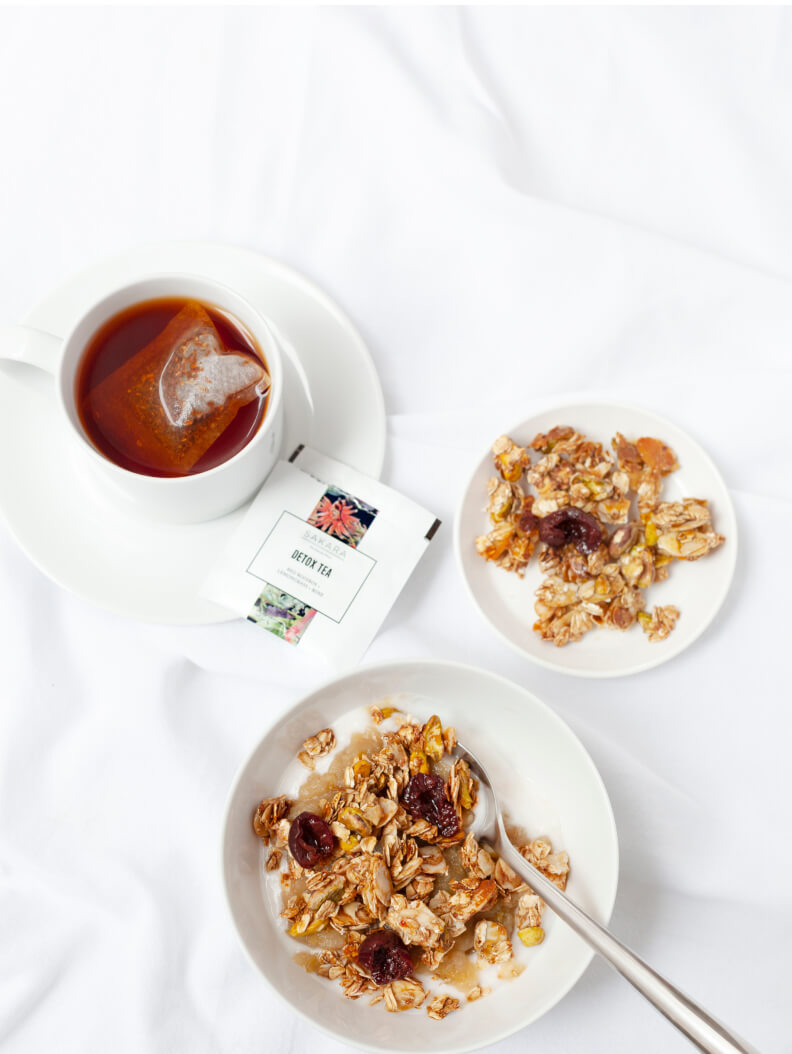 Lunch:

Prosperity pad Thai

The heart of this pad Thai spin-off is beet-marinated kelp noodles, which deliver earthy flavor and a bright pop of color. Creamy sesame dressing, radishes, a slice of lime, and a bed of leafy spinach make it my favorite meal of the day.
Dinner:

Maple sweet potato bowl

Fresher-than-fresh butternut squash joins up with tricolor quinoa and stewed chickpeas in a spicy, tomatoey sauce. This one has a kick, and it's especially good heated up.
The workout:

HIIT with Peloton

A few times a week, I roll out a mat for a high-intensity workout with the Peloton app. (You don't need the bike or treadmill to use the workouts.) I prefer strength-building, heart-pumping HIIT, but Peloton also offers yoga, Pilates, boxing, and meditation, not to mention cycling classes if you have a stationary bike—any stationary bike—available to you.
Day 3:
Rituals
I could name more than a few delivery services I've tried, and none of them is like this. Some offer meal kits that are too complicated to maintain, and others just don't taste fantastic. And Sakara seems to be doing something good behind the scenes: I haven't changed anything in my skin-care routine, but I feel like I'm seeing a glowier version of myself in the mirror.
Breakfast:

Orange blossom waffles with blueberry compote

"Orange blossom waffles" sounds like the kind of breakfast you'd eat overlooking the ocean on a summer morning. And they're as good as you think they will be.
The midmorning walk:
I get some space from my laptop with daily walks around my neighborhood with my fiancé. It's a ritual we started a while ago, and it's become a break in the day I look forward to. It's also how I work low-intensity, low-impact movement into everyday life: You can always add a pair of wrist or ankle weights if you're feeling up for an extra challenge, but all you really need is a supportive pair of shoes.
Lunch:

Equinox salad with stone fruit tahini

What's special about this salad isn't the rainbow of colors or the fact that it's the size of your head. It's that echinacea is used as a whole-food ingredient. It's delicious and unexpected and a joy to eat.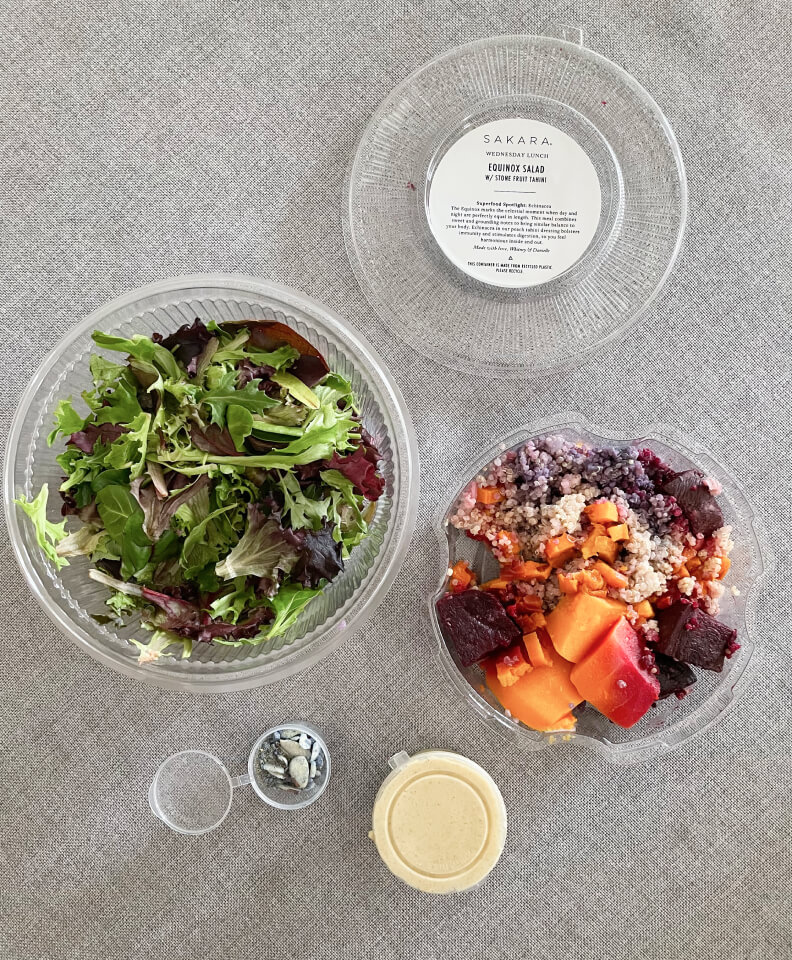 Dinner:

Pasta à la vodka with kale parmesan

Buckwheat noodles, meet kale parmesan—one of the best new ingredient discoveries of the week.
The wind-down
On days when a good night's sleep needs an extra push, I turn to something with melatonin. Our Knock Me Out soft chews are formulated with melatonin as well as L-tryptophan and vitamin B6, which support the body's natural melatonin production.*
The Results
Three days later, program finished, and I'm feeling solid. I'm getting back to my usual postworkout smoothies (one centers around rich chocolate protein, almond butter, and hemp hearts; the other is berries, acai, and chia seeds). I'm planning to work new discoveries from this week's meals—kelp noodles and echinacea—into what I'm making on the regular. And there's a manual to guide me: The Sakara cookbook, Eat Clean, Play Dirty, is a hands-on starter kit for pursuing the clean-food philosophy from your own kitchen.