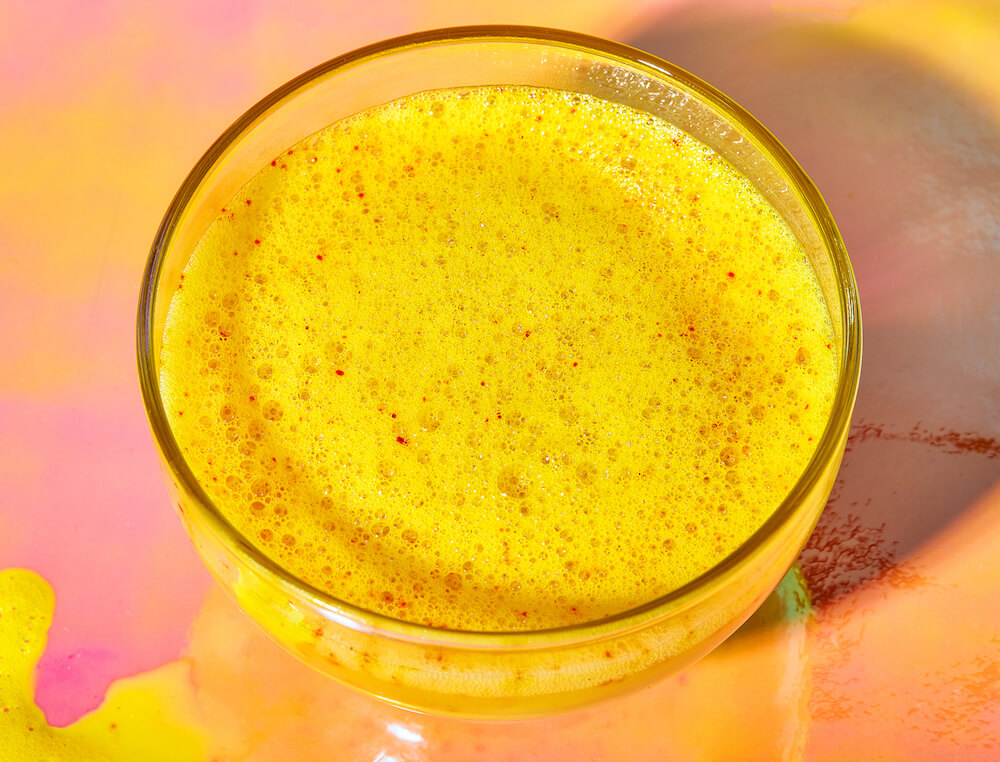 The Instant Saffron Latte: A Luxurious Coffee Substitute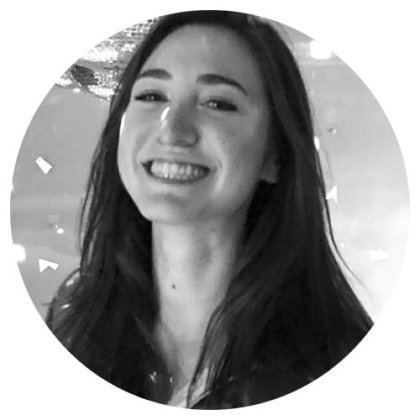 Kelly Martin is an assistant editor at goop. She's the most skeptical yet most open-minded person on our team, and that's why we love her.
I love the ritual of coffee. Every morning, after I come in from a longish walk with my dog, Taz, I grind my coffee fresh, make a simple pour-over, and post up at the kitchen table. With my favorite mug in hand, I hang out for half an hour or so with whatever I'm reading that week while Taz suns himself on the balcony. In my opinion, it's the perfect morning.
Or it is sometimes. There's a downside. Because I'm sensitive to caffeine, coffee can often make me feel like a big bucket of jittery, crazy energy. It depends on the day: Sometimes I'll drink three cups and be totally fine, and sometimes one cup sets me off for hours. On those days, my anxiety can be disruptive—I'm on such high alert that I can't get anything done. When I talked to psychiatrist Ellen Vora about soothing anxiety, I asked her what I could do about it. I was hoping for a secret trick that would allow me to have my cake, eat it too, yada yada, but (maybe I could have predicted this) Vora recommended tapering off coffee as best I can. I reluctantly agreed: Yes, I should. But there was more involved than cutting back. My half an hour at the kitchen table has become a sacred practice. I didn't want to give that up.
My love for coffee has never been explicitly about the energy boost—and I've discovered that the buzzing energy I get from it doesn't lend itself to the calm, centered morning routine I love so much. Still, I love the routine, and I love the uplifting sensation, so I had two requirements if I was going to replace it: I wanted that same warm, luxurious feeling I get with coffee, and I wanted whatever I was drinking to have some active component to help get my morning going.
Soon after, I heard buzzing around goop HQ about the powdered saffron latte from The Fullest. It's a blend of saffron, organic cardamom, coconut milk powder, and coconut water powder that you mix into steamed milk. Saffron is known for two things: its distinctive sweet-savory flavor, and the fact that it's difficult and expensive to produce—and is quite pricey for that reason. (Luxurious: check.) Plus, I'd heard that saffron has been studied for its positive effects on mood (active component: also check).
One sip and I knew this saffron latte was something special. It's rich and subtle all at once—flavorful and full, but not overwhelmingly spicy, hitting just the right balance of saffron and cardamom. Its texture is even creamier than something you'd get from a nice café. I loved the way it looked in my favorite mug: a distinct orangey-yellow color like egg yolk with pretty flecks of red throughout. And each one-tablespoon serving contains 150 milligrams of whole saffron. (Most studies on saffron use an extract in smaller amounts, so it's hard to compare the total dose in the saffron latte to what's been studied.)
After some playing around, I found that I like my latte with oat milk best, although I think any milk would work (I avoid almond when possible, since I try to be mindful of how my food choices affect bees and other pollinators). Hot water is fine in a pinch. The latte powder blends well, too—easiest with an electric frother, but if you don't have one, a matcha whisk or some vigorous spoon-stirring will do the job.
The saffron latte also gets major bonus points from me because it makes me feel so fancy but doesn't give me sticker shock. The canister has enough powder for twenty lattes, which comes out to just over three bucks a drink—half of what I'd pay for a nice specialty latte at most boutique coffee shops in LA.
All of this makes my caffeine taper a little easier. I'm taking it slow, so I'm still having a small bit of coffee in the mornings when I get to work. But at home, I have something creamy and warm to reach for while I read (right now, Strangers and Cousins by Leah Hager Cohen) and set the tone for the rest of my day. And I'm feeling a different kind of lift—one that aligns with my values of going slow, savoring, and finding joy in special moments.
This article is for informational purposes only. It is not, nor is it intended to be, a substitute for professional medical advice, diagnosis, or treatment and should never be relied upon for specific medical advice. To the extent that this article features the advice of physicians or medical practitioners, the views expressed are the views of the cited expert and do not necessarily represent the views of goop.
We hope you enjoy the products recommended here. Our goal is to only suggest things we love and think you might, as well. We also like transparency, so, full disclosure: We may collect a share of sales or other compensation if you purchase through the external links on this page.