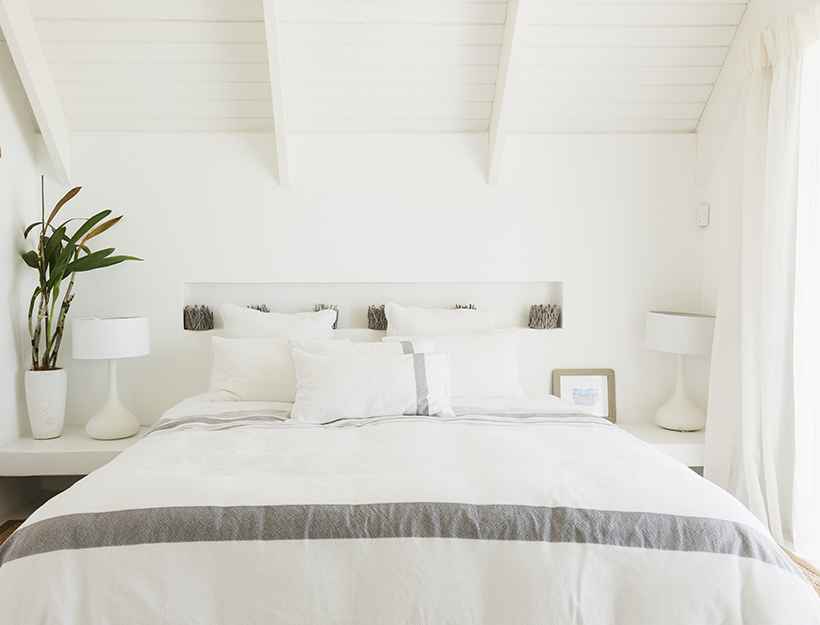 Decoding the Label: Organic Towels & Bedding
There's no denying that cotton is in fact "the fabric of our lives" and nowhere is that more apparent than in the bedroom, where the soft, breathable, highly durable natural fiber takes the lion's share of the bedding and towel business. The problem is that conventional cotton farming is incredibly taxing on the environment, involving toxin-heavy insecticides (including aerial spraying of Round-Up, i.e., glyphosate), fungicides, and herbicides that not only deplete the soil of vital nutrients and potentially contaminate water supplies, but can also have long-term negative health effects on both wildlife and farmers.
The crazy thing is that while the organic growth method significantly diminishes the use of toxic chemicals, preserves the health of the soil (which allows it to retain more water and therefore, requires less of it in the long run, a particularly important factor for drought-prone states like California), and has an overall lower environmental impact, according to the Organic Trade Association, it accounts for less than 1% of the world's cotton production. And it certainly doesn't help matters that organic farming is expensive and extremely labor intensive. There's good news, though, because the recent surge in demand for organic is actually exceeding supply, encouraging the textile industry to make moves in the right direction by investing in responsible production. Even more optimistic: Manufacturers are beginning to band together to offer farmers forward contracts, which by guaranteeing a market for their product, provides them with the security they need to convert to organic-only production processes. For smaller farmers, this reassurance is crucial in justifying both the effort it takes to get certified and the investment in extra hand labor since relying on herbicides is strictly forbidden.
What to Look for When Shopping for Organic Bedding
Much like the food industry, increase in demand has brought with it a wave of eco-washing, meaning that simply relying on an "organic" label (or "green" or "eco-friendly" or "all-natural") is not enough to ensure that what you're bringing into your home is in fact 100% organically produced.
In order for the USDA to recognize a product as organic, it has to meet their National Organic Program (NOP) standards or the Global Organic Textile Standard (GOTS). Since the USDA deals primarily with food production, it offers few textile-specific stipulations for complying with the NOP, meaning that its regulations only cover the production of the cotton crop (e.g. forbidding the use of genetically modified seeds). The GOTS, which is a voluntary standard addressing all post-harvest stages of production, picks up where the NOP leaves off. Since the USDA formally recognizes GOTS as an acceptable standard, together the two close the loop on responsible cotton production.
Choosing GOTS-certified bedding and bath products—which are just as luxurious, if not more so, than the traditional stuff—doesn't just ensure that the production process is accounted for every step of the way, it supports and encourages growth in organic cotton production, too. Luckily, in addition to smaller indie retailers, select big names in the bed and bath game—West Elm, Pottery Barn, Bed Bath & Beyond, and Target to name a few—are doing their part by offering house lines of certified organic options. Below are a few safe suggestions, but if in doubt, the GOTS free public database is a valuable resource.
Note: As of right now, Bed Bath & Beyond, Pottery Barn, Target, and West Elm do not display the GOTS-certified badge or license number on product pages in addition to descriptions mentions (a big GOTS no-no, but we'll let it slide), so consider reaching out to customer service and asking for credentials. As a rule, companies are required to provide licensing information upon request.
Organic Mattresses
It's common knowledge that conventional mattresses—baby mattresses in particular—can be smothered in all manner of horrifying toxins, including polybrominated diphenyl ethers (PBDEs), or in layman's terms, flame-retardants, that can be subject to off-gassing and subsequently inhaled. (To be fair, all mattresses are required by federal law to meet the standard of fire compliance.) Organic mattresses that use organic wool—which naturally has fire-retardant qualities—or non-GMO high-performance polymer polylactide fibers (PLA, for short) to meet the government's standards are the safe, non-toxic way to go. If you have a little one, it is absolutely essential to invest in a non-toxic mattress (for the adults in the house, using an organic mattress cover is a good alternative to buying a new mattress, as normal mattresses aren't subjected to the same assault of chemicals).
As with textiles, the mattress industry is a minefield of inaccurate claims. Being that the "organic" label is the USDA-NOP's jurisdiction, and therefore only accounts for a part of the finished product, it doesn't guarantee a fully organic mattress. To ensure all components are in fact organic and don't include polyurethane foam, flame retardant chemicals, vinyl, phthalates, antimony, waterproofing compounds, formaldehyde, pesticides, or GMO's, look for ones that are GOTS-certified—not only does it guarantee a responsibly produced organic product, but since there are no toxic inputs used, toxic off-gassing isn't a concern. A few good online retailers that offer certified organic options are below:
Responsible Down
Goose and duck down is the fluffy filament tucked underneath the coarse exterior feathers that acts as the bird's built-in insulation system—but defining what qualifies as cruelty-free down is in many ways a matter of opinion. While the decidedly cruel method of plucking live birds has been outlawed in the U.S. and some European countries, the practice is still going strong in parts of the world where the majority of the down used in bedding and apparel actually comes from (the facts and numbers get very murky here). The alternative to live-plucking is collecting the down as a byproduct of birds grown for the fowl meat industry—here, the level of cruelty is measured by how the animal is treated throughout its lifetime, from hatchery, to farm (private or industrial), to market.
Sadly there is no scenario where the animal comes out unharmed, but some in the apparel/textile industry are making strides in unraveling, tracking, and hopefully, mending the complex supply chain, in which the welfare of the bird can be compromised at any point, be it in the form of force-feeding or overall compromising and distressing conditions. Patagonia was the first to come up with the Traceable Down Standard—a checklist of sorts outlining responsible sourcing and tracing methods to ensure birds are treated with respect every step of the way—and shared it with other down-sourcing companies in the hopes that they'd follow suit. Similarly, The North Face teamed up with nonprofit textile industry watchdog, Textile Exchange, to come up with the Responsible Down Standard, which gives companies the option to voluntarily certify their down products as responsibly produced with the animal's welfare in mind.
The brands below are committed to sourcing responsible-down pillows and comforters (and viable down alternatives like wool and micro-fill)—here's hoping more join their ranks!