The Annual 5-Day Detox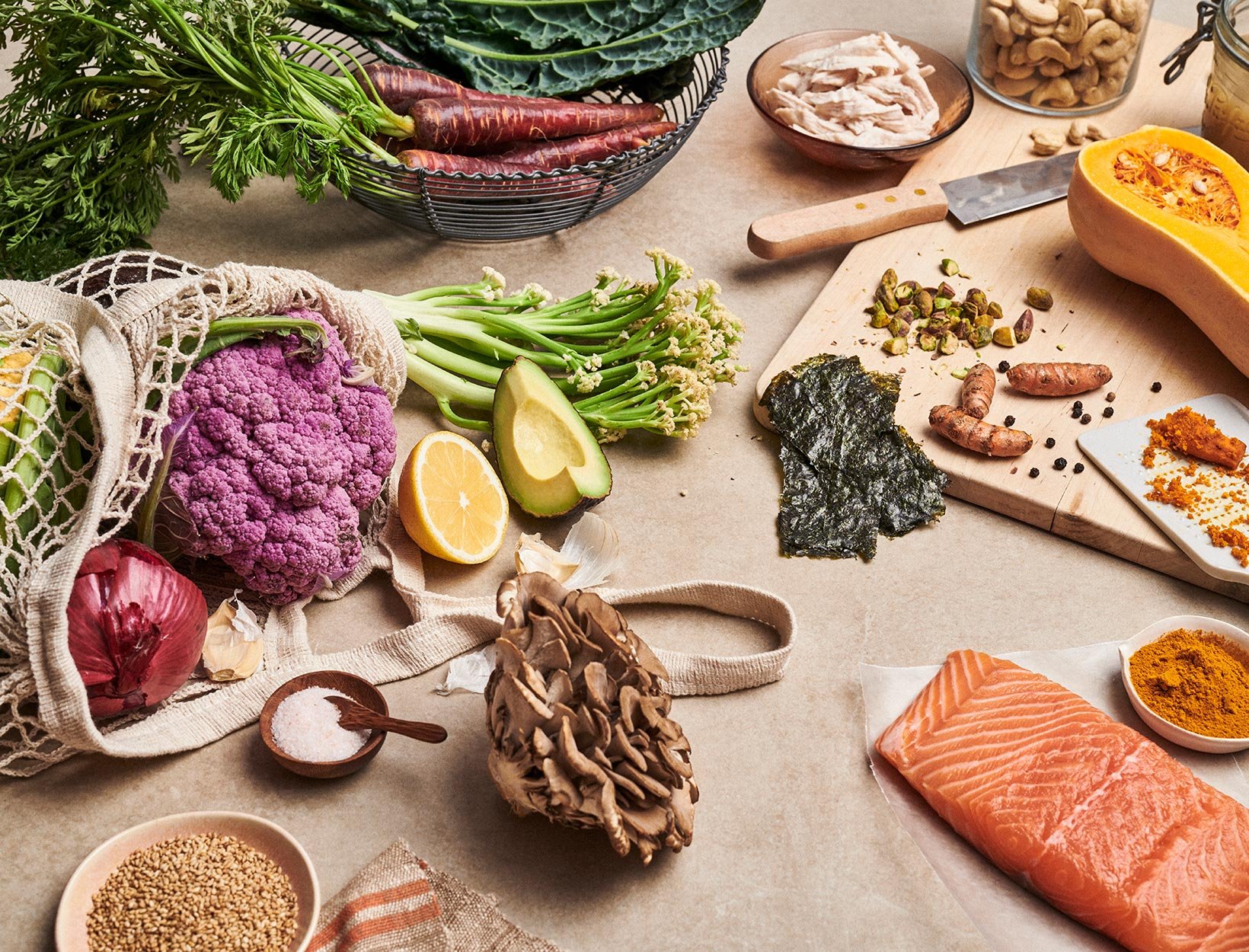 Twenty nineteen was an amazing year for food and drink here at goop, but it's a new year—a new decade—and what better way to kick it off than with our annual detox? As a refresher, this five-day cleanse is inspired by Dr. Alejandro Junger's basic elimination diet, outlined in the Clean program. For more of a refresher or for an intro to detox, see all the FAQs on cleansing that Gerda Endemann, our senior director of science and research, answered.
The heavy hitters we eliminate in this five-day meal plan are:

caffeine

alcohol

dairy

gluten

corn

nightshades (tomatoes, eggplants, peppers, potatoes)

refined sugar

shellfish

white rice

eggs and soy (although we'll use fermented gluten-free soy products, like miso and tamari, in small amounts)
But what we really want to talk about is what we've got here: a guide full of delicious, nourishing breakfasts, lunches, dinners, and snacks that, with a little planning and the help of your handy schedule and shopping list, should be simple to pull off. It's more fun to detox with a partner, so a lot of these recipes serve two—your spouse, roommate, or work wife can join in, and you should still have some leftovers to relieve you of cooking duties a few times throughout the week.
January is a good time to help our bodies catch up with detoxification—to give our detox organs a chance to rest and recover. It's a good time to think about removing environmental toxins where you can and to figure out whether particular foods cause problems for you.
One more important thing to keep in mind as you detox—possibly the best and worst buzz phrase of the 2010s—is self-care. That's the spirit of this detox. We hope you feel inspired and empowered to take some extra time to cook yourself food you'll love, soak in the tub, go for a walk, meditate, read a great book, do a face mask…just take time for you in some way. The goal is for you to be more in tune with your body, how it responds to the food you eat, and what it likes, dislikes, and needs.
That also means: Do your own thing if it's not feeling right. We set up a schedule of meals that we think is balanced and logistically sound, but if you still feel hungry after a meal, have some more so you feel satisfied and nourished. Our detox guide is not about deprivation, and it doesn't have to be prescriptive. There are lots of ways to make this experience your own.
Let us know what you're cooking, how you're doing, and how you're making it yours. You'll find us in the goop gang on Facebook or by using #goopdetox on Instagram.
P.S. If you're looking to upgrade or clean up your kitchen, also check out our guide to kitchen tools and detox essentials.
THE PLAN
SUNDAY
Grocery shop!
Roast your chicken. Here's the easiest no-recipe recipe ever: Get a 3-pound chicken, rub it all over with 1 tablespoon of salt (no oil necessary—the natural fat in the skin will render and keep the meat moist). Roast it in a 425°F oven for 1 to 1½ hours, until the internal temperature reaches 165°F and the juices run clear.
Make the Red Curry Almond Butter Dip.
Make the goop Gorp.
Monday
First thing: warm lemon water
Breakfast: Pumpkin Spice and Greens Smoothie
Lunch: Lettuce Cups with Chicken, Kelp Noodles, and Red Curry Almond Butter
Snack: goop Gorp
Dinner: Chicken and Cauliflower Rice with All the Herbs
Prep for tomorrow: Roast your sweet potato for tomorrow's breakfast.
Tuesday
First thing: warm lemon water
Breakfast: Sweet Potato Two Ways
Lunch: leftover Chicken and Cauliflower Rice with All the Herbs
Snack: Red Curry Almond Butter Dip and veggies (cucumber, carrots, radish, and snap peas)
Dinner: Roasted Veggies with Black Pepper Sauce
Prep for tomorrow: Make the bone broth for tomorrow morning's Breakfast Broth and the Greener Goddess Dressing for tomorrow's lunch.
WEDNESDAY
First thing: warm lemon water
Breakfast: Breakfast Broth
Lunch: Crunchy Salad with Greener Goddess Dressing
Snack: goop Gorp
Dinner: Slow-Roasted Salmon with Shallots, Garlic, Coriander, and Lemon
Prep for tomorrow: Make the pesto for tomorrow's lunch and roast a sweet potato for breakfast.
Thursday
First thing: warm lemon water
Breakfast: Sweet Potato Two Ways
Lunch: Pesto Kelp Noodle Salad with Arugula
Snack: Greener Goddess Dip and veggies
Dinner: Creamy Cashew and Butternut Squash Soup
Prep for tomorrow: Make the Toasty Nori Crisps.
FRIDAY
First thing: warm lemon water
Breakfast: Pumpkin Spice and Greens Smoothie
Lunch: leftover Creamy Cashew and Butternut Squash Soup
Snack: Toasty Nori Crisps
Dinner: Vegetable Moo Shu
FOR PLANT-BASED EATERS
Every year we hear from people requesting a more vegan-friendly detox. This year, we made a separate three-day plant-based reset, and we tried to make this five-day plan more veg-focused. There are some recipes with chicken and salmon—below are suggestions to easily make them vegan.
Breakfast Broth
Skip: the chicken carcass.
Add: 8 to 10 dried shitake mushrooms.
You won't get the collagen in the plant-based version, but you can still get a deeply rich and comforting broth.
Lettuce Cups with Chicken, Kelp Noodles, and Red Curry Almond Butter
Skip: chicken.
Add: ½ sliced avocado for healthy fats and 1 tablespoon hemp seeds for crunch and extra protein.
Chicken and Cauliflower Rice with All the Herbs
Skip: chicken.
Add: 2 cups frozen or fresh peas for protein and fiber.
Slow-Roasted Salmon with Shallots, Garlic, Coriander, and Lemon
Skip: the salmon and the thinly sliced lemon.
Add: 1 16-ounce can cannellini beans for protein, iron, and zinc.
This is the only recipe where the directions will change when you veganize it; follow these updated instructions:
Place the shallots, garlic, coriander seeds, and olive oil in an oven-safe skillet. Heat the pan over medium-low heat for 5 to 7 minutes, until the oil starts to sizzle and the shallots and garlic become fragrant and golden. Remove them with a slotted spoon to a paper-towel-lined plate.
Carefully add a well-drained can of beans and a pinch of salt to the infused oil, and let simmer for about 10 minutes. Then add the spinach, folding it in until just wilted. Spoon the beans-and-greens mixture over brown rice or quinoa and squeeze fresh lemon over the top. Top with the garlic-shallot-and-coriander-seeds mixture for some crunchy texture to go with the creamy beans.
BREAKFAST

This smoothie is creamy and spiced—reminiscent of pumpkin pie—but thanks to the spinach, almond butter, and pumpkin purée, it's a filling, nutrient-dense on-the-go breakfast.

Starting the day with bone broth can feel so comforting, and making a base broth early in the week takes most of the work out of it. Before serving, all you have to do is fortify the broth with some incredibly flavorful mix-ins, like miso and turmeric, making it that much more satisfying. It may be called breakfast broth, but it's also great to sip in the afternoons, so feel free to work it into your snack routine during your detox.

You can have it sweet and savory: We think the sweet potato tastes as delicious prepared with tahini, dates, and pepitas as it does topped with avocado, red onion, and cilantro. Baking the sweet potato the night before makes this quicker to prepare in the morning—warm it back up in the oven and finish with the toppings.

LUNCH

We love a lettuce cup—it's a great vehicle for all types veggies and protein. This version has a bit more heft because of the kelp noodles, and the addictive sweet-savory almond butter sauce rounds the whole thing out.

Sure, a salad for detox doesn't sound very original, but this one keeps it interesting. Start with super hydrating and crunchy veggies like cucumber, snap peas, and fennel; add in some protein; and finish with a garlicky, herby dressing. It's simple but so not boring.

If you're wary of kelp noodles, this recipe is a great place to start. They have almost no flavor, which really lets the pesto shine here. And they have a pleasant chewy texture that, along with the fresh arugula, is a nice foil to the richness of the sauce.

DINNERSNACKS

As addictive as potato chips, but so much better for you.

Doing the goop five-day detox requires that you cook a lot, so we wanted to include plenty of recipes that can be used in multiple ways, with multiple meals. In addition to being delicious with crudités and seed crackers, this year's dips also double as dressings and sauces to be used throughout the week.

Trail mix is only as good as the sum of its parts, which is why we packed this version with gems like pistachios, cherries, chocolate, cashews, and cardamom. Finishing with flaky sea salt makes the salty-sweet combination sing.