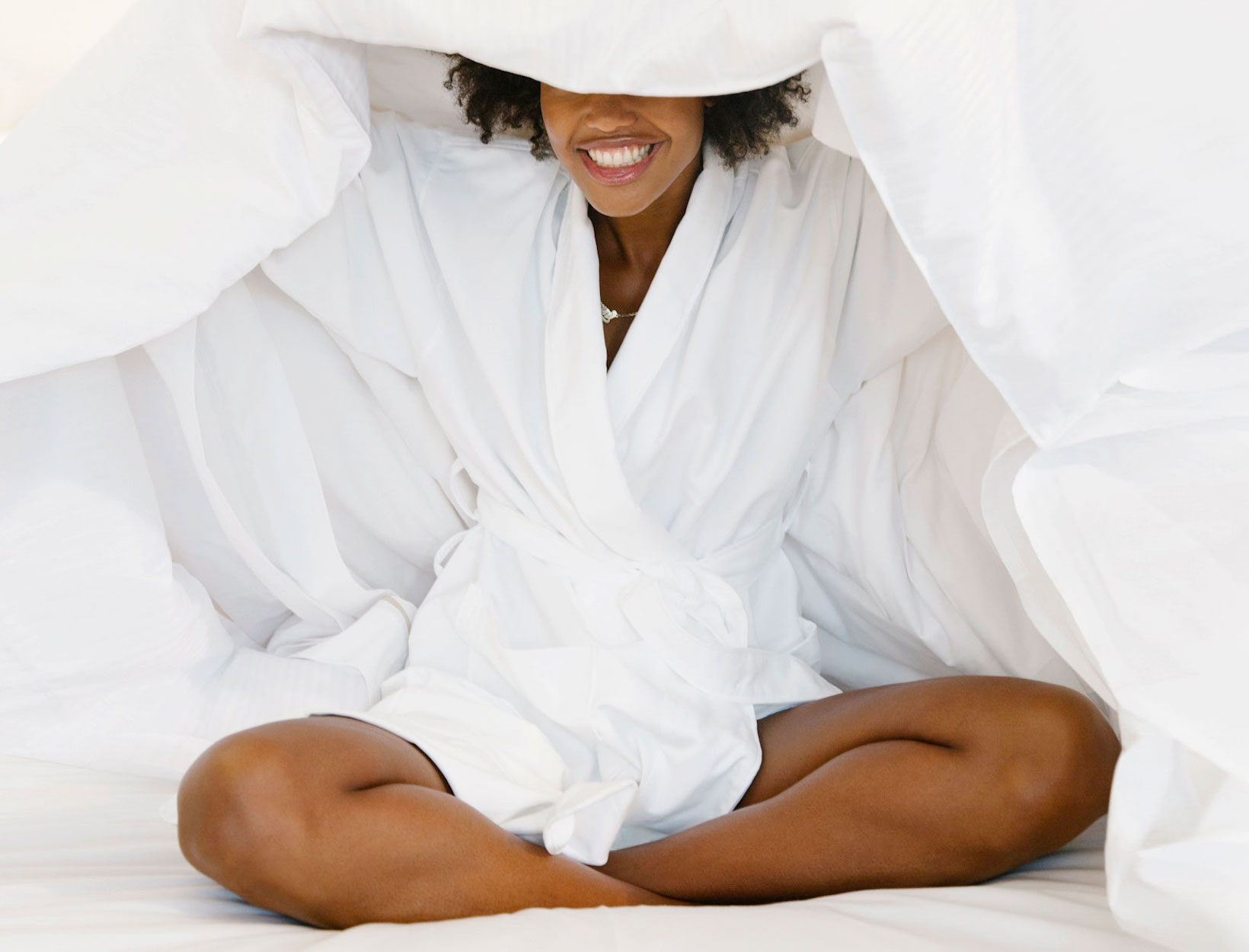 11 Ways to Streamline Your Morning
Alarm rings. Sun salutations optional but encouraged. Shower's capped at five minutes (because you're saving the earth but also who has the time?). Five minutes in the closet if inspiration hits…fifteen if not. Six minutes with your blender. All while ushering the kids, if applicable, from bed to breakfast to backpacks to bus stop. Phone, wallet, keys. And you're out the door.
Mornings don't leave much time to deliberate over, well, anything really. But set up your environment just right and moving at lightning speed feels a little more blissful, powerful, grounded. When you don't have the luxury of paying attention, these are the things that do it for you.
1

Shower Power

A not-so-fun fact: Your showerhead accumulates all sorts of unpleasantness, from bacteria to mold to grime. Significantly more pleasant: Cleaning your showerhead doesn't have to be hard. Just check out Shower Clear's sleek, easy-to-install, self-cleaning head. It pops open and dries naturally after a shower, discouraging the accumulation of mold (it's also incredibly easy to clean). 

2

Wake-Up Call

Some call it morning magic. Others call it a sense-awakening, plant-based blend of ashwagandha, ginger, pepper oil, and green tea that not only invigorates the body but leaves it feeling utterly refreshed and ready to handle the day. We call it G.Day.

3

Clean Sweep

It's a well-known fact that we're big fans of dry-brushing. After all, how many brushes can consider themselves bona fide morning detox essentials, good for everything from sweeping away dead skin

cells to invigorating the skin? We know of one.

4

Worth Its Salt

Exfoliating is one thing. Scrubbing down with the power of five mineral-rich salts—Himalayan pink salt, Dead Sea salt, Celtic Sea

salt, New Zealand solar salt, and Epsom salt (plus cold-pressed moringa, pure unfiltered rose hip, and organic extra virgin olive oils)—is quite another. The salts sweep away dead skin cells, the holistic blend of essential oils softens, and the velvety-smooth hydrating finish that follows feels like a gulp of water for thirsty skin.

5

Get a Drip

If bath mats were to choose a representative to best illustrate what an exceptional bath mat is supposed to do, Sasawashi would be it. It's highly absorbent, no-slip, and made out of organic plant-based fibers—it checks every box imaginable. Plus, the soft, textured Kumazasa feels like a much-needed mini massage for post-shower feet.

6

Hang Me Out to Dry

Towels can get gross. As in bacteria-and-mildew-level gross. Nutrl doesn't make those kinds of towels. We'll explain: They're soft, absorbent, and—wait for it—naturally self-cleaning. That's because every towel Nutrl makes is done in an antimicrobial fabric that fights funk without sacrificing any of the face-plant-worthy softness you want from your towels.

7

Smooth Operator

You'll love it for the genius, preprogrammed buttons (hi, 6 a.m. Ayurvedic smoothies), but it's the hushed, won't-wake-up-the-whole-family noise-canceling cover that'll make it a morning mainstay. It'll even keep the finished product in a vacuum-sealed tumbler until you're ready to enjoy.

8

Got Juice?

It pulses. It strains. It milks. You could say Kuvings's magical juicer handles it all. From a full bunch of celery (Medical Medium's celery juice, anyone?) to whole fruit (which makes making a fresh glass of juice in the morning about a million times more efficient) to homemade almond milk. It'll even purée baby food.

9

Smooth Start

If it's an extra kick in the a** you're after, simply follow our boss lady's lead. Her adaptogen-packed smoothie is loaded with good-for-you ingredients—like maca, ashwagandha, and cordyceps—that not only taste amazing but give your morning coffee a run for its money.

10

Go for the Gold

Sprinkle it into your smoothie, mix it into a morning latte, gently dust it over your toast—Countertop Foods' turmeric-infused breakfast blends are the gold standard for morning mealtime. The "gold" in "Golden Breakfast" is a reference to turmeric: It gives whatever you add it to a pretty, sunshiny tint.

11

In the Clear

Stove-top-, microwave-, and dishwasher-safe, this meticulously made glass teakettle is German workmanship at its finest. It's durable, heat-resistant, and made to withstand sudden changes in temperature (plus, the minimalist design is so elegant).