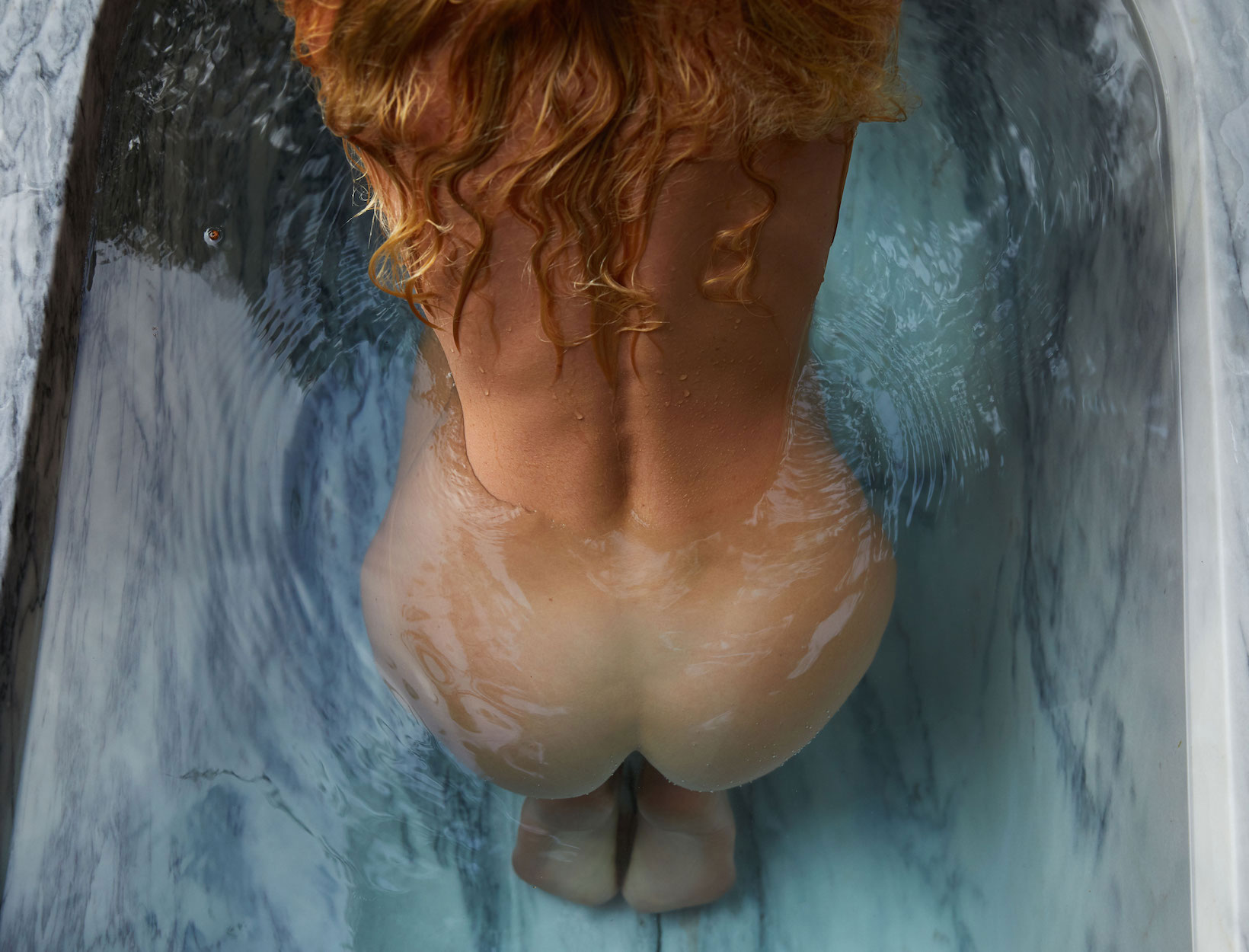 Photo courtesy of HOUSE SEVEN design+build
11 Clean Ways to Wind Down
We're all guilty of sometimes not calling it a day (i.e., shutting down the laptop) until somewhere around 11. Sometimes 12. Your sleep coach, if you had one, wouldn't approve. There are, however, certain things that will make your wind-down routine the stuff of dreams: twenty minutes luxuriating in the bath, a little aromatherapy, and something to keep your toes warm as you shuffle to the kitchen for a (clean) late-night snack. Put them all together and you've got a fail-safe formula for a better bedtime.
1

Wine Down

Indulging in a nightly glass of red needn't be a guilty pleasure. A decanter and filter in one, the Ullo wine purifier makes a clean case for sharing a bottle with your SO (or roommate, or mom). Not only does its tech-savvy Selective Sulfite Capture filter out sediments; it has an aerate option, too, restoring wine to its straight-from-the-vineyard state. Best of all, no decanter is needed—it fits right on top of virtually any glass.

2

Cocktail Hour

Because bath time is the new nightcap. Disclaimer: Just a whiff of this cocktail in a warm tub can have you down for the count before you know it. (You've got Epsom salts, sandalwood, valerian root, and spikenard to thank for that.) In our humble opinion, a good bath helps melt away any lingering stress or built-up tension, lulls you into a Zen-like state, and is simply a seamless way to dive deep into some undisturbed REM.

3

Moral Fibers

There are few better ways to draw a clean slate than trading out your well-loved towels for a brand-spanking-new GOTS-certified organic set. Thanks to The Graces, the gang's all here: two bath towels, two hand towels, two washcloths, and one bath mat. P.S. Those dense, twisted, made-in-Turkey yarns get more and more absorbent with every wash.

4

There's
the Scrub

After a long day, supercharge
your shower with this charcoal-
infused towel. Generously sized to
target hard-to-reach spots, like your back and shoulders, its blend of plant fibers—of the organic Kumazasa variety—delivers next-level exfoliation. Did we mention that the two-tone textile, made in Osaka, is a treat to look at?

5

Big Night In

When you can't go to the spa, at least you can have the robe at home. Easing the bathtub-to-mattress shuffle, this gauzy, waffle-y, never-taking-it-off twist on your classic wrap. What sets this one apart is that Coyuchi's pretumbled its organic cotton fabric, so the robe feels like a warm embrace from the first time you cinch the belt.

6

Toasty Tootsies

If you're not the kind of person who reaches for cozy clothes the minute you get home, these plant-based slippers are a luxe reason to give it a go. While you'll love the understated design of these traditional Japanese house shoes, you'll lean on the fact that they're super breathable and finished with a faux-suede sole for traction.
7

Tea'd Up

Dates lend a little sweetness to this frothy cup of ahhhhhhhh. Totally clean and deliciously nourishing, this tonic is the brainchild of LA-based holistic nutritionist Elissa Goodman. Gynostemma, a long-revered tea from Japan, when combined with Sun Potion herbs, aromatic spices, and nutty almond milk, tastes fantastic. Say bottoms up to a warming cup—adapted from Goodman's five-day S.O.U.P. cleanse—just before bed.

8

SWEET DREAMS

Choose your own adventure:
Delicately spritz, or cocoon
your whole bed. Designed to
soothe the body and mind,
this dreamy rose-lavender-chamomile spray makes your pillow a more peaceful place to drift off. Take it on the road, in-flight, whenever you need some extra reinforcement—it's a luxurious and convenient way to wind down.

9

SMILE,
SUSTAINABLY

Ease your plastic guilt and replace your toothbrush. Don't let this pretty mao bamboo one fool you: Those natural bristles are no less hardworking than the drugstore variety, so they get the job done and are completely biodegradable and BPA-free. In other words, cleaning your pearly whites is made even cleaner.

10

Breathing Easy

This activated bamboo charcoal cube will prompt guests to ask, "Who's the artist?" It's bite-size—with no cords or wires—so it works best in bedrooms, bathrooms, closets…even the fridge.

11

Sleep Coach

Better sleep hygiene is a reasonable New Year's resolution. Implementing it is a different story. Stay on top of your sleep cycles with tech that actually belongs in the bedroom. SleepScore Max tracks your sleep patterns and logs nightly hours (without your having to wear anything or sleep with a phone by your head). Need some accountability to stay motivated? Monitor progress via the app, set goals, use the "smart alarm," and get real-life recommendations on how to get better rest each night.