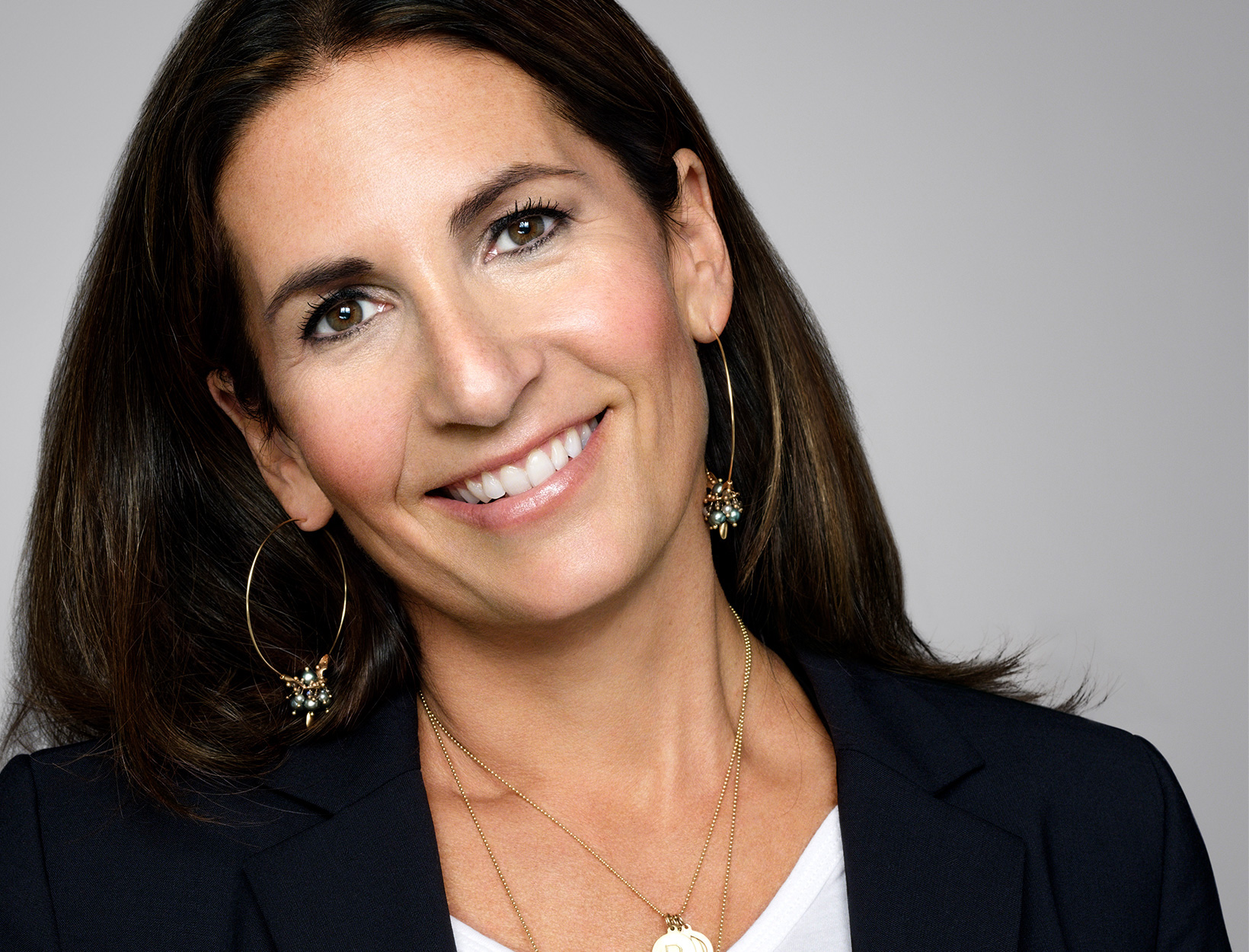 You Don't Look 60…And Other Stories: Bobbi Brown on Changing all the Time, at Every Age

Makeup before Bobbi Brown was paint, or it was spackle: You were either tarting yourself up, hiding something awful, or both. When the makeup artist introduced her ten original lipsticks in 1991, she changed the world with her confident, skin-is-beautiful approach. Makeup hadn't been designed by makeup artists, previously; her colors were chosen because they flattered real skin, not because they looked good in a compact or conformed to the particular color trend of the season.
More than two decades, nine bestselling books, and a billion-dollar brand later, Brown looks much the same as when she started—glowy, bright-eyed, shiny-haired, slim, vibrating with energy—though she just celebrated her 60th birthday. She's been married to her husband Steven Plofker for 30 years; their three sons are now in their twenties. Brown left "Bobbi Brown" at the end of 2016, and could doubtlessly afford one of the more luxurious retirements in existence. Instead, she's hard at work: There's a new, stunningly Instagrammable, 32-room hotel, The George Inn, in her hometown of Montclair, NJ; a website called JustBobbi about to emerge, and a new wellness venture happening this spring.
In the spirit of female friendship (a la Netflix's Grace & Frankie), she talks to longtime friend and goop beauty director Jean Godfrey June about getting older—which, like anyone's story of getting older, is the story of how she got to where she is today:
A Q&A with Bobbi Brown
Q
First of all, are you actually 60? How do you stay so…vital?
A
The thing is, my mind still thinks I'm 32 in all sorts of ways. I love to move. Moving my body makes such a huge difference in how I feel—I don't have an age when I'm in the middle of exercising. Moving to hip-hop, disco, kickboxing, bootcamp—whatever it is, if I'm moving, no age.
"The thing is, my mind still thinks I'm 32 in all sorts of ways."
Last weekend, my husband and I—we've always loved exercising together and he's still this jock-athlete at 60—tried a new spin class, the kind where they put how you're doing up on the wall in front of everyone? I was happy that at least one person came in after me—I was in 39th place, not 40th, thank God. We were both like, "What's up with this?" Now we have a goal!
I do wish I would've done more of that when I was 30—you get older and you have to be more aware of injuries—though I guess injuries happen at any age. You just have to be careful.
Q
What about your makeup—has your routine changed?
A
My makeup has definitely evolved as I've gotten older—at the same time as I've also gotten healthier. The healthier I get, the better my skin is, and the less makeup I think I need. I've discovered someone my age doesn't need foundation, actually. (The exception is TV—I wear a little to even my skin tone, but only for high-def. Digital TV is actually incredibly forgiving. I still need brightness under my eyes, a wee bit of definition in my brows, and a little blush.) Though when I use face oil on my skin, I swear it makes a little natural blush come out on its own. I'm not even into lip color at the moment—I have this clean peppermint lip oil I love, and that's enough for me.
I tried lash extensions—they were good for a few months, then all my lashes broke off, so, no. I've been experimenting with lash serum instead. I use clean makeup wherever I can and seriously experimenting with that on goop, at Shen Beauty in Brooklyn, and at wellness shops across the country. I love RMS. Honestly, I'm having so much fun playing the field!
"The healthier I get, the better my skin is, and the less makeup I think I need."
Q
You're famously into skincare; how do you feel about plastic surgery/dermatology? And what about diet vis a vis skin and aging?
A
I think the PICO laser at the dermatologist is brilliant: It doesn't hurt, it's quick, there's no downtime, and it's made my skin really, really even. I don't shoot things into my face—I'm not saying my way is for everybody, but I look in the mirror and I see my lines, and I go, okay those are my lines—then I put on some moisturizer and that's that. And I feel lucky to have a man who appreciates me the way I am.
I'm also lucky that I don't have too many lines yet. I think aging is of course what genetics gave you, but also lifestyle—I notice a serious difference in my face when I'm stressed. I don't eat sugar, but my espresso and vodka—no one's touching that. I drink lemon water before I have coffee, for the alkalizing, and I've been experimenting with drinking green juice before alcohol. The other thing I swear by before going out (no matter where I'm going) are Gigi crackers—they're from something called the F-Factor Diet, and they're full of fiber so you don't get that crazy blood-sugar-drop starvation at a party or a restaurant. It keeps you from touching bread—it's like delicious cardboard.
I'm constantly curious—I'm a seeker. I try everything. I tried Bulletproof because it sounded great, but I'd consume 450 calories worth of fat in my coffee and I was still hungry—so that didn't work (for me). So I went Paleo—that didn't work, either. I try, and I figure it out. What's working for me is Intuitive Eating. It doesn't make me feel bad because I had cottage cheese, or I had really good French bread in the best bakery. It's my body, my health, and I know best. I'm open, though!
Q
Does a life spent in the beauty industry make aging more difficult to deal with on a personal level?
A
I've spent a whole lot of time with really gorgeous women, and worked to make them look even more gorgeous for pictures. I mean, Victoria's Secret models—they're freaks of nature. I never got involved in comparing myself to that. People are all lying out in bathing suits at the Soho House, meanwhile, I'm comfortable in my skin with some J. Crew short-shorts and a t-shirt—that's what I look and feel good in.
"I'm comfortable in my skin with some J. Crew short-shorts and a t-shirt—that's what I look and feel good in."
Q
Who do or did you look to in terms of someone who's aging well?
A
It's really important to have role models in terms of what aging can be! I remember being about to turn 30, and OMG, there was this cover of Rolling Stone with Debra Winger looking up at the sky with these beautiful crows' feet—I was like, "Oh my god, I could do that." And even earlier, I remember watching Goldie Hawn, running around being a mom with these two little kids, holes in her jeans, just the coolest mom, and I was like, "Okay, I could do that."
I've been hosting some Facebook Lives since I left the brand, interviewing people, and I had this one woman on—her name is Bobbe, believe it or not, and she's 101-years-old, lives alone, tall and skinny, has a glass of wine every night. She tells me: "My life didn't start until I was 90: All of a sudden, people would stop me to take my picture, wanting to know what I was doing…" The day we were together, she opened up an Instagram account, not kidding. Even just walking across the studio, she was walking faster than everybody else. She's just so happy—her secret is clearly always seeing the glass half full.
Q
How has your perspective changed as you've gotten older?
A
There's some confidence that comes with age. You know who you are. I'm five feet tall, and I wear sneakers, but if I wear high heels, I've now realized—I'm still five feet tall. What did that person say? It's okay to be you because everyone else is taken?
I mean, I've always been there to talk to women about self-esteem, about looking like yourself, not some ideal. So I'm not 40-years-old anymore, that's okay. Damn, I'm not even 50-something at this point! But I feel good and I look good.
Q
What's hard about aging?
A
The tough things, you just gotta deal with them—if your body is generally achier than it was previously, or if it's harder to keep the weight off. When I was 30, I'd just go on a cleanse and starve myself if I was gaining weight; that just doesn't work for me anymore.
My solution now is to have a closet that has different sizes in it. I'm a small person, so I'm healthy at a size two. But because size two actually means a bunch of different sizes, I have a bunch of different-sized size-two skinny jeans in my closet. I leave the ones that don't fit inside-out until they eventually fit again. I refuse to get a bigger size, and I don't beat myself up about which jeans are currently inside out.
My hair is not as thick as it used to be—somebody recently told me white hair is thinner than regular—so I keep it nice and trimmed. I'm on set all the time with all these amazing hairdressers, and my favorite one showed me these tape-in extensions—they make the bottom of your hair thicker, which is exactly what I need.
Q
You've been married for a long time—how does that affect your perspective on aging?
A
I'm really lucky. We all fall in love with someone, but sometimes people just fall out of it. It hasn't been all rainbows and unicorns, but in my gut, I was in love with this man, and we've created businesses together and sold business together—I adore and depend and count on him, and I know he feels the same way about me. Some things are not worth fighting over. "I'm sorry I upset you" is a powerful phrase. It doesn't mean you're wrong, necessarily, but now I know what upsets you and I'm going to try not to do it again.
"I'm sorry I upset you" is a powerful phrase. It doesn't mean you're wrong, necessarily, but now I know what upsets you and I'm going to try not to do it again."
Q
You've had an enormous level of success. Does working keep you engaged—even after succeeding way past what you might have expected?
A
I'm a serial entrepreneur—I know there's always some interesting way to make things better. I love my Rimowa suitcase—if I could, I'd work with that company and make it even better. That's just where my mind goes. I love making sh*t up! That's what it's about for me—what keeps me engaged.
When I sold the brand, I stayed on for another 22 years. But what I enjoyed most was the creating, the not-knowing, the notebook of blank pages. The less-fun part was the hitting the marks, pleasing other people—the parts where it's no longer creative.
Leaving the brand was the right thing—I was done. I had no idea what I wanted to do next, so I said yes to everything at first. Nothing is just not worth doing! You meet people when you start trying things, you create all of these new relationships, and something has to come of it. It's been very organic.
"Leaving the brand was the right thing—I was done. I had no idea what I wanted to do next, so I said yes to everything at first."
So now I'm back to the creative part: I attacked creating a hotel the way I attacked cosmetics, and I'm attacking my new wellness project the same way. As an inventor/entrepreneur, I like to make things better, simpler, more interesting. For the hotel, it was about enhancing someone's life when they're traveling. It's the first project my husband and I have ever done together. A 32-room hotel, all lifestyle-inspired and hopefully, inspiring (see @thegeorge_inn)! And it's a one-off—I'm not doing a chain.
Q
How do you measure success at this age, at this particular point?
A
I've built a billion-dollar brand, I don't need to do that again. I define success now differently than when I was younger—there was definitely a dollar amount involved back then. In retrospect, a happy marriage and three well-adjusted, good men that I raised, good friends, not a lot of angst, and being open for something cool and interesting to happen—that's success.