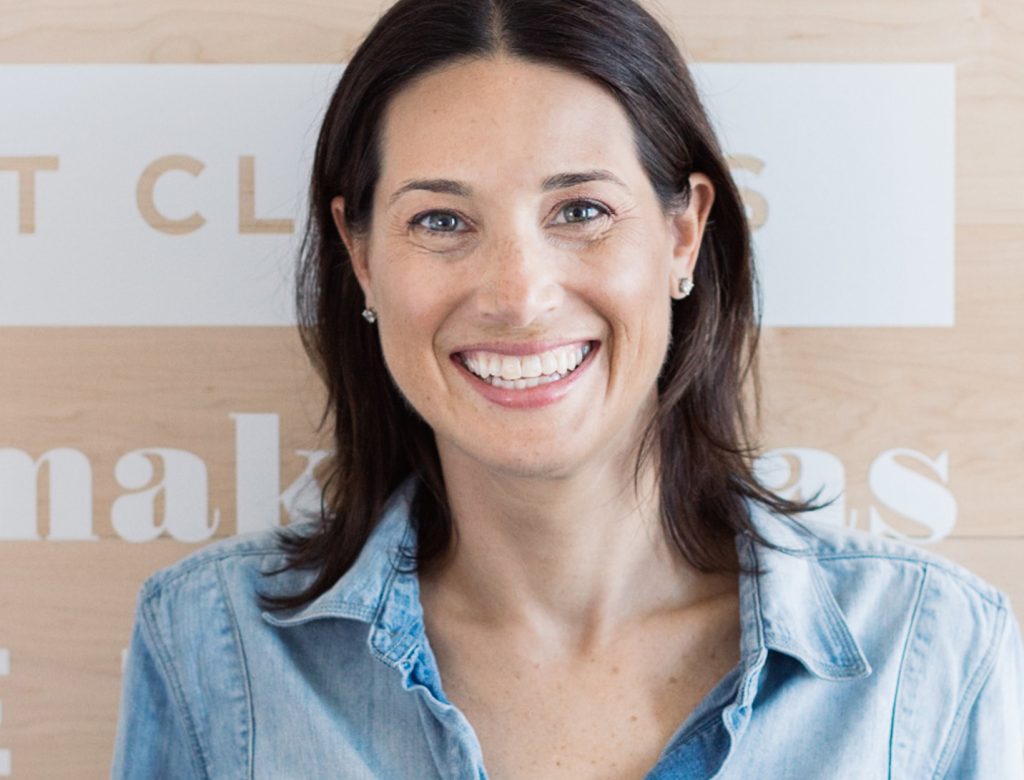 Creating a Culture of Empowerment
Creating a Culture of Empowerment
In partnership with our friends at

It was 1969. A man named Don Fisher was searching for the right pair of jeans. He wasn't alone: A lot of people wanted more denim in their lives. But a lot of people did not open up their own store, which is exactly what Fisher did. He split the costs of the venture with his wife and business partner, Doris. The two of them invested the same amount, dollar for dollar. But it was Doris who came up with the name. And so The Gap was born.
Fifty years later: The company grew a family of iconic brands, like goop kid favorite Old Navy. And as the Old Navy crew will tell you, they were built on the ethos of the Fisher founding story—equal partnership, equal seats at the table. Old Navy's original manifesto begins "Imagine that the world runs right." It's not just talk. Old Navy's current composition is a mic drop: The team is 71 percent female at the executive level, and 79 percent female throughout the entire organization. (More than a quarter of Old Navy's female VPs started in the company's stores.)
Which brings us to Jamie Gersch—Old Navy's chief marketing officer and a Gap Inc. veteran of seventeen years. As CMO, Gersch has pushed the brand to honor its manifesto and empower women, both within the company and outside of it. Our chief content officer, Elise Loehnen, interviewed Gersch about the importance of mentorship, building a safe workplace, and helping women climb through organizations. Their conversation was as interesting as it was inspiring. We've edited and condensed it here, but listeners can catch more of it on The goop Podcast (tune in to our episodes on March 5, 7, and 12).
A Q&A with Jamie Gersch
Q
Has the female-dominant work space at Old Navy been fairly consistent in your time there or do you just see an increasing number of women leading at Old Navy?
A
I think it's been fairly consistent. Over my seventeen years, there have been women in leadership positions from the very beginning. I started at the very bottom, and I remember seeing these women as role models in leadership positions from day one. The other amazing statistic is that about 26 percent of our female VPs got their start in Old Navy stores. So not only are we making sure we have representation at the leadership level and in the employee base in total; we're also promoting the idea of upward mobility throughout the organization—whether you want to run part of the field organization or you want to go from working in a store to coming to work at headquarters. It has been part of the culture from the very beginning and continues today.
---
Q
Did you have any mentors along the way who helped you imagine the role that you are in now?
A
One person who really inspired me was a woman by the name of Kyle Andrew, who is now the CMO of American Eagle and Aerie. She used to bring her son to our office all the time, or she would leave early because she needed to go do something for her kids.
But it was this idea that kids are welcome in the environment or that if you need to leave to do something for your child, it's totally acceptable. I'm committed to paying it forward as a role model for young women throughout the corporation today so they can see that I have three kids, I take them to games all weekend, and I still have this amazing career, and I'm as passionate about driving this brand and business as anyone else.
---
Q
Where do you feel like work still needs to be done to make the workplace a welcoming environment for all?
A
I'm fortunate to work at a company that lives and breathes this, but again, no one is perfect, and we are constantly working to make sure that we do reflect what we believe. Gap Inc. was the first Fortune 500 company to validate that we had equal pay back in 2014, and we continue to do that to this day. There are newer areas, like unconscious bias. We have just put into place programs that we are encouraging all of the organization to go through because a lot of the bias is truly unconscious, and people don't realize that it's happening. Helping people understand how to interview equally, how to treat people equally—whether it's on the basis of gender, age, race, or anything else—has become an important value, in and out of the fashion industry.
---
Q
Is there a moment in your career that you're most proud of?
A
I am proud of where I am today, of course, and I've had many proud moments over the years, but I have to say last International Women's Day was one of the best for me. If you missed it, last International Women's Day, we were celebrating our floral dress collection, and we believed in this idea of "flower empowering" women everywhere. We went into New York City where, unfortunately, out of the 150 historical statues in New York, there are only 5 that represent historical women. We decorated all 5 in flowers, plus the Fearless Girl statue down on Wall Street. It was this amazing moment, both personally and for the brand, of really representing what we stand for and the belief that women should feel empowered every day.
I woke up early that day and I saw a picture of the fearless girl statue with a floral cape on and young girls staring at it as they walked the streets of New York. I recognized the power of this brand and the power of change for good that we can have. And the conversation we can start out in the world by taking our internal beliefs and turning them into externally facing messages. I saw the picture from the team in New York, and tears started streaming down my face.
---
Q
Is there anything that's coming up that you're really looking forward to building or taking on?
A
Old Navy will be celebrating our twenty-fifth anniversary this year. Without giving too much away, I think International Women's Day really showed me the power that this brand can have in starting a conversation and knowing that this brand has been so connected to promoting inclusivity and making sure everyone feels welcome no matter what your age, size, race, or gender is. We are excited to be able to come out again and make sure that the brand is making a statement and really showing what we can do.
---
Q
Is there any piece of advice you would give your twenty-two-year-old self?
A
I would say try it all. I think being open to different opportunities—being able to say, "I'm just going to go try that, and if I don't like it, I'm going to try something else"—is what has gotten me to where I am today. Making sure that I didn't stay stuck in one area gave me breadth of opportunity. As did the knowledge that the world is constantly changing—whether it's the outside world, the retail world, the fashion world.
---
Senior vice president and chief marketing officer Jamie Gersch leads Old Navy's global marketing team. A seventeen-year Gap Inc. veteran, Gersch most recently rejoined Old Navy after serving as the CMO of Charlotte Russe. Previously, Gersch served as vice president of marketing at Old Navy, and she spent twelve years at Gap, building the brand and leading marketing campaigns across all divisions, from strategic planning to creative execution.