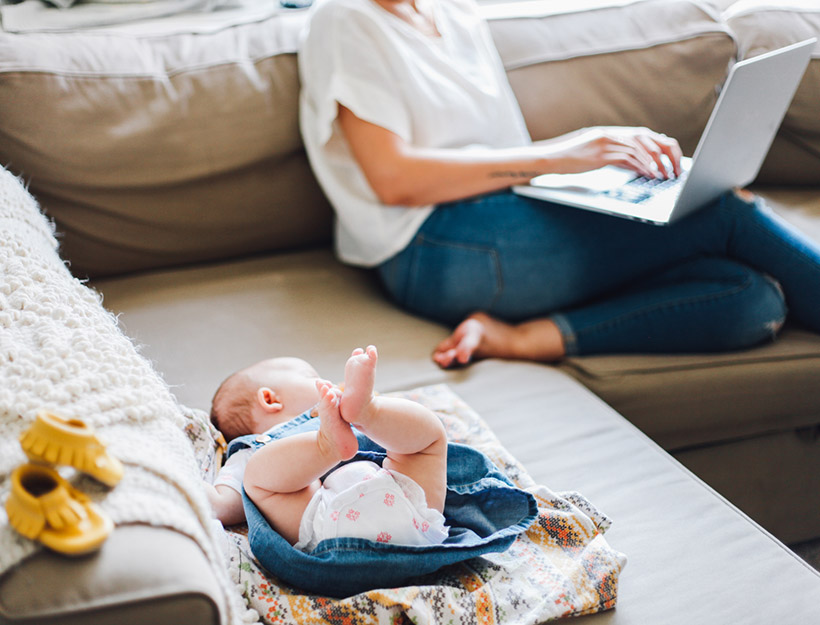 Why We All Need Family Leave
We live in the only developed country in the world with no paid maternity or family leave, and it's just got to change. Jessica Shortall's TED talk on the topic blew us away; her book, Work, Pump, Repeat: A New Mom's Guide to Surviving Breastfeeding and Going Back to Work, made us even more determined to get involved. A member of U.S. Senator Kirsten Gillibrand's advisory committee on this issue, the Dallas-based mom points out the myriad ways this lack of basic human support shortchanges not just women, but the entire society. Here, she shares how to navigate what exists now, great news on progress being made, and what a truly fair future might look like:
A Q&A with Jessica Shortall
Q
Why is it important to society that we make it easier on women to balance work and motherhood?
A
There are so many reasons, and they're so intertwined, that it's hard to find the space to list them all. Know I'll try to be brief. As you read these, remember that, right now, 23% of new, working mothers are back on the job within two weeks of giving birth—two weeks! And only 5% of low-wage workers get any paid maternity leave. Yet women make up 47% of the workforce.
Economics for the employee: Paid leave—or lack thereof—is a major factor in the ongoing wage and wealth gap between women and men. When new mothers do not have paid leave, they are more likely to drop back or drop out of the workforce, affecting their lifetime earnings and pension benefits.

Economics for the employer: Paid leave increases retention and reduces turnover of workers, which saves employers up to one-fifth of an employee's annual salary. Also important is the small business owner's ability to attract and retain talent. When a small business goes up against a big corporation for the same talented worker, a paid leave program can level the playing field.

National economics: Families with paid leave are less likely to go on public assistance, like food stamps, in the year following a birth.

Public health (which is also an national economic issue): The shorter a woman's maternity leave, the greater the likelihood that she will suffer from a postpartum mood disorder. Suicide is the second most common cause of new mothers' mortality in their first year. Babies whose parents have paid time at home are more likely to get their well-checks and vaccinations, and they are more likely to be breastfed.

Moral and ethical: For all of human history, we have viewed childbirth as a major life event for a family, one necessitating societal support and time for rest, healing, and bonding for mother and child. This is Humanity 101, and we cannot ignore it without all suffering terrible consequences.

Men matter: When policies focus on women only, they can unintentionally open women up to job discrimination. And women-focused policies reinforce the cultural assumption that it's only women who should step away from work when family needs call. At the same time, women-focused policies deprive men of the opportunity to participate fully in family life, from bonding with a new baby to caring for ailing parents at the end of life. We need a cultural shift that allows and encourages all workers to be active caregivers in their families.
Q
What is the current state of affairs on paid family leave in the U.S.? Which states provide the best options and which are the furthest behind?
A
The current state of American paid leave is, in two words, shameful…and promising.
On the shameful front: We are the only developed country with no paid maternity leave. We're almost the only country, period, without it. Today, seventy-seven percent of American women do not get paid for a single day off after having a baby. The numbers are even worse for paternity leave, and for workers who need to care for sick children, spouses, or parents.
Some assert that the Family and Medical Leave Act (FMLA) is America's solution to the fact that inconvenient things like birth, death, and illness happen to all human families. FMLA is a federal law that entitles some employees to take 12 weeks of unpaid, job-protected leave for family and medical reasons. But because of many exemptions (including employer size and length of time employed), 41% of workers – about 90 million people – are ineligible. Of those who are eligible, many do not use it because they cannot afford the loss of income.
Some politicians say that the market will solve paid leave, so they want voluntary paid leave, with some tax credits thrown in. But our system is already voluntary, and only about 12% of private sector workers have access to paid family leave through their employers. Far too many low-income people are left out, putting them at even greater disadvantage. And when people at any income level change jobs—as they often do in today's economy—they lose all benefits if their new employer does not offer them.
On the exciting front: Paid leave is being talked about more than ever. In all of 2014, only 1,708 news stories were written about paid leave. From just January to July of 2016, we saw 4,138 news stories on the topic. It's also being picked up by conservative groups like the American Enterprise Institute.
Senator Kirsten Gillibrand (D-NY) has taken the lead, proposing a national plan called the FAMILY Act. It works like an insurance program, and for the cost of a cup of coffee a week, workers would have access to family leave in the form of twelve weeks at 66% wage replacement.
More good news: With virtually every other country ahead of us, we can look at what works and what doesn't work, and that can help us innovate. That innovation is happening already: Five states—California, New Jersey, Rhode Island, Washington, and New York—have passed their own versions of a social insurance plan for paid family leave (Washington's program remains unfunded to date; New York's kicks in in 2018). These insurance plans require small payments—sometimes from employers, sometimes from workers, sometimes from both—over time, that go into a pooled fund. When the worker needs family leave, her pay comes out of that fund. Data from the states with active programs shows that these plans are good for business, especially small business.
Other states, including Connecticut, Massachusetts, Minnesota, and Washington, D.C. all have had substantial legislative action on paid leave this year.
Q
Given that there is no U.S. federal law on paid family leave, which federal laws on disability and unpaid family leave are relevant?
A
Social Security Disability Insurance (SSDI) exists at the federal level, but it does not typically apply to parenthood; it's only for workers who have paid into the system for many years, and a worker must be completely disabled to be eligible.
Four states (CA, NJ, RI, NY, and HI) have temporary disability insurance (TDI) programs. These programs apply to most private-sector workers, but wage replacement varies by state, and can be pretty low. Some employers offer private TDI, but fewer than 40% of all workers have access to these programs.
Q
Are there any important legislative differences that same-sex or adoptive parents should know about?
A
We've made a lot of progress on this front. Effective March 27, 2015, the Department of Labor ruled on the definition of "spouse" to include same-sex spouses, for FMLA eligibility. FMLA already covers adoption and foster care.
The FAMLY Act is gender-neutral and would be able to be used for birth or adoption, and for taking care of children, spouses, or parents. The existing state paid leave insurance programs follow a similar model.
Where differences do arise is in voluntary paid leave programs offered by corporate employers: Some offer differing lengths of leave for vaginal birth versus C-section, for birth versus adoption, and for people who give birth versus other parents.
Q
How can we advocate?
A
Add your voice to the millions calling for a national proposal that covers all working people, no matter where they live, who they work for, what job they have, or what their family looks like. This leave makes economic sense. It should provide at least twelve weeks and cover all family-leave needs – caring for a child, spouse, parent, or oneself. It should have high wage replacement to make sure lower-income people can afford to take the leave.
Right now, the FAMILY Act is the strongest thing out there, and our elected representatives ought to hear our thoughts about it. Find your Congressional representatives here and drop them a line!
At the state level, we should be talking to our state legislators, something that doesn't happen nearly enough. If you don't know who represents you, put in your ZIP code here and then, simply call. Many of us are afraid to call because we worry we don't know enough policy details to be "allowed" to get involved. Here's me telling you you're allowed. It's your RIGHT to pick up that phone and call. You don't need to be an expert, you just have to be willing to tell your story. Try starting with: "Hi, my name is _________ and I would like to talk to my representative about our family's need for paid leave. I want to share our situation and I'd like to hear where s/he stands on the issue, and why."
And follow the below organizations on social media. You'll be privy to action alerts and really easy ways to add your name or contact your representatives. You can also contact any of these organizations to share your story, as a worker or a business owner:
Q
Countries like Sweden and Denmark are known for offering generous paid family leave. Is there a particular country (or more than one) that has proved stats-wise that the system works, and that could serve as a fitting model for the U.S.?
A
This is a tricky comparison to make. There are some countries with "high-performing" paid leave systems that work especially well for them. These programs are gender-equal, generous in time, and have pooled risk. But there's no copy-and-paste. The key is to learn from what works elsewhere, and then create an American way to make this happen.
Q
Is there a sweet spot for employees and employers in terms of the length of paid family leave? What's reasonable and beneficial?
A
In America, we've been conditioned for so long without family leave benefits that we celebrate when 6, 8, or 12 weeks is achieved. In contrast, most of our developed-country peers offer many weeks, or months—some, even a year—of family leave. These longer leaves create a different kind of work economy, in which leave cover is a viable career pursuit because skilled workers can be brought in and brought up to speed for lengthier service. Some employers say it's actually easier to deal with a long leave.
But long leaves have their drawbacks. Research shows that women-only leaves longer than six months can result in negative career and financial impacts on working women. And even if a long leave were offered to both women and men, the cultural reality is that men tend not to avail themselves of long leaves. So here in the U.S., we tend to talk about twelve weeks as a goal. It's familiar in the U.S. context, because of FMLA. It gets new parents through that "fourth trimester" and can help set up bonding and breastfeeding. It provides time for healing and rest for new parents, and it provides time for unexpected family caregiving needs. If we achieve twelve weeks nationally, let's try it, and see how it works. There's always the possibility of improvement.
Q
What companies have created admirable, mom/dad-friendly workplaces? Is there a common thread to their methods?
A
We are seeing an arms race of paid family leave benefits among companies engaged in a war for top talent in America. Working Mother Magazine did a comprehensive review of paid maternity leave that's worth checking out. A common thread seems to be clear recognition of the business case behind paid leave. Coca-Cola's announcement of their new paid leave policy is a great example of that business case. Another common thread in best practice is that leave is available equally to both men and women, for adoption and birth, as well as for other family needs. After all, families take all kinds of shapes, and we don't stop being human after a baby's first year of life.
Q
What changes can smaller companies make to do better by their employees?
A
Some small businesses have successfully implemented their own paid family leave programs. The Laughing Planet Café implemented 120 days of paid parental leave. Even at an average cost of $15,000 per leave, it's working. Employees are happier, retention is high, and it's a great recruitment tool.
Some small businesses feel they cannot afford to provide paid leave benefits on their own. The most efficient way of providing these employers the necessary economies of scale would be to create a national insurance program. But until that day comes, small businesses shouldn't just assume they can't provide any paid leave. Look beyond the short-term, out-of-pocket costs: What is the business' lack of paid leave doing to recruitment, retention, productivity, and morale? If those costs are significant, the business owner might want to think about which approach is truly costlier.
If paid leave truly isn't an option today, small business owners should talk to their employees about what is and isn't offered, and why. Explain the financial realities, and ask what else might be done to support the employee. Flexible schedule? Work from home? Help in finding childcare? Communication and creativity can go a long way to building trust and increasing morale, even when funds are lacking to pay for leave.
Small business owners can also be a powerful voice for advocacy. Start with Main Street Alliance and the American Sustainable Business Council, and make your views known to the organizations that typically oppose paid leave, like the US Chamber of Commerce and NFIB.
Q
What do expecting parents need to know about applying for time off?
A
Expecting parents in CA, NJ, and RI should investigate already-implemented paid leave there. Talk to Human Resources about employer policies, including short-term disability, paid or unpaid parental leave, vacation time, and sick days. Ask what the notification period is, and ask about FMLA eligibility. If you're uncomfortable asking these questions at work, because of feared retaliation or judgment, check out FairyGodboss and List Your Leave, crowdsourced platforms that are like a Yelp for companies' leave policies.
Q
What is the most important thing to keep in mind?
A
We are in a moment. This paid leave thing can feel like it's never going to change, but public opinion is shifting massively and rapidly toward national paid family leave. In a 2016 poll, 76% of likely voters favored a paid leave program – and this support crosses gender and party lines. The old rhetoric that paid leave is a special benefit or perk is falling away, as we familiarize ourselves with the data and with the human stories, as we realize that paid leave is good for business and good for the economy, and as we remind ourselves that literally every single person in the American workforce is, simply, human.
We have to start by telling our stories—at work, to elected officials, and using whatever platforms we have. We have to be unashamedly human at work, and we have to support our co-workers—male and female—to do so, too. Our workforce is human because we are human. It's high time we stopped pretending that we can leave our humanity at the doorstep when we walk into work each day.
With much love to my fellow paid family-leave nerds and advocates, major contributions to this piece came from:
Keith Castaldo, General Counsel for Senator Kirsten Gillibrand
Vicki Shabo, VP of the National Partnership for Women & Families
Anna Steffeney, Founder & CEO of Leave Logic
Josh Levs, author of All In: How Our Work-First Culture Fails Dads, Families, and Businesses – And How We Can Fix It Together
Jessica Shortall is an advocate for working parents and the author of Work. Pump. Repeat: The New Mom's Survival Guide to Breastfeeding and Going Back to Work.> Find her on Facebook, twitter, and Instagram.

The Mother Load

Dr. Serrallach's goop Wellness Protocol
A replenishing postnatal vitamin and supplement protocol that's also designed to lend a hand to
moms-in-planning.