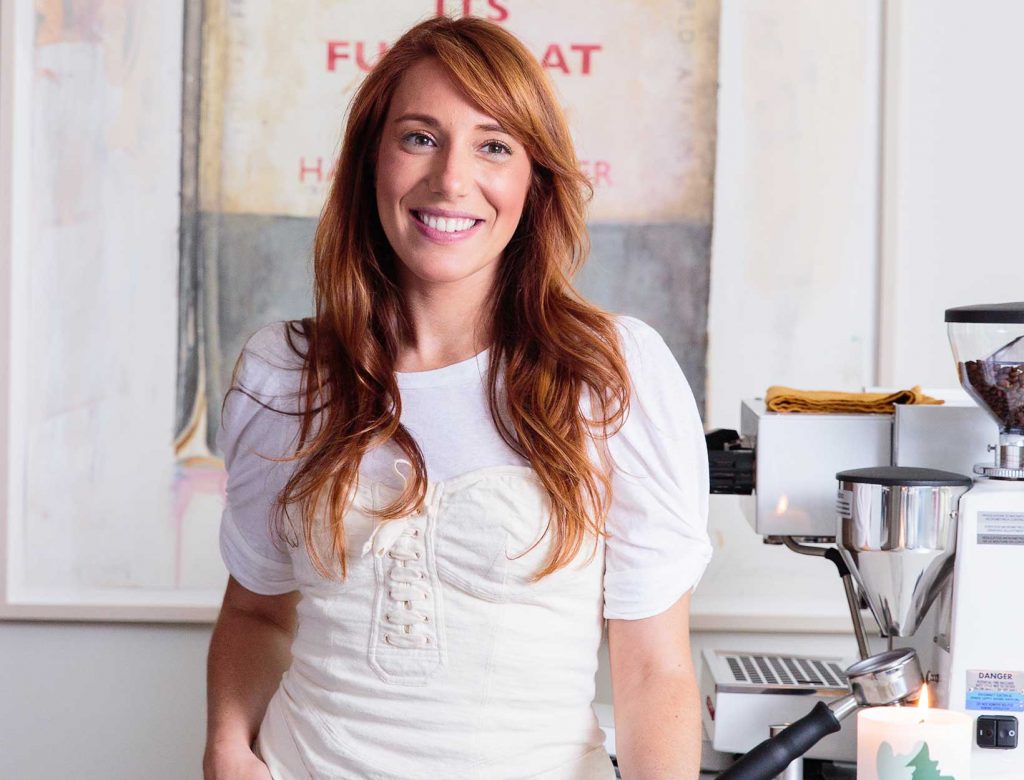 This Socially Conscious Restaurant Is Poised to Change the Hospitality Industry
"There's nothing worse than 'chicken wings' when it's really cauliflower," says Camilla Marcus. "Why can't cauliflower just be delicious on its own? Why are we deep-frying it?"
Partly to answer that question but mainly to give back to her community, Marcus opened West~bourne, a restaurant in New York City's SoHo neighborhood. "I always wished that I'd gotten a job and had a boss sit me down and tell me that they saw something in me—but job after job that never really happened," she says. So Marcus became that boss to other people. Paramount to her: creating an environment where everyone thrives. A very close second: fantastic food.
"I was always obsessed with eating out," says Marcus. "Part of our lives growing up was understanding other cultures and exploring the world through food." Her father often worked in Japan, and back home in Los Angeles, he'd take her to places like Little Tokyo so she could experience new cuisines.
Marcus has never lost sight of her native LA as inspiration. She named West~bourne after the street she grew up on, and the menu, full of things like La Brea Fruit Salad and Malibu Waffles, is a love song to California: delicious, sustainably sourced, vibrant, vegetable-forward dishes. The idea is that it's food that demands authenticity, respect, and "treating things with integrity," says Marcus. And it's a place that feels more like a community than a restaurant. It's the type of place, says Marcus, that's geared toward people coming back a couple days a week: an all-day café open to everyone, a place where people can feel good about the food they're eating, and a place that's also good for people. It's not always been easy, but to Marcus, it's a business model worth fighting for.
A Q&A with Camilla Marcus
Q
What is the philosophy behind West~bourne?
A
I wanted to create something for my generation, by my generation. We know what we want and what we need. So we do everything top to bottom, from our zero-waste sustainability philosophy to our give-back model and the unique way we train our team: Everyone is a generalist and cross-trained. We pay our whole team the same. Everyone rotates and learns different positions. We don't hire just dishwashers. We take training and professional and personal development seriously. We do a lot surrounding wellness—wellness for ourselves and wellness for our guests—and it all stems from our sustainability efforts.
I wanted to give back to our local community in a meaningful way. Eating out is something we spend a lot of our time and money doing. You make more purchase decisions about food and beverages than pretty much anything else in your life. And I think my generation is looking for a new route for philanthropy. We don't want to wait until we're older and have a certain amount of money. We're not into putting our name on buildings and giving big grants. It's more about living your values and taking to heart what you consume and how you choose to live your life.
---
Q
Your motto is "Mission first, people always." How does your social mission work?
A
We donate 1 percent of every purchase to the Robin Hood Foundation, and that goes to a local grantee called the Door to fund a grant for hospitality training for youth in the neighborhood. We then hire from that program.
Hospitality businesses, broadly, are incredibly generous. Every chef I know participates in charitable fund-raisers, and they donate their time, their product, their effort. But it never seemed to be strategic, and it never seemed to touch the guests. I've work with different restaurants, and I used to ask friends or regulars, "Did you know we do this program?" It seemed to not connect and not be fully integrated. It felt like a missed opportunity to get a guest involved and part of a mission in a full-circle way.
---
Q
Food is something that brings people together. What were the other values you wanted to bring into your restaurant?
A
Our lives are getting technologized. Artificial intelligence is coming to pretty much every single field, whether we like it or not. For me, hospitality is one of those last frontiers where you're always going to want a human to greet you. You're always going to want a human to serve you food. You're always going to want a human to take care of you. We need those connections as people. And ultimately happy people make delicious food. Food comes from your soul and from your heart, and that soul needs to be set, needs to be balanced, needs to be thoughtful in order to make special food. We consume food in environments that mean something to us.
Food is one element, but it's really how you feel in a restaurant. It's how they make you feel, and it's the environment that hopefully inspires you and keeps you going back for more. If you have a horrible experience or feel unwelcome, even if the food is the best thing you've ever eaten, you're not going back. That all comes from people. They deliver that experience, they deliver that feeling, and you know if it's not genuine. We all pick up on that. We've all been to those places where it doesn't seem like people are happy, and that affects you.
---
Q
It's been a year since you opened West~bourne. What have you learned so far?
A
To do big things and make a large impact, you have to start with small acts. And it has to be something that compounds. Everyone in finance and investing learns about compound interest or investments, and we really need to think about that in terms of impact. That small impact can actually compile over a longer period of time and have a greater level of value than something big and late in the game. I took an idea from my asset-management friends and applied it to what I consider our version of impact investing—except we're investing in humans: full, confident, well-rounded humans.
One of the underpinnings of West~bourne is the way we cross-train our staff; that's meant to address the fact that we live in a world that weirdly tells us to specialize. I think societally and in school…it's like all my college roommates became doctors, and I envied them. I wish I were born as a child knowing exactly the vocation I wanted to go into.
I think this specialized system makes it hard for those of us who maybe don't exactly know what we want or are interested in a lot of different things, not just one singular path. That becomes really hard, and the world can make you feel lost when, in fact, you're not lost—you're just trying things out.
---
Q
You were seeing this specialization happening in the restaurant industry, too?
A
Even in restaurants, you're forced into deciding if you're the cocktail person or the beverage person, or are you the chef or are you the server? I was all of those things. I was never allowed to do wine classes at some of my prior jobs, and I would always say, "I get that I'm on the corporate team, but I actually enjoy learning about wine. Why can't I join that?" Why can't we be both? Why does it have to be so labeled?
With West~bourne, we're trying to be a little subversive and challenge those notions. I love seeing it click when a team member starts to cross-train and unlock their own talents that no one ever told them they could try. There's so much value, so much confidence, so much skill-building when you're able to learn something new and you realize: I have more talent than I thought I did. You allow some time to figure it out and ask yourself, What do I really want, and how does that play into where I am in my career now? I will live and die by the idea that I don't think anyone should have to know what they want to do when they grow up. I hope that never changes. I think the day you stop feeling that way is when you
stop evolving.
---
Q
How do you think your cross-training approach affects the culture of West-bourne? Do you see a difference between it and other restaurants you've worked in?
A
I always say that we hire people, not positions. When you come in, you start in one position, but everyone gets the same training. Everyone is wine trained, everyone gets the same type of orientation, everyone joins all the developmental trainings that we offer, and then we slowly work through each position. You then rotate over time.
We always have guests who say, "Everyone on your team is so knowledgeable. Everyone seems to collaborate and really work together," and I think it's due to this one-team structure and cross-training.
In hospitality, there's often tension between front of house and back of house because these types of businesses are layered, everyone does different things, and you might not know or understand what everyone is doing. I have banned those words. We don't refer to "front of house" or "back of house." We are one team, and my goal is if you've been in that position then you'll start to understand: Oh, that's why beverage matters to the whole system. It's the same reason we don't have dishwashers. Dishwashing and cleaning the space, receiving goods that are delivered, those things are part of the whole. To have someone who's just relegated to those roles whom you don't consider integral to your overall system just seems like an unspoken caste system. We're able to build more collaboration and a lot more empathy because every person really understands what everyone does at a core level.
---
Q
Did you ever want to give up?
A
Anyone who knows me will tell you that the more someone says no, the more I have to prove them wrong. It's probably youngest-child syndrome. I like a challenge. That's why West~bourne is a complex ecosystem with so many layers. If it were easy, everyone would do it. The way to stand out in any job—not just as an entrepreneur—is by proving resilience. Entrepreneurs are heralded for that, but I think that's true in life as people. It's only through stress and trudging through challenges that you get to a better place and feel stronger for it. You have to push through. It tests you to decide whether you really want to do something, and if you're unfazed, it probably means you're on the right path. You also have to be willing to not give up easily on anything that matters. You won't be able to learn and you won't get to the other side if you're not willing to go through the friction.
---
Q
The restaurant industry is famously sexist. Have you ever experienced that?
A
I will say I'm very fortunate. I have never been in that sort of position or experienced anything personally like that. I think every woman knows that it was happening in different organizations, and I have friends who have experienced that, so I was acutely aware of it.
It's interesting to see times changing, and I think that we still have a long way to go. As I said, there are not a lot of people who look like me who are in positions of power, of ownership, who are in control of the finances. That's where we need to be focusing our efforts. We need to be promoting and supporting more women in decision-making positions, positions of real control and power, to be able to change that narrative for good and level out those power dynamics.
---
Q
Do you see that more women are being elevated to those positions in your industry?
A
Not enough and not fast enough. But I'm a radical and somewhat impatient. If you look at the largest restaurant groups even just in New York, there's not a woman at the top. I do think there's a greater effort for more female chefs or restaurateurs, yet it's still a small number—it's still focused on a select few. And even among those, a lot of those women work for men who ultimately control the business and the decisions, which has side effects.
We can't take our foot off that gas pedal. I'm an angel investor and have a soft spot for testing in female-led companies because those dynamics are real even when it comes to tech or consumer goods; that investing gap is huge. I am on a personal mission to change that, and I hope that with exposure and dialogue, real change will come out of #MeToo.
---
Q
What's the best piece of career advice you've ever received?
A
Just do it. The memoir Shoe Dog by Phil Knight is my favorite book, and we have every new hire read it. We keep it rotating through our team because people forget that he didn't set out to create Nike. Actually far from it. He didn't even like the name Nike. He wanted to be an importer, and incident after incident, action after action, it led down that road. But it wasn't that he sat down and said, "I'm going to create one of the biggest American athletics brands." It wasn't his original mission statement at all.
For me, it's "just do it" because too often we get caught in our head, caught in too much planning, and asking: What if I fail? What if this happens? You have to put something out in the world in order to get feedback. Sitting and doing nothing is never going to get you anywhere because you can't learn from it. You can't learn from inside your head. You have to get out and try things, whether that's having a side hustle, taking a class, writing a business plan, or launching something even if it's small. You have to do something.