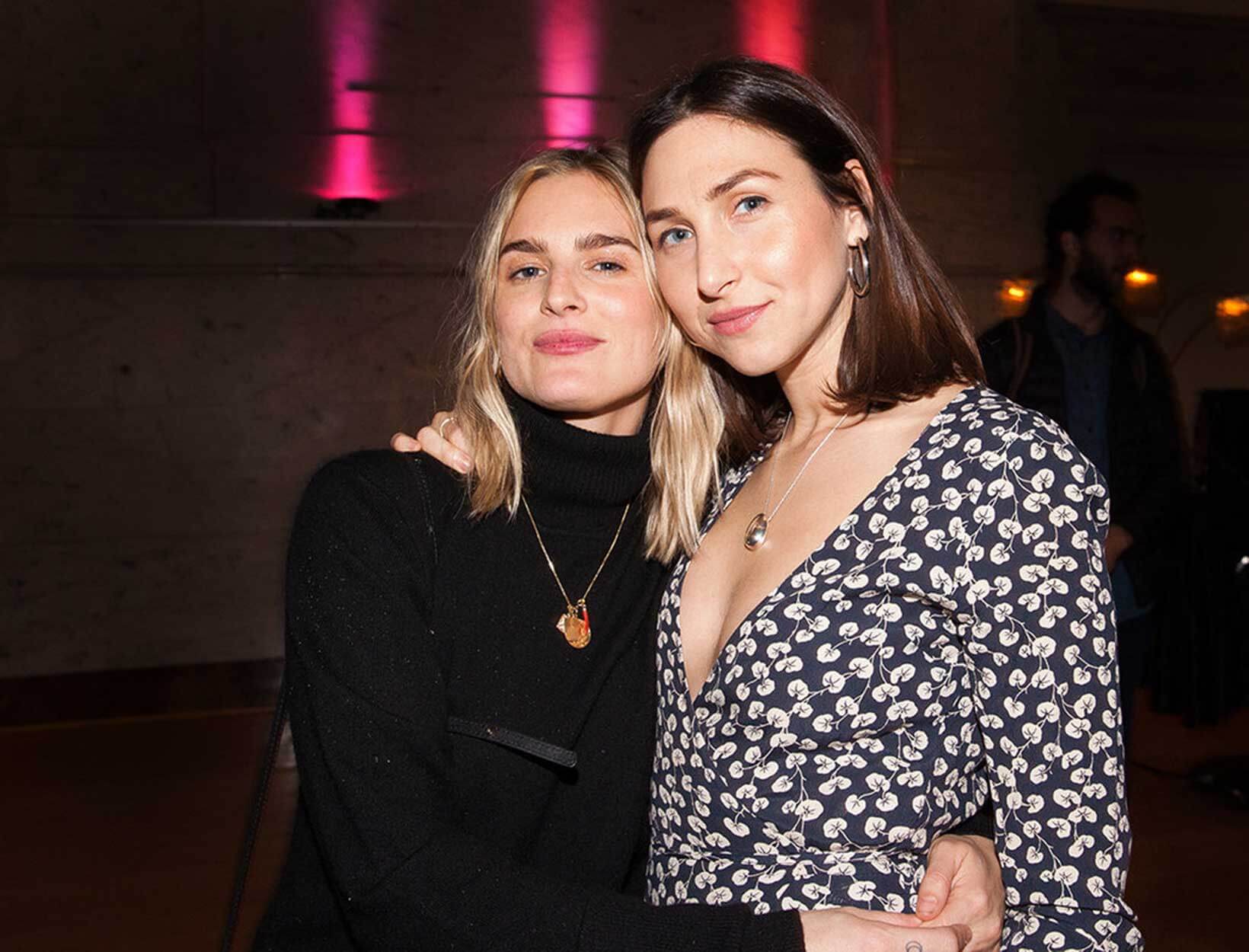 A DAY IN THE LIFE
16.5 Hours with the Founders of We the Women
Nathalie Love and Samantha Ressler spend more time together than most people do with their coworkers. Or their spouses for that matter. As founders of We the Women—a performing arts collective that gives a platform to female creatives—the two spend the bulk of their waking hours together, planning fund-raisers for arts education, reproductive rights, female empowerment, and other causes that are important to them. They have workshops, put on theater productions, make movies, you name it. Debbie, a short film employing an all-female crew, is in the works; a partnership with the Geffen Playhouse is coming up this spring; and this summer, they are putting on Menstruation: A Period Piece, a play by Miranda Rose Hall that takes place entirely in a woman's uterus. And a roster that is that intimate, personal, and thoughtful takes time—usually at least sixteen hours a day.
A Morning with…
A Morning with Nathalie
Nathalie

6:30AM

Alarm goes off. I meditate for twenty minutes. I have been doing transcendental meditation for about three years on and off. I always feel better when I do it.

6:55AM

My husband usually brings me a tea in bed, but lately it's been celery juice. (I am still uncertain of the benefits of this wellness trend.) I drink whatever beverage while looking at Instagram (bad habit!) and checking emails, etc.

7:30AM

Samantha calls me to discuss our plans for the day and recap anything we haven't talked about from the day before. While we're talking, I put on my exercise clothes and pack my things for the day.

8AM

I am usually still talking to Sam when I kiss my husband and rush out the door.

8:20AM

I get to Barry's Bootcamp Hollywood. It's my favorite workout! I try to go three or four times a week.

9:50AM

Showered, changed, and in the car to NeueHouse to meet Sam.
A Morning with Samantha

Samantha

6:45AM

My cat jumps on my head, and I have no choice but to feed her at this ungodly hour. (Yes, I'm a cat person.)

8AM

My alarm goes off and my boyfriend brings me Blue Bottle coffee in bed. I start my morning reading, checking our new submissions, and scrolling through my news feed.

8:30AM

I answer emails, talk to Nathalie, and usually begin working on an audition. (I'm also an actor.) Today I have a particularly poignant audition for a TV show about the feminist movement in the '70s. I fall down an internet spiral about the '70s—the clothes, the hair—and realize I've been on the phone with Nat for almost an hour.

9:30AM

Think about going to the gym. Decide not to go to the gym.

10AM

>Nat and I have a call with our team: Caroline Edwards, who represents our company at ICM, and our new nonprofit fund-raiser, Britta Bucholz, who is helping us raise money. We talk about our new business cards.
Nathalie and Samantha at Work
10AM

We meet at NeueHouse on weekdays from 10 to 5 or 11 to 6 and catch up with the team. Today we are working on preproduction for our first We the Women short film. We take calls and respond to emails.

12PM

We meet our social media director, Sophie Balaban, at Honey Hi in Echo Park. It's healthy and delicious, and the friendliest people work there.
1:30PM

Nathalie heads to a facial in Beverly Hills—a rare and necessary treat—and it works out perfectly as Sam has an audition today.
3PM

Back to NeueHouse. Samantha listens to the Bear Brook podcast during the drive.

3:30PM

Get a tea and sit down to more emails, preproduction organizing, and coordinating.
1:30PM

Nathalie heads to a facial in Beverly Hills—a rare and necessary treat and works out perfectly as Sam has an audition today.
Winding Down with…
Winding Down with Nathalie
Nathalie

6PM

Head home. Meditate. Change for dinner with the team.

7:30PM

Back in the car. Head to Blair's Restaurant in Silver Lake.

10PM

Home. Time to hang with my husband and recap the day.

11PM

In my pajamas and zzz.
Winding Down with Samantha

Samantha

6PM

I'm back to my gym dilemma. I settle on a half-hour Lagree Fitness Pilates class.

8PM

We meet our newest WTW collaborator, writer-director Niki Schwartz-Wright, and our producer Victoria Fayad for dinner at one of our favorite spots, Blair's in Silver Lake.

10PM

I have a very strict facial regimen every morning and night. My boyfriend is also a serious product-head so this is our his-and-hers skin-care time.

11PM

I'm in bed with my glasses on ready to watch Love Island (a sick addiction but a true guilty pleasure). I drink a full bottle of water before bed, and I'll likely doze off with my glasses on, ready for my cat's morning pounce.
We the Women's Picks