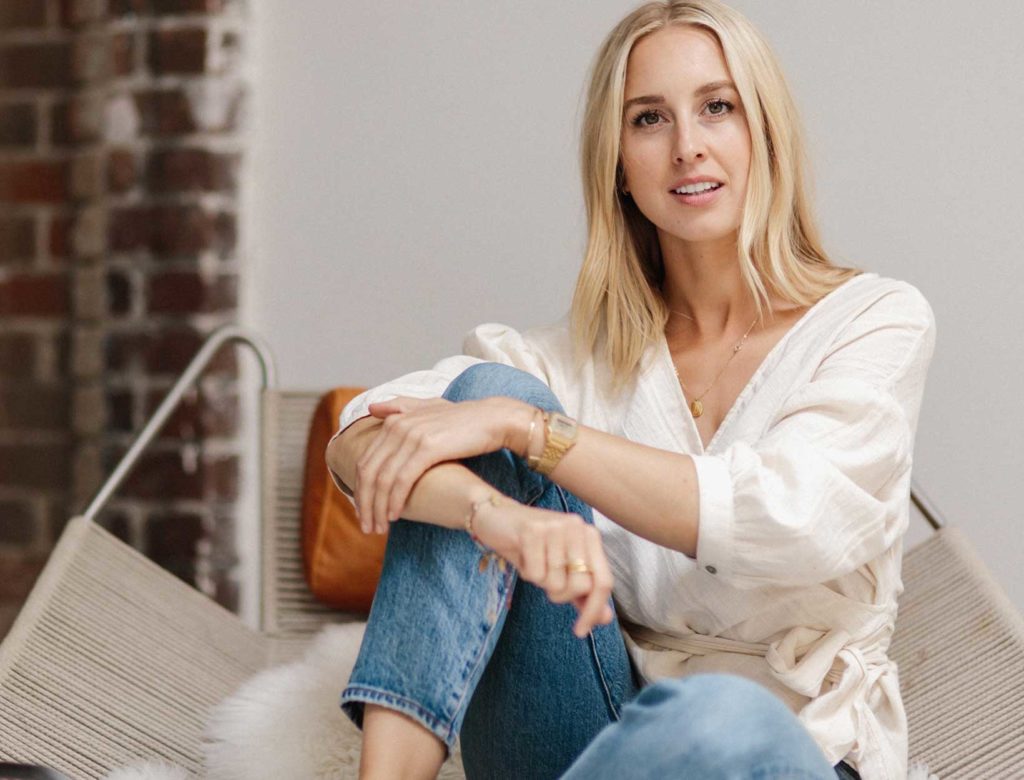 How Does a Room Feel When You Leave It?
FEMALE FOUNDERS
How Does a Room Feel When You Leave It?
Sara Panton grew up in a small seaside town in British Columbia, surrounded by farmland. This brought perks: crystal-blue waters lined with craggy rocks, emerald evergreens, fresh vegetables plucked down the road. But Panton dreamed of elsewhere. "We didn't travel to exotic places when I was growing up, but I was always aware of where I was in the world—and that the world was a lot bigger," she says. Panton's passport was Vogue magazine, which she'd buy at the corner store, where it sat "between the farmers' magazines on livestock." She'd travel through the pages and the different worlds, aesthetics, and cultures.
It would be nice to assume that scene—a curious young woman with an appetite for global narratives—was a harbinger of Panton's future. It was—but not her immediate future. After high school, Panton started studying for medical school, and the next several years were filled with tests. She learned about medicine and remedies from nature. She became fascinated by the olfactory system, the power of scent, and the healing potential of botanicals and essential oils. As her world grew, so did her love of storytelling. When she wasn't studying, she was blogging about what she was learning.
This all unspooled into Panton's next chapter, which did not involve a medical degree. Instead, with an undergraduate degree in global health, she traveled to Kenya. There, she saw different cultures' approaches to wellness and self-care. And she kept writing. Her writing morphed into a site that she ran with her brother, Sean. And this was it: the base for their eventual company, vitruvi, and its artful line of natural essential oils and stunning stone diffusers.
Since its launch in 2014, vitruvi has gained a cultlike following. The products are incredible. The versatile essential oils—from uplifting, juicy pink grapefruit to grounding, earthy frankincense—add aromatherapy to bathwater, lotions, and…the air. With a few drops of vitruvi oils, the ceramic diffusers emit puffs of steam and transform a room's energy. And if you're looking for it, the collection can also serve as something more: a reminder to take a minute to listen and care for yourself.
Panton says that vitruvi is a culmination of all the things she loves. And she hopes the products help people pause and find clarity—because maybe they, too, have some passions to reflect on.
A fitting goal considering that she was, not long ago, a young woman in a rural town, looking for her purpose in faraway stories.
A Q&A with Sara Panton
Q
What elements of your upbringing do you incorporate into vitruvi?
A
A genuine curiosity. I am way more interested in other people and their stories. The DNA of our brand is listening to our customers, which I think comes from my years of studying medicine and medical anthropology. Everything we do at our company revolves around listening and sharing what our customers are saying and what they're asking for.
And then there is also a sense that nature knows best. My parents were super early adopters of the organic movement, way before it was cool. We grew up getting farm boxes on the weekend, and when I eventually moved to a big city, I saw that was a newer thing. I grew up with a deep understanding of the importance of using nontoxic products on your body. And farm-to-table is something that has always come easily to us.
---
Q
What does natural mean to you?
A
I think about it a lot because you see that word "natural" used often. To me, natural means operating from a place of understanding that your body knows best. It's when someone truly understands: This is my body, this is what it needs, and I'm going to enhance it, support it, and nurture it. I think you can sense the energy around someone when they're working for or against how they naturally are. I believe that the way you take care of yourself and the energy that you give off when you accept who you are matter. And that, to me, is beautiful.
---
Q
How do you want people to feel when they use your products?
A
Our hope is that our products help you connect with wellness and your greater purpose. I hope they lift you up and also give you moments to yourself so you can find mental clarity and inspiration to go out and lead an impactful life. We hope this allows you to show up for your family, your workplace, and yourself. It's very much like that feeling when you've taken a moment for yourself—say, you've gone to the spa—and afterward you take a deep breath and have a fresh start.
I'm an advocate for taking care of yourself and incorporating self-care moments with a greater goal in mind. We want vitruvi to be your cheerleader, your little spa moment throughout your day.
---
Q
Are there any particular vitruvi products that you currently can't live without?
A
We recently launched a new product called After Oil, a muscle-friendly roll-on. It's incredible—a base of black-cumin-seed oil with turmeric, black pepper, eucalyptus, and peppermint. You roll it on your neck and shoulders and feel a warm, tingling sensation.
I travel a ton and am always putting a bit of our eucalyptus oil under my nose. I'm also always using our Dusk blend, which is this really cool version of a bedtime blend that I created after camping with girlfriends in Joshua Tree. It has ho wood, eucalyptus, frankincense, and lavender. I put those oils in the diffuser in my bedroom about an hour before I'm going to go to bed, then close the door. It fills the room with the scent, so when I walk in to go to bed, I know it's really bedtime.
---
Q
You founded vitruvi with your brother. What is it like to run a business with your sibling?
A
It's allowed us to move fast. We have a level of trust that allows us to communicate and to move through conflict and all the daily ups and downs that happen when you're building a fast-growing company. We are an open book with each other. It's incredible to be able to have really frank, direct conversations with each other, knowing this person still loves you and you love them. I believe our trust has decreased a lot of the politics that can happen when you're building a company.
I have so much respect for people that are running something without a cofounder. I would never be able to do it without Sean. He has an amazing gut feeling around things and is able to be so decisive. He's a born entrepreneur. We divide our lanes well and help each other when we need to.
---
Q
What have been your biggest lessons, biggest challenges, and biggest rewards as a founder?
A
I had a very steep learning curve. I went from seven years of academia, where you're studying and then tested and aiming to get the right answer, to entrepreneurship, where you're creating a new world and there's no right way. I've learned that confidence and conviction are necessary to keep moving forward. That's something that we've baked into our core values: seeking the discomfort of the unknown. Because that's where the magic happens. It took me two years after academia to realize that that uncomfortable feeling you have when you don't know what's going to happen is where you really grow and make progress.
My biggest challenge has been confidence and knowing when to make a decision and listening to that gut feeling. And also having people who will keep you in check. It's really important to have that cheerleading team that's your core circle around you. You need to have people who love you as a person and always support you—no matter if you're going to Mars or starting a farmers' market stand. It's also really important to have an outer circle of people who want you to succeed in business and will give you important information and feedback. The feeling and perspective that you ask for of those two people should be very different.
And as far as rewards, I'm grateful that I've been able to work alongside the awesome, talented people who spend their days here and to create a product for our community. Our customers are the nicest people in the world. It's a huge reward to be able to talk to a woman and learn that she's feeling taken care of.
---
Q
How do you define success?
A
Success is energy. It is defined by the positive impact I am able to help make in our community and in the world.
Two things I think about constantly are: how the company can best impact our community and the world in a positive way, and how I can best show up for the people around me. I take both responsibilities very seriously. How does a room feel when I leave? And how does the company have influence? Success is an alchemy of energy around things, and an intangibility that I believe true brand success creates, and it's the legacy of that. It's when I'm coming to a table or a room and there's an energy of support and acceptance and positivity and excitement around the privilege of being able to create things that we care about for people that we care about.
To spend your days with amazing people, doing things that you love, that is personal success to me. And then to have a positive influence in people's lives, that is success on a company level. We do that through our charity work with One Girl Can. For every woman employed at vitruvi, we sponsor and send a young woman in Kenya to school for her entire university degree. It's a statement for us. We're a very fast-growing company and have very audacious four- to five-year goals, but regardless, every woman at this desk knows there's someone halfway around the world who is going to school and hopefully starting her career soon. That ties back to success being the legacy you leave.
---
Q
What is your advice for a burgeoning entrepreneur in the wellness or personal-care space?
A
To know that we're all in this together. And we all have the same end goal, which is for people to be aware of what goes on their bodies and what's in their homes, so let's all do this together by helping one another out, listening, and connecting. We're creating a movement. We're doing things differently from how they've been done in personal care for decades.
I was in a meeting recently and there was woman who is starting a sustainable clothing line. I was asking her, "What can I do? How can I help you?" In many circumstances, those five minutes that people have given me have profoundly changed the direction of the company. So I try to pass that on. None of us have it all figured out. So if we can all be there for one another to fill in the holes and take big strides, it would help everyone.
---
Q
What's next for vitruvi?
A
Our book Essential Well Being is launching in October. It embodies what vitruvi's about: taking ownership of natural living. The book includes recipes and a guide for beauty, body, and health rituals with essential oils. I created everything, including all the recipes, so it was such a labor of love.
From a content standpoint, we'll be continuing to grow our magazine, Basenotes, a place where we're having larger conversations around health and wellness. It's also a place where our customers, our community, can come to have conversations and read about issues that are important to them.